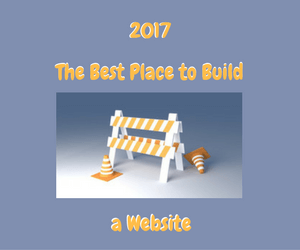 Is your 2017 resolution to finally start making money online? If so, one of your first questions has to be, "what's
the best place to build a website
?" A website is an essential cornerstone of online success. So you'll want to spend some time and find a place that's a good fit for you.
But where to start?
I know this can seem intimidating because most of us retirees are not technical geeks. And that's OK. Seriously! On occasion, I've glanced at the coding for my site and then promptly returned to the user-friendly, visual interface where I'm completely comfortable.
My lack of coding skills has not hindered my progress in building my website!
As I'm sure you've already discovered, you have a vast number of choices for creating a website. My goal is to help you understand those options a bit better. Let's see if we can clear up some of the confusion and put the website building puzzle pieces together. Then we'll talk about my recommendations.
Sound good?
Step One – What's Your Niche?
By this what we really mean is, what's the purpose of your website? A niche is nothing more than a group of individuals who share a common interest in a specific topic. Picking a niche is the fun and exciting part of creating an online business. Ideally, your website will reflect your personal interests. You may have many hobbies and pursuits you're passionate about. At least initially, you'll need to narrow it down and choose one.
You need to spend time brainstorming questions like these:
What topic will your website address?
Who's your target audience?
What useful information will you share?
What questions will you answer?
How will you provide value to your readers?
Recommended Reading: What is the Definition of a Niche and Why is it Important?
Niche possibilities are endless, and your brainstorming will take you all in myriad directions, but everyone will perform the same tasks to construct their website.
Build a Website Basics
These are the essential elements of website creation.
Domain Name – a domain name is a unique identifier or Internet address. It's not much different than the post office address of your home or brick and mortar business. It's the address for your virtual piece of real estate and the way your readers will find you on the web.
Domain names are a personal choice. They are often descriptive of the niche or focal subject matter. Others choose brandable domains that include the name of the owner.
If you decide to use a free website builder, your domain name will typically include a subdomain. That's the route I chose initially. When I first started my website, the name was retiredandearningonline.siterubix.com.
I think a subdomain is fine when you begin and are finding your way. But at some point, you may want to purchase a dot com domain of your own. It's not expensive (about $14 a year). The biggest issue with a subdomain is the length. You want a name that readers will remember, and the addition of the subdomain makes that challenging.
Hosting – This is the server where your website and all content is stored. Think of this as similar to the physical location of an offline business. You rent space and services in much the same way you might rent a storefront or office from a landlord.
You need a hosting company that is reliable and dependable so that your website is open for business around the clock, 365 days a year.
Content Management System (CMS) – This is the software or website building platform that allows you to

develop great content in the form of text, images, video, or audio information

organize content to provide a user-friendly experience for your visitors
design an attractive and appealing site
publish your content on the web
WordPress
I use WordPress as my CMS, and I'm a huge advocate. WordPress is not the only CMS choice out there, but it is the best. It's the most widely used platform on the Web, and it's free to use. It's easy to use and is very versatile. There are over 2,000 free themes to choose from that allow you to design your website just the way you want it. Additionally, there are hundreds of free plugins that extend the functionality of the software.
The Best Place to Build a Website in 2017
Building a website is a life-changing decision, and I want you to have the best chance of being successful in this venture. There are a number of options available. Wix, WordPress.org, GoDaddy, and Hostgator are just a few places you might select. They all provide the basic elements discussed above, and all have advantages. But they're not the best. I recommend Wealthy Affiliate as the absolute best place to build your website.
Why?
There are several reasons behind my recommendation. Fundamentally, Wealthy Affiliate offers all of the basics and a great deal more. They offer training that is second to none and the support available through a huge community of online business owners is incredible.
As a former educator, I can assure you that the WA training modules appeal to all learning styles including visual, auditory, and tactile. Every lesson includes a video tutorial and hands-on exercises.
But here's the best part. Wealthy Affiliate is so confident in their program that they offer a 100% free Starter Membership. No credit card is required to activate your membership, and a Starter Membership is not a trial. You may stay at the free membership level for as long as you choose to do so. A Starter Membership includes 2 websites, hosting, and 10 lessons to get you started on your path to success.
Naturally, WA also offers a premium membership that includes a substantial amount of additional training. A premium membership is $49/month or $359/year. But I strongly recommend that you join as a free Starter Member. Explore the WA site, build your website, and complete the free training. You have absolutely nothing to lose and the potential benefits are enormous!
Take a look at the free lessons offered.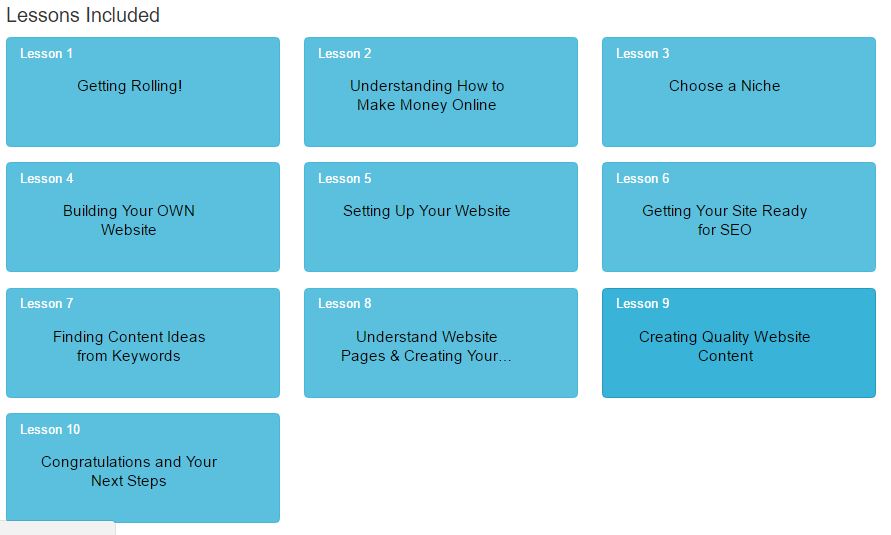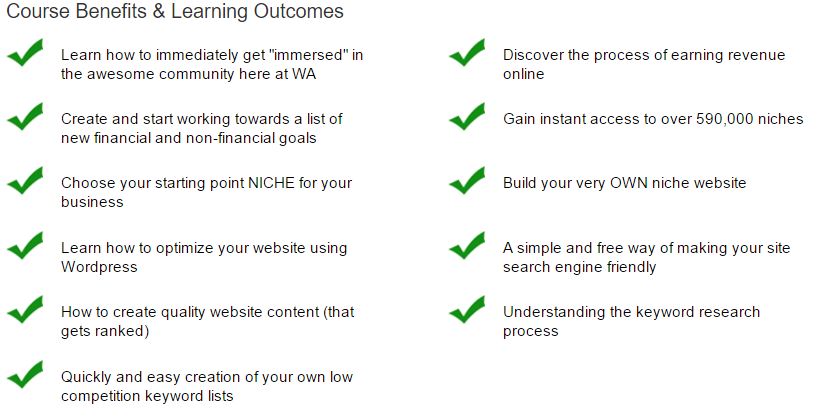 Final Thoughts
WA has been a stellar experience for me which is why I recommend it as the best place to build a website in 2017.
The WA community is expansive and global. Member profiles are fascinating. You can spot members from 16 – year olds launching websites as school projects to 80 somethings finding on-going purpose (along with some extra income). The Internet is a level playing field like no other in history.
I look forward to reading your profile!
Create Your Website Today!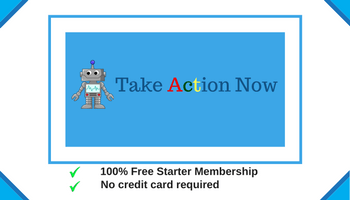 What questions do you still have that I failed to answer? Please leave them below! I will respond to all comments.
If the information in this post was helpful, please be sociable and spread the word!