The widespread popularity of essential oils suggests a potentially lucrative blogging niche. You're wise to investigate essential oils affiliate programs because it can really be an eye-opener when you see all of the possibilities in this field.
A study conducted by Grand View Research, Inc. projects the global market for essential oils will reach a staggering $11.67 billion by 2022. Consumer preferences for natural and organic products are driving robust increases in essential oil usage in several industries.
For centuries, essential oils have played a role in alternative medicine. Additionally, essential oils are now seeing increased usage in industries such as food and beverage, cosmetics, perfumes, personal care products, and household cleaners. Essential oil fragrances are also an integral component of relaxation techniques like aromatherapy and massages.
Bloggers use content marketing strategies to publish valuable information that's focused on the needs of a target audience. With high demand and a proliferation of products, content possibilities for essential oils are endless.
Do you have a passion for natural, healthy products that you can share? If so, let's explore how you might harness that passion to make money with essential oils, shall we?

7 Essential Oils Affiliate Programs to Monetize Your Blog
There are some excellent affiliate program choices for essential oils and related products like diffusers and books. We'll highlight a few reputable organizations below, all of which are free to join.
Barefut

Barefut Essential Oils was founded by Certified Aromatherapists in December 2010. The company's stated mission is "to provide nature's finest and purest essential oils and related natural health products at affordable prices." Their 100% pure, therapeutic quality oils are sourced from more than 35 countries worldwide.
Barefut offers recurring commission opportunities by paying a 20% commission on the first order from each referral. You then receive a 10% commission on the referral's subsequent orders. Affiliates can not earn commissions on their own orders. But, they do receive a 10% discount on personal purchases, which is a nice bonus.
Join Barefut's affiliate program by signing up here.
Healing Natural Oils
Healing Natural Oils (Amoils) is headquartered in San Diego, CA, and has offered ethically produced, all natural products since 2001. They provide health, beauty, and skincare products in the US without pesticides, herbicides, or synthetic chemicals of any kind.
Affiliates earn a 20% commission for each sale through his or her referral link with a very generous 60-day cookie. Average sales for this trusted company are approximately $62. ShareASale administers the program, and you can sign up here as a Healing Natural Oils affiliate.
The Harmonious Mind
The Harmonious Mind is a Canadian operation founded by Melanie Nash, a Certified Aromatherapy Health Professional (CAHP), in 2012. The company's core belief centers around creating harmony in body, mind, heart, and spirit through engaging the senses.

Main products include ultrasonic aromatherapy diffusers and aromatherapy jewelry in addition to 100% pure essential oils. By helping others discover the benefits of essential oils and generating sales for The Harmonious Mind, you earn a 10% commission for the first purchase made by each referral. Furthermore, you receive 5% for each subsequent purchase referrals make.
Affiliately hosts the affiliate program for the Harmonious Mind, and you can sign up here.
Rocky Mountain Oils
Rocky Mountain Oils (RMO) is the creation of a group of wellness enthusiasts dedicated to improving customer lives with premium essential oils and proprietary oil blends. Founded in 2004, RMO is a direct-to-consumer supplier of essential oils and desires to become the leader in this industry worldwide
The company organizes product collections along the following three main lines:
health & wellness
cleaning & home
holistic beauty
RMO offers an exceptional 90-day return policy, which says a lot about their commitment to customer satisfaction. They also offer free shipping anywhere in the US. Affiliates earn starting commissions from 9 – 16% with up to a 30-day cookie.
Sign up to become a Rocky Mountain Oils Affiliate here.
Artisan Aromatics
Artisan Aromatics is a small business but brings more than 20 years of experience to the table with a focus on therapeutic-quality essential oils. They offer more than 150 different oils sourced from 6 continents including some rare enfleurage oils.

Products include an extensive list of organic and wildcrafted oils along with aromatherapy blends and massage oils. In addition to a commitment to excellent products, this company's passion is fostering knowledge about the appropriate and effective use of therapeutic oils.
Affiliates earn a 10% commission on all sales made within 30 days of a referral customer clicking your link. Get paid monthly through PayPal when your commission balance reaches $50. Join the Artisan Aromatics affiliate program here.
Vibrant Blue Oils
Vibrant Blue Oils (VBO) is an exciting and rewarding vendor for any niche affiliate marketer to partner with for several reasons. They offer essential oil classes to inform consumers in addition to crafting blends designed to promote healthy bodily systems.

VBO pays affiliates a generous 20% commission on all referral sales with payment made monthly through PayPal once referral fees reach $50. You can sign up as a Vibrant Blue Oils affiliate here.
Amazon

Amazon represents an excellent primary or supplemental affiliation for bloggers targeting an essential oil niche. Their relevant inventory of products is extensive and includes a wide variety of diffusers, books, and essential oils or kits from various suppliers.
Amazon is a trusted vendor that pays commissions of 4.5% on all purchases of health and personal care products made by an affiliate's referrals. Additionally, when a prospective customer clicks your Amazon link, a cookie is set for 24 hours. You are then eligible for a commission on any product your referral purchases from Amazon.com during that period.
Related Post: https: How to Become an Amazon Affiliate Marketer

How to Make Money As An Affiliate
Affiliate marketing is a fantastic business model.  It allows affiliates to earn commissions for promoting the goods and services of other merchants such as those listed above. One of the best aspects of the model is that you don't need to develop products of your own. Moreover, you also won't need to incur the costs to store or ship products.
However, to make money, you will need a website devoted to essential oil topics. As an online marketer, you will then use content marketing to draw the attention of consumers who are already interested in and searching for specific essential oil information and products.
Your mission is to craft informational articles. Such articles can include things like "how to" tutorials or product reviews that attract a targeted market to your website. Content marketing strategies include researching keywords. You'll then create articles focused on these powerful search terms and phrases.
When you join an affiliate program, you receive links to embed in your content. These links will take readers directly from your website to a vendor's site.  Furthermore, those links contain a unique tracking code that identifies referrals as coming from your site. If a purchase occurs, you receive credit and share in a portion of the profit from the sale.
If the idea of affiliate marketing is new to you, please take a look at the infographic below, which may help.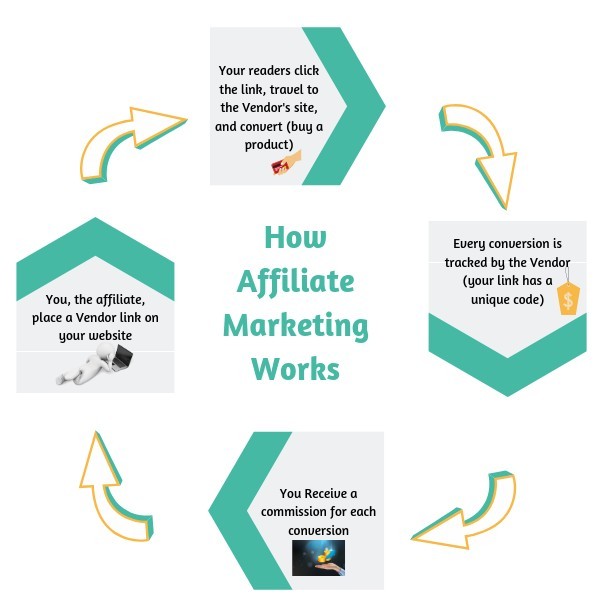 The concept of affiliate marketing sounds incredibly appealing, doesn't it? Therefore, why not consider further satisfying your curiosity by joining the top online platform for aspiring marketers? Learn everything you need to know to create an online business promoting essential oils from home.
Read more about the benefits to you of joining Wealthy Affiliate here. Or, cut to the chase and click the banner below to create a free account now and explore this extraordinary platform as an insider.
Summing Up
I hope this exploration of essential oils affiliate programs has the wheels churning. If you've experienced the benefits of essential oils, and enjoy sharing your knowledge and experiences with others, consider becoming a blogger.
You now know there are some wonderful organizations you can partner with as a niche affiliate marketer. From there, it follows that making money while sharing your passion for essential oils is a very real possibility.
Over to You
Have I answered your questions about essential oils affiliate programs? Do you better understand how partnering with one or more of these organizations can help you make money with essential oils? If I missed something, please ask your questions in the comment section below.
Like It? Please Share It!