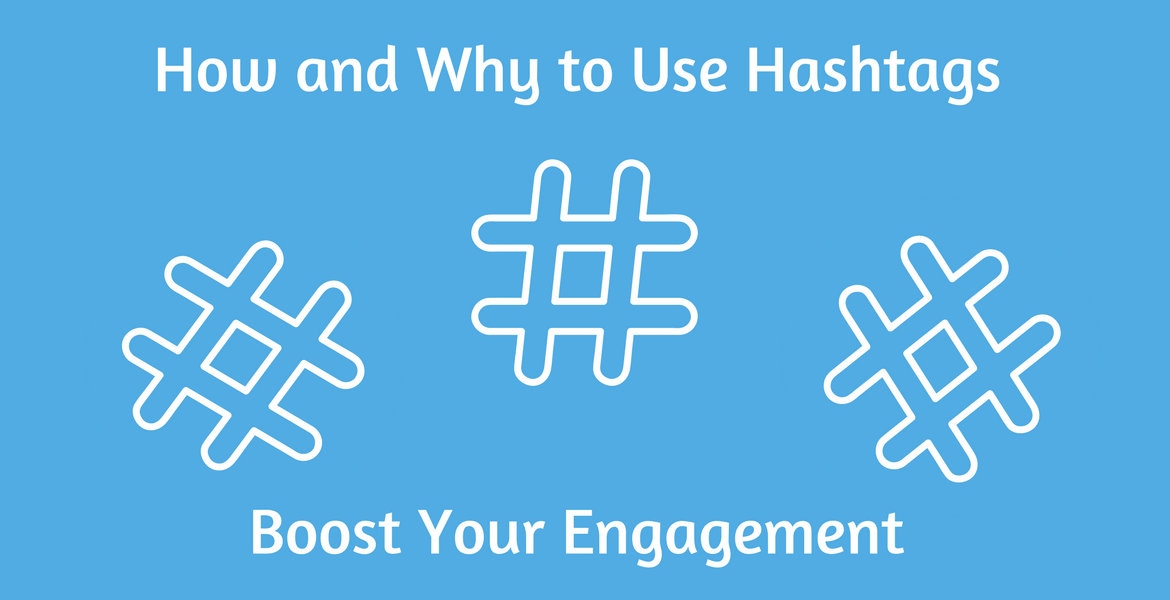 Of course, we're all familiar with hashtags. In 2018, that goes without saying. But do you understand how and why to use hashtags and their powerful #blogging value?
Maybe not!
We can't escape the hashtag in the online space. The Twitter blue bird flew into the online scene and turned the mundane hash symbol into an Internet sensation.  But, I've observed some misuses and missed opportunities which have prompted today's post.
Social media can be an exceptional source of free traffic for website owners and most of us have established social media profiles to promote our sites. Used properly, hashtags can be a powerful (and free) tool to engage your audience. They can help your post standout amongst all the noise created by thousands of new social media posts that are added every minute.
So, I hope you'll join me as we explore the benefits of employing hashtags along with some of the rules and best practices for proper usage.
Are you ready to dive in?
What is the Definition of a Hashtag?
Yes, we see (and potentially use) them on a regular basis. But, I still find it helpful to start with a shared definition of the term. Wouldn't you agree? So, I'll share a basic definition I've grown comfortable with along with a link for my readers who enjoy history and all the details.
A hashtag is a string of alphanumeric characters forming a keyword or unspaced keyword phrase that is immediately preceded by a hash character (#).
Isn't it amazing that something so intrinsic to life today really hasn't been around all that long?
Social media networks take notice of the hash mark and use it to index your post. Your publication is now easily discoverable by folks who share your passion for the subject matter. Hashtags combine multiple conversations on a topic into a single thread where avid information consumers can feast.
So, let's say you're like me and you're obsessed with blogging and finding the best blogging tools. I can search on #BloggingTools and find a tailored list of posts that are focused on this topic. I love the efficiency of this search technique because I've uncovered some fabulously helpful websites and like-minded people to follow using this approach.
The simple hashtag has evolved into the most frequently used means of categorizing content on social media platforms. Its simplicity is brilliant! Twitter introduced the concept, but the hashtag is now used to some degree by virtually all social networks.
Have you tried searching on relevant hashtags? Will you share what you've learned in the comment section below this post?
What is a Trending Hashtag?
Trending topics are those that are currently experiencing a big spike in interest and may best be described as the hottest emerging topics. By many accounts, a huge portion of the population uses these trending hashtags as a key source of "breaking news" each morning. It's no wonder that many publishers are eager to use these tags.
Trending hashtags tend to be tailored to your geographic area and are listed on your Twitter homepage feed.
Can you see how using hashtags can help you snag the attention of someone who's never followed you before? What better reason to add one of these bad boys to your social media content? Traffic is the lifeblood of every online business, and it just makes sense to derive the maximum exposure benefit possible from social sites.
Increased exposure is the biggest "why" that drives hashtag usage. Additionally, research indicates that the inclusion of hashtags in your post may Increase click-through rates by as much as two times. Website owners have to love those stats, right?
There are some fascinating twitter hashtag analysis tools out there that can provide insights into the popularity and possible reach of various phrases. Rite Tag is one of my favorites which offers invaluable (and free) insights. The image below shows the type of information available with this resource. I think you'll want to experiment with some tag choices that may work well for you.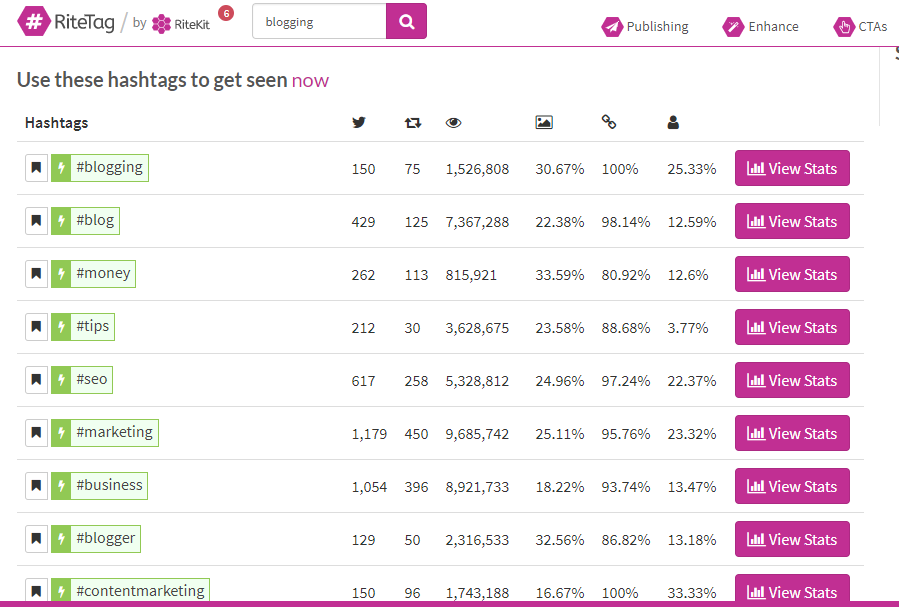 Used correctly, hashtags represent an outstanding way to connect with potential new customers and the broader online community. Get the most bang from your tags by keeping these principles in mind.
– Keep it Relevant
It's tempting to sprinkle those trending tags in your posts, but for those of us using social media to promote our blog posts, that's very shortsighted. You want your tags to be targeted and highly relevant to your content. Keep in mind that attracting readers who have no interest in your articles can do a real number on your bounce rate when they immediately click away.
– Use Them Sparingly
Most of us have spotted those tweets that are loaded with hashtags. They smack of spam, and you certainly don't want to be viewed as a spammer. Using one or two tags seems optimum and tends to be most rewarding on most platforms. Instagram seems to be the exception where multiple tags are more the norm.
– Make Them Easier to Scan and Read at a Glance
Capitalization doesn't have any impact on indexing, but if you're targeting a keyword phrase, it can be helpful to capitalize the first letter of each word to improve the readability of your tag. If we compare the readability factor of #SeoStrategies and #seostrategies, I think that's pretty clear.
– Hone In On Your Audience By Getting Specific
This point might be considered an extension of the relevance factor, but it also has an impact on the visibility of your post in a search. Let's say you have a website related to dogs. It might be tempting to use a generic tag like #Puppies, but you're probably better off to use a longer keyword phrase like #CrateTrainingYourPuppy. Your contribution can get lost in a vast sea of competing posts if you go too broad.
Hashtag Misuses and Cautions
If you're not familiar with usage rules and conventions, your hashtags can be ineffective or even have some very unintended consequences. Here are some things to keep in mind.
Your hashtags cannot include any spaces between words or punctuation of any kind. Leave out those commas, apostrophes, quotes, and so on.
– Don't Use Any Symbols, Including the @ Symbol
The @ symbol is used to signify Twitter usernames and can be used for direct messaging. It's common usage on the platform probably accounts for the frequent misuse in tags, so this a good reminder.
– Numbers Are Fine But Must Accompany Alpha Characters 
You cannot have a hashtag comprised entirely of numbers. At the time of this post, we're heading into the 2018 Winter Olympics, and this is a hot trending topic. So, for example, #Olympics2018 is fine, but #2018 does not work.
– Do Your Research and Make Sure You Understand the Meaning Behind Trending Tags
In a disastrously memorable tweet, DiGiorno pizza used a trending hashtag (#WhyIStayed) to promote frozen pizza. Apparently, they did not realize the tag dealt with serious domestic violence issues. Obviously, you don't want this to be you!
If you're a new blogger, social media will surely play a large role in promoting your blog and in the ultimate success of your brand. With a bit a practice, even social media novices can be hashtagging like a pro in record time. It really can't hurt, so why not play around a bit and see what kind of results you achieve?
As you engage in the practice, I hope you find value in this post on how and why to use hashtags. If you're struggling with getting your blog off the ground, you may want to check out the exceptional training institute where I received my tutelage on all aspects of creating a successful online venture.
The hashtag social media craze isn't likely to fade away anytime in the near future. Therefore, why not enthusiastically embrace the practice and learn to use it to your advantage?
Please Join the Conversation
Are you a veteran hashtag user or still a newbie? Please drop us a line in the comments below and share your successes, frustrations, or any remaining questions you still have.