We love our pets, don't we? And, most of us are eager to make a little extra money from home with a side hustle. So, I found the idea of learning how to make money with pet products and affiliate programs super intriguing.
There are a ton of excellent pet affiliate programs you can partner with. Combine those partnerships with a stunning blog of your own, and you can create a legitimate online business.
Today, I'm going to show you how to make that your reality!
So, pour another cup of coffee, grab a pen, and prepare to take some notes.
Affiliate Marketing: How to Make Money With Pet Products
In this online era, affiliate marketing is a booming $6 billion industry. Almost all online retailers increase the visibility of their products by partnering with affiliates. Suppliers of pet products are no exception to this rule.
Joining pet affiliate programs is free and starting your own pet blog is much easier and far more affordable than you might believe. Combine these factors, and we start to understand why becoming an affiliate marketer is such an attractive venture.
Are you worried about not having any experience?
I know that the lack of any prior experience is a concern for many people. But it shouldn't be. Creating your own website is a very straightforward process that anyone can learn. It doesn't require any specialized or technical skills. I network with thousands of people who started their online business as complete Internet newbies.
What is Affiliate Marketing and How Does it Work?
Firstly, let's make sure we're all on the same page regarding what affiliate marketing is and how it really works. A solid understanding of these concepts is critical because I see so much misinformation on the Internet.
The role of an affiliate marketer is to promote the products of other merchants. If your promotional efforts lead to a sale, you earn a commission. If you decide to promote pet products online and you join pet affiliate programs you will not be purchasing, storing, or shipping any products.
You will also not be processing any sales transactions. Instead, your job is to provide useful and relevant information for pet owners who may be interested in a variety of supplies. Your website will contain links to vendor sites that interested customers may follow to complete purchases.
The links on your website contain an embedded affiliate code. Vendors use affiliate codes to track the source of all customer leads. If a customer that you refer makes a purchase, the vendor will pay you an agreed-upon percentage of the selling price for your efforts.
Please take a look at the infographic below because sometimes a visual representation can really help.
Most online sales transactions involve an affiliate. Affiliate marketing is a brilliant system for bringing together customers who need products and vendors who have products to sell.
Is there a demand for pet products?
According to the American pet products Association, Americans spent a staggering $66.75 billion on their furry, feathered, or finned friends in 2016. We adore our pets and treat them like children.
The demand for products that keep our pets comfy, safe, healthy, and entertained is vast. That scenario is unlikely to change anytime soon. In fact, studies show that pet spending is increasing by billions of dollars each year which makes becoming a pet product affiliate very attractive.
Hopefully, that all makes sense and sounds pretty good to you. Now, let's talk about the next essential step in the process.
Choose A Niche
If you're interested in making money with pet products one of your first steps will be to narrowly define your audience to limit your competition. From there, you can develop a website that provides solutions to particular problems.
For example, if you create a blog about all things dog-related your competition will be insurmountable. However, a blog focused on a much narrower topic like puppy training methods has a far better chance of standing out from the crowd.  Less competition means a better chance of ranking in the search engines.
Why?
Because fewer existing blogs are addressing the specific questions of this narrower market segment.
You can use a keyword research tool to identify and compile a list of relevant search terms that your potential audience is using when they seek answers to their burning questions. Jaaxy is the best keyword research tool I have found online for developing a list of low competition search phrases to target.
So, I jumped into Jaaxy and keyed in the phrase "how to train a Puppy." And, here's an image displaying my results.
Jaaxy Search Results
I see some awesome keywords on this list! Focus on the column labeled QSR. QSR stands for quoted search results. It tells me how many other websites are currently targeting this specific keyword phrase. With a brand-new website, I like to target search phrases with less than 50 competing sites.
As you can see, I have a bunch of choices. Moreover, the first column in the table (labeled AVG) tells me that each of these phrases receives traffic every month. Finally, the last column in the table (labeled Brainstorm) suggests more stellar options that I can drill into and expand my content possibilities.
Can you see the power of this magnificent tool?
If I chose this niche, I could do some research and then write informative articles explicitly targeting these keyword phrases. Due to the small amount of competition, it would not be difficult for my quality articles to rank in Google. The search engines would then start sending free organic traffic to my website.
Once your website is attracting interested readers, you're ready to monetize. You can join reputable pet affiliate programs and recommend puppy training resources and related pet products. You can also identify popular products within your niche and write helpful, descriptive product reviews.
Honest product reviews represent a valuable online service. Studies show that most consumers read product reviews before making a purchase decision.
You now have a viable online business that will gradually start earning a regular income. It won't happen overnight because growing traffic and building customer relationships takes time. But with commitment and persistence, you can absolutely make this happen.
How to Start a Pet Blog to Promote Pet Products
Successful affiliate marketers need a blog to communicate with their niche target market and showcase their unique content. Interaction takes place in the comment section allowing bloggers to respond to further questions. This dialogue encourages loyal readers.
So, without further delay let's delve into how to start a pet blog. Here are the four steps that are necessary to create a blog:
1) Brainstorm and acquire a domain name
2) Obtain Hosting
3) Install a blogging platform
4) Choose an attractive theme
Brainstorm and Acquire a Domain Name
Your domain name must be registered and unique because it tells your readers where to find your site on the Web. I always purchase my domain names through
SiteRubix
, but there are many other registrars to choose from.
I decided to check out the availability of TrainThosePuppies.com, and it turns out that domain is available. You could purchase it from SiteRubix for $13.99 per year.
What are your thoughts on a great domain name?
Obtain Hosting
There are numerous web hosting providers available with the necessary servers to store your files and the ability to offer access to your site to your viewers. In making your choice, you will want to assess factors such as reliability, security, storage limitations, and the ability to handle your traffic as it grows.
One thing to be aware of is that many hosting providers are also able to supply domain names. That's true in my case because SiteRubix is an all-inclusive platform.
Install a Blogging Platform
I highly recommend going with WordPress as your blogging platform. As the most popular platform on the Internet, WordPress offers amazing power and flexibility. Many hosting providers, including SiteRubix, offer one-click installation of WordPress.
Choose an Attractive Theme
Themes are just one of the superb features of WordPress. There are more than 2,800 free themes to choose from. You can make your site your own. Naturally, there are also many premium themes available, but I strongly suggest you go with a free theme to start. You can always change it later.
There you have it. Complete those four steps in less than five minutes and your new website will be live!
View the image below to see how these four steps can be completed in four mouse clicks using the SiteRubix platform.
Notice in the image above that SiteRubix lets you create a website on either a domain that you own or on a free domain. Ultimately, you will want your own domain to properly brand your business. However, why not try a free domain first to explore the WordPress environment before making a firm commitment?
SiteRubix is fully integrated into an online affiliate marketing training program called Wealthy Affiliate. I've been a premium member of Wealthy Affiliate for two years and can't say enough positive things about the community.
They are the best training program in the online space. And, I invite you to read this post to get a complete picture of everything that Wealthy Affiliate Has to offer aspiring Internet marketers.
But please don't take my word for that. With nothing more than an email address, you can join the platform as a Free Starter Member and explore the resources and training at your leisure. Build a free, hosted website and complete 10 video-based training modules to see if affiliate marketing is a good fit for you.
To see an example of what the video-based training sessions are like, view the video below. This video will walk you through the process of creating a new website in real time.
How to Find Pet Affiliate Programs
Now that you know how to start a pet blog and how to generate exceptional content ideas, you're ready to seek out pet affiliate programs to partner with.
So, how do you find programs?
Here's one approach you can readily use. You can get help and information from Google. Go to a Google Search Box and type in the following:
"puppy training methods" + affiliate
As of the date of this post, here are the top 3 programs returned by this query: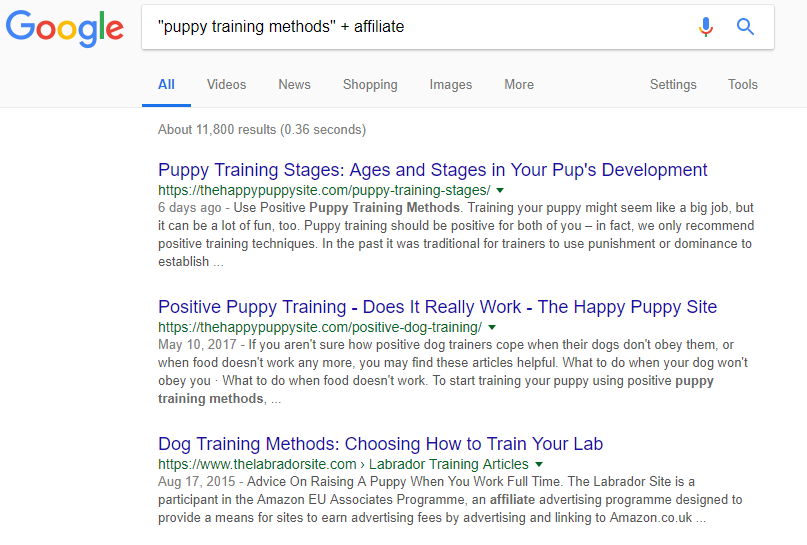 You can now do your due diligence and investigate these organizations and their product offerings. And, there are far more vendors on the list, so you aren't limited to these top results. This is just an illustration.
Partnering with Amazon is also a possibility in almost any niche. Amazon's commission rates (at approximately 4%) are lower than most other programs. However, they do offer the benefit of being a household name with a reputation for fast delivery and good customer service.
Amazon has established trust amongst consumers which is not a factor to take lightly!
Summing Up
I sure hope you found this post on how to make money with pet products to be both interesting and informative. There is no doubt or question that affiliate marketing is an integral part of today's world. It's a legitimate and exciting path to earning a side income or even a full-time income on the Internet.
Thanks for joining me today and I wish you the very best as you pursue your goals. If you still have questions, please ask me in the comment section below. It will be my pleasure to respond to all questions!
Like It? Please Share It!