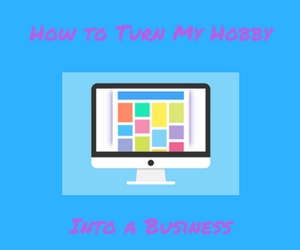 It's been an amazing experience learning
how to turn my hobby into a business
. I can highly recommend the experience to my fellow retirees looking to supplement retirement income.
Frankly, it's a great option for anyone interested in living a flexible lifestyle and making money from home. Stay at home Moms or Dads, disabled individuals, or the unemployed can all benefit from this opportunity.
If I've caught your interest and piqued your curiosity, let's talk about how I did it, shall we?
It all starts with a beautiful website!
Let's Talk Hobbies
Hobbies are activities that we choose to do in our leisure time purely for pleasure. Most of us have one, right? We may even have several. Hobbies are so important because they help us to unwind.
Leisure activities are known to relieve stress which can have positive impacts on our health. Our favorite pastimes are also great ways to connect with other folks who share our interests. They can be wonderful social outlets and bonding opportunities.
For many people, hobbies aren't just about a few hours of pleasure. People are often passionate about these pursuits because they represent creative outlets, or unleash our imaginations, or satisfy powerful needs for physical or mental challenges and stimulation.
These pastimes often help define who we are as individuals. I recently came across this rather sad quote on hobbies.
I hope this doesn't describe you. Now, I acknowledge there were many periods during my working life when it was hard to spend as much time on my hobbies as I would have preferred. I think we can all relate to that.
But the passionate interests were always there. I indulged in them as I could and looked forward to that day when I could revel in them.
Whether your hobby is playing guitar, oil painting, woodworking, riding horses, training pets, knitting (knitting sweaters for your pets 
 ), playing sports, running marathons, reading science fiction, or a host of other activities, you should enjoy it, share it, and network with others who also love it!
And in today's world, you can also turn that passion into a business.
The Power of the Internet
Traditional business models of the brick and mortar variety can be very challenging to start and often require more capital than many of us can access. But that's not true of an online business.
The Internet has created a business-friendly environment that's readily accessible to almost anyone. Monetary investments are minimal. I spend less than $2 a day to maintain my website. How much did you spend on your Starbuck's latte this morning? 
I'm not suggesting you can have a profitable business overnight. That's definitely not reality. But with some time, hard work, and persistence, generating income is possible.
How many times have you said over the years, wouldn't it be fabulous if I could earn a living with woodworking (or golf, or fill in the blank)? Well, guess what? It is fabulous, and you can do it!
You can create a virtual business around any imaginable pastime. Spending five minutes Googling any hobby will tell you that websites exist about that topic.
Others have already taken the plunge, and you can dive right in there with them. The only real difference between them and you is that they have a website.
But you can change that and join them today!

How to Turn My Hobby Into a Business – It All Starts With a Beautiful Website!
Build a Free Website With SiteRubix
SiteRubix is the state-of-the-art website builder and web hosting platform that is used by members of Wealthy Affiliate. Based on my research and my personal experience, I believe this to be the best option available for creating a website.
You see, SiteRubix was developed by online marketers for online marketers. I feel the platform is superior to alternative website/blogging platforms because it offers tremendous development flexibility and places no restrictions on monetization strategies. You can use affiliate marketing, ads, or e-commerce strategies to make money from your website.
You can create a 100% free (no credit card required) Starter Membership today that gives you 2 websites, hosting for your websites, and 10 lessons to get you started the right way.
And, if you're worried about not having any technical skills, don't be. You don't need any!
Please check out the video below to see just how quick and easy it is to create your own website.
Do you have an idea in mind for your website? Why not see if that website name is available?
Wrapping Up
Learning how to turn my hobby into a business has been amazing and it all began with a website! I sincerely hope you'll decide to become a free Starter Member of Wealthy Affiliate today and experience the excitement of an online business with me.
If you do decide to join, please stop by my profile page and leave me a message. It will be my pleasure to follow your success and help you achieve your business dreams.
Join the Conversation
Please share your thoughts on turning your hobby into a business in the comment section below. If you still have questions, I would love to answer them. Do you have a friend or family member who's been looking for an opportunity like this? Please be sociable and spread the word.
To your success!