Would You Like to Learn How to Supplement Retirement Income Online? Or, Maybe You Haven't Retired Yet But You're Planning For That Day.
Learning how to supplement retirement income online is not as difficult as you may believe. Like me, I suspect that most of you have periodically fantasized about working from home. I think we've all dreamed about capitalizing on the Internet. You may have explored various online employment "opportunities" before.
Did you discover that the startup fees were more than your budget could handle?
Some of you may even have been taken in by promises of instant earnings and huge financial success in exchange for a one-time fee.  Promises of help disappear once they have your credit card number. Or, better yet, they immediately inform you that to be successful, you must purchase expensive mentoring services.
I'm guessing that didn't work out well for you 🙂
Make no mistake; there are a lot of scams out there!
What's Different About This Site?  
The purpose of this site is simple. I've been working online since April 2016, and I want to share information that I have acquired through my own online journey. I genuinely believe you will find it very helpful and enlightening. Best of all, the information will be freely and happily shared.
Please leave all credit cards in your wallets. They are definitely not necessary here!
So…Let the Sharing Begin
In this global economy, there are a plethora of ways in which to earn money online. I've embraced affiliate marketing because it's such a powerful strategy for creating multiple streams of income. Affiliate marketing is one of the most fundamental ways of making money online.
But First, a Few Words of Caution
Affiliate marketing is a proven technique with vast potential for those who are willing to invest the time and effort to develop a business with a sound foundation.  Nicely supplementing your retirement income is a very achievable goal.
In fact, many people have eventually replaced full-time incomes by building affiliate marketing websites.
But you do need to understand it is not a get-rich-quick scheme.  Those do not exist.
You will not be making money by the end of the week. That's about as likely as winning the lottery. In fact, you probably won't make any money for several months. It's a process. Again, you have to carefully and steadfastly lay the foundation. But if you do, the rewards will eventually flow.
Here's the thing. As a retiree, you have the time to pursue new and exciting activities and hobbies. Even if you're still working outside the home, you probably have a few hours a week to devote to a website that could be life-changing.
Affiliate marketing is one of the many things I  have really enjoyed exploring. Initially, it piqued my curiosity. And, growing my business has proven to be an exciting and rewarding experience.
Still interested? Let's explore this further.
What is Affiliate Marketing?
Here's the Wikipedia definition:
"Affiliate marketing is a type of performance-based marketing in which a business rewards one or more affiliates for each visitor or customer brought by the affiliate's own marketing efforts."
OK. I hear you. This definition is a little too high-level. So let's talk more about the key players and elements involved. As we do, it will all become clear.
(1) Business
There are tens of thousands of companies selling goods and services online every day that need the help of affiliates. Almost every major retailer and many smaller businesses as well have affiliate programs. Amazon, Best Buy, and Walmart are classic examples.
(2) Visitor or Customer
More than 3 billion people use the Internet every day. All of these people visit websites looking for information about goods and services and are potential customers. You have probably made purchases online many times over the years.
(3) Affiliate
An individual that has signed up with an affiliate marketing program to promote specific products and direct customer traffic to the vendor's website. This person could be you! Some businesses allow you to apply for their affiliate program directly through an affiliate link on their website.
Other organizations use affiliate networks (such as CJ Associates or LinkShare) to which you can submit applications. The possibilities are nearly endless, with no cost to apply. As an affiliate, there are more than 500 million products and services you can promote.
(4) The Affiliate's Own Marketing Efforts
This step is your key takeaway from this discussion. To be successful, an affiliate marketer must have a website for use in marketing goods and services. No panicking, please 🙂 There are FREE resources available today (such as WordPress) that allow you to create a fully functional website with just a few clicks.
I created this website with WordPress, and it's much easier than you might think. Your website will generate traffic by providing helpful and relevant information to readers on a topic that you are passionate about. It's all about content!
Once you have traffic, you can then add affiliate product links to your site.
(5) Performance-based Marketing
These are marketing efforts that rely on concrete actions that are measurable and trackable. For example, a customer clicking on a product link and then entering an email or making a purchase through a vendor's website.
Upon acceptance as an affiliate, you are assigned a unique identifier or code. That code appears in your product links. Marketing leads and sales generated by each affiliate are readily identifiable, and tracking is automated.
(6) Rewards
Affiliates receive commissions based on specific, measurable actions as required by the particular affiliate program offer. Sometimes a lead in the form of an email address is enough. In other cases, an actual sale must occur.
Commissions vary widely by the offer. Amounts can range from a few cents to hundreds of dollars per action. Typically, you receive commissions through a Paypal account. Other options may also be available depending on the company. You will have to do some research before selecting the right affiliate offers for you.
How to Make Money With Affiliate Marketing
Here's what your roadmap to affiliate marketing success looks like:
Resources Available to Start Your Online Business
Excellent training materials and resources are available to get you started on your online journey. As you read further, I am going to introduce you to a REAL online opportunity. You can take your first steps toward success today by creating a totally FREE account.
Introduction to Wealthy Affiliate 
Wealthy Affiliate is a popular online business training center. They offer all of the training and tools you need to develop a thriving online business of your own. For me, finding this organization was a distinct turning point in my personal quest to earn money online.
A large community of like-minded individuals willingly share information and provide helpful support. I've rubbed elbows daily with long-time successful Internet marketers on a daily basis and soaked up practical tips.
As a retiree, I have been more than willing to invest time and effort into a business venture. However, I was not in a position to spend a lot of money. I am also extremely reluctant to buy anything without knowing all of the details about what I am purchasing.
So for me, the Wealthy Affiliate Starter Membership was perfect because it is a no-cost scenario.
I  joined, completed the  "Online Entrepreneur Certification – (Level 1)" course, and created my first website for FREE. The first course includes 10 step-by-step tutorials, along with numerous task-oriented training videos. The Starter Membership contains an incredible amount of resources.
Wealthy Affiliate also offers a Premium Membership with far more extensive resources that may be of interest to you at some point. Or maybe not. There is no requirement to upgrade your membership ever!
Here is a comparison of the two membership levels available:
Frankly, I strongly recommend that you join for FREE as a Starter Member, just as I did. Take advantage of this offer. Explore the website and experience the quality tutorials with no obligation. You can create a website very quickly and get your business up and running with a FREE membership.
Free website building and hosting are truly amazing deals!
Is working online from home something you've been talking about for years? If so, consider the wisdom in one of my favorite quotes.
"The way to get started is to quit talking and begin doing."   Walt Disney
Why not click the link below to start today? You have nothing to lose. A few months from today, you could be earning a nice supplemental income. Knowing how to supplement retirement income online can be your ticket to greater freedom in the years to come.
Seniors are earning online every day, with the benefit of Wealthy Affiliate training and mentoring. Shouldn't you consider joining us?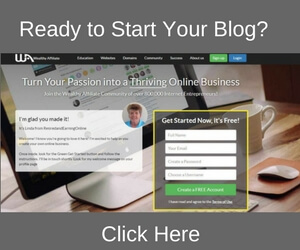 Wealthy Affiliate FAQs
I've compiled a list of Wealthy Affiliate (WA) frequently asked questions (FAQs) because I wholeheartedly concur that it's always best to get as much information as possible before making decisions to join an online program. As I answer these questions in April 2020, I have been a premium member of WA for 4 years.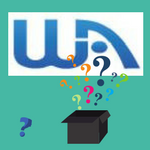 So, know that I'm answering these questions with an insider's perspective!
Q. What is the Wealthy Affiliate Program?
A. Wealthy Affiliate is an elite online training platform created by 2 successful Internet marketers back in 2005. Over the 13 years of its existence, the platform has continuously grown and evolved to meet the needs of both aspiring and more successful affiliate marketers.
You will find everything you need to launch and grow your online business under the WA umbrella. The training and resources (website builder, hosting, domain registrar, keyword research tool, and more) are exceptional. You can learn to earn at home online in a safe and secure environment that includes support from a global community.
Q. What membership options do Wealthy Affiliate offer?
A. WA has two membership options:
A free Starter Membership
A Premium Membership
The free Starter Membership is perfect for anyone curious about Internet marketing and eager to get some hands-on experience but not necessarily ready to commit.  If you still need more information, this option is for you. Build a free WordPress website and try it out.
The WA premium membership is designed for those of us who know we want to pursue an online business. Premium membership offers far more training and everything you need to achieve long-term success. And, it's very affordable at $49/per month, $234/6 months (save $60), or $359/year (save $229).

Q. Does Wealthy Affiliate have any upsells once you become a premium member?
A. None! A premium membership is an all-inclusive package. The only additional expense you may choose to incur (and I do recommend this) is the cost of your own domain at $13.99/year. Purchasing a domain is not absolutely required because you can choose to use a free SiteRubix subdomain, but it is a best practice.
Q. Is the free Starter Membership a Trial Offer that expires?
A. No! You can remain a free member for life and retain your free website and web hosting for the site. After the first 7 to 10 days, you do lose access to certain premium features like Live Chat and private messaging. The major limitation of a free account is the inability to participate in higher levels of training or to network with the amazing community.
Q. What is the Wealthy Affiliate Bootcamp?
A.  The WA Bootcamp is in an intensive training program that walks you step-by-step through the process of developing a business focusing on helping people interested in pursuing affiliate marketing. There are seven phases of training with 10 lessons per phase (70 total lessons).
Here is an overview of the 7 Bootcamp courses: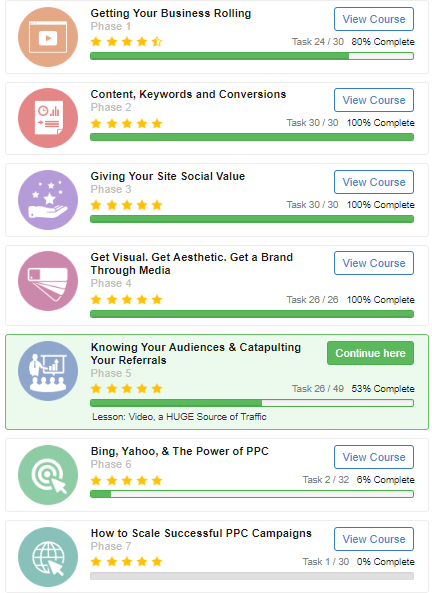 Each lesson is broken down into particular tasks that build your online presence from the ground up.  After completion of Bootcamp, you are well-positioned to effectively promote the Wealthy Affiliate platform and other essential affiliate marketing tools for beginners.
Wealthy Affiliate offers one of the most lucrative referral programs in the online space.  Below are commission rate details for premium members.  Starter members are also eligible for commissions at one-half of the rate that premium members earn.

More than 2 million people have joined Wealthy Affiliate since it's inception in 2005 because the program offers exceptional value to members.  The extraordinary quality of the Wealthy  Affiliate platform in tandem with the commission fees makes the WA Bootcamp an industry-leading training ground.
Q. How will I earn income?
A. As an affiliate marketer, you earn income by promoting the products of various vendors that you choose to work with. You will first select a topic or niche market and build a website to communicate with your target audience. Then you'll add quality content to your site that attracts visitors with an interest in your subject matter.
Wealthy Affiliate's training will walk you step-by-step through the process of crafting content, getting your published content ranked in the search engines to draw traffic, and then adding affiliate links to your website.
Q. How long will it take for me to earn income as an affiliate marketer?
A. Naturally, this is one of the first questions folks have. I wish I could give you a firm answer, but that's not possible.
Why?
Because you're the missing piece of the puzzle., Are you willing to complete the training and take action? How much time do you have to devote to your website? What's your chosen topic (some areas are more competitive than others)?
I can tell you that most people take about 6 months to start seeing some income, and it can take as long as a year or even longer. But for those of us that persist and stick with it, the earning potential is outstanding. You need to bear in mind that this is not a job where you're compensated by the hour. It's a business where your promotional efforts generate profits.
Please drop me a line in the comment section if I haven't answered your question. Know that I wish you the very best in your online journey and hope to see you inside the WA platform!
Will you share this information with friends and colleagues who are also wondering how to supplement their retirement income online?
Like it? Please Share It!