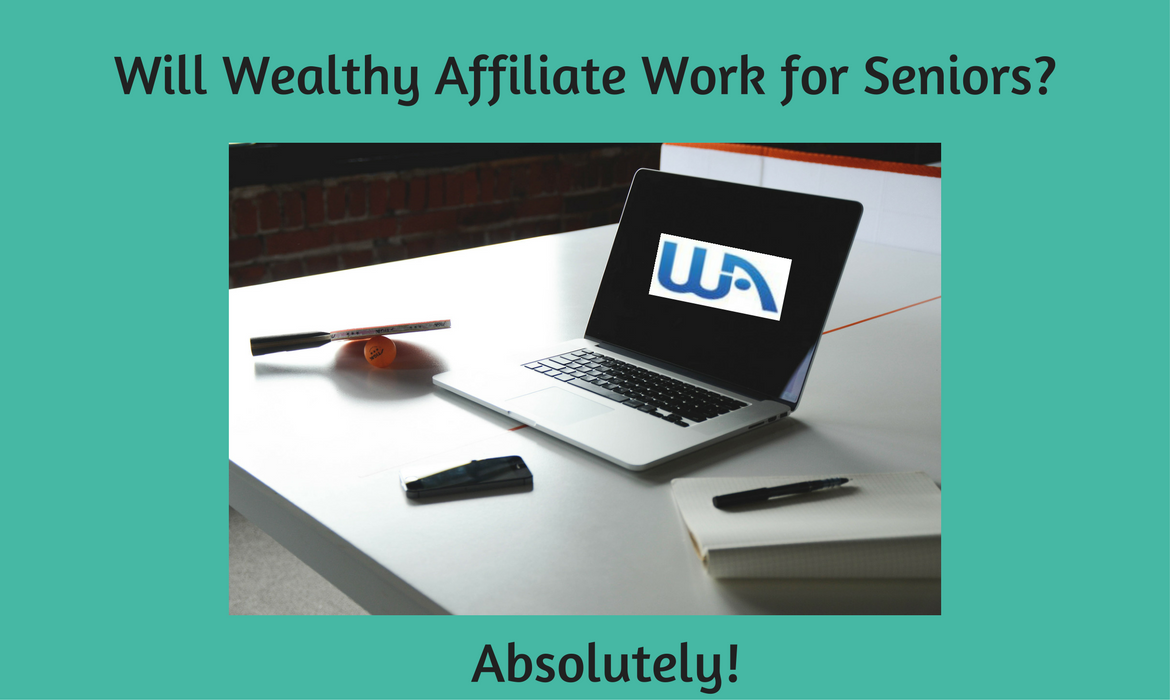 I'm not sure how long you've been seeking an answer to the burning question in this blog post title,
will wealthy affiliate work for seniors?
I can assure you that it's a popular query.  What's more, you've arrived at the best place to receive an extremely thorough response.
You see, this question was once my own!
So, I understand all of the implications and the underlying trepidation on a profoundly personal level. But more importantly, I have a ton of first-hand knowledge to share after spending about 1.5 years as a senior wealthy affiliate member.
Firstly, I've been on-site daily over that time. Secondly, I've completed formal and informal training, soaked up knowledge, and used the available tools to build my business. Finally, I've been privileged to interact with an extraordinary community of both new and experienced website owners.
One observation I've made is that a significant number of members are currently or soon to be retired from their careers. I think you'll agree, that makes a lot of sense.
Let's face it.  Many of us senior citizens are eagerly exploring avenues to supplement our retirement income. Living with the reality of our reduced income levels can be challenging. But I think it's more than that.
So many of us baby boomers spent the majority of our working lives chasing the elusive dream of a work-life balance. Am I right? But with retirement, the pendulum may swing just a little bit too far in the other direction.
I'm convinced that meaningful, engaging work is crucial to self-esteem at all phases of life. Wealthy affiliate presents a unique opportunity to fulfill that need.   What's great is that you can do it on your own terms as an entrepreneur. You can proudly build a sustainable business by working at your own pace from the comfort of home. Oh, and without the boss.
Please join me as I explain the various aspects of Wealthy affiliate and the myriad advantages it offers seniors. Without further ado, we'll dive right in!
What is the Wealthy Affiliate Program?
Two visionary Internet marketers launched Wealthy Affiliate back in 2005. Since then, the program has evolved into a premier online training facility. website hosting platform, and interactive community. It's been called the "home of affiliate marketing" due to the area of specialization and the quality of training offered in this booming field.
When I was first conducting my research, the sheer longevity of this program was hugely comforting. Internet programs come and go with alarming speed. But this is no fly-by-night operation. The owners have carved out their territory in the online space.  Moreover, they've steadfastly made impressive improvements over time to keep pace with advances in technology.
Everything you need to start and grow your online business is provided by this awesome, all-inclusive platform!
What is the Definition of Affiliate Marketing?
We'll delve into all the details of the WA platform. But first, let's make sure we're all on the same page when it comes to the underlying concept behind this online opportunity. You will learn everything you need to know to succeed as an affiliate marketer.
Yes, everything!
Affiliate marketing involves promoting the products or services of others in exchange for a fee called a commission. Conceptually, this is a very simplistic business model as the picture below suggests.
The Affiliate Marketing Model

Wealthy affiliate excels at walking aspiring marketers through these four steps in exquisite detail.  Furthermore, the community supports your efforts at each stage along the path to success. Members are never left to flounder on their own.
Receive insightful guidance in your selection of the perfect niche for you.
Using the amazingly intuitive website builder, create a stunning website in moments to use as the foundation for your online business venture.
Learn how to write engaging content for your site that focuses on answering questions and meeting the needs of your target audience.
Hone your content writing skills using feedback from the owners and other members of the community.
Learn the importance of effective keyword research and how to use keyword tools in attracting and building your readership. This is how people just like yourself find the helpful information they're continually searching for online. Content creation around keywords is powerful stuff!
Build traffic using search engine optimization techniques and social media marketing.
Acquire expert knowledge of the vast array of affiliate programs (1000s) that are free to join.
Enjoy tutelage on adding visual appeal to your content by embedding graphic images and videos.
Gather tips on converting visitors to customers using techniques like compelling Calls to Action.
Share successes with the community as your persistent efforts culminate in revenue.
Here's an example of a success post by one of the folks I follow.

What Are the Advantages of Affiliate Niche Marketing?
There are a plethora of advantages to the affiliate niche marketing business model.
Niche marketing can slowly but surely transform your golden years. Revel in communications with your chosen niche, enjoy the intellectual stimulation of learning new skills, and experience the thrill of banking the financial rewards. I haven't found much not to like :).
You can read more about niche selection here. But in a nutshell, a niche is nothing more exotic than a group of people with a strong interest in a very specific topic. By narrowing your focus, you can become an expert in your field. You can fill a need for information that's not currently being met.
Your goal is to carve out your own little niche and deliver quality information. You partner with a reputable vendor and send your readers to the vendor's site.
Imagine any exciting niche (there are endless possibilities).  From there. you can find multiple affiliate programs that are tailored to that niche. Major vendors that have become household words all have affiliate programs you can join for free.
Think Target, Walmart, Home Depot, Amazon, Best Buy, and more!
The best part is that you generate the leads and the product vendors take it from there. If a sale occurs, you receive a commission. As an affiliate, you never have to stock or ship products. It's a brilliant model that results in three satisfied parties: the customer, the vendor, and the affiliate.
The Challenges of Affiliate Marketing
Unlike many other "make money online" options you may have come across in your search, Wealthy Affiliate will never offer false promises of overnight riches.  WA teaches a legitimate "work from Home" opportunity with the emphasis on "work."
WA hammers home the message that there are absolutely No shortcuts to success. They will spare you the nonsense, hype, and empty promises so prevalent on the Internet today. Their training is jam-packed with valuable tips. It also includes strategies for creating a viable business. But it will take time and consistent effort.
You determine your success by taking action and following a proven blueprint. It may take six months or more before you begin to see returns. But stick with it, follow the plan, and the rewards will come.
How Can WA Improve Your Retirement?
Bring your enthusiasm and passion to the table and WA can help you create an income-producing business. Create a better retirement for yourself through self-education and determination while enjoying your personal passions. No prior experience is necessary.
The in-depth education and support you receive at WA give you that all-important competitive advantage. As you work your way through the lessons, constructing a beautiful site, you'll realize your true potential.
Make no mistake, WA will work for just about anyone. There are members from all walks of life from teenagers to folks in their 90s. But there are many factors that I feel make WA particularly ideal for senior citizens. Here are just a few of my thoughts on this matter.
Here are just a few of my thoughts on this matter.
You've looked forward to retirement and left the 9 to 5 ordeal behind. You can work on your website on your schedule rather than an employer's time frame.
Do you want to travel or spend more time visiting the grandkids? No problem. You can work from anywhere you have an Internet connection.
Retirement is a time in your life to focus on hobbies and enjoyable pastimes. WA encourages you to select a niche based on your favorite pursuits. So enjoying your hobby and building your business are not mutually exclusive. Rather, you can sync up these activities.
WA is a hassle-free, no-pressure environment where you can work at your own pace.
This is a safe haven filled with supportive, like-minded people.
Many retirees express initial concerns about a lack of computer skills. But they soon realize that's not a stumbling block because the tools are easy to use and help is always available. Just post a question or jump into the live chat and fellow members will chime in with solutions.
You'll find the interactions and free exchange of ideas exhilarating.
Click Here to Create a Free WA Starter Membership
Wealthy Affiliate Core Training
Core training components consist of Online Certification Training, Classrooms organized around key topics, weekly live Webinars, and Affiliate Bootcamp Training.
Certification Training
You can immediately begin learning and applying real-world Internet marketing skills. WA offers 5 levels of Online Certification Training with each level containing 10 lessons (or 50 total lessons). The formal training is both comprehensive and task-oriented.
To give you a sense of the depth and breadth of coverage, here is a listing of the 5 Training Modules.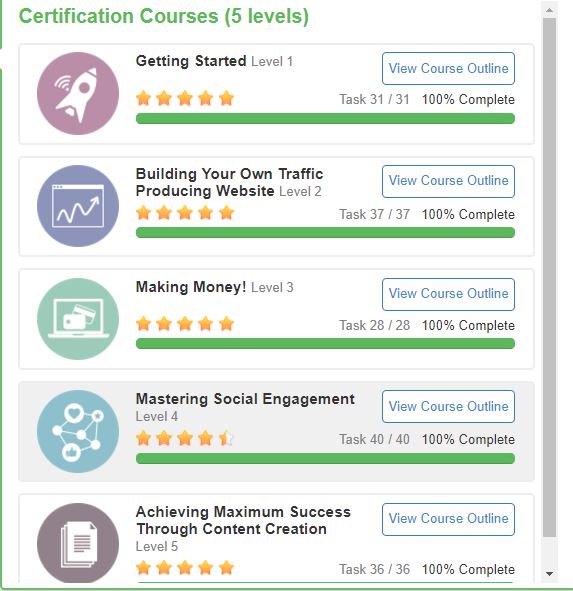 Classrooms
There are 13 interactive Classrooms. Each provides a wealth of valuable information on a topic relevant to website development and affiliate marketing. Each classroom contains tutorials, videos, and a Q&A forum on the topic at hand.
Check out the list of available classrooms.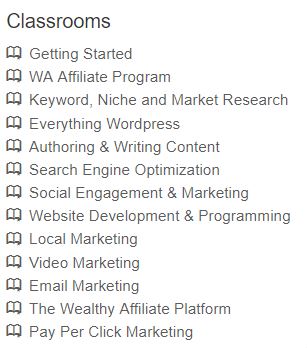 If you have a question, you can post it in the appropriate classroom and anticipate multiple community responses on a very timely basis (usually a few minutes). You can also search an extensive database of thousands of previously asked and answers questions.
Weekly Webinars
WA also broadcasts live Webinars every Friday evening at 8 pm EST. Jay Neill of Magistudios conducts the Webinars. Jay's been a WA member for more than 10 years. Additionally, he's a highly successful Internet marketer with incredible knowledge to share.
Attending the live session is awesome because there's always a Q&A session in which you can participate and pick Jay's brain. Depending on where you are in the world (WA is a global community), you will obviously have to tune in based on your time zone.
Live attendance is not always possible or convenient for all members, but that's not a problem. All Webinars are taped and available for replay. The hundreds of stored video broadcasts represent a treasure trove of information that you can search and view at your convenience.
Here's a sample of two recent live broadcast topics.
Affiliate Bootcamp Training
Finally, WA offers an Affiliate Bootcamp training program for anyone interested in promoting the WA platform. The training is very similar in many respects to the Certification Training. But, the examples are specific to the chosen niche.
Ad-hoc Training By Members
In addition to the Core Training, there are thousands of ad-hoc training modules created by members of the WA community. There's a pay-forward philosophy that permeates every corner of the community, and the topical coverage is amazing!
Who Are the Owners and Founders of WA?
Kyle Loudoun and Carson Lim, two Canadian entrepreneurs, are the creative and dedicated founders of Wealthy Affiliate. Under their direction, WA facilitates success by offering an innovative online solution that continues to evolve on a daily basis. This business is clearly their passion, and it shows in their level of daily interaction within the community.
One or both owners can frequently be found doling out personal advice in live chat. They'll also answer questions in the various classrooms or blog about platform updates and other industry specific topics.  I've been most impressed (and grateful) at the prompt and helpful responses I've received to private messages. These are not your typical CEOs!
Wealthy Affiliate has come a long way in its dozen years of existence. It started out as a simple membership site that offered keyword lists to aspiring marketers.  It has since grown into the premier affiliate marketing training portal on the Internet.
I'm not observing any signs of complacency. On the contrary, there have been several upgrades completed within the past year, and big things are on the horizon.
How Much Does Membership in Wealthy Affiliate Cost?
Wealthy Affiliate offers two membership levels. One is a free ($0) Starter Membership which is where everyone should begin. Why would you consider spending a dime of your hard-earned money until you know exactly what this community has to offer? You need to be sure that both affiliate marketing and WA are a good fit for you.
The second membership level is the Premium Membership. This is for folks who've completed the free lessons, built their free website, and learned the basics of affiliate marketing. They're now convinced they want to pursue an online business. A premium membership is a fabulous value at $49 per month or $495 per year.
Let's compare these two membership levels.
The Pros and Cons of Wealthy Affiliate – One Member's Perspective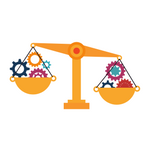 My goal is to lay out all the facts and share my personal experiences as a premium Wealthy Affiliate member because that's the best way I know of to ensure you're in a position to make an informed decision. Weighing the pros and cons is essential, so please stick with me.
The Pros
Free to join as a Starter Member. Remain at the free membership level for as long as you choose. Don't you hate it when you're offered a free trial, and the first thing they want is your credit card number? How is that free? That won't happen at WA. Free is truly free!
Step-by-step instructions designed to allow rank beginners to start from scratch and build a beautiful website.
The training is self-paced and designed for people with various learning styles.
The Starter Membership includes a free website and 10 lessons that will have your first site live on the Web in moments. The lessons also show you exactly how to add content to your site.
You will not be hassled or pressured to upgrade your membership level. Yes, there is a premium membership level that offers far more extensive training, a lot more resources, and the ability to host more websites (up to 10). But the decision to upgrade or not remains yours.
Multiple support channels are available 24/7.
A website creation suite called SiteRubix that allows you to build new websites, and also manage your existing websites. You can find and register domains, craft content with a fabulous writing tool called SiteContent, and request feedback on your sites.
Managed WordPress hosting that is safe, secure, and fast.
A free keyword tool.
A community of 10,000+ like-minded, active members who share their expertise. Many are long-term members who've achieved enormous success.
The Cons
My experience is overwhelmingly positive and I would give the program at least 4.8 stars out of 5. But few things in life are perfect. So, here's my take on the downsides along with my suggestions to lessen the impact of any negatives.
Newbies are sometimes overwhelmed by the sheer volume of information. Don't get ahead of yourself! Bypassing key steps in the training modules because you're anxious to progress can leave you feeling confused. Take it one lesson at a time, check off each task as you complete it, celebrate your progress, and only then move on.
The social aspects of the community can be distracting and make it difficult to stay focused on business. Just keep your eyes on your goal of a profitable website. Blog first and then indulge in a bit of socializing.
Inexperienced members are sometimes overly eager to help. They're well-meaning, but it's good practice to vet their answers with the many advanced participants in the community.
There's always a lot going on! As Stephen Covey would recommend, "put first things first"! Focus on the prize!
What Can You Learn With a Free Wealthy Affiliate Starter Membership?
My short and honest answer to this question is you can learn a lot! In fact, I learned far more in the way of practical skills with my free Starter Membership at WA than I previously learned with a paid membership at another online training facility. True story!
Here's the list of 10 free lessons that can catapult your online business.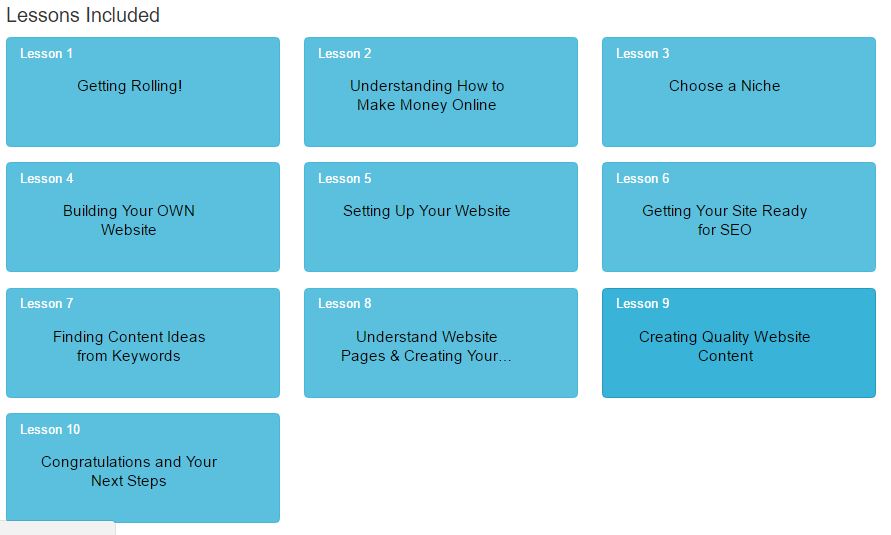 Complete Your First No-Obligation WA Lesson Now
Wrapping Things Up
In response to the query, will Wealthy Affiliate work for seniors, I can only extend a heartfelt invitation for you to join me in exploring this exciting adventure. I've openly shared my thoughts and incredibly positive experiences. But at the end of the day, you have to make your own assessments.
Even in the unlikely event that this comprehensive and elaborate training platform is not for you, you"ll have risked and lost nothing. On the contrary, you'll have an excellent feel for the benefits and challenges of working online. I urge you to "kick the tires" and soak up all the knowledge on offer.
If you decide to accept my invitation, I'll post a welcoming message to your profile. I'll also join the founders in offering any personal guidance and direction you request as you embark on this new journey of exploration.
Whatever decision you make, I sincerely wish you a long and happy retirement!
Join the Conversation
What did I miss? I've strived to cover all aspects of the WA platform and address the various questions I've received from seniors since the inception of my blog. But, it's possible that I haven't covered your question. If that's the case, I hope you'll give me another chance by dropping me a comment below.
If any of my readers are already members of WA, I implore you to add your insights and experiences to my own! I welcome all comments!
Please Be Sociable
We all have friends or family approaching their senior years. If you think this post may be useful to them, please share it through your favorite social media channels!
Like It? Please Share It!