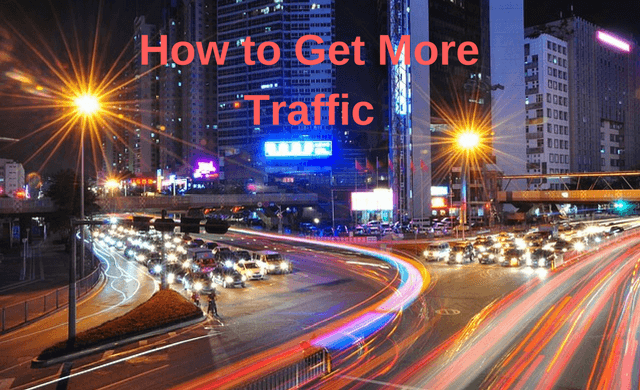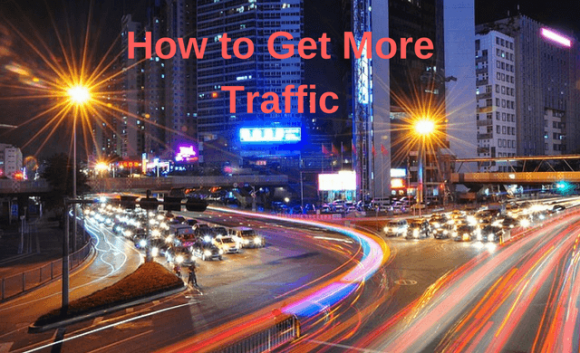 Few things are more important for a niche website owner or blogger than traffic. Knowing
how to get more traffic with your blog
is an essential ingredient of online marketing success and sales generation. We know it's about quickly
grabbing
the attention of your readers,
sparking
curiosity, and keeping them
engaged
.
But how?
Use these 7 techniques to get more eyes viewing your content and also sharing your posts through social media.
How to Get More Traffic With Your Blog
1.  Write Irresistible Headlines
Your readers are seeking information, right? Naturally, you've written an article around a keyword phrase that many people are searching for. But how will they react when they spot your title? Does it have a persuasive impact that grabs readers' attention and encourages searchers to click through and read what's inside?
Or is it….boring?
Use power words in your headline like "effective" or "powerful" and words that evoke emotion such as "valuable" or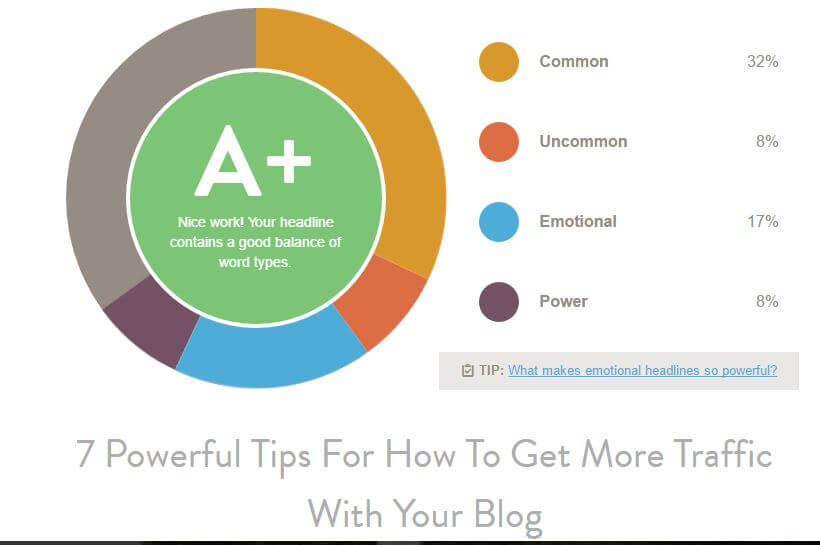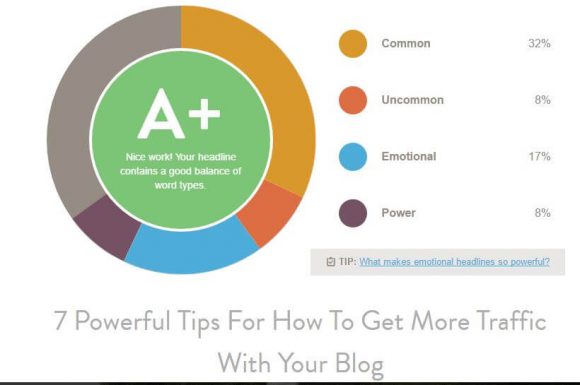 "attractive". "How to" is another example of an emotional word and is always a great addition to a headline. Many studies have shown that few people can resist the allure of this phrase. Infuse your title with words like "you" or "your" to convey a personal touch. Include numbers or percentages to increase the appeal of your headline.
The best resource I have ever encountered on this subject is Jon Morrow's "Headline Hacks." This free e-book lays out time-tested headline formulas that have been catching readers eyes for decades. Blog Post Headline Analyzer is another exceptional resource (also free) that you can use to improve the overall impact of your titles and encourage both click-throughs and social sharing.
2. Write Compelling Content Peppered With the Word "Because"
Is it possible to overemphasize the fact that readers are searching for answers and solutions to problems? I really don't think so! Our mission is to be their "go to" source for all relevant inquiries.  Compelling content holds out the promise of thorough solutions and implementation guidance.
Why use the word "because"?
This is a power word that belongs in your writer's toolbox because it typically precedes a longer explanation or rationale. Let's look at an example. If I were to ask a group of my readers, "Why do you want to work online at home?", I might hear one of the following responses.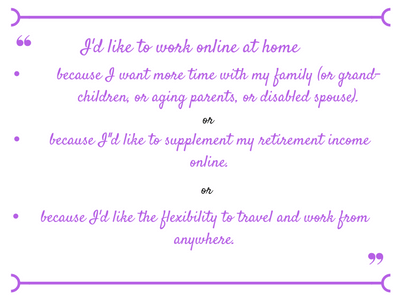 In each instance above, the word "because" is a prelude to clarification of an issue and additional information whose impact is undeniable. Readers are looking for expansive coverage of a topic, and they anticipate that expansiveness when they spot the word "because." According to Copywriting 101 by Copyblogger, because is one of the top 5 most persuasive words.
3. Create Posts With Lists
A listing essentially streamlines information and spoon-feeds it to readers in easily digestible chunks. Try ideas such as:
8 Things to do….
12 Habits of……
10 Ways to……
Create interest with catchy subheadings that encourage readers to dig further. Lists make it easy for readers to scan and quickly extract key points. Lists are easily shared on social media and what about those numbers? Numbers have a magnetic quality. Print magazines have known this and used the allure for years.  If you don't believe me, pay closer attention the next time you're waiting in line at the checkout counter. People can't resist finding out if they know all 8, or 12, or 52 ways.
4. The Argument for Writing Longer, Detailed Posts
Many studies have shown that longer, more comprehensive posts tend to attract more attention. Readers appreciate the detail even if they don't often read it all. 
 Articles that are long on facts and benefits, and anticipate a prospect's questions, tend to convert well. Your readers want to make an informed decision, and that means having all the necessary facts in front of them.
Posts more than 1,200 words carry several benefits. Longer articles can help you establish authority and credibility within your niche. Readers of your content often have multiple questions on a topic and a more detailed post can address those questions in one sitting rather than over a period of time. And, of course, we don't want to ignore the fact that Google values longer posts and often ranks them more favorably. No question, your blog should include extensive articles that I like to think of as "pillar posts."
Does that necessarily mean that every post you publish has to be lengthy? In a word, no. Best practice guidelines suggest you should vary the length of your posts, although they should rarely be less than 500 words. Make your post no longer than needed to fulfill the promise of your overarching keyword that drew readers to your website. Keep your content on target. Don't ramble and prattle on to achieve a certain word length.
Problogger recently published a podcast on the pros and cons of writing a series of short posts vs. a longer post that is definitely worth a listen.
5. Build a Responsive Website
A responsive website adjusts the web page display based on whether the page is viewed on a desktop, tablet, or smartphone. In an era when more than half of all Internet traffic comes from mobile devices, responsiveness is a key consideration. In April 2015, Google introduced Mobilegeddon.
Mobilegeddon represents an algorithm change that rewards websites that display well on mobile devices with better rankings. A responsive site also allows users to purchase or share content "on the go" which is ideal today.
6. Never Forget the Value of Images
Make no mistake; we live in a visual world. Sprinkling eye-catching images throughout your post and carefully selecting your featured image can make all the difference. Images effectively break up a sea of gray text and draw your readers eye. Images are also eminently shareable on social media, particularly Pinterest.
There are outstanding sources of free images available for your use. See my page, Where to Get Awesome Free Images For a Website, for inspiration. Have you forgotten to add Alt Text to your image? Please keep in mind that Googlebot cannot see images. To reap SEO benefits from your engaging images, you need to include Alt Text.
7. Don't Ignore the Social Media World
Your intriguing titles and compelling content are generating click-throughs. Good for you! Create even more buzz by getting your content shared. Make sure those social media icons are prominently displayed on your pages and posts and ask your visitors to share. You must also regularly share your own posts to fully exploit the value of social media sites. Check out this blog for guidance on the best and worst social media posting times.
Have You Created Your Blog Yet? Maybe You're Still a Newbie Who Could Use More Training?
Let me tell you about an outstanding online community where you can find all of the resources and training you need to get started Today on your path to blogging and Internet marketing success. Wealthy Affiliate offers a 100% free Starter Membership (no credit card required). You have everything to gain and nothing to lose, so why not….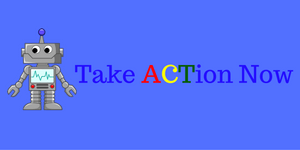 Over to You
Join the conversation by posting your favorite tip for getting more traffic in the comment section below. Or, please ask any question you have on how to get more traffic with your blog. I will respond to all comments.
Be Sociable
Help your friends and colleagues by sharing these blogging tips on your favorite social media sites.
To your success!