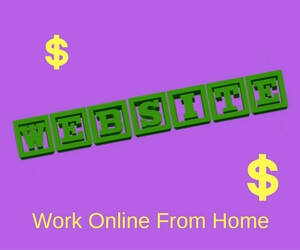 Learning
how to work online from home
may just be
your
answer to a better retirement. Are you one of the millions of retirees who did not save as much for retirement as you might have hoped to save? Here's the stark reality that many baby boomers are discovering. The average pension, assuming you have one, does not go quite as far as we once hoped it would.
Many seniors are facing the necessity of supplementing retirement income after they retire from the full-time workforce. Finding part-time employment may be an option, but this entails giving up some of the freedom that compelled you to retire in the first place. Do you keep asking yourself if there's a better option?
The Power of the Internet
Today, the Internet is intricately woven into the fabric of society. Billions of daily users can no longer envision the world without the staggering array of information, goods, and services available through the Internet. Is it any wonder that hundreds of thousands of individuals across the globe are choosing to earn all or at least some, of their income on the Internet? Why not you?
How to Work Online From Home
Unlike many other income generating options, there are no age barriers associated with working online. This is great news for retirees. The ability to use a keyboard essentially ensures that you can learn to make money online. Obviously, you will need an Internet Service Provider and a computing device. Since you are reading this blog online, we'll assume you already have that covered.
A Website – The Essential Ingredient to Successfully Working Online

If you are willing to build a website, it can become a powerful moneymaker. You create an online presence with your website. Options available without a website are limited to small amounts of spending money each month. On the other hand, a website has almost unlimited earning potential.
Fortunately, in this day and age, the website building arena is a guru-free zone. If you can send an email or create electronic documents, you can build a basic website within minutes. Lest you see this as some type of get-rich-quick scheme, let me assure you that making money with a website is not an easy or immediate process. It's exciting, challenging, often fun, and generally takes several months of diligent effort to see results.
What's Your Passion?
My recommendation would be creating a website about an activity or subject you are passionately interested in and find enthralling. Your enthusiasm will communicate itself to your readers and draw people to your site. It will also keep you on task crafting content that will prove valuable to your target market, also referred to as your niche. A successful website is all about the needs of your visitors.
Clear, concise, compelling content that solves reader problems is the ultimate goal of every niche website owner. You must step into the shoes of your audience and understand their pain points, hopes, and dreams. Valuable content flows from research that uncovers keywords your market is searching for through the search engines.
Product Promotion
Once you have traffic regularly viewing your content, you can promote the products and services of others that your readers desire. This approach I'm describing is affiliate marketing and represents an easy and effective way of monetizing a website. Depending on your niche, there are thousands of affiliate programs available. One popular choice is Amazon, due to the broad range and plethora of products offered
A 100% Free Opportunity Exists to Explore This Work Online From Home Possibility
I created my website and initiated an Internet marketing business in retirement. This was made possible for me because I found a fabulous organization called Wealthy Affiliate where I was able to fully investigate website creation and affiliate marketing through a free Starter Membership. I have since become a premium member, but I didn't make that leap of faith until after I completed a series of 10 classes and built my website. I didn't spend a dime until after I was completely confident that this was my destiny. Even then, my financial investment has been minimal relative to the rewards.
If You Think This Might Be For You
Please check out my Wealthy Affiliate Review and make the most informed decision possible for you. I look forward to hearing your thoughts about this unique program. If you decide to join as a Starter Member, please contact me right away on my profile page. I look forward with excitement to helping you initiate your own Internet journey.
Will you stop back and let me know your thoughts in the comment section below?
Wrapping Up
I sincerely hope this article helped by providing insights on how to work online from home. There are approximately 200 thousand participants in the Wealthy Affiliate community, and a healthy percentage of those individuals are retirees such as ourselves. Know that a legitimate opportunity does exist.
If you found this post helpful, please be sociable.
To your success!