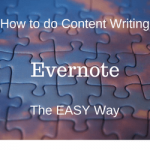 I have frequently puzzled over
how to do content writing
in an efficient manner. Introducing
Evernote
to my workflow procedures has ended my puzzlement and provided a robust solution. Evernote is a phenomenal resource that has organized my blogging life and enabled enormous efficiencies. I can now work on several posts simultaneously with measurable time savings.
I would like to share my Evernote experience with you in hopes that you too may benefit from this program. We all work in different ways, but there are similarities regarding desired results. At the very least, this may give you some useful ideas.
What is Evernote?
Evernote is a freemium software application that, quite simply, allows you to store anything and everything that you might find of interest, to read or use later. I use Evernote for Windows, but it's available on multiple platforms and devices including desktop computers, tablets, and smartphones.
Think of it as a digital repository where you can store and organize all of your notes in folders (called notebooks). Evernote is cloud-based which means you can sync data between your desktop and phone creating even greater flexibility. Your "notes" can include text, photos, graphic images, clippings from web articles, scanned documents and other digital components.
Evernote Benefits for Bloggers
Evernote's been around for several years. But even if you're very familiar with the product, you may not have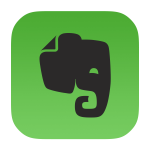 considered the value from the perspective of organizing your blog content. I've seen a
huge boost in productivity
, and I think you will too.
Many bloggers struggle with the need to stay on schedule and produce quality content on a consistent basis. An organized approach is essential to success in this effort. Evernote is an indispensable tool and my solution to this issue.
Here's How I Use Evernote
The blogs on my website are currently organized into the following seven categories:
Affiliate Marketing
Blogging Tips & Resources
Keyword Research
Making Money Online
Passive Income
Search Engine Optimization
Website Design
I have between one and four blogs in each of these respective categories. Furthermore, I plan to focus future blogs around these seven topical areas. So, my first step involved creating notebooks with these category titles. I am now able to add notes to each of the established notebooks.
As I write future articles, each article will revolve around a main keyword. Use of keywords is essential for search engine optimization. My approach has been to invest time performing keyword research and identifying at least three appropriate keywords for each of my seven focus areas. I then created notes for each anticipated article using my keyword as the working title of the post. As a result, I now have 21 future posts "in the pipeline".
My Most Prized Notebook
This notebook is titled Resources for My Blog. I encounter several outstanding new resources every day. The list is now a mind-blowing compilation of inspiring blogs, must-read books, reviews of powerful WordPress plug-ins, and free app sites.
I have compiled some of these resources while personally browsing the Net. Fellow members of Wealthy Affiliate, the online community in which I participate, have shared others. Many are intriguing but as yet unexplored.  But I digress…
The Data Gathering Phase
Every blogger spends a tremendous amount of time researching topics of interest to their target market or niche. I am certainly no exception. In fact, this aspect of blogging is uniquely satisfying. I can shamelessly indulge my passion for reading and learning new things. The beauty of Evernote is that I now have an excellent way to capture the most interesting facts learned for subsequent sharing with my readers.
When I glean an interesting fact, I type (or paste) that piece of data into the most relevant note. If I find the perfect graphic image, I store that image in the note where it will best fit (always being mindful of copyright requirements). As I stumble across articles with especially helpful content, I clip those web pages and add them to a note for future reference. The result is a wealth of information available to craft my next post from. One of my "notes" will grab my attention, I'll get an inspiration and an article will begin to form.
Before Evernote
Before Evernote, my handwritten notes were disorganized and somewhat chaotic. Yes, some would be in a spiral notebook and reasonably accessible but more often than not they were scattered. I'd jot thoughts on scraps of paper, post-its and in the margins of books.
This practice made staying on a consistent posting schedule far more challenging than it needed to be. Staring at a computer screen wondering "what am I going to write about this week" was stressful. I now feel like I've conquered that problem and it's very liberating.
Watch the video below for a nice overview of the advantages and features of Evernote.
Final Steps
Evernote has a nice text editor very similar to MicroSoft Word that I use to create my draft. I then like to copy my draft into Grammarly for a little polishing before transferring my finished post into WordPress for publishing. These resources all complement each other nicely.
To Sum Up
I've found Evernote to be a fantastic solution for how to do content writing in an easy and highly organized fashion. Maybe this solution will work well for you also?
Join the Conversation
Have you tried Evernote? If so, will you consider sharing your experiences with this tool in the comment section below? If you haven't used it yet, is it something you might consider?
Please feel free to share this information with friends and colleagues who might find it useful.
To your success!