The quality of your website hosting can make or break an affiliate marketer. So. I'm thrilled you joined me today for my Wealthy Affiliate hosting review. You're obviously seeking information on the best web hosting available, and I can definitely help you with that search.
Wealthy Affiliate offers a robust and powerful hosting platform where you can confidently grow your online business. The Internet landscape is continuously evolving. I recognize the need for an innovative hosting provider that can keep pace with that change.
I'm sure that's what you want also, isn't it?
And, as I enter my fifth year in the online space, I can confidently state that innovation is a core value at Wealthy Affiliate. The upshot is that my website operates in a business environment where hosting is painless, and I can focus on more productive aspects of growing my site.
I enjoy cost-effective but sophisticated managed WordPress hosting. The technical gurus work tirelessly in the background to ensure my site is accessible 24/7.  While there are numerous other benefits that I enjoy through membership at WA, seamless hosting is perhaps the most beneficial aspect for both newbies and successful marketers alike.
So, let's take a deeper dive into the many advantages of hosting a website at Wealthy Affiliate, shall we?
Wealthy Affiliate Hosting Review At A Glance
Product Name: Wealthy Affiliate Managed WordPress Hosting
Product Type: Web Hosting Service
Website: wealthyaffiliate.com
Price: Starter Membership – Free; Premium Membership – $49/month or $495/year
Summary: Wealthy Affiliate offers sophisticated and innovative managed WordPress hosting that focuses on security, speed, reliability, and support. Perfect for those who want to build a new website or for existing website owners who wish to take their WordPress hosting to a new level.
My Rating: 4.7 out of 5
Recommended?: Yes!
What is Managed WordPress Hosting?
A quick search in Google provides a dizzying array of hosting providers, plans, and price points. I know it can seem very confusing and even overwhelming. But it's a fact that dramatic differences exist in the level of service provided. Moreover, understanding those differences is critical.
Managed WordPress hosting is a web hosting solution that's specifically designed and optimized to meet the demands of WordPress websites. Especially for those of us who aren't techies, and even for those who have more expertise, this is a phenomenal time-saver.
For example, all updates of core WordPress, themes, and plugins are handled automatically. I receive notifications of all updates through my site's dashboard. With one click, I can install the updates and move forward with a website that's always up-to-date with all of the latest improvements and patches.
Many administrative issues are handled seamlessly behind-the-scene by highly knowledgable and skilled support staff. Among other things, servers are configured with built-in caching technology, and backups are performed every 24 hours.
That frees up site owners to focus on growing their business. We can concentrate on adding quality content and generating traffic while remaining secure in the knowledge that our websites are functioning at their best. For me, there's great peace of mind in knowing that I'm operating in a highly dynamic environment, but I don't have to stress about it.
4 Factors That Create An Optimal Hosting Experience at Wealthy Affiliate
Founded in 2005 by owners Kyle Loudon and Carson Kim, Wealthy Affiliate continues to evolve into an industry-leading platform. Great strides are evident in my 4 plus years on the platform with no indication that innovation is slowing down. The owners' mission is a sophisticated, managed WordPress platform that excels in four key areas.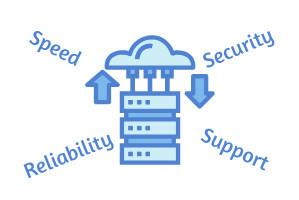 Security
We all know from experiences in our personal lives that spammers, hackers, and malware are an unfortunate part of living in a digital world. Security threats assume even greater significance when you operate a website with the intent of making money online.
Based on a recent study by W3Techs, WordPress has a 63.5% market share. Understandably, WordPress is the most popular website builder and content management system. The open-source nature makes it incredibly powerful and flexible.
But the widespread adoption of WordPress also introduces vulnerability. Not all site owners are as vigilant as they could be. Hackers can gain access due to things like weak passwords or failure to install the latest software updates. They then exploit vulnerability discoveries and wreak havoc on other websites.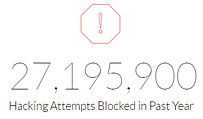 WA continuously improves it's security protection technologies at the server and network level to prevent downtime associated with bot attacks. Moreover, updates (many of which are security patches) are automatically available—layers of server-level security block spam and hacking attempts before they get to your website.
I have not experienced even a hint of a security breach or cyber attack in 4 years, which provides great peace of mind. I know that network-level attacks are constant. But I'm shielded from those negative consequences. Moreover, every WA site comes with a free SSL certificate for additional protection.
Speed
In recent years, Google has identified website loading speed as a key ranking factor. This makes perfect sense, given Google's commitment to user experience. Study after study demonstrates that you have seconds to capture a reader's attention.
Internet searchers will abandon a slow loading website like a hot potato. Therefore, you are unlikely to rank in the SERPs (search engine results pages) if your website is unacceptably slow. Regardless of the quality of your content, a website with no traffic does not bode well for success!
Given Google's position, WA sees site speed as being of paramount importance and is continually striving to improve technology in this arena with excellent results. Sites built using their proprietary SiteRubix platform exhibit excellent loading speeds right out of the shoot.
They combine technology advancements with education. There are thousands of WordPress themes from which to select. Some are known for theme bloat, often caused by a combination of inefficient coding or too many plugins. A best practice is to test your site's performance using PageSpeedInsights and do some tweaking based on results.
Advancements in WA's hosting platform have eliminated the need for specific plugins, which lightens the load for your site. For example, caching and spam control takes place at the server level. And, using their SiteContent platform to write and publish your content eliminates issues with image compression and optimization.
Reliability
Internet users (roughly 4 billion of them) reside across the globe and in all time zones. So, ideally, your website is up and running 24/7/365 to ensure availability to all interested viewers. Obviously, there's a potential for lost revenue every time your site is down.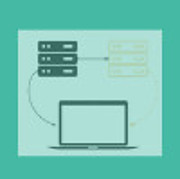 Reliability is a primary focal point for WA  and a major driver in terms of infrastructure. They offer full redundancy for all websites they host. Double hosting occurs on two servers such that if one server goes down for any reason, the mirrored site instantly goes live.
WA's network ties into the largest and most powerful Amazon servers on the planet. Public entities like Netflix and Comcast rely on these same servers.
The routine 24-hour backups are worth repeating in this reliability section. I feel like I should knock on wood somewhere, but I have avoided ever breaking my site. That said, I know it does happen. The ability to restore from a recent backup is a great comfort!
Support
Managed WordPress hosting is characterized by a dedicated team of support personnel who are highly trained in the intricacies of this software. Although its capabilities are highly touted, WordPress is known to be a beast. In recognition of that, WA has built direct access to site support into the platform.
As a hosting client, I can contact server administrators directly with any issues I encounter with my website. The average response time from WA site support is 5 minutes. When I read horror stories of shared hosting arrangements where you can't get a response from support for 24 hours or more, I'm grateful to be hosting where I am.
Managed WordPress Hosting Comparison
Wealthy Affiliate is certainly not the only provider of managed WordPress hosting. But they do fare well in a head-to-head comparison with other major players in the industry. In fact, the relative value is incredible, as the comparison chart below will show.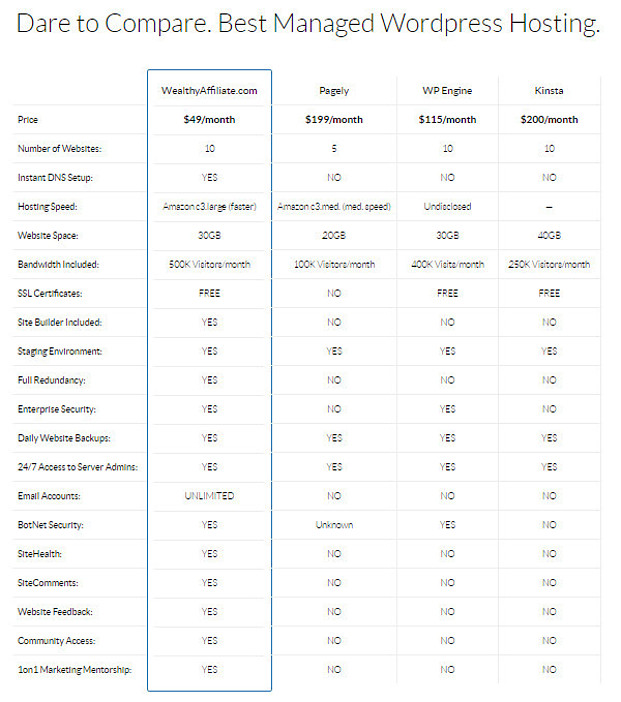 Every premium member of Wealthy Affiliate enjoys managed WordPress hosting as one element of their platform membership. It's important to note that the benefits of membership extend well beyond website hosting.
There are hundreds of hours of training available in affiliate marketing, search engine optimization, keyword research, and practical aspects of using WordPress. WA is an "all-inclusive" platform that represents a phenomenal deal. One of my favorite aspects of membership is the weekly live video training that occurs every Friday evening.
I'm particularly excited about this week's training session on Google Analytics. I know I'm not properly leveraging all of the insights in my Analytics account, and I look forward to this presentation by a successful affiliate. As with all live events (there are hundreds of hours of training), I can view this at my convenience. They're all recorded.

Wealthy Affiliate is also unique in that you can join as a free Starter member and experience using the website builder and hosting platform before you commit to a premium membership. Furthermore, I strongly encourage you to take that path.
I will also point out that if Wealthy Affiliate is a good fit for you, you can save even more through an annual vs. monthly membership. I'm big on saving money myself, so I did choose a yearly plan. Currently, the price of going annual is $495 per year.
Wealthy Affiliate Complaints
I believe strongly that every review should consider both positive and not so positive aspects of the product or service. In the course of writing this review, I came across some negative reviews of Wealthy Affiliate. Furthermore, I think it's appropriate to address these.
Let's acknowledge that few things in life are perfect. Then too, we're all unique and will have varying reactions to most things we encounter in life. We have different learning styles, goals, and budgets. These differences affect the way we determine value in most situations.
I just read a scathing review of WA, which seems to have been written with the sole intent of encouraging me to buy a far more expensive training tool. One that doesn't include hosting or a myriad of other resources that I need. Really? It neither impressed nor swayed me!
It's true that I didn't give WA a perfect rating of 5 out of 5 because there are a few things I would change. But that doesn't negate the many positive aspects of the platform. Nor has anything encouraged me to cancel my membership.
There are thousands of active members in the Wealthy Affiliate community. Some are extremely successful bloggers and affiliate marketers, while others still aspire to achieve that status and fall somewhere along a broad spectrum.
I personally would be in favor of more monitoring of WA blogs and comments. The community can be a fabulous source of support and answers to ad-hoc questions.
But…
You do have to be cautious of the folks who joined last week but somehow feel compelled to answer questions without enough background. Can you get around that? Sure! Everyone has a profile, and with a bit of diligence, you can figure out the better sources of information.
To my way of thinking, there's also a lot of noise and social chatter. I prefer to save that sort of thing for Facebook myself! 🙂 But the thing is, I don't have to participate. So, in the grand scheme of things, these cons are not a big deal for me.
Final Thoughts
I sincerely hope you found this Wealthy Affiliate hosting review helpful in your quest to find the best-managed WordPress hosting for your website. In my humble opinion, yes it really is that good!
There's an impressive long-term commitment to innovation and critical factors like security, speed, reliability, and support. I encourage you to try it out by clicking the banner below.
If you already have a WordPress website hosted elsewhere but your current hosting service is lacking, consider transferring your domain to WA to reap the benefits discussed above. If you're still on the fence about starting a website, there's no time like the present to get off that fence and give it a try!
Join the Conversation
Did I answer all of your questions about WA's hosting services? If not, please don't hesitate to jump into the comments below. I will get back to you promptly!
Like It? Please Share It!