Are you working online from home these days? These cozy home office ideas are sure to make you more productive.
The idea of working from home feels liberating, doesn't it? As a blogger and solopreneur, I enjoy flexibility and freedom that I never experienced in the workplace. But, I also have to acknowledge the dark side.
There are a ton of distractions around the old homestead, aren't there?
It's true that with a reliable Internet connection and my laptop, I can work from anywhere. Furthermore, I relish that capability. And yet, there are distinct advantages to a dedicated home office space that can really help you stay focused
Whether you have an online business like me, or you're currently working remotely for your employer, these suggestions can help us get more done in less time.
So, let's get to it, shall we?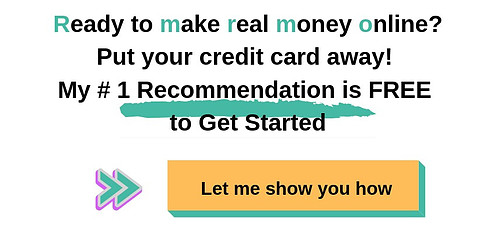 7 Cozy Home Office Ideas That Will Have You Working Like A Boss
Your objective should be a workspace that encourages focus, limits distractions, and reflects your personality. With a bit of forethought and ingenuity, you can design an inspiring environment where you genuinely want to work
There's no doubt in my mind that a conducive atmosphere fosters concentration that will propel your success in accomplishing goals. But here's another consideration that may be equally important.
These tips can help with that precarious work-life balance that becomes even more difficult to manage when you work from home.
1. Brainstorm Your Ideal Location
Let's face it; many of us don't have the luxury of devoting an entire room to a home office. But that doesn't mean we can't find elegant solutions that don't involve work-related paraphernalia spread all over the kitchen table. Yes, I've been there, and I can assure you, it's not sustainable.
You need to take 20 minutes and wander around your home or apartment with a mindset that's open to any and all possibilities. Do you have an empty corner in a little-used room? Can you rearrange furniture to create a bare wall? Nooks under a staircase or even in the laundry room might be perfect.
I took over a vacant corner in a guest bedroom that only sees guests a few nights a year. My neighbor converted a closet into one of the most pleasant and efficient work areas you can imagine.
So, identify your spot and then refine your location by working through the steps below.
2, Select Functional Furniture
Desk
A desk doesn't have to be a massive piece of furniture that dominates the room. Most of us need a work surface that's positioned at the appropriate height and offers sufficient space for our computing device, some writing space for note-taking, and perhaps a cup for holding pens and pencils.
There are extensive choices with small footprints. Take some measurements once you've discovered the best location. You can then peruse the available options that meet your needs.
Working stations are available in various colors, styles, and widths. They don't have to clash with your existing decor. Consider how each of the following solutions might fit in your home:
Corner units
Traditional writing desks offering a slim design
"Floating" desks that attach to the wall
Adjustable desks that allow you to alternate sitting and standing
Chair
If you'll be sitting in front of your desk for extended periods, an ergonomic choice is really critical. Prolonged sitting is known to have negative health implications.
Repurposing a dining room chair or a stool from the breakfast bar is tempting because it's a quick fix. But is that really the best path to take? .Pampering yourself with something that provides excellent support and is adjustable to the proper height for you may be one of the best decisions you make.
Here are a few Amazon solutions that receive high ratings from customers. Your back will thank you.
3. Opt for Organizing Resources
Are clutter and chaos hampering your efficiency? Studies report that most of us waste precious minutes every day, searching for misplaced items. Those minutes add up to multiple wasted days over the course of the year. What could you do with those recaptured days?
It's a well-established fact that keeping things tidy and decluttered helps us work smarter. A chaotic work environment can contribute to needless stress. I think we have enough of that in our lives already, don't we?
Could some of these resources help you make headway in the organizational battle?
Desktop Office Supply Caddy
Wall-mounted Document Letter Tray Organizers
A Temporary Inbox For Mail and Pending Projects
A Memo Board
Many inexpensive resources are available for taming that messy pile of paperwork and straightening up your jumbled workspace.
4. Choose Office Technology With Efficiency In Mind
It will come as no surprise that your computer is the heart of your home office. This essential device will either support your efforts or will dramatically hinder your progress. To some degree, the nature of the tasks you perform will dictate your requirements.
A current operating system and adequate processing capabilities are the primary considerations. If an upgrade is indicated, there are several reasons to consider a laptop over a desktop PC, including space requirements, energy efficiency, and the flexibility to work from different locations.
I have to admit; the flexibility factor was huge for me in the days before social distancing became a thing. These days I don't travel much further than the patio. But, I do still enjoy even that change of pace on occasion.
If you're adding things like printers, wireless devices make the best choices because you can minimize cords. And don't forget some of the smaller but still critical elements like surge protectors or backup storage.
5. Ensure Adequate Lighting
When you're parked in front of a computer screen for long hours, inadequate lighting can lead to intense eye strain. Add to that the fact that a dark workspace is just depressing, and you quickly realize that this aspect of your home office deserves attention.
You will want to ensure a combination of both ambient lighting and task lighting for maximum effectiveness. Ambient lighting softly illuminates the entire area. You may already have overhead lights in the room that satisfy this need. If not, a floor lamp with a shade can work well.
But you will also need a desk or task light that you can focus directly on your current activity.  LED desk lamps with adjustable arms work well so that you can avoid glare, which is often an issue with computer screens.
6. Maximize Your Use of Vertical Wall Space
When positioning your desk along a bare wall or in that unused corner, your floor space may be minimal. But you can exponentially increase your storage space by using the walls above the desk. Your supplies will remain close at hand while keeping your work surface clear.
Shelving units in a variety of shapes and sizes can represent storage nirvana. Use baskets to hide your supplies. Add mesh racks to hold file folders. Pegboards with hooks or cork boards can also be incorporated. Be creative!
7. Create Ambiance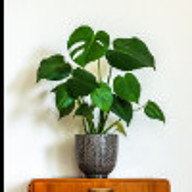 You have the freedom to create a workspace that speaks to you and suits your personality. Make it a refreshing change from drab corporate cubicles. Adding splashes of color with artwork or flowers can create a cheerful nook.
Your home office will also feel more inviting and alive with greenery. So, don't forget to include some plants.
Final Thoughts On Home Office Productivity
Make working from home the ultimate and dreamy experience you always fantasized about with these cozy home office ideas. It will be easier to roll up your sleeves and get down to work if your home office looks amazing!
Clutter-free surfaces, plenty of light, comfy furniture, and soothing colors will inspire you to ramp up your output.
Join the Conversation
Do you need a more productive work-from-home environment? Please share both your tips and challenges in the comment section below.
Like It? Please Share It!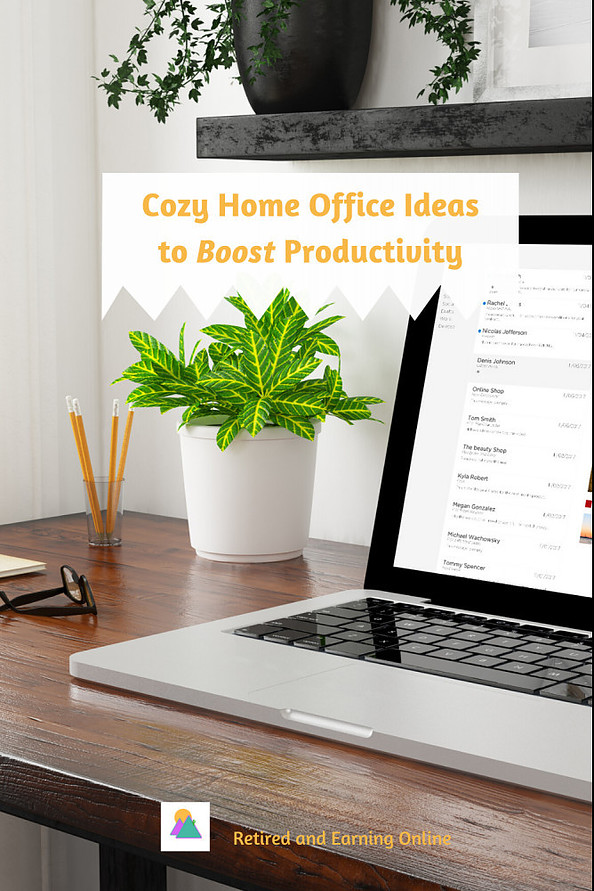 Please Pin It!