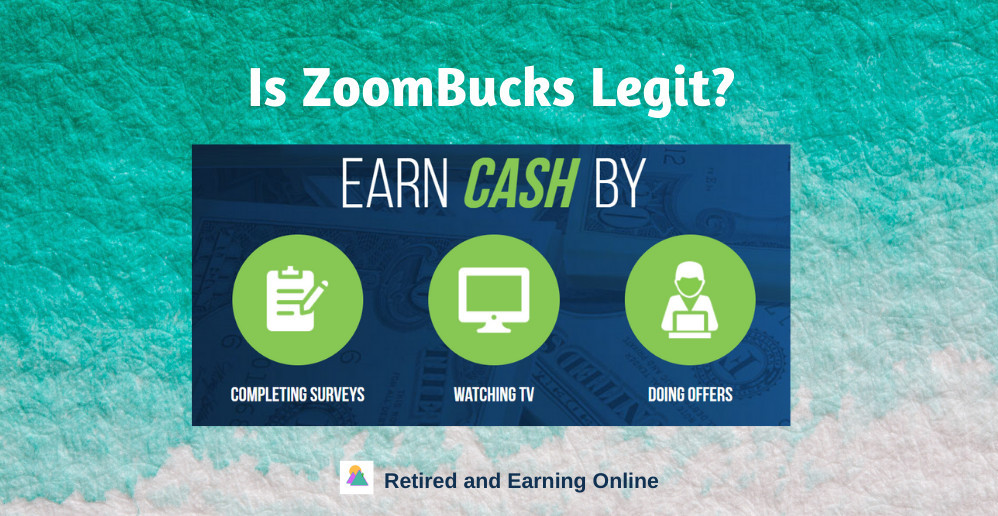 ZoomBucks is a site making intriguing claims about earning free money. Extra money is always appealing. But is Zoombucks legit? Are the free money claims real?
I recently joined Zoombucks to check out the platform. Finding ways to make extra money online is right up my alley. So, today I will share my thoughts on this rewards program and provide insights on how it operates.
Reading this review will be beneficial for folks who need to find an avenue to earn a bit of extra cash. ZoomBucks is a legitimate rewards website. But when I compare it with similar platforms (and I've tried many), I find it lacking in several respects.
In short, I experienced some annoying glitches with the platform, which makes me believe you have better options. At best, the earnings from incentive programs are meager. So, I have little patience with confusing error messages and slow response times.
Let's dive into the details of Zoombucks, shall we?
What Is ZoomBucks?
ZoomBucks is a GPT (Get-Paid-To) website where users can earn rewards and incentives for completing simple online tasks. You can join the program for free, and creating your account takes only a moment or two. There are multiple tasks you can choose to perform to start earning points.
The history of this website is somewhat clouded. Based on my research, which involved the extensive reading of old reviews, it appears the site originated in 2010. But the platform disappeared for a while (the website blog refers to a 4-year hiatus) and then came back online in a revamped format in November 2018.
Reward Holdings Ltd is the holding company that owns ZoomBucks. The same company also owns GrabPoints and GCLoot. Tasks include responding to paid surveys, watching videos, and completing offers from various Zoombucks partners.
I'm often asked how sites like ZoomBucks can afford to pay people. So, let me explain how the business model works. ZoomBucks works closely with organizations that sell goods and services to consumers. To improve their marketing efforts, these companies need customer reach and honest feedback from the buying public.
ZoomBucks receives fees to provide a platform where well-known brands can interact with consumers. A portion of Zoombuck's earnings is then shared with members. Membership is available worldwide to users 13 years of age and older.
Using ZoomBucks while on the go is no problem at all. They don't have a mobile app, but it's not necessary because the website is fully responsive, I captured the image above from my iPhone.
Ways To Earn With ZoomBucks
One of the best things about GPT websites is that there is more than one way to make money. You can answer surveys, watch videos, or complete different types of offers. The points that you will earn are clearly spelled out. So, you can pick the tasks that appear most beneficial.
Answer Surveys
Do you enjoy sharing your opinions through surveys? If so, you'll be excited by the sheer volume of survey opportunities available. ZoomBucks works with more than 20 different Survey Routers, many of which profess to have unlimited survey opportunities. Some of those Routers include:
Your Surveys
Opinion Capital
Dynata
TapResearch
Easy Surveys
In addition to unlimited survey routers, there are a large number of daily paid surveys that you can also attempt. It appears that you can stay as busy answering surveys as you want to be. ZoomBucks also claims to pay about 80% more than most other survey sites.
That said, compensation rates for surveys are notoriously low. There do seem to be a lot of surveys, primarily from Your Surveys, that pay 1,000 points ($1). While that is higher than many sites offer, it still works out to meager earnings on an hourly basis.
The day I joined, I set my sights on earning the minimum amount to receive a payout through PayPal, which is $3. Surprisingly enough, I qualified for 3 offerings through Your Surveys, and I did achieve this goal. Disqualifications are a normal aspect of survey taking that you simply have to accept patiently.
The surveys themselves average about 20 minutes apiece. But don't let that timeframe mislead you. First, you have to get through all the pre-qualification questions. Secondly,  there are the inevitable disqualifications because your demographic profile doesn't fit the target market. I estimate my earnings at about $1/hour.
But I will say I was impressed with the quality of the questionnaires. Questions were well-written, which was a refreshing change. One of my pet peeves with surveys is the questions that don't provide a correct answer for my situation.
Watch Videos
So, the purpose of the videos is advertising. You can view videos through Hideout.TV. Your earnings will be 7 points for every 3 videos you sit through, which will contain a lot of commercials.
Watching videos may be a source of entertainment or a way to pad your account with a few points to get to a threshold. But realistically, you can't expect to make much money because earning points is time-consuming.
If you do decide to pursue survey taking, be sure to pay attention to your quality score. Rushing through questions and providing inconsistent answers is the quickest way to get your account banned. Companies are seeking honest answers that they can rely on in their marketing campaigns.
Complete Offers
The organizations that ZoomBucks partners with are seeking new customers. Offers are one way to encourage more people to explore their products. Some of these Offers are opportunities to purchase products at a discount. Many are trial subscriptions.
Be cautious with trials as you generally need to provide a credit card upfront. If you fail to cancel after your trial period expires, you can quickly end up with unwanted credit card charges. Accepting Offers can be a great way to check out new services and receive compensation for doing so. Just be cautious, and be sure to make notes on cancellation periods.
Gamers may be intrigued by some of these offers. You will often be asked to download games and then play until you reach certain levels to receive your points. Again, I caution you to understand the terms of the offer upfront fully.
The image below shows examples of current Zoombucks Offers.
Refer Your Friends

ZoomBucks has a referral program that provides incentives when you refer family members and friends. But, in all honesty, it's not a lucrative program. There are several other reward sites, such as Rewarding Ways, that have more generous referral plans.
Everyone gets a referral code that you can share via social media or email. Once your referral earns 1,000 points, your account is credited for up to 250 points. Awards vary based on whether your referral lives in a Tier 1, Tier 2, or Tier 3 country.
How Do You Get Paid?
As you complete activities, you receive your compensation in the form of points (ZBs). Each point is worth $.001. Therefore, you must accumulate 1,000 points to earn $1. There is an extensive number of gift cards available that can be redeemed starting at $5.
One nice feature is that ZoomBucks also offers cash through PayPal. While there is nothing wrong with a gift card to a company you use all the time, extra money is always welcome. When I joined about 2 weeks ago, you could request a PayPal distribution when your account balance reached $3.
When I logged into ZoomBucks this morning, I saw that the threshold is changed, and you now need $5.
Perhaps this transition explains why it took about 10 days for me to receive my $3 PayPal distribution. This was a source of concern for me because other programs like Rewarding Ways have paid me in a matter of hours. When I initially attempted withdrawal from ZoomBucks, I encountered a snag that took about 3 days and 2 emails to support to rectify.
To receive a distribution, you must verify your phone number. I kept getting a message that my verification notification was sent, and I needed to enter the PIN from the message. However, no matter how many times I requested they resend (by clicking that button on the popup message on the website, I didn't receive anything.
To be fair, these are challenging times in the midst of a pandemic, and that may explain why it took 3 days for support to respond to my request for help.  The fact that it took another 7 days for my PayPal distribution to be processed was disappointing. But I did eventually receive it, which was proof to me of legitimacy.
Things I Like About ZoomBucks
Free to join.
Open to members worldwide who are at least13 years old. Depending on where you live, this may be attractive because many similar websites limit membership to select countries.
They offer payment in cash through PayPal, which provides more flexibility than gift cards.
For members who prefer gift cards, you have over 100 choices.
Although the minimum distribution has increased from $3 to $5, this is still fairly low relative to many other incentive programs.
The website interface is easy to navigate.
Things I Dislike About Zoombucks
In my experience, site support is slow to respond.
I wasted time dealing with error messages.
Withdrawals appear to take longer to process than they should when you consider that ZoomBucks boasts that distributions typically take 48 hours,
ZoomBucks appears to be a clone of their sister site, GrabPoints. What I didn't care for is that messages often make reference to GrabPoints rather than ZoomBucks. That smacks of carelessness in designing the platform.
My primary issue is a general one that is not restricted to ZoomBucks alone. Reward websites rarely pay more than $1 to $2 per hour, which isn't enough to be worth my time.
Final Thoughts – Is ZoomBucks Legit?
I joined ZoomBucks to answer the question that is invariably uppermost in the minds of review readers – Is ZoomBucks legit? In my mind, there's no question of legitimacy, nor any evidence of a scam.
That said, ZoomBucks would not be my top recommendation if you're searching for a GPT platform where you can earn a little extra money. I suggest you read one of my earlier posts, "What is a GPT Site?", before you make your final decision.
You may also be interested in exploring an exciting alternative to making online that I discovered several years ago. You can read more about my first choice for online earnings here.
Over to You
Do you have any experience with ZoomBucks that you can share? What about questions that I failed to answer? Please ask away in the comment section below and share your thoughts.
Like It? Please Share It!
Please Pin It!