Thoughtfulness is a quality we all appreciate but often struggle to express. Regardless of your niche, partnering with gift basket affiliate programs might be a simple but effective way to help your readers.
We've all been there, haven't we?
The holidays are approaching or a special event occurs that impacts someone we care about. We know a gift would be a thoughtful gesture. But we're at a complete loss for gift ideas. What's more, we're busy and haven't had the time to give the problem much consideration.
A gift basket suggestion might be the perfect solution to a reader's problem. Moreover, the multiple options available make gift basket promotions a stellar choice for many affiliate marketing bloggers. Personally, I love the idea of helping my readers to connect with the important people in their lives.
So, let's discuss some of the best gift basket affiliate programs available, shall we?
7 Gift Basket Affiliate Programs You Really Should Consider
1. The BroBasket
BroBasket.com is a premier gift-giving site tailored specifically for the hard to please men on your list. The concept was first developed in an Entrepreneur college classroom because the gift basket market didn't seem to focus on men. After launching in 2014, BroBasket now ships all over the US.
Shoppers can choose from selections like buckets of beer or various spirit gift baskets. There are also non-alcoholic choices featuring popular favorites like coffee samplers, beef jerky, or snack baskets. Moreover, you can also spot some fun collections for golfers or even the backyard barbecuer.
One of BroBasket's specialties is the customized gift basket. It's a customer favorite because you can personalize everything from the container to all of the contents. Reasons to promote BroBasket include high-quality products and unique offerings. ShareASale manages its affiliate program.
Website: TheBroBasket.com
Commission Rate: 12%
Cookie Duration: 120 Days
Sign up for the affiliate program here
2. Gourmet Gift Baskets
GourmetGiftBaskets.com has a mission to provide outstanding, hand-crafted gift baskets for all of the special events in life. Founded in 2002, this company is a family-owned entity with a goal of exceeding customer expectations.
It doesn't matter whether you need something special for a man, woman, child, couple, or maybe business associate. You can find an ideal choice on this website. Products are organized by all major holidays or by significant life events. Customers can find treats for many milestones such as a housewarming, a retirement, or the arrival of a new baby.
You can proudly promote these gift baskets because they're uniquely designed and come with satisfaction guaranteed. Gourmet Gift Baskets partners with Impact to run its affiliate program.
Website: GourmetGiftBaskets.com
Commission Rate: 5%
Cookie Duration: Not specified
Click here to sign up for their affiliate program
3. Design It Yourself Gift Baskets
Design It Yourself Gift Baskets is an online retailer of personalized gifts. Customers have the option of crafting a gift basket by choosing a theme, selecting a container, and hand-picking products for inclusion. Alternatively, a huge array of standardized gift options is available for all occasions.
This retailer offers some fun specialty baskets for folks with many hobbies or passions including fishing, poker, tennis, gardening, pets, or sports to name a few. In fact, they now offer quarantine baskets with lots of goodies. Additionally, these baskets can include family-oriented board games or card games. Thus, each gift feels especially meaningful.
Hence, affiliates can feel great about promoting high-converting, quality products that receive exceptional customer ratings. At the same time, affiliates earn generous commissions. ShareASale administers the affiliate program for Design It Yourself Gift Baskets.
Website: DesignItYourselfGiftBaskets.com
Commission Rate: 15%
Cookie Duration: 30 Days
Click to Sign Up for Affiliate Program
4. Healing Baskets
HealingBaskets.com specializes in inspirational products that encourage or comfort people who are experiencing challenges. Consequently. these gifts can be ideal when you want to reach out to offer comfort or express sympathy.
It's often difficult to know what to say when people have lost a loved one, are dealing with serious illness, or experiencing other emotional events. Healing Baskets offers a thoughtful way to convey compassion and let others know you're thinking of them during a time of need.
Promoting Healing Baskets feels rewarding because of quality products and memorable gifts. ShareASale administers the Healing Baskets affiliate program.
Website: HealingBaskets.com
Commission Rate: 10%
Cookie Duration: 60 Days
5. Gift Tree
GiftTree.com guarantees uncompromising quality and strives for genuine delight and gratitude on the part of customers. One of the hallmarks of their gifts is a careful and stunning presentation in containers that can be repurposed for years thereby extending the pleasure.
The Gift Tree team takes pride in scouring the world for unique ideas and products. Extraordinary gift baskets may include wine, champagne, fruit, flowers, and premium extras.
Customers can also make gifts even more memorable by adding personalized touches.  For instance, gifts may include things like engraved plaques or custom printed ribbons. One-of-a-kind gifts for all occasions that are carefully selected and presented are excellent reasons to promote the Gift Tree brand.
Gift Tree employs All Inclusive Marketing (AIM) to manage its affiliate program.
Website: GiftTree.com
Commission Rate: 10%
Cookie Duration: 45 Days
6. WineBasket.com
WineBasket.com offers gorgeous gift baskets in a wide range of prices that are perfect for many situations or special events. Baskets are available with red, white, or sparkling wines or other spirits. Additionally, they may also feature gourmet snacks and fresh fruit.
This organization prides itself on keeping up with the latest vineyard labels and also gourmet delicacies. They can also accommodate customers desiring Kosher, sugar-free, or organic selections. Gift baskets can be shipped throughout the US and many come with free shipping,
Any gift basket from WineBasket.com can be personalized with a custom ribbon containing a personal message or logo. Some of the best reasons to promote WineBasket.com are their unique products and their 100% satisfaction guarantee.
CJ Affiliate administers the WineBasket.com affiliate program.
Website: WineBasket.com
Commission Rate: 7%
Cookie Duration: Not Specified
7. Amazon
Are you surprised that Amazon offers an extensive array of gift baskets? You really shouldn't be. Amazon's claim to have everything from A to Z is pretty much on the money. It's true that the commission rate is a bit lower. But do keep in mind that you will earn a commission on anything your readers purchase on Amazon's site after clicking your link.
Furthermore, one of the great things about partnering with Amazon is their skill in converting browsers to customers. Firstly, they use clear calls to action. Secondly. Amazon regularly incorporates recommendations of complementary products. Finally, the availability of customer reviews contributes to very high conversion rates.
Website: Amazon.com
Commission Rate: 4%
Cookie Duration: 24 Hours
Related: How to Become an Amazon Affiliate Marketer and Why You Should
So, Where Do You Go From Here?
Does making money online by partnering with any or all of these gift basket affiliate programs sound good to you? If so, there are some distinct steps you must take. First and foremost, you will need a website. A website is essential because your site will allow you to attract and connect with potential customers.
Affiliate marketing is a brilliant business model and there are numerous benefits to becoming an affiliate. Furthermore, it's something that almost anyone can learn to do.  All it takes is a few resources and the right training. This is the training I followed to turn my website into a money-making venture. I know this training will work for you as well.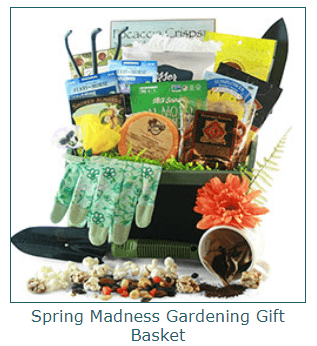 By the way, my recommended training solution is free to start. So, I hope you'll take advantage of the additional knowledge available and learn all that you can about building a website and growing traffic. Gift baskets could work well as your chosen niche. But, they also might make a nice addition to a variety of other sites.
As one example, let's say that based on your passion for the topic you decide to start a gardening blog. Design It Yourself Gift Baskets has the perfect gift selection for folks with a green thumb.
I hope today's discussion of gift basket affiliate programs has inspired you and opened your eyes to some exciting marketing possibilities!
Join the Conversation
Have you started your affiliate marketing blog yet? How do you feel about promoting gift basket affiliate programs? Please share your thoughts and ask any questions in the comment section below!
Like It? Please Share It!