Let's walk through the process of how to become an Amazon affiliate marketer together. New bloggers often ask if becoming an Amazon affiliate is a good choice, especially after Amazon's recent commission reduction. In my opinion, it's still an excellent choice!
Why?
Here are several reasons why I believe that adding Amazon to your monetization mix is a good strategy:
With unsurpassed brand and logo recognition worldwide, good prices, and prompt shipping, Amazon is a trusted vendor.
It's easy to get started with Amazon making it beginner-friendly.
Their product array is enormous with something for just about any niche.
Once you get people to Amazon.com, you will earn a commission on anything they decide to purchase. And, they often buy multiple products.
Amazon is an expert at converting customers and affiliates benefit from that expertise.
Our goal as affiliates is customer satisfaction, right? And,  isn't it comforting to know that Amazon shares and supports that goal? Amazon's vision statement seems to express that position well:
"Our vision is to be earth's most customer-centric company; to build a place where people can come to find and discover anything they might want to buy online."
Hopefully, becoming an Amazon affiliate makes a lot of sense to you. But you may be a little fuzzy on exactly how it works and how to get started,
So, let's delve into the details. shall we?
What is Amazon's Affiliate Program and How Does it Work?
Amazon is the most popular retail website in the US averaging more than 200 million unique visitors each month. Amazon also runs an affiliate program, called Amazon Associates, which is the largest affiliate network in the world. Website owners and bloggers can join the program for free and earn money by promoting Amazon products in exchange for a commission.
Here's an infographic that summarizes the process: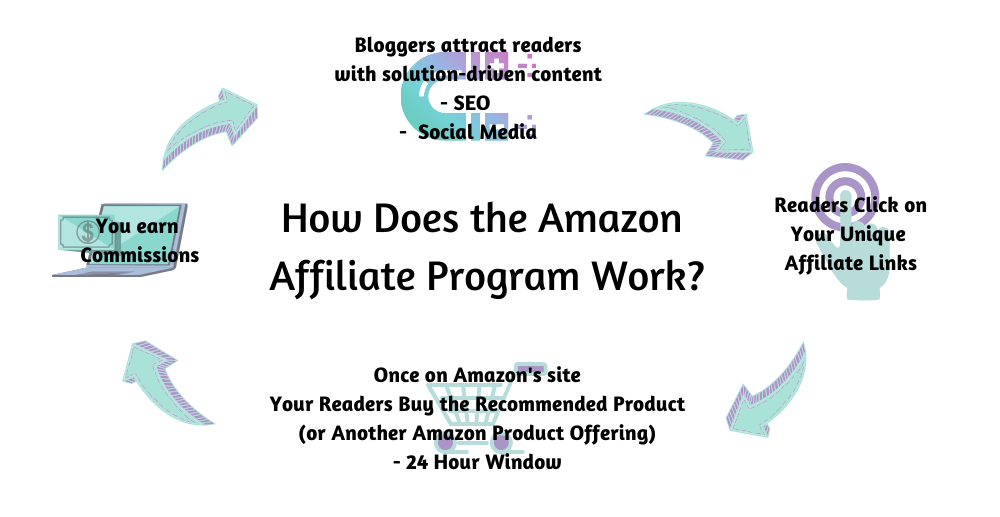 Affiliate marketing is brilliant in its simplicity. But you do have to lay the groundwork for success. So, let's lay out all of the steps you must take to become an Amazon affiliate marketer up to and including the Amazon application process.
Step One: How to Build a Website For Your Affiliate Marketing Business
Maybe you already have this first step well underway in which case you can skip over this section. But, I want to make it very clear that
affiliate marketing
is an online business venture and a website of your own is an absolute necessity.
The most successful Amazon affiliates are website owners and bloggers who write captivating, solution-driven content and publish that content on their own site. The focus must be on solving problems that a target audience is experiencing.
Naturally, you want to be successful and there's a very clear action plan you can follow to make it happen:
Research a Niche or Target Market to Identify Key Problems or Pain Points Members Face
Build a Website
Create Solution-Driven Content (Including Product Reviews) That Aligns With the Needs of Your Ideal Reader
Gain Trust & Loyalty with Readers by Helping and Answering Questions
So, How Do You Get Started With A Website?
Creating a website is not as difficult as you might think. There are various options for getting started relatively quickly at a minimal cost. Once you've identified your topic and your niche target market, here is what you'll need to do:
Get a Domain Name
Secure Hosting and a Blogging Platform
Select an Aesthetically Pleasing Theme
Performing these steps will lay a viable foundation for your new affiliate marketing business venture. I accomplished these steps in minutes when I created my website several years ago.
If this online world is all new to you, I'm sure you feel some trepidation. I did too! But I found the perfect solution when I stumbled upon an online training platform called Wealthy Affiliate. I'm a natural-born skeptic, and that makes me very cautious about spending money on unknown products.
Are you like me?
Wealthy Affiliate's offer of a free Starter Membership is what jumpstarted my blog because it was completely risk-free. I didn't have to give them a credit card number or make a commitment of any kind. That approach worked for me.
I typed in an email address to create a free account and began an exploration that transformed my life. The online space is a captivating realm that completely sucked me in from the very first day. And, it started with the excitement of building my first free website.

In just a moment, you'll enjoy a video that creates a brand new website from scratch in real-time. But, first things first.
Laying the Foundation for Your New Website
We should spend a bit more time discussing the website foundation elements presented above. Then, I'll point you in the direction of previous posts that will provide more details. Finally, you can view the promised video and see just how simple it is to get your site up and rolling.
Domain Names
Your domain name is the unique address where your target market can find you on the Web. In essence, it's a piece of virtual real estate.
You can read more about domain names here.
Web Hosting and a Blogging Platform
Much like a brick and mortar business needs a location from which to operate, your online business needs storage on a server for all of your files and website content. Viewers must be able to reliably access your content on-demand.
Read more about web hosting considerations here.
The only blogging platform I can recommend is WordPress. According to this Wikipedia article, WordPress supports more than 60 million websites and is the most popular blogging software on the Internet. The open-source nature of WordPress makes your site highly portable.
Be cautious about hosting providers that offer proprietary website builders. You don't want to limit the portability of your blog and the ability to seek hosting solutions elsewhere.
Moreover, nothing compares to WordPress when it comes to designing a website with stunning good looks and exceptional functionality. There are more than 2,800 free WordPress themes, hundreds of premium themes, and thousands of plugins that add additional features to your site.
WordPress rocks!
So, here's that promised video where you can watch a new website evolve.
As you can see, with a few clicks of the mouse your website is live and open for business.
What's next?
Focus on Traffic
You need eyeballs viewing your pages, and readers need to have a good reason to choose your website. So, do your research and start efficiently communicating with your market. Create some great content centered around the needs and questions of your desired readers and keep posting.
Fundamentally, traffic flows from careful keyword research.
Building a customer base will take time and effort, but there are time-tested ways of increasing the traffic to your site.
Traffic is another facet of internet business development where Wealthy Affiliate can help. Extensive tutorials and webinars are devoted to this topic.

How Do You Apply to Become An Amazon Affiliate Marketer?
Once you have a website, applying to become an Amazon affiliate is an incredibly simple process. It takes about 5 minutes. If you go to the Amazon.com homepage, you will see the following link at the bottom of the page.

Just click the link. Then fill in a few personal details (including the name of your website), and you're off and running. In most instances, you'll instantly have access to customized affiliate links to entice your customers and satisfy their needs for an incredible array of products (from A to Z 🙂 ).

What Are the Rewards of Being an Amazon Affiliate?
On average, Amazon pays its affiliates a commission of about 3 to 4%. If you're promoting low dollar value products, you will naturally need patience and a lot of customers for your site to become profitable. But it's entirely possible to make money partnering with Amazon.
Bloggers from all over the world prove that every day!
Do I think you should restrict yourself to partnering solely with Amazon? Absolutely not! A single income stream is far too risky. You have many alternative affiliate programs to choose from. Some of them may offer higher commission rates which are obviously a plus. But, don't discount the many advantages of having Amazon as part of your monetization strategy.
With millions of products, Amazon has a role to play in almost any niche affiliate blog. This giant is a household name and few days go by when we don't see an Amazon Prime Van in the neighborhood.
How to Monetize Your Website or Blog
Once you're accepted into the Amazon Associates program, you immediately have ready access to a variety of links that you can incorporate into your blog.
Try these ideas:
Link to products from simple text links within the body of your content. Studies show that these textual links often work best.
Create clickable product images that visually encourage customers to drill further for more product details.
Make it easy for readers to click-through to Amazon by adding multiple links.
Be aware that transparent and thorough product reviews convert well.
Use Native Shopping Ads that complement your content.
Sidebar banner ads seem to be less compelling than text links, but seasonal banners may be an exception and something to consider.
Amazon.com is the world's largest Internet-based retailer with a plethora of enthralling products. Get customers to Amazon's site and let them take over because they're experts at closing the sale. Let Amazon do what they do best!
Again, your customers do not necessarily have to purchase the Amazon products you specifically promote. Once your customers click on your affiliate link and go to Amazon.com, you will receive a commission for any items purchased during the next 24 hours.
Wrapping Up
I sincerely hope you found this tutorial on how to become an Amazon affiliate marketer helpful. There are sound business reasons for pursuing an Amazon affiliation as a component of your monetization strategy.
These reasons include exceptional brand recognition, a spectacular array of products, and consumer-oriented business practices. There are indeed many benefits to new bloggers. It comes as no surprise that droves of affiliate marketers celebrate their first online successes because of an Amazon sale.
You may see your first success with Amazon as well!
Even after a reduction in commissions on some product categories, Amazon's fee structure is not less than that of many other organizations.  Partnering with Amazon is still a wise choice for many affiliate marketers!
Over To You
Will you share your thoughts on becoming an Amazon Associate or any personal experience you already have with this program? Do you still have questions? Please leave me a comment below. I always respond to all comments!
Like It! Please Share It!