*Updated from a post originally published in 2017
Even though Shopkick has been around for quite a while, there are still a lot of folks wondering, just what is the Shopkick app? And for all of us bargain hunters who like to save money on everyday stuff, it's a great question.
I published my first Shopkick app review shortly after joining the program back in 2017.  But after using the app to save money on a shopping excursion yesterday, I realized some updates were long overdue.
Shopkick has evolved during my years of membership and has even more to offer today which has made it an enduring favorite. Yes, I use other rebate programs also like Checkout 51 and Ibotta.  Moreover, I save money with them all.
But, Shopkick is a keeper for me because it has the potential to make shopping and running errands (Uhgg!) fun again! Or at least more bearable. 🙂
So, let's explore the ins and outs of this program and why I find "shopkicking" fun. shall we?
What is the Shopkick App and How Does Shopkick Work?
Shopkick is a U.S. based company that first released it's shopping app in August 2010 (according to Wikipedia). They have a website, but the application can only be downloaded and used on mobile devices like smartphones or tablets.
The program is available for both IOS and Android platforms. With millions of users, Shopkick has a current rating in the App Store of 4.7 and a Google Play rating of 4.3. When you realize they've paid rewards in excess of $78 million, you begin to understand the high ratings.
Shopkick has a mission to reinvent the shopping experience. Their feeling is that the Sunday circular just doesn't cut it anymore. Today's digitally savvy consumers want to save money with something that's more engaging and personalized.
Here's a quote from Shopkick CEO Bill Demas that may spark some interest in their approach.
"In the commerce world, we were 'Pokémon Go' before 'Pokémon Go' existed."
Hmmm! The 'Pokémon Go' of shopping apps does sound a bit more interesting than coupon clipping, right?
It seems I'm not alone in that reaction. Millions of people already use Shopkick to
discover new products;
plan their shopping trips, and
rack up rewards at more than 250,000 retail locations.
You can immediately personalize the app by enabling Bluetooth when you download. You'll then see a list of stores within a few miles of your home that currently have offers for redemption. It's all very location specific.
Consumers earn rewards, or virtual currency, called "kicks" that they then exchange for gift cards or cash. The conversion rate is 250 kicks to $1. Several retailers including popular ones like Walmart and Target allow you to exchange as few as 500 kicks for a $2 gift card. So, the payout threshold is low.
Personally, I prefer to build my points over time and then use them all for a special occasion or indulgence. But that's just me! The program is very flexible.
Click Here to Create a Free Shopkick Account
How Do I Earn Kicks?
There are a bunch of ways to earn kicks including these:
Simply walk into select stores (sometimes just getting close to the store is enough :)).
Scan the barcodes on specified groceries, cleaning supplies, or beauty products as you shop.
Buy particular products in the store and then later upload your receipt within the app.
Make purchases at some retail outlets with a linked credit card.
Earn kicks at the register for every dollar spent at some establishments (e.g. earn 2 kicks per dollar at Best Buy) by asking the cashier to scan a code on your phone before hitting the total button.
Watch product videos as you're planning your shopping trip ( they play for seconds).
Shop online from the comfort of home.
Invite your friends to join and earn referrals.
You'll want to have the Shopkick program open on your phone before you enter any stores to take full advantage. Check out the video below for an overview;
My Personal Experience Using Shopkick
The image below is an example of my Shopkicks homepage following my first shopping trip using the app.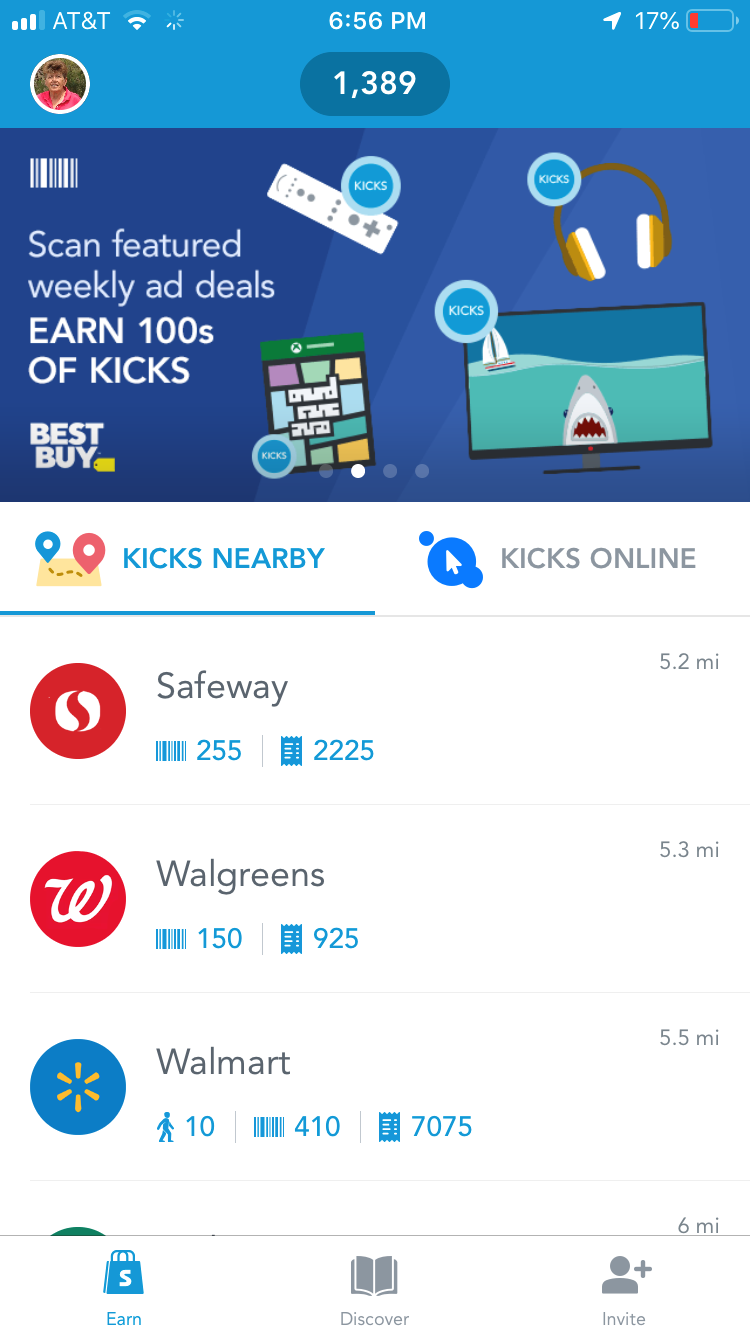 As shown at the top of the screen image above, 1,389 kicks are currently sitting in my account. Another 260 points are pending because I made a purchase at Marshall's using a linked card that earned kicks, but the points won't be available for 30 days.
Earning kicks feels like a good deal given that I need to pick up groceries and shop for other routine household items with or without Shopkick in the act. I'm being paid to shop and I use the rewards for extra treats.
Notice the three buttons at the bottom of the screen labeled Earn, Discover and Invite. Each performs a useful function within the app. The Earn button is currently selected (along with KICKS NEARBY) and what's visible are the first few entries in a lengthy list of participating retailers in my area.
Earn Button – Kicks Nearby
Icons next to the name of the store indicate the number of kicks available for walking in, scanning product barcodes, and buying promoted items. Not all stores offer all forms of kick rebates. Different companies also seem to refresh their offers at different rates.
Let me explain that a bit further based on the three stores listed above. I'll also fill you in on some interesting anomalies I've observed that have me chuckling as I complete my errands.
Yesterday, I went to both Safeway and Marshalls. Safeway offered points for scanning and purchases but not for entering the store. Marshalls offers 50 walk-in points, 1 kick for each dollar spent on purchases with a linked card, and 200 bonus kicks if you spend $50.
But, as it happens, Marshalls is located in a very large Shopping Center that has multiple participating retailers including Best Buy, Target, and Carters among others. I mention this because I was able to get "walk-in" kicks from Target (10) just by pulling into the parking lot.
As I walked along the sidewalk, I was awarded points by Best Buy (50) and Carters (100). I never went inside.  Viewing the app today, I can see that Best Buy is not extending the walk-in offer again today. But Target, Carters, and Marshalls would pay me to come back.
Once inside a store, you can quickly see a list of items eligible for scanning or rebates. There's almost a scavenger hunt element to the scanning that I find amusing. The actual scanning of the barcode takes seconds and kicks are immediately awarded.
When you purchase items on the rebate list, I've found that taking the photo of the receipt within the app works flawlessly. Typically, it takes about 48 hours for the receipt to be processed and the kicks to post to your account.
Earn Button – Kicks Online
With the Earn button selected, click Kicks Online to view a list of approximately 50 online merchants that partner with Shopkicks. Walmart, Kohl's, Houzz, Big Lots, Amazon and Home Depot are just a few of the participating retail giants.
You must access the websites of online retailers by using the Shopkick app. You can then shop as you normally would from the convenience of your sofa and earn a specified number of kicks for each dollar of purchases. For example, I made a recent purchase on Amazon Home and earned 7 kicks per dollar,
The addition of online shopping is one factor that drove me to update my Shopkick app review because kicks were only available in-store when I first joined. The ability to use the app online makes the Shopkick app far more versatile.
Discover Button
With the Discover button, you can peruse adds for promotional items and in some cases watch videos. Not all of the videos result in kicks awards, but some will pay 1 to 10 kicks just for viewing.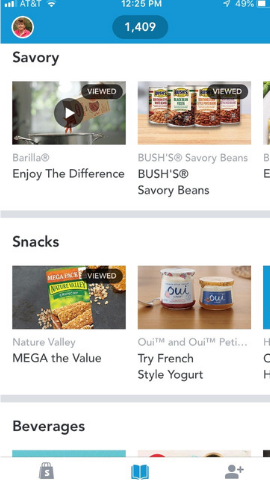 You may spot something you'd like to add to your list and try, or not 🙂 Either way, the videos only run for seconds.
Invite Button
Shopkick offers a referral program that lets you earn kicks for inviting family and friends to join using your referral code. You can access your unique code by clicking the Invite button and then sharing using email or social media.
If someone accepts your invitation to join Shopkicks and earns walk-in or scan kicks in the first 7 days, you each receive an award of 250 kicks. This is obviously not a big money-maker, but it can get you a little closer to your next treat.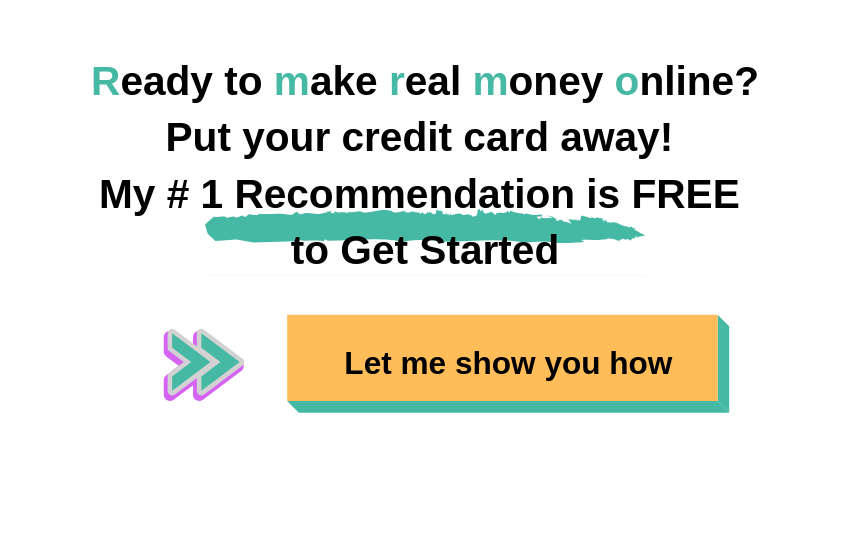 How Do You Redeem Your Kicks?
Redeeming kicks is a simple process that literally takes seconds. Just click on your accumulated points total at the top of the Shopkick app screen and you'll instantly be transported to "Kicks Center" where you can choose from 42 gift card options (as of the date of this post) or PayPal.
I invariably choose the Amazon gift card option. Identify the denomination of the gift card and a digital card is immediately available in your account. Use the card by entering the unique card number at checkout.
But knowing that many readers prefer cold cash, I decided to try out the PayPal option. You should be aware that there is a small redemption fee of 50 kicks (the equivalent of 20 cents) if you choose PayPal. So a $5 PayPal transfer will cost you 1,300 kicks.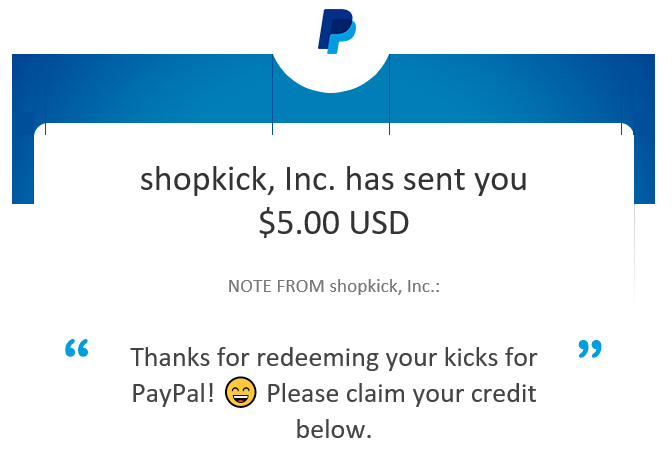 My cash reward was instantly available in my PayPal account.
My Final Verdict

So, does the Shopkick app work and Is Shopkick legit? Absolutely! The Shopkick app is fun and engaging with various ways to earn reward points. You're not going to get rich with the program, but if you're a thrifty type, you definitely can save a bit on groceries and routine household items that you have to purchase anyway.
For me, it's definitely worth the minimal time investment.  And, Shopkick offers rewards that appeal to virtually everyone. I love the gift card choices but they also offer cash through Paypal.
I would be hard pressed to find a downside to using Shopkick!
Summing Up
I sincerely hope you found this post on What is the Shopkick App to be helpful and informative. If you'd like to create a free account and begin earning your kicks, you can click the link below.
Click Here to Create a Free Shopkick Account
 Again, the potential money to be made from this shopping app is nice but pretty small. Would you be interested in learning how to make more? If you'd like to discover a way to make money online that has far more potential to supplement your income, you might be interested in building a website and becoming an affiliate marketer.
That's the route I chose to take, and I accomplished it by joining an online platform called Wealthy Affiliate. If this sounds appealing, you can check it out for free by clicking the banner at the bottom of the page.
Over to You
Do you have any experiences with Shopkick that you'd like to share with us? If so, or if you still have questions about how Shopkick works, please give me a shout in the comment section below.
Like It? Please Share It!