So many of my readers and social media followers have asked,
"What is the Ibotta app?"
, that I simply couldn't put off joining or reviewing the product any longer. People also frequently tack on the question, "Is Ibotta better than coupons?".
Until very recently, I wasn't in a position to address these queries because I hadn't used the product and all of my knowledge was second-hand. I have a firm policy of never reviewing any products on my site that I haven't personally used because nothing can adequately take the place of experience.
Now that I'm a member, it's time to share what I've learned. Let's talk about how to make a bit of money with grocery shopping and some other routine purchases.
What is the Ibotta App?
The Ibotta app is a free shopping app you can download from either Itunes or Google Play depending on your mobile device. This app offers opportunities to earn cash rebates on select products on a weekly basis. Since its inception in 2012, many shoppers have embraced the product due to its relative ease of use and savings potential.
Rebate offers are organized into the following broad categories:
Grocery
Pharmacy
Clothing
Beer, Wine & Spirits
Beauty & Wellness
Specialty
Restaurants & Bars
Convenience
You'll notice duplication across several categories which probably makes sense given the plethora of household products sold at most grocery establishments today. Still, checking all categories is your best plan to avoid missing any enticing deals.
Where Can I Use Ibotta?
You can use Ibotta at over 300 retail chains, pharmacies, convenience stores and other locations. I can guarantee it's accepted by multiple businesses that you frequent on a routine basis. You can view the impressive list of business partners here.
How Does Ibotta Work – Step By Step?
Okay, enough with the basics and background. I'm sure I heard a few of you saying, show me the cash! So, here we go! In my first week of membership (which isn't over yet), I've earned $15.75 just for availing myself of a simple smartphone tool. Why didn't I start sooner you ask? Great question!
 
Here are the steps I followed.
(1) Sign up for an account and download the app.
(2) Browse offers available. I would advise picking a store or two that you would like to shop at. Your list of possibilities will be long but there may be more rebates available at particular locations so check around a bit.
(3) By store, choose the rebates that interest you and click to unlock the offer. Depending on the offer, you may have to perform a simple micro-task. Seriously, don't be put off by this. The tasks require seconds of your time. For two of the offers I chose, I had to answer a single polling question about the product by checking one or more boxes.
One offer involved playing a 15-second video. The fourth, a $1 rebate for any grocery item of my choice, required no action. Yes, this last offer was pretty cool!
(4) Just go shopping and be sure to save your receipt. There are no in-store requirements and you won't be holding up the checkout line.
(5) Once you're back home, finalize the rebate transaction for each offer you selected. To do this, simply open the app and click the verify purchases button at the bottom of the screen. You'll be prompted to scan the product barcodes (just hold your phone over the code) and then snap a picture of the receipt.  Long receipt? No problem! Click a button to send the receipt in sections. Easy, peasy!
(6) Wait for email confirmation of your credit. I heard back within minutes of submission but you may have to be patient for up to 24 hours.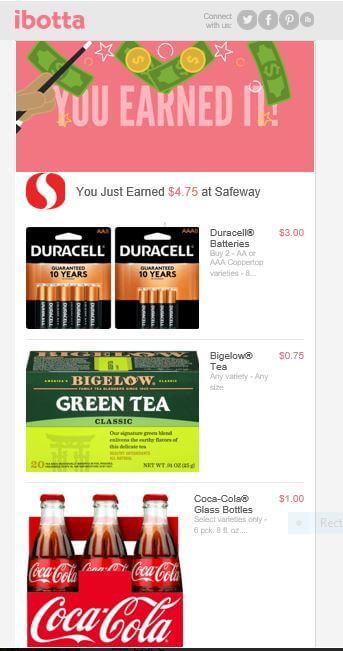 Did I Encounter Any Issues?
I experienced one minor inconvenience. Moments after I submitted my first claim for a $1 rebate I got a friendly message indicating they couldn't read my receipt. All I had to do was quickly snap a new photo and send it off. Success!
New Member Bonuses
New Ibotta members are eligible for a $10 bonus if they submit a rebate claim within the first week of joining. That bonus is reflected in my lifetime earnings above. If I use the app again in each of the next 2 weeks (and why wouldn't I? 
), I will earn additional bonuses of $5 each week. Sweet!
Is Ibotta Better Than Coupons?
I'm going to disagree slightly with Ibotta on this one. Ibotta claims that their app is better than coupons. Well…maybe easier since there's no clipping or coupon printing involved. But I'm not sure why you would want to limit yourself to just one of these money savings techniques.
Why not use both and compound your savings?
You can stack the savings by employing everything in your shopping toolbox. I got a rebate on an item that was already on sale. I also used a similar shopping app called Checkout 51. This week I didn't purchase anything offered by both programs but opportunities were available depending on your shopping habits. I fully expect to double dip in some weeks!

Let's stack our grocery savings by using #Ibotta, #Checkout 51, coupons and everything else in our shopping toolbox!
Invite Friends to Join
Everyone is given a referral code. Invite your family and friends to join Ibotta with you. You will receive a $5 bonus for each person who joins under your referral code as soon as they get their new member bonus. Send folks an email or go ahead and post your referral code on social media. How nice is that?
Cash Out Your Savings
As soon as your Ibotta balance hits $20, you can request payment through Paypal or Venmo. Don't have a Paypal or Venmo account yet? You can create one through the Ibotta app. You can also purchase a gift card from featured vendors if you prefer.
Summing Up
Is using Ibotta worth it?
Yeah, I think it is! I see it as a limited but fun approach to how to make money from grocery shopping. Let's face it, I have to shop and I'm going to purchase these items anyway. I'll be heading back to the market week after week throughout the year.
What's the best part? If I combine my Ibotta rebates with other online programs like Checkout 51 and Swagbucks rewards, the positive effects on my budget cannot be denied. I encourage all of my retiree readers, and any readers who haven't joined our ranks yet,
 to give this approach a whirl.
If you found this post on what is the Ibotta app helpful, please share the love!
Have you tried Ibotta? I would love to read about your experiences, positive or negative, in the comment section below.
Saving money is great! But if you're interested in more earnings potential, you might want to check out my review of Wealthy Affiliate which is where I built my website and happily embarked on a new online adventure in retirement.
Happy earnings!