Has the Fetch Rewards app popped up on your radar screen yet? It's been a couple of weeks since I first asked
what is fetch rewards
after overhearing some intriguing chatter in the grocery checkout line. I was curious enough to promptly download the app and check it out.
The simplicity of this user-friendly app quickly impressed me. There are features that make it somewhat unique when compared with other popular receipt scanning apps like ibotta or Checkout 51. Moreover, I find the differences uniquely appealing, and I think you will also.
In today's comprehensive review, we'll explore the benefits to you of using Fetch Rewards, discuss how you earn points, and see exactly how you get paid. I'll mention here that Fetch is only available in the US.
Let me elaborate.
What is the Fetch Rewards App?
Fetch Rewards is a relatively new (2017 launch) mobile shopping app that pays you to take pictures of all your grocery receipts and then upload them to earn points. You're not limited to any specific store and receipts can be from a supermarket, any convenience store, or even a club store like Costco.
1,000 Points   =   $1
Points are redeemable for attractive gift cards from dozens of local and online retailers. Amazon, CVS, Target, Walmart, Kohl's, Barnes & Noble, Whole Foods Market, and QVC are just a select few options from a lengthy list. One or more of your favorite shopping haunts is bound to be available.
Here's what Wes Scholl, the CEO, and founder of Fetch Rewards, has to say about the product:
"Shoppers no longer have to spend so much time searching and clipping and entering codes. Fetch makes saving fast and easy."
I like that thinking, don't you?
How Does Fetch Rewards Work?
First, download the app to your smartphone from either the App Store or Google Play. Enter basic info including your name, email, and cell phone. Confirm your registration (Fetch will text you a confirmation code), and you're ready to roll. By the way, the app has a 4.6/5.0 rating on the App store which is not too shabby.
You will be asked to input an invite code, and you want to have a valid code available. Mine is YQ7NH. Inputting a code is important because without it you'll lose out on the 2,000 point ($2) sign-up bonus. Once you've scanned your first receipt, it's too late to go back and add a code. So, be prepared and don't miss out.
Your 2,000 point bonus is instantly credited to your account as soon as you upload your first receipt. Additionally, you'll get a bonus just for performing the upload. So far I've gotten bonuses of 200 points per receipt. I'm not sure that goes on indefinitely, but any extra points are welcome.
Full Disclosure: If you use my invite code, I also receive 2,000 points when you scan that first receipt. Naturally, I'd love you to use my code :). But do make sure you enter someone's code, so you don't leave $2 on the table.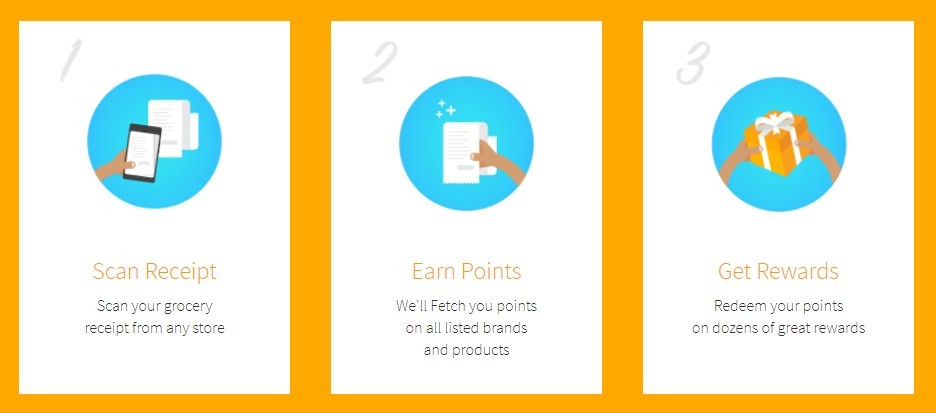 Once you're a member, just let the scanning begin. I have a firm policy of opening the app and snapping a picture of my receipt just as soon as I get home and before I even put the groceries away. It only takes seconds but if I let it go,,,,
Well, I'm sure you know how that works, right?
I'll forget, or lose it, or maybe spill something on it. And, you can't procrastinate because you only have 14 days from the date of the receipt before it becomes invalid. As soon as you've taken your photo, your part is done, and your shopping points should be processed immediately.
Processing
Note that Fetch uses software to scan submissions electronically. On occasion, an item may be missed because various retailers use different descriptions for products and the software is still "learning" by building a database.
You'll be asked to review your processed receipt, and you can electronically add items and then resubmit. In these instances, reprocessing may take as long as 48 hours. But, that's still pretty timely when compared with many reward programs, and it also shouldn't happen very often.
Brand Points
The key distinction between Fetch Rewards and other shopping programs is the primary focus on brands rather than specific products. At this time, they've partnered with over 250 brands and the intention is to keep adding more. And, they're brands we all know and buy all the time.
Heinz, Kraft, Lipton, CapriSun, Breyers, Hellman's, Oscar Mayer, Pepsi, Miller, Quaker, and Suave are just a few of their current partners.
Recognize any of these?
When you buy products within these broad "brand families," you earn points based on the price of each qualifying product. For every dollar spent, you earn 10 points.
Special Offers
Special offers are specific promotional items that vary over time. Right now, I have 16 special offers and can earn anywhere from 250 to 2,000 points if my sales slip contains the product in the specified quantity.
Look at the screenshot below: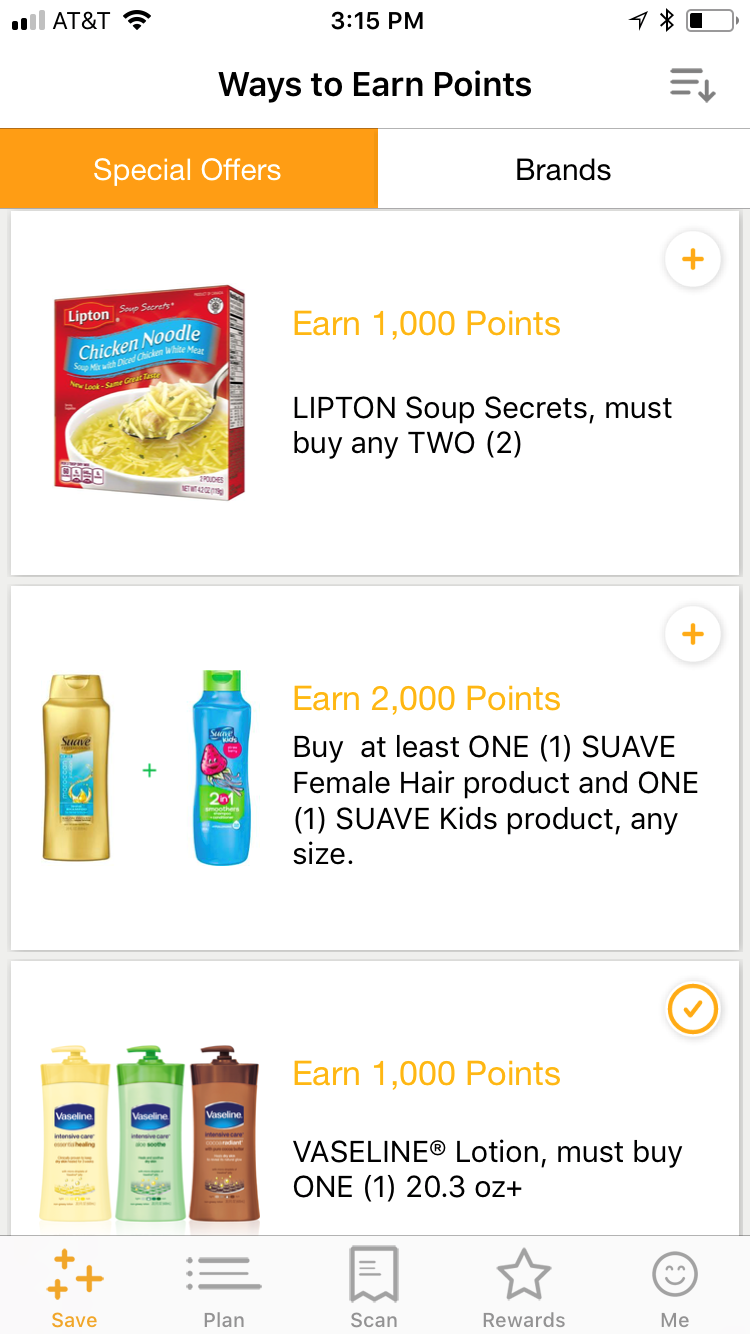 Referral Points
Fetch has a referral program that you can also use to boost your earnings. Share your invite code with friends and family through email, social media, or word of mouth. If your referral joins, you'll get 2,000 points when they upload their first receipt. It's a win-win because your friend also gets 2,000 points,
So, How Do You Get Your Rewards?
Fetch rebate points are redeemable for electronic gift cards. The minimum payout is 3,000 points or $3. You'll reach this level very quickly because your award for joining gets you two-thirds of the way there. The low payout threshold is a nice feature for many users.
Personally, I prefer to "bank" my points with most of my rewards programs and let them build for Christmas or other special occasions. But that's just personal preference. It's nice to have options, isn't it?
As soon as you have enough points, you request your electronic gift card from within the app, and it's processed immediately. One complaint I've heard voiced is that you can't redeem your points for cash. Be aware that Fetch does not have a PayPal option.
Is Fetch Rewards Worth Your Time?
Fetch Rewards is a completely legitimate app that pays you a modest side income just for buying items that you have to buy anyway. Once you get into the routine, you can scan and upload your receipt from within the app in a matter of seconds.
So, is it worth it?
Yes, I'm convinced it is, mostly because the time involved is minuscule. When you register, you may want to spend a few minutes reviewing the sponsored brands. I don't always have a strong preference for one brand over another because I feel the products are equally good. Knowing which competing product offers points can sway my buying decisions.
I also quickly peruse special offers within the app as I make my grocery list. For example, Lipton green tea was on offer this week (500 points). So, I grabbed Lipton instead of a competitor's green tea bags.
But, you don't have to bother doing even that much preparation. Points are automatically earned based on whatever appears on your receipt. You don't have to know that you're buying something with associated points to earn the reward.
And, there are enough everyday household brands that you're bound to earn a reward for something even if it wasn't planned. That works out well for impulse purchases and for the times I'm in a hurry and skip the shopping list.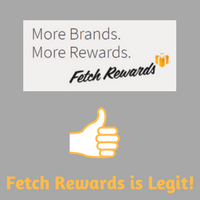 Summing Up
Regularly using receipt scanning apps is a smart and simple way to earn a little extra money on the side. Be sure to increase your savings by double and triple dipping. For example, you can upload the same receipt to Fetch Rewards, Ibotta, and Checkout 51.
No, the amounts saved per receipt are not life-changing sums but we all make a lot of trips to the grocery store, right?  And, that won't be changing anytime soon. So, scan all your receipts, and you may be pleasantly surprised by how quickly your points grow over the course of multiple visits.
You'll be cashing in a gift card in no time!
Of course, cashback and rewards programs can't begin to compare with my favorite way of making money online, but I never object to shaving my grocery bills!
I sure hope this Fetch Rewards app review was helpful. If I failed to thoroughly answer your question, what is Fetch Rewards, please give me a shout in the comment section. I promise to get back to you promptly.
Now, Over to You
Have you tried Fetch Rewards? Do you have another favorite shopping app we should all be using? Jump into comments and tell us all about it. And, please share this with your family and friends who are still playing too much for groceries!
Like It? Please Share It!