The idea of turning spare time into cash is something that appeals to many people. In this Rewards1 review, we'll take a good look at a rewards website that claims you can do just that.
Rewards1 is a site that seems to remain under the radar. I had never heard of it until a reader mentioned it recently. But it launched in 2007 making it ancient in Internet years.
We'll address all of your most pressing questions today. Exactly what is Rewards1, and how does it work? Is Rewards1 legit and safe to use? And, is it worth your time, given that there are many other ways to make money online?
You'll want to read this Rewards1 review to its final conclusion because, as a member, I have the inside scoop to share. We'll also talk about alternatives you may want to consider.
So, let's jump right into the details, shall we?
Rewards1 Review At A Glance

Product Name: Rewards1
Product Type:  GPT Website
Website:  Rewards1.com
Price: Free
Summary:  Rewards1 is a website where consumers get paid to engage with brands and perform simple tasks. Those tasks include taking surveys, completing trial offers, downloading apps, watching videos, and more. Rewards1 is an avenue for earning small amounts of supplementary income each month.
My Rating: 2 out of 5
Recommended?: Yes, for those interested in earning a few extra bucks each month.
What is Rewards1?
Rewards1 is a GPT (Get-Paid-To) reward website that partners with organizations around the world with a willingness to pay members to engage with their brands. The most common way of making money on Rewards 1 is by taking surveys.
But you can also earn by completing various offers such as discount purchases, trial subscriptions, downloading apps, watching videos, playing games, and referring friends to the platform.
Membership in Rewards1 is free and open to individuals worldwide who are 18 or older (13 to 17 with parental consent). However, most offers are only available to US residents. The platform began operations in 2007 and has 4 million members.
How Does Rewards1 Work?
Joining the program is straightforward and quick. Complete the short registration form below, and confirm your email address to get started.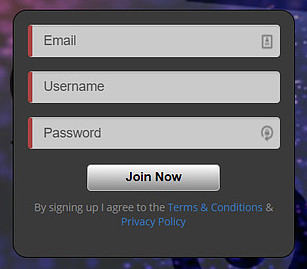 The next step is to complete your profile providing basic demographic data such as gender, birth date, mailing address, PayPal address, and Bitcoin address (if you have one).
Unlike similar sites, there are no sign-up bonuses offered. But you will immediately be directed to your first survey. Moreover, there are multiple ways to earn. Members earn points for completing tasks with 1 point equal to 1 cent (100 points = $1).
In all honesty, I can't say I was really impressed with my first view of the members' area. Perhaps it's the age of the website and a failure to update their design. The site's background is black, with text that appears to be a light gray. I find it very difficult to read.
Navigation isn't super-intuitive either. But I quickly realized that tasks are principally listed on the Earn menu.
Surveys
Paid surveys are offered through the following partners:
Your Surveys
Dynata
Theorem Reach
SaySo Rewards
Peanuts Lab
Ampario
If you have taken surveys in the past on other rewards websites, you will recognize these providers. There are both positive and negative impacts of these partnering sponsors. On the plus side, you will always have surveys you can attempt. On the downside, you will waste a lot of time completing profiling questions and trying to qualify.
So far, I find that most surveys seem to pay 75 points. I earned 500 points to qualify for my first reward in 2 days, which isn't too bad. Many sites have minimal numbers of surveys available and high payout thresholds. That combination often means a long wait to see a reward.
Offer Walls
Rewards1 has 8 different Offer Wall partners with which you may already be familiar. Organizations use platforms like Rewards1 to advertise products and services, obtain feedback, and engage with consumers on many different levels.
Offer Walls open up hundreds of possibilities to complete tasks for points such as additional survey opportunities, discounted purchase offerings, trial offers, chances to download apps and games, entering sweepstake contests, and more.
Be aware that many will involve buying things or providing credit card information. So, be sure to read the fine print, fully understand the terms, and exercise caution.
Here are the Offer Walls currently presented: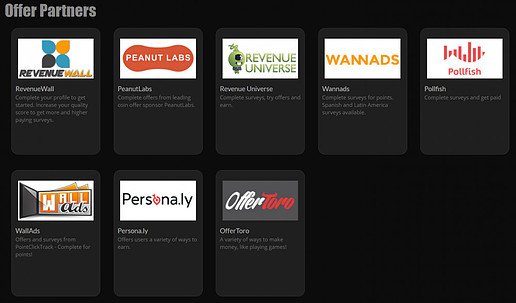 Watching Videos Through HideOut TV
We're all familiar with commercials that companies air during TV programs. As the Internet expands and online streaming grows in popularity, it's natural that advertisers want to capture this market also. So, yes, you can watch videos (that include ads) to earn a little extra money.
It doesn't pay much. Typically, you earn 1 point for viewing 3 ads. But many people like it because it also doesn't take any effort. Be aware that Rewards1 doesn't make it easy to access this task. You won't find watching videos on any menu. But, you will see Hideout TV, along with some other partners, displayed on the home page.
Referrals
Many online programs compensate members for referring friends and family members to the site. If people join Rewards1 by clicking on your unique membership link, you will earn 30 to 40% of their lifetime earnings on the platform.
Rewards1 appears to place heavy emphasis on their referral program. There are membership levels or ranks within the site that are based in part on the number of referrals you achieve.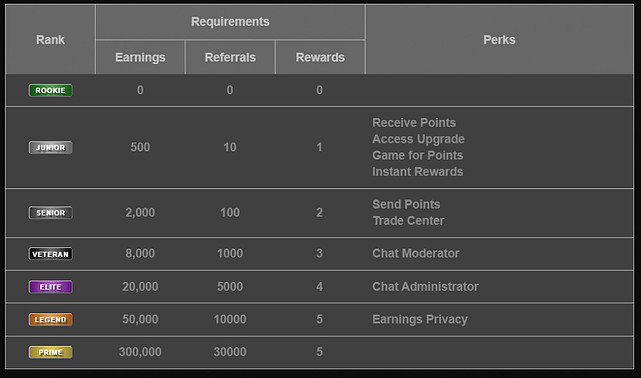 How Will You Get Paid?
Once you accumulate enough points, you can redeem your points for several different attractive rewards. Some rewards are redeemable with as few as 500 points.
Choices include:
Gift cards to numerous vendors
Game Points
Cash via PayPal
One interesting option is the ability to request a custom award from any online vendor of your choice.
But here's an aspect of getting paid that I'm not thrilled about. Based on reading many reviews, I'm comfortable that Rewards1 is legitimate, and I fully expect to be paid. But if you're a new member at the Rookie-level, the process is very slow. Supposedly, rewards get delivered instantly once you reach the Junior level.
The FAQs indicate my reward should show up in 24 hours as a Rookie. Unfortunately, that appears to be overly optimistic. I requested a $5 distribution through PayPal close to 48 hours ago, and I'm still waiting for it to hit my account.
I find this a little frustrating when there are many other sites such as Rewarding Ways where the payout threshold is even lower, and you have your award within an hour or two od submitting a request.
Rewards1 Pros:
Free to Join
Available Worldwide
Lots of Survey Partners
Multiple Offer Walls
Daily Polls
Bonus Points for Completing Daily Quests
Mobile-Friendly
Low Minimum Payout Threshold of $5
Rewards1 Shortcomings:
Website Design Choices (Light Gray Text on a Black Background) Make Reading Difficult
Surveys Are Only Available Through Partners Which Means You Are Constantly Answering Profile Questions
Very Few Offers Available for Non-US residents
Rewards Processing is Slow For Rookie Members
Final Thoughts – Rewards1 Review
Thanks for joining me today for this Rewards1 review. If your goal is to earn a few extra dollars per month, Rewards1 is one of many legitimate websites where this is possible. Furthermore, there are a variety of ways to make a little extra in your spare time.
But let me ask you this. Are you really looking for something that can make a significant difference in the quality of your life?
If you prefer the idea of making a consistent and more substantial income online, there is a much smarter alternative. I suggest you at least consider building a website that you can use to promote just about anything online.
You will need some training to achieve success. But that training, along with all the support and resources you need to grow a lucrative online business, is readily available. What's more, learning more is entirely risk-free and potentially life-changing.
So, I urge you to check it out today!

Join the Conversation
What do you think about Rewards1? Are there questions I failed to answer? Please give me a shout in the comment section below, and I'll get right back to you!
Like It? Please Share It!