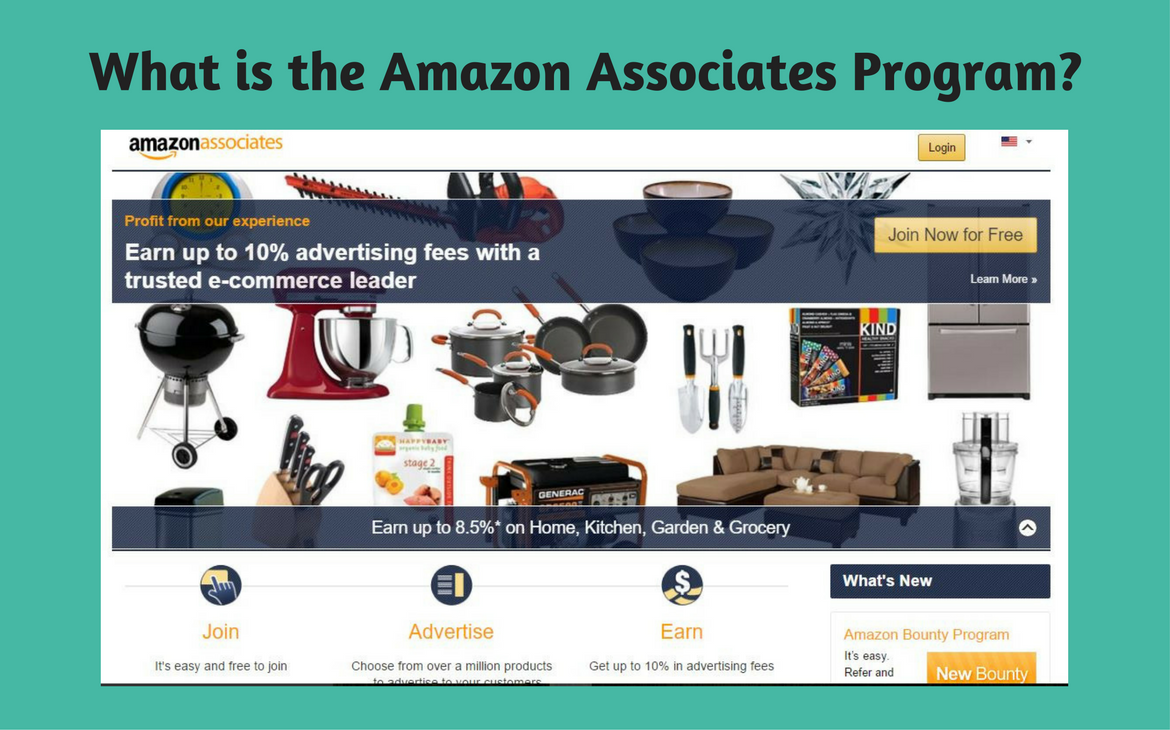 As we thoroughly answer the question,
what is the Amazon Associates program
, you'll learn how to capture the brand recognition and trust of the Amazon marketplace. Amazon's legendary affiliate program was first launched back in 1996 and has fueled success for tens of thousands of
niche
website owners.
Can it help you achieve success also?
Amazon offers a vast array of diverse products with something for just about any target audience. Even if you don't shop at Amazon yourself, I bet you know people who do, right? They offer a safe and secure online shopping experience with tremendous variety, excellent prices, and free returns. What's not to like?
Let's dive a little deeper into the details and potential benefits of the Amazon Associates program, shall we?
The Amazon Associates Program
Website owners and bloggers can leverage the Amazon Associates affiliate program to earn referral fees by promoting products and pointing customers to Amazon's site. There is no need to own any products or worry about issues like shipping. Associates generate leads and Amazon handles the rest.
Your website readers travel to Amazon through a link on your website. That link contains an embedded tracking code that identifies your account. If a customer you refer makes a purchase, you earn a commission.
Yes, it's really just that simple.
The product purchased also doesn't have to be the item you're promoting. You will receive credit for anything purchased on Amazon's site by your referral within a 24 hour period. This is where the abundance of enticing goods can really work to your advantage.
The fact is, Amazon seems to have superpowers when it comes to converting site visitors into customers. Is it time for you to begin leveraging the power of this online retail giant?
How Do I Get Started as an Amazon Associate?
The Amazon Associates program is an ideal solution for bloggers who want to monetize their website. The program is free to join, and enrollment is a quick and easy process. If you already have a blog, just fill out a short online form with the name of your website and a few details about your promotional strategies.
Just select the link at the bottom of Amazon's homepage to get started. You can be up and running in a matter of minutes as an Amazon, affiliate marketer.
Haven't Started Your Blog Yet?
To reap the benefits of the Amazon Associates program, you will need to build a website first to function as your online communication and promotional vehicle. In this Internet era, that is not a difficult process, and there are various options available to new bloggers. I chose to start my blog at the top-notch online marketing platform known as Wealthy Affiliate.
If you have a sincere interest in making money online with Amazon or any other affiliate program, you'll want to check them out. I say that because Wealthy Affiliate offers a free Starter Membership. Unlike many other "free" opportunities, you don't have to give them a credit card number. All you need is an email address.
With this free membership, you can gain invaluable hands-on experience. When learning new skills, we all know that nothing beats trying it for yourself with a little help and guidance, right? Learn how to build a website and add content to your site,
Get some training in the basic principles of affiliate marketing and then make an informed decision as to whether becoming an Amazon affiliate is the best path for you to pursue.
Follow These Tips to Achieve Success
Starting a blog and joining Amazon's program are both very straightforward activities that you can accomplish quickly. But achieving success with these endeavors will take some work and persistent effort. Bloggers need to fill their websites with quality content that attracts a readership and meets the needs of a target audience.
Here are some helpful tips to keep in mind.
1. Select a Blogging Topic That is Near and Dear to Your Heart
It's a joy to write about hobbies and activities that you love. Your enthusiasm, passion, and sincerity will shine through and help you establish a rapport with your readers. The possibilities are endless and unique to you. Cooking, pets, gardening, crafts, sports, fitness, drones, photography …
Review and explore your interests until sparks begin to ignite, and the ideas begin to flow freely. Just follow your heart!
If you feel the need for inspiration, here's a great launching pad. Let Amazon inspire you with this extensive list of best-selling products from appliances to videos and everything in between. Can you provide honest and thorough product reviews that are highly desired by your niche market? Amazon's breadth of offerings is amazing!
2. Write Quality Content Around the Right Keywords
Most people engage in research and read several online reviews before making a major purchase decision. In other words, they "Google" the product. The phrases they type into the Google search box are called keywords.
Successful affiliate marketers draw traffic to their website by crafting awesome content around popular keyword phrases that are relevant to their intended audience. It's helpful to target specific products and compare brands. You'll also want to use keywords with "buyers intent" to supplement the informational articles that tend to attract browsers rather than purchasers.
As potential customers get closer to a buying decision, their searches will usually become increasingly specific and include words like buy, purchase, best price, or discount. For example, a keyword like "the best place to buy [ABC product] online" is likely to capture the attention of an eager purchaser.
 3. Create Various Types of Links and Make Them Easy to Find
Posts can contain different types of links that point potential customers to Amazon's site. Possible approaches include text links, product images, Native Shopping Ads, and static banners in widgets. Since each type of link can be effective some combination is often used.
As an example, let's assume your site is focused on top selling Kindle Devices, Books, and Accessories. A post entitled, "What is the Best Kindle E-book Reader?" might contain embedded text links directing readers to product features for all devices from the original humble Kindle to the Cadillac of all e-readers, the Kindle Oasis.
Text links within a post, such as Buy the Kindle Oasis here, are a highly effective way to refer customers. But clickable product images are also a good option because most viewers are visual and pictures are easily processed. Product images are visually appealing and can break up the text in a lengthy article.
Native Shopping Ads
Amazon also offers Native Shopping Ads that can be added to the bottom of your content or embedded within an article for a compelling product display. These can be great in various situations because you have tremendous flexibility in customizing and creating these displays.
Inserting Buy Now buttons into posts is another super way to direct traffic and make it easy for customers to proceed with transactions. Amazon provides its affiliates with a variety of button choices. You can also use a graphics tool like Canva to design the buttons and then embed a link to any product or page on Amazon's site.

Finally, static banners can be added to your website sidebar so that the ad is visible from most pages on your site. Regardless of your chosen niche, the coding for all of the types of links discussed is easily obtained from Amazon's site and simple to insert. Here's a good rule of thumb to follow.
Don't make it difficult for readers to locate links!
4. Get People to the Amazon Marketplace Site
Amazon is a phenomenally successful online retail establishment. They have perfected the art of converting potential buyers into satisfied customers.Their prowess in this arena is advantageous for all of their affiliates. Send leads to the Marketplace and Amazon will do the selling for you.
As affiliates, our primary objective is not selling. I know that sounds strange so you might want to review that last sentence because it's critically important. Your mission is to help your readers find useful and thorough answers to their queries.
Focus on the needs of your readers for niche-related information including honest, well-balanced product reviews. Sprinkle your content with appropriate links and let your partnership with Amazon accomplish the rest. It bears repeating that you earn commissions from any purchase your referral makes even if it's not a product you promote.
Quality, Helpful Content + Amazon Affiliation = Online Earnings
5. Make Your Site a No-Hype Zone – Put Your Readers First!
It's impossible to overemphasize the importance of creating trust and credibility. Recommend products you believe in and never be tempted by quick riches. Earning a reputation for honesty and integrity (with both the search engines and readers) takes time. But it can be lost very quickly.
6. Promoting Relevant Products is Essential
Stick to your niche and use contextual links to promote related products from within content rich posts. Quality articles attract the attention of the search engines. When your blog posts begin to rank in Google, organic traffic will follow. Your readers aren't interested in viewing a "pitch-fest" of advertisements.
Review and promote products that your target audience has a genuine interest in and address as many of their questions as possible. Provide both the pros and cons in addition to your personal opinions and experiences. In this way, you'll be connecting the right readers with relevant products that fill a need.
Continuing with our sample niche from above, targeting Kindles, it would make perfect sense for our post called "What is the Best Kindle E-book Reader?" to advertise intricately related products. As a reader, I would expect to see best selling ebooks or Kindle accessories like clip-on reading lights for e-readers. These products are complementary.
I would not expect to see irrelevant items like fitness products or home decor. Unrelated ads frequently drive viewers away and are best avoided for that reason. Focus on the narrow topic at hand.
7. Small Individual Commissions Add Up
Amazon's commission percentages tend to be smaller than those of other affiliate programs. They've also recently revised their commission rate structure and eliminated the higher level tiers that were previously available with increases in sales volume.
The smaller commissions have driven a lot of affiliates to look elsewhere, but frankly, I think that's shortsighted. With the right products and enough traffic, it is entirely possible to generate a nice monthly income stream. Amazon has become a household word, and you simply cannot discount the weight of their reputation.
Will it take time and consistent effort to grow your traffic and related revenue stream? Absolutely! But it's very doable as thousands of affiliates have proven.
Here's Amazon's current commission rate schedule.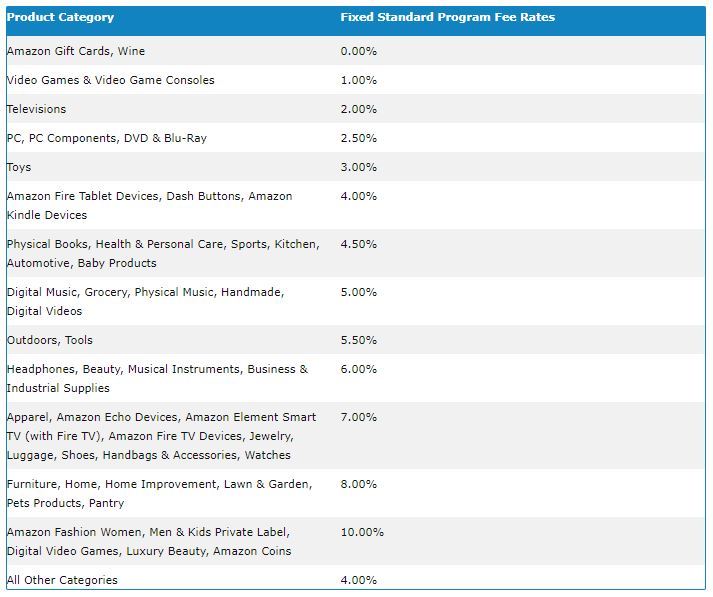 8. Be Sure to Link Directly to Amazon's Product Review Pages
Customer reviews of Amazon products provide broad-based feedback that readers appreciate. These reviews may highlight issues that you didn't experience or were unable to replicate. Expectations and usage can vary widely across the full customer spectrum so exposure to both the five-star and the one-star ratings can be informative.
Transparency regarding all available information is best. Let your readers evaluate the various responses.
Wrapping Things Up
I sincerely hope this post was both useful and informative and you're now very comfortable answering the question, what is the Amazon Associates Program? Please feel free to ask any remaining questions you still have in the comment section below.
Can we agree that affiliating with this legendary online giant has numerous interesting perks? Do you have any experiences dabbling in affiliate marketing and partnering with Amazon? If you do, my readers and I would love to hear about them.
As always, please share this post with any friends or family members who may derive benefit.
Like It? Please Share It!