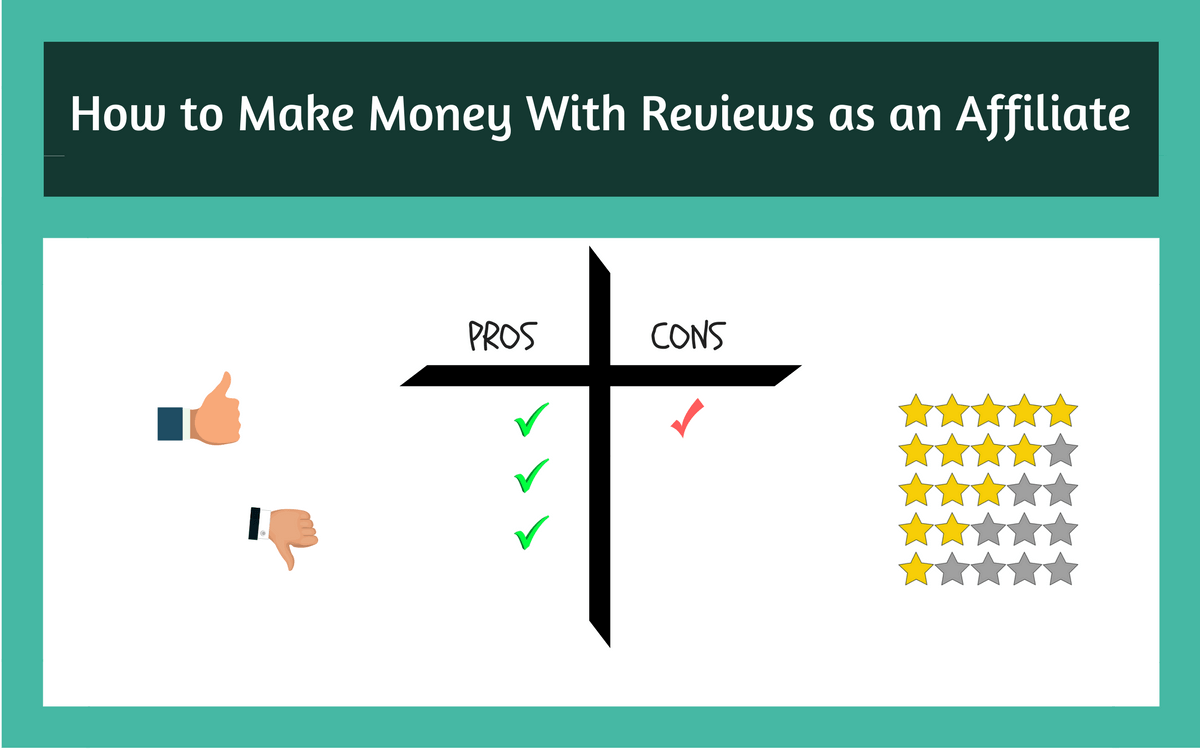 These days, it's not at all surprising that many people are curious about how to make money with reviews. After all, Googling product reviews before making a major purchase is a given, right? Consumers actively seek confirmation about products before they make that final purchase decision.
The demand for information from prospective buyers of all different kinds of products and services is huge. It doesn't matter what we're contemplating buying – a new car, a refrigerator, a blender, software, insurance – we want to weigh the pros and cons carefully.
Writing product reviews fills a marketplace need and has the potential to be quite lucrative. Getting started is also fairly easy.
Let me outline the process of making money with reviews in this article. Then, you be the judge. Could this approach work for you?
Affiliate Marketing – The Best Way to Make Money With Reviews
Affiliate marketing involves promoting the goods and services offered by others in exchange for a commission. Affiliates partner with the company selling the product and generate leads or customer referrals. Product reviews represent an excellent way to get the word out regarding products and to perform a valued service.
To get started, the first thing you need to do is build a website. Fortunately, that's nowhere near as difficult as you might think. A website is really non-negotiable because it's your online platform from which you'll communicate with readers and publish your honest and thoughtful reviews.
Rather than publishing random reviews on wildly different products, it is best practice to focus your website on a fairly narrow topic or niche. You can then specialize and develop expertise in this subject area. Invariably there are numerous competing products, services and tools intricately related to your niche.
For example, my niche is individuals eager to supplement their income online. I've written reviews on things like blogging tools, survey sites, rewards programs, shopping apps and the online marketing platform where I received my training and started my site. The possibilities are endless!
The Customer Purchase Lifecycle

Writing reviews is a process that fits squarely into the Decision phase of the Customer Purchase Lifecycle. At this point in the process, prospective customers have product awareness and a keen interest in making a purchase decision. But they're still actively comparing competing brands and evaluating products/services to find the best fit.
Tip – You're Not a SalesPerson
As a reviewer, the goal is to present an unbiased view that will help your reader in making an informed decision. They still have a bunch of questions, and they're looking for facts, opinions, and the experiences of others to finalize their choice. You have an opportunity to address common questions and concerns like these.
Does the item offer everything they need?
Provide thorough information about product features and specs so that readers can easily perform comparisons with similar items.
Did the product perform well for you or a sample group of users?
Before spending money, prospective buyers want to know if other people have had a positive experience. It's always best to acquire the product/service and test it out yourself. You may also do some research and compile the experiences of other users.
How does the product compare to a competitor on features like ease of use or price?
Comparisons are frequently key at this stage in the process. There are almost always multiple products that are very similar. Which one offers the best value for the money?
What are the pros and cons?
Most of us are on a budget, so we want to weigh the pros and cons carefully. Be honest about any flaws or negative aspects. Most products have them, and your honest assessment will increase the trustworthiness of your review.
Do you recommend purchasing the product?
We all want to feel comfortable that we're not being ripped off. Your readers want to know if the product is legitimate and if the vendor stands behind it. Never sacrifice your integrity by recommending a product you wouldn't want to use yourself.
Making a quick buck isn't worth losing credibility!
If you recommend purchasing the product, summarize your conclusions and fully support your recommendation.
If you can't recommend the specific product you're reviewing, this may represent a perfect opportunity to direct the reader to your review of a competing product you feel will better meet their needs. Make sure you answer questions and solve problems.
How to Get Paid for Writing Reviews
Once you've created your website and identified your niche, pick a product that you want to review. Naturally,  you should base your choice on "customer comprehension." In other words, a thorough understanding of who your target audience is and what their needs are.
You will then find an affiliate program and sign up. Typically, this is a very straightforward process. Check out this post to see how to become an Amazon affiliate marketer. As soon as you're accepted into the program, you'll be assigned a tracking code.
Your affiliate code is unique and will identify any referrals you send to the vendor's website. For any product you recommend, simply create a link to the seller's website that contains your embedded code. If a purchase occurs, you will earn a commission.
Here's what makes this process powerful. Once created, product reviews are an excellent source of recurring passive income.
Why?
A website's reach is global, so your potential audience is vast. You write an article once but thousands of people may read it for months and years to come.
How Do You Make Sure That the Right People (Interested People) See Your Reviews?
Let's say your vacuum cleaner is dying and you need to buy a new one. Maybe it's been years since you've had this issue and you're just not sure what the options are today. You're at the research stage of the purchase lifecycle, and you begin to gather some basic data.
More than likely you'll ask a few friends and family members what they're using and how they like it, right? As your questions get more specific and more difficult to answer, you're bound to get this suggestion.
Just Google it!
And, so you do. You and many others. The stats show that more than 2.3 million searches are keyed into Google search boxes every second. That's the equivalent of 100 billion searches every month. Wow!
Seconds after you type in your search phrase, you get a list of web pages to check out. How does Google know which pages to show you? They've crawled the billions of pages out there on the Web and indexed the content based on search terms that are referred to as keywords.
You draw interested people to your site by crafting reviews and niche -related content around relevant keywords that your target audience is searching for. Naturally, finding these keywords takes some research and a solid understanding of your ideal reader persona.
Hanging out on online forums and observing the give and take is super helpful. What questions are people asking? Are the responses by other participants thorough and helpful? Can you provide an answer that is more complete? Draw people in by providing solutions to their problems.
You can also send out enticing teasers on various social media platforms like Facebook, Twitter or Pinterest. Invoke curiosity with captivating headlines and then follow through with an engaging article that focuses on the needs of your readers.
Knowledge is Power
Are you ready to create a review site? The chances are that you're on my site today because you've been intrigued by this possibility for a while now. But you weren't quite sure how it all worked or how to get started. Am I right?
I hope I've inspired you to pursue the idea of creating a website and transforming your opinions and writing skills into a successful online business. I sincerely believe that this can work for just about anyone if they get the right training and support.
But, please don't let me mislead you into thinking this is a walk in the park. I stand behind the statements made above that creating a website and joining various affiliate programs is a pretty easy process. What's not so simple is developing content on your site and building trust with the search engines.
That part takes time and some good old-fashioned hard work. It's not uncommon to labor for six months to a year on your website without a lot to show for your efforts. But persistence does pay off if you have the necessary motivation and patience to stick with it. I've heard the same story from hundreds of members of my online marketing community.
Learn the Right Skills
Learning the right skills like how to do keyword research and how to optimize your blog posts for the search engines can make all the difference as you might imagine. The ability to ask questions and seek feedback is also critical.
You may want to check out the online platform where I got my start and continue to participate. Wealthy Affiliate offers a free Starter Membership with everything you need to get up and rolling. If nothing else, this is a risk-free opportunity to see if working online is a good fit for you or not.

Learn How to Make Money With Reviews
Conclusion
I hope today's post on how to make money with reviews was helpful and informative. Please let me know what questions I failed to answer. Ask away in the comment section below, and I'll get right back to you.
If you already have experience in writing reviews, my readers and I would love to hear about any positive or negative aspects you would like to share.
Like It? Please Share It?