We all love that feeling of having a bit of pocket money with us, don't we? And, if it's easy to come by, so much the better! So,
what is MintVine
and how can it help?
Questions about MintVine are cropping up with some regularity lately. It's been lingering on my list of sites to try, and I decided it was past time to bite the bullet and do a review.
Why the hesitation?
Well, to be honest, I don't care for taking surveys. But I also never review anything without joining the program myself and taking it for a spin so to speak. So, you can see my dilemma, right?
Imagine my surprise (and delight) when I finally got around to signing up for MintVine, and I actually enjoyed it? No, I haven't suddenly become a survey fan because I'm convinced there's a far more lucrative way of making money online. But I do like the way this site operates, and I've quickly made a little mad money which is also sweet.
So, let me tell you why I like MintVine, okay?.
What is MintVine?
MintVine is a survey website that works with market research companies and helps them to gather opinions from millions of consumers about prospective new products. Consumer opinions have value because major corporations don't want to risk launching new products that bomb.
Organizations like MintVine are paid to find prospective customers meeting the right demographic characteristics to provide helpful product feedback. Fees are then shared with survey takers.
The MintVine website is owned by a company called Branded Research, Inc. which was founded by two entrepreneurs, Matt Gaffney and John Ackerman, back in 2012. Based on personal experience and everything I've read, this is a legitimate and reputable operation.
At the time of this writing, MintVine has an A rating with the Better Business Bureau. You can create an account for free which is the first positive sign. Please, don't ever pay to provide your opinions through surveys. Sites that require payment are scams!
You cannot earn enough with MintVine to quit your job or pay the rent. That's not the nature of a survey site, and MintVine is very forthright about that fact. But you can earn some extra money for a little fun, and they will pay you as promised.
Maybe the next time you feel like popping into Starbucks for a vanilla latte and a scone, you can do it without feeling guilty. 
How Does MintVine Work?
Getting started with MintVine is quick and simple. You can create an account for free by providing very minimal data. Once you verify your account via email, you're off and running. New members are immediately credited with 200 points just for joining, and you can earn another 50 by completing your profile questions.
Most surveys take 15 – 20 minutes to answer and pay between 50 and 100 points. MintVine will match you up with the right surveys based on your profile data. Remember, you're expressing opinions and offering feedback about potential new products. For your opinions to be beneficial, you have to be part of the target market for the product.
For example, why would anyone care what I think about a product targeted at young mothers? As a retiree, I won't be purchasing that product, lol.
Show Me the Money
MintVine rewards survey takers with points. Your points can then be converted into cash payouts or gift cards. Each point equates to one cent. The minimum payout threshold is 1,000 points or $10.
If you want to be paid in cash, you can connect your PayPal account or Dwolla account. You also have the option of a direct transfer to your bank account.
Would you prefer to receive gift cards to popular stores and restaurants in exchange for your earnings? No problem! There's a huge variety to choose from (78 at the time of this writing).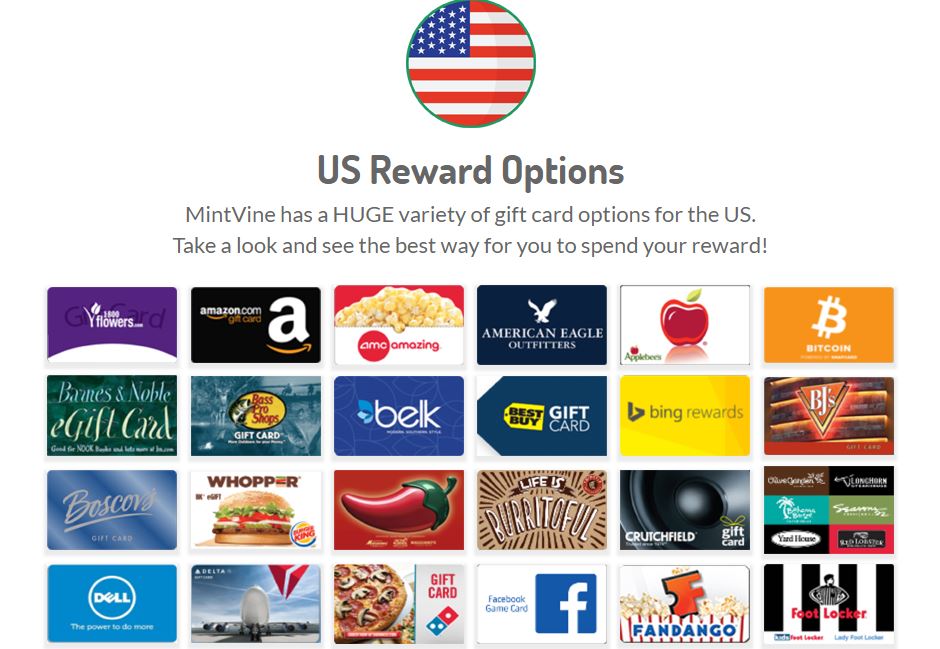 What I Like About MintVine
First and foremost, the MintVine site is very clean and extremely easy to use. I enjoy the fact that's it's free of a lot of distractions because I like to stay focused on completing the survey without wasting a lot of time.
As soon as you join, you complete a profile questionnaire that MintVine can use to match you up with more appropriate surveys. This process helps to alleviate the problem of constant disqualifications. I understand that there will still be times when I'm just not a good fit for a particular survey. But I've found that I'm disqualified much less often than I am on similar sites.
Fewer disqualifications mean less frustration and more earnings. That works for me! 
 I also appreciate the fact that I've received anywhere from 4 to 6 points for my troubles when I'm disqualified.  It's a small reward, but it's still a pleasant gesture.
I'm notified by email when a survey is available. It's best to jump in quickly because they're quite popular. Wait too long, and the survey may be closed.
All of the surveys I've completed so far have been relatively short (20 minutes or less), and the questions were easy to interpret and answer.  I've not seen any of the poorly worded questions I've encountered with surveys in the past that didn't seem to have a correct answer.
In addition to surveys, there are also offers from third parties and some local deals that are customized for you based on your zip code. My local deals have been appealing with some attractive discounts in addition to the MintVine points. I've discovered and patronized a couple of local businesses that I wasn't previously aware of so that's been handy.
Referral Program
One of the best ways of making money with MintVine is to refer your family members, friends, and colleagues. Place your unique referral code into an email or post it on Facebook or Twitter.
If someone joins using your link, you will receive 50 points when they complete their first survey. You also receive 15% of everything your referral earns through survey and offers.
My Final Verdict
For anyone interested in making a bit of extra pocket money each month, MintVine is a solution that's worth exploring. I'm sure I can comfortably earn $15 to $20 per month. It's not a lot of money, but it also requires minimal effort and is something you may be able to squeeze in while relaxing over morning coffee or sitting in waiting rooms.
Not enough money for you? There certainly are better options. If you'd like to see how I make money online, just click the banner below for more information.
Conclusion
I'll wrap up today's post on What is MintVine with the hope that you found this information useful. I do recommend you create a free MintVine account and give it a try. Please let me know in the comment section if you have any further questions. I'll be happy to help!
Are you already a MintVine member? My readers and I would love to hear about your experiences with the program, both positive and negative.
Like it? Please Share it!