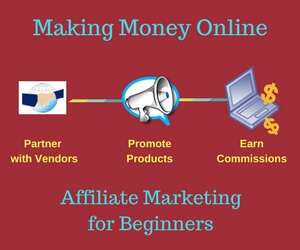 Earning money online has enormous appeal, does it not? In today's post on  Making Money Online – Affiliate Marketing for Beginners, we'll take a deep dive into my favorite approach for earning money from home.
When it comes to technical computer skills, I'm one of the least technically savvy folks I know. And yet, I've made affiliate marketing work for me. Think about that one! 
Whether you're looking to supplement a somewhat meager pension, retire sooner rather than later, or you just want to work from home in your PJs, affiliate marketing may be right for you also!
Affiliate marketing is a simple concept. It's easy and inexpensive to get started. In fact, I started my online business for free, and I'm going to share my secret with you later in this post. You also have my solemn promise that I will not ask you for any money! So just pour another cuppa and keep an open mind.
Deal?
What is Affiliate Marketing All About?

Affiliate marketing is all about promoting the products or services of others in exchange for a commission. It's possible to promote almost any type of product because affiliate marketing is a time-tested, proven technique that is widely employed.
I always select products that I'm completely comfortable reviewing and recommending because I use the products myself, Just as a quick example, here's my review of Grammarly which is a fabulous blogging tool that I've used every day for close to a year.
There are many ways to make money online. So, why is affiliate marketing my favorite way? For these three reasons that I think you'll find persuasive.
I do not have to come up with a product idea of my own. I sell existing products that others have already created.
Maintaining an inventory of products is not my responsibility. The product vendors store any necessary inventory.
I do not process sales transactions, accept credit card payments or ship goods to customers. The merchants with whom I affiliate have all those headaches. I simply share in the profits after a sale occurs.
It's brilliant, wouldn't you agree?
Okay, but how does affiliate marketing work….
The 5 Step Affiliate Marketing Process
As you dive into the steps below, please be aware that I am not promoting some crazy get-rich-quick scheme. You know the programs I'm talking about. The ones that claim you can get rich overnight. That's just hogwash!  Many affiliates can and do earn a lot of money and you can too. But it will require a sustained effort over a period of several months or more to see results.
I'm presenting a blueprint for developing a sustainable and scalable long-term business. All businesses require work and commitment. If you're not prepared to work, this is not the right opportunity for you. But if you're ready to commit to achieving success, please read on.
(1)  Select a Topic
Successful affiliate marketers specialize in a fairly narrow topic that appeals to a specific group of people. Honing in on your chosen topic is called finding your niche. Niche marketing works best because you can't be all things to all people. It's far easier to become an expert in a narrow field.
Turn your personal passions into profits by focusing on a subject matter that's near and dear to your heart. If it's something you love, it won't feel like work. Your enthusiasm will shine through and make it easier to engage your readers.
What's your favorite pastime? That's always an exceptionally good place to begin your niche exploration!
(2) Build a Website
Building a website is a must if you have a serious interest in developing an online affiliate marketing business. It's the best way to create an online presence.  Your site is also a vehicle for communicating with the estimated 3.7 billion people who use the Internet every day.
Please don't stress about the website. You can create a WordPress site in minutes with about 4 mouse clicks. If you'd like to view the process in real time, why not watch the video on my build a website page. Oh, and that secret I'll be sharing? You can create a website for free (2 in fact).
(3) Write Helpful Articles and Product Reviews
Once you've created the framework for your website, and selected an attractive design or theme, you'll need to fill your new website with informative posts that appeal to your target market. Internet users are constantly searching for useful information.
Studies suggest that very few people make purchase decisions without reading product reviews. Naturally, you'll want them to find your reviews and get answers to all of their questions. Check out your competition because you'll want to provide more details and be even more thorough.
(4) Generate Traffic
How will Internet searchers find your helpful articles? Posts should be crafted around keywords. Keywords are really just known search terms that website owners can discover through the use of a keyword research tool. Effective use of keywords and other search engine optimization techniques will help you get ranked in Google and draw organic traffic to your website.
Social media platforms like Facebook and Twitter are also good sources of traffic. It can take some time to build a following because you have to establish trust with both your visitors and the search engines that send them to you. But with persistent effort, your readership will begin to grow.
(5) Join Affiliate Programs and Add Affiliate Links to Your Website
Affiliate marketing is an essential component of the marketing mix for many of the world's most recognizable brands. There are tens of thousands of affiliate programs you can sign up with depending on your niche and the products you choose to promote.
Some vendors administer their own affiliation programs.  Therefore, you will sign up through their company website. For example, this is true for Amazon. If you go to Amazon's home page and scroll to the bottom of the page, you will find a link to join their program.
Clicking the "Become an Affiliate" link takes you to the Amazon Associates web page displayed below.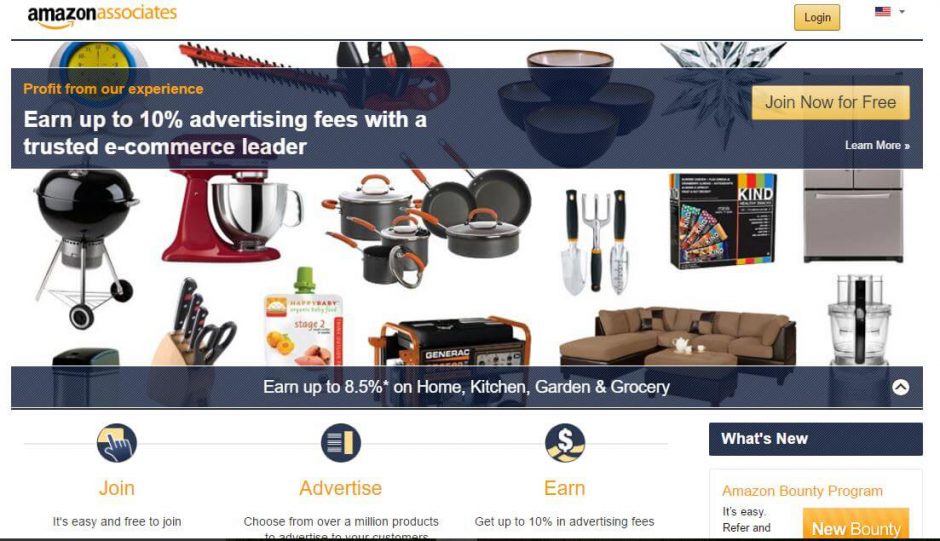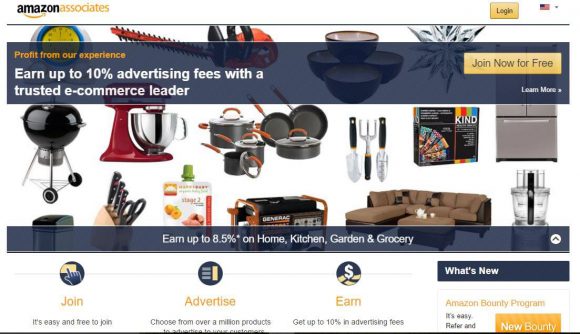 Regardless of who else they affiliate with, most bloggers join Amazon because….well, they have everything, don't they? 
Other companies use networks to manage their affiliate operations. CJ Affiliate by Conversant (formerly Commission Junction) is an example of a large and popular network. You can explore CJ's site here.
Determine what product you would like to promote as part of your website monetization strategy and do some searching. In either case, the process involves filling out a form online and is typically a quick and easy process. Joining an affiliate program is also free. You provide basic information about yourself, your website address and the nature of your site.
Affiliate Links
Once your affiliation status is confirmed, you have access to banners and links to embed in your website or blog. The links contain a unique tracking code that identifies your account and traffic originating from your site.
If one of your readers clicks on a banner or text link and a conversion occurs (a purchase is made), you earn a commission. Every merchant offers varying commission rates and has slightly different commission payment terms and minimum payouts, so be sure to understand and take note of the terms of each agreement.
Passive Income Benefits
We really can't wrap up a discussion of affiliate marketing without highlighting the exceptional opportunities it presents to earn passive income. Most of us are all too familiar with active income like wages but our experience with passive income streams is far more limited.
With affiliate marketing, opportunities exist to invest time and effort upfront in creating blog posts.  Uou can then repeatedly reap the benefits of that work product over extended periods of time. Remember, the Internet is global and open for business 24/7/365.
After you publish an article on your website, it may be read by many visitors over a period of months or even years. It's a uniquely satisfying experience to check your affiliate accounts and see that you've continued to earn additional commissions from posts you published months ago. Perhaps it even happened while you were sleeping!
My Secret Revealed
As promised, I'd like to share with you how I was able to start my online affiliate marketing business for free. I joined an online marketing platform called Wealthy Affiliate. By signing up for a Starter Membership, I had the opportunity to build my first website and complete 10 free training modules explaining the basics of both website design and affiliate marketing.
This remarkable program offers all of the training, tools, and resources you need to achieve online success. You can explore the community, check out the training, build your own website and view it live on the web today. To create an account, you do not need a credit card, so it's a totally risk-free adventure!
You can read the post below for additional details including a listing of the 10 free lessons. Or, if you're eager to get started now, you can just click the button below. If you complete a quick profile, you'll receive a warm welcome from the owners, myself, and multiple members of this thriving community of about 100,000 members.
The Best Place to Build a Website in 2017
Summing Up
Did you enjoy today's post on Making Money Online – Affiliate Marketing for Beginners? If so, please share it widely on your favorite social media platforms. And please don't forget to leave a comment below. I would love to hear your thoughts and answer any additional questions you may have.