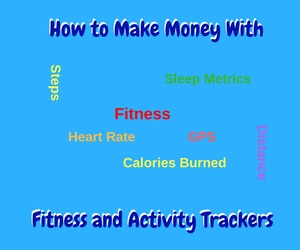 As part of my niche ideas series, I'm excited to explore
how to make money with fitness and activity trackers
. For years now, I've felt a bit naked without my tracker, lol! So, I know I bring a valid user perspective to the discussion.
Opportunities just abound in this field because we all recognize the value of fitness in our lives even when we're not prioritizing it to the extent we know we should.
Okay, fess up! Was fitness one of your New Year's resolutions? The chances are excellent that it was! Yeah, I was right there with you!
Unfortunately, your tracker can't take those steps for you, but it is with you every step of the way. It's a perpetual reminder to take the stairs instead of the elevator, park at the far end of the lot, or walk the golf course instead of riding. Even when it feels like a thorn in your side, that's a good thing!
What is a Fitness Tracker?
A fitness tracker is a wearable device or application that monitors and records an individual's daily physical activity and other health and fitness-related data like calories consumed, sleep quality, and sometimes heart rate. Fitness trackers work their magic (like that technical term? 
) by using various sensors such as accelerometers, altimeters, and optical sensors combined with algorithms that crunch the raw data.
As I started peeling back the curtain a bit on this question of what is a fitness tracker, I quickly discovered that the answer is quite a bit more complex than I originally imagined.
Why?
The complexity comes from the fact that fitness and activity trackers are evolving at a rapid pace. The variability in both features and price is widening. While most of these devices do a fine job counting steps, some are highly specialized and can support special activities like running, cycling, swimming and golfing. Many are also adding smartwatch capabilities.
So, Let Me Share My Fitness Tracker Story….
I wore a Fitbit Flex for about 3 years and loved it. By today's standards, it didn't have a lot of frills. But at the time, it seemed like a positive physical fitness move that just felt right. I enjoyed two aspects of the product. I'm a senior, so I'm very attuned to the need to exercise regularly. Sharing data socially and challenging friends and co-workers was also a lot of fun!
Now that I'm retired, I enjoy a little hiking, and I get a kick out of tracking my hikes and setting challenges for myself. My Flex has performed admirably in achieving these goals. But when it recently came time to make a replacement decision, I had to deal with "gadget envy."
As my regular readers know, I'm a golfer. I've used a smartphone GPS app on the golf course for years, but I've recently become intrigued with wristband options. Then too, I'd been chatting with a friend that just bought an Apple Smartwatch.
So many choices! What to do? It was time for some serious research because how many different gadgets can you wear? Here's what I found. I could have it all!
I stumbled upon the Garmin Approach X40. With solid fitness tracker capabilities, golf GPS features, and the ability to receive text messages and other notifications like missed calls and emails, this device seemed tailor-made for me. When I discovered it also tracked cycling, and I could wear it in the pool, I pulled out my credit card.
Do I truly need all of this technology? Of course not! But the kid in all of us is always excited by the latest toy, and I have no regrets or buyer remorse.
So, what's my point?
Fitness and Activity Trackers – A Potential Niche Idea?
I find this topic enticing from an affiliate marketing perspective because interest is strong, the industry is growing as new vendors jump into the arena, and innovative products are exploding. Affiliate marketing is my choice for making money online and the primary approach I recommend to others who are seeking online opportunities.
Recommended Reading: Making Money Online – Affiliate Marketing for Beginners
The first task for any aspiring affiliate marketer is to choose a niche which is nothing more than a group of people with a specialized interest. Fitness is an evergreen topic with fitness and activity trackers being a significant component of a far larger target market.
You may want to niche down even further as there are certainly distant pockets of interest within the fitness and activity tracker realm. Some folks have a general focus on maintaining good health by moving regularly, watching their calorie intake and improving their sleep patterns.
These individuals may also be committed to teaching their children healthy living habits and ingraining exercise routines at an early age. Yes, there are fitness trackers geared toward children.
There are also wearable devices that target athletes with specific sports passions such as running, cycling, golfing, and swimming. Abundant interest and opportunities exist which is evident from the following Google Trends graphs.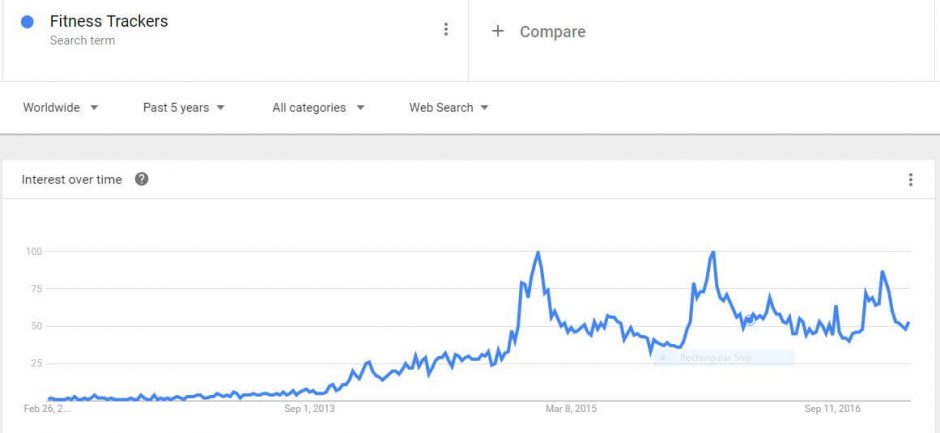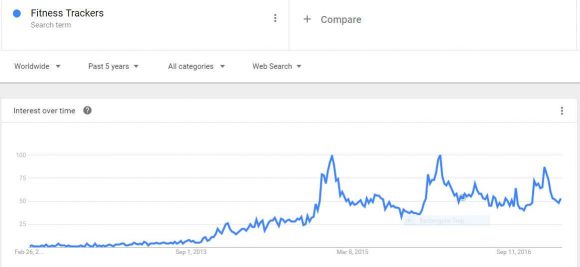 Interest in fitness trackers is clearly growing.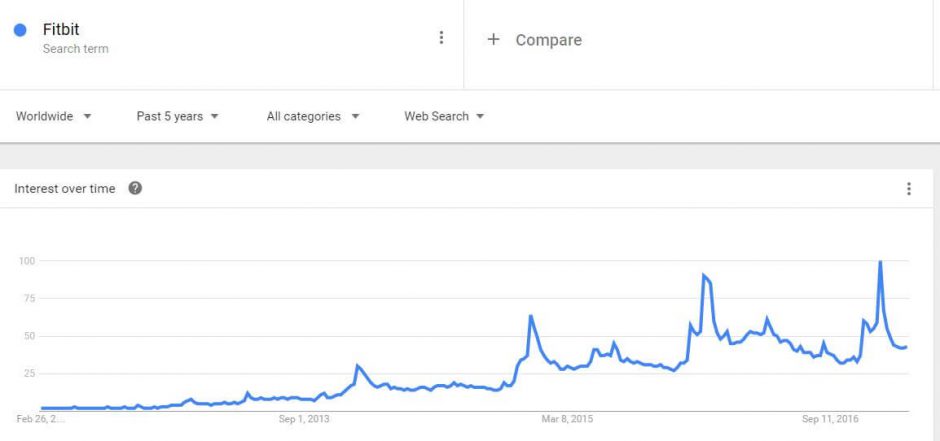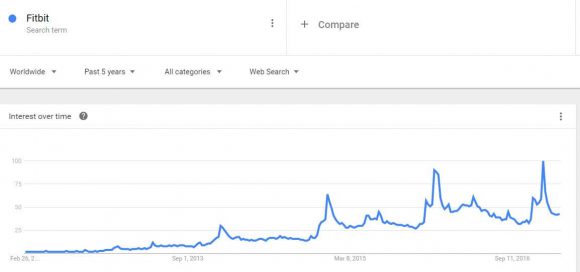 The trend for Fitbit remains strong.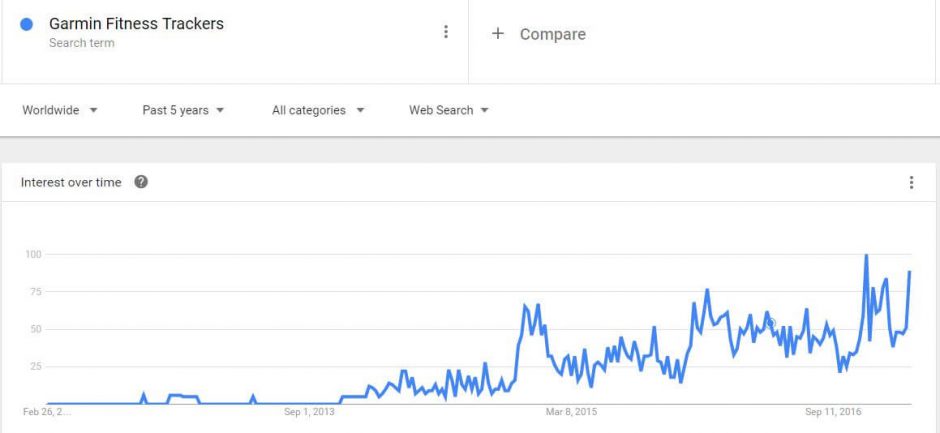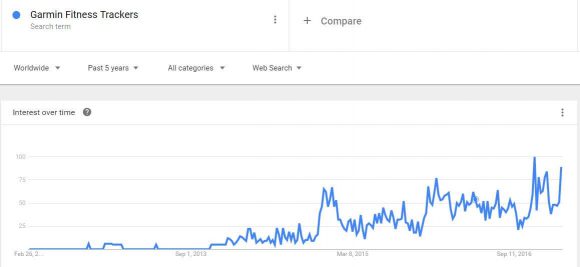 Garmin fitness trackers are definitely making a strong showing.
I hope we can agree that there is a market for fitness and activity trackers. Frankly, even without the graphs you probably suspected as much just from personally observing vast numbers of individuals sporting wristbands of varying types.
Can an enterprising affiliate marketer add value in this environment? I think they can by researching and reviewing the competing products. Characteristics and features of devices are wildly divergent. It's not a one size fits all industry and consumers need to understand the distinctions to make an informed decision about the best device for them.
Here are just a few factors people might want to consider.
Is accurate heart rate monitoring important to you?
Do you need GPS?
Would you like to be able to monitor the intensity of exercise?
Do you want a stylish option or are you focused on function?
Do you need a waterproof device?
What's your budget because prices range from $12 to $900?
The above list is just a smattering of issues that purchasers need more information about and where affiliate marketers can fill the gap.
Niche Keyword Research
Using a keyword research tool, I found a lengthy list of low-competition keywords you should be able to rank for if you decided to choose this niche. With new products being added to the roster regularly, there will be no lack of techie gadgets to review for some time.
Here's a list of keywords to consider. The first number following each phrase represents monthly search engine traffic. The second value indicates the QSR (Quoted Search Result) or, in other words, the number of competitors targeting the same term.
How many steps should I take a day?  (89/11)
The health benefits of walking daily ((96/7)
The best fitness tracker for walking ((104/2)
The best fitness trackers for seniors (56/2)
What is a fitness tracker? (5,277/48)
How to buy a fitness tracker (174/28)
Best fitness tracker for women (285/32)
How to track my fitness (112/4)
The benefits of walking 30 minutes a day (473/35)
The best fitness trackers for 2017 (613/28)
What is the Garmin Approach X40? ((552/0)
The benefits of walking for exercise (174/39)
My Fitness Pal (180,920/97)
What is a fitness watch (10,805/2)
The best fitness trackers for kids (100/16)
What is a Fitbit? (1,803,106/174)
Is the Fitbit waterproof? (4,100/33)
The best fitness tracker for swimming (150/13)
Garmin fitness trackers (8,216/160)
Which Fitbit should I buy? (844/38)
This list is certainly not exhaustive, but with this sampling of actual Google search phrases, I can envision massively helpful and informative content that will help readers to make the best decision for them. As discussed in the recommended article above, you will need to build a website to showcase your epic articles.
Join Affiliate Programs and Monetize Your Website
Joining any affiliate program is free and typically a very straightforward process that involves completing an online form with basic information about yourself and your website. Once you're enrolled in a program, you can include banners and affiliate links on your site.
When a reader clicks on your link and subsequently makes a purchase, you earn a commission.
Become an Amazon Affiliate: Sign up Here
Become a FitBit Affiliate: Sign Up Here
ShareASale Manages the Fitbit Affiliate Program
Commissions start at 12% and may be larger for high volume affiliates
Become a Garmin Affiliate: Sign up Here
FlexOffer Manages the Garmin Affiliate Program
Final Thoughts
I hope you found this discussion of how to make money with fitness and activity trackers both interesting and worthwhile. Please share your comments and questions below. I will respond to all comments. Finally, if you like this article, please share it on social media.
Like It? Please Share It!