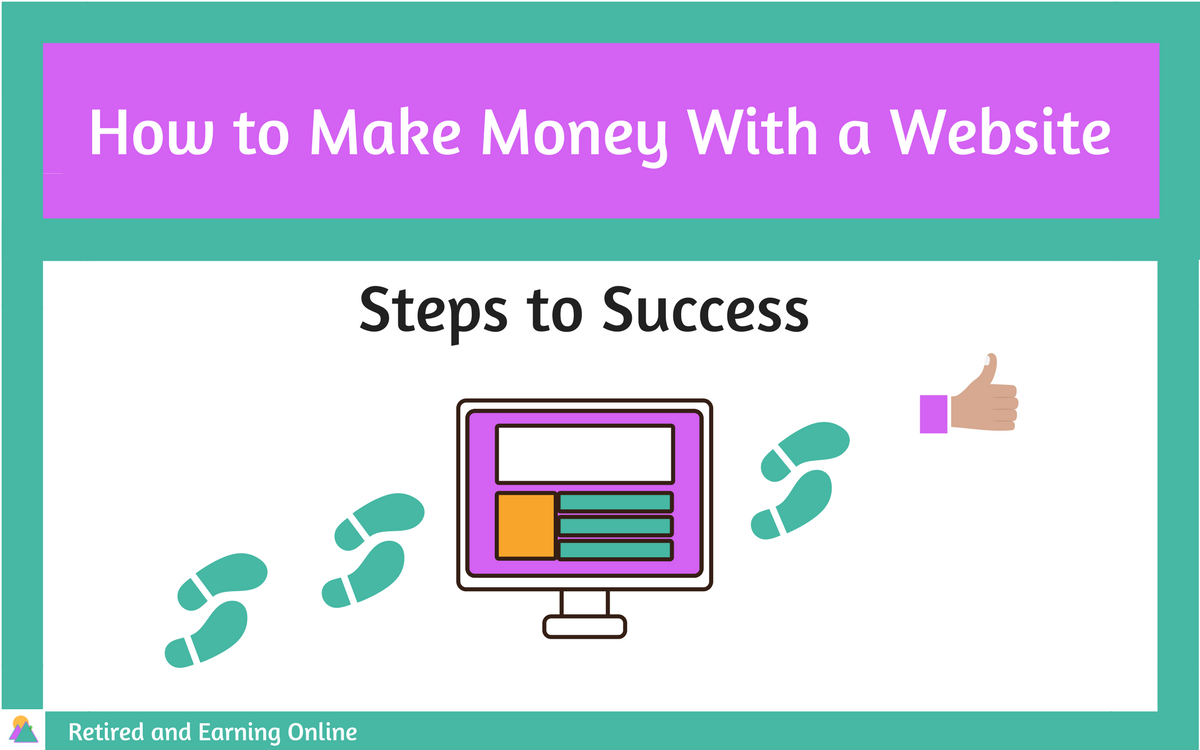 So many of my fellow retirees are eager to supplement their income. I've found the secret and want to share information on
how to make money with a website
. Today's post will walk you through the necessary steps to create and monetize your own website.
A website is an ideal tool for earning income from home, or anywhere else you happen to be. If traveling is an essential element of your retirement plans, there's no need to change those plans. All you need is a laptop and an Internet connection.
You can comfortably take your online business on the road with you. That flexibility sounds pretty good, doesn't it? It certainly works well for me!
I also want to quickly set your mind at ease if you have concerns at all about not having technical computing skills or any experience with websites. Seriously! Anyone can learn to build a website because the tools available today are very intuitive and user-friendly.
So let's jump right into the steps to success.
Building a Money-Making Website – Step By Step
Step 1 – Choose a Direction and a "Target" Audience for Your Site
In a nutshell, your website needs a purpose. Successful websites focus on helping people and sharing knowledge. We all have skills, hobbies, or other passionate interests we can share, right? What are your passions? Tens of thousands of people have turned their passion into a thriving online business.
Why not you?
Humor me for a moment, will you? Think about the last time you had a lively and engrossing conversation about your favorite activity or pastime. Maybe you were at a club meeting, a sporting event, a convention, a social activity, or just your favorite watering hole.
Now, picture the folks you were chatting and engaging with and relive some of that discussion. Did people have questions for you or others in the group about things like techniques, equipment, tools, procedures, or training? Were opinions and recommendations expressed?
What if those people were sample members of your potential website audience or niche? Could you help them get answers to their questions by researching and writing articles or product reviews? Writing content for a website is a lot like conversing with friends if you choose the right topic.
Let me assure you that it's easier than you think.

Tens of thousands of people have turned their passion into a thriving #online business. Why not you?
Step 2 – Obtain a Domain Name, Hosting Provider, and CMS Platform
Once you've made that fundamental selection and understand the purpose and mission of your website, you will need a domain name. A domain name is a unique address where your site can be found on the Internet. Something memorable that relates to your topic and is brandable will generally work best
For example, my domain name is RetiredAndEarningOnline.com. Domain names must be registered and are available from several different sources including GoDaddy or NameCheap.
Selecting a web hosting provider is also essential. A hosting provider is an entity that provides storage for all of your website content files on a server and also ensures Internet connectivity. Before selecting hosting, you'll want to investigate several critical factors such as reliability, security, and speed.
I use SiteRubix as my hosting provider because it offers exceptional managed WordPress hosting along with excellent reliability and speed.
Other options exist, but I strongly suggest you go with WordPress as your CMS (Content Management System) Platform. WordPress is an open-source, free program and represents the most widely used CMS on the Net. Thousands of themes and plugins are available to help you design exactly the look you want for your site.
Step 3 – Create a Structure for Your Website and Add Content
A basic, skeleton structure can be formed for your site in moments with the theme of your choice. The underlying technology that enables this is truly amazing. But from your perspective, it takes about four mouse clicks to have your new site visible on the Web.
You may be interested in this video to get a feel for just how simplistic the process really is.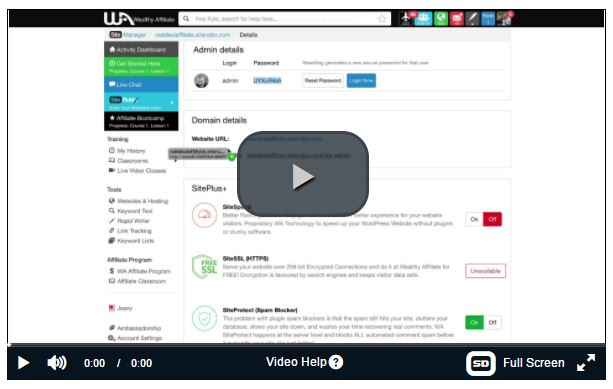 You're now off and rolling and can begin the process of fleshing out your website with awesome content and growing your online business. If you've wisely selected a subject matter that excites you, this is a fun and enjoyable venture. But I must warn you that it will take time (typically six months or more) to craft sufficient content and attract attention.
You're building a business from the ground up, and no business takes off immediately. You'll need to keep your head down, keep posting, and build some sweat equity! Stick with it and success is very achievable!
Step 4 – Draw Members of Your Target Audience to Your Website
There are action steps you can implement to attract readers to your website and draw in individuals who share your interests and passions. Consider that roughly 3.7 billion people use the Internet daily and most of them perform searches in Google and the other search engines.
Keywords and Search Engine Optimization
The phrases entered into search engine text boxes as queries are called keywords. Bloggers research keywords that are relevant to their target market and draft content around these powerful phrases. Proper use of keywords in a thorough, quality article results in search engine rankings. High rankings then bring traffic.
Social Media
Posting on social media sites like Facebook, Google Plus, Twitter and Pinterest is also an effective technique for drawing traffic to a website. Many people hang out on social sites in search of intriguing topics and articles. So this is an outstanding avenue for getting your content in front of a lot of eyes.
Never forget that you are writing for real people. Keep the interests, questions, and concerns of your readers uppermost in your mind, and you will do fine.
Step 5 – Make Money by Promoting Goods and Services of Interest to Your Readers
Once you've populated your site with informative, quality content and you have regular traffic to your site, there is a myriad of ways in which you can monetize a website. Here's a short list of options to consider.
Develop a physical product for sale
Create digital products like an ebook or app
Offer services such as freelance writing or consulting
Become an affiliate marketer
Affiliate marketing is the approach I've chosen for several reasons. There are thousands of affiliate programs out there that are super easy (and free) to join. Consequently, there is never a lack of excellent products to promote. As an affiliate marketer, I promote the products of other organizations in exchange for a fee called a commission.
Affiliate marketing is a simple and time-tested model that continues to grow in popularity because it's a win-win-win scenario. This business model offers benefits for customers, vendors, and affiliates.
I derive comfort and satisfaction in recommending only products that I believe in and use personally. And I love that I do not have the hassles of carrying inventory or shipping product!
My Recommendation
In the website development space, Wealthy Affiliate is the industry leader. There are multiple drivers behind this leadership position, but the most significant reason is the all-inclusive nature of the Wealthy Affiliate platform. Absolutely everything you need to build a successful website is available under one roof.
I'm in my second year as a premium member and thoroughly enjoy being part of a stimulating and eclectic community. You see, the community has tremendous appeal for both brand new and highly successful online marketers. Members need never struggle with issues or feel like they're on their own because we can pose a question at any hour and receive prompt responses.
Learn affiliate marketing from experts in the field!
Wealthy Affiliate is so confident in their program that they offer a completely free Starter Membership. All you need is an email to create an account and thoroughly investigate the offerings of this excellent community. Your starter membership includes 2 free websites, hosting for your sites, and 10 lessons that will have you quickly up and rolling!
I challenge you to find a more perfect opportunity for anyone who has ever thought about working online.
Why?
Because it's completely risk-free! A Starter Membership gives you a chance to experience website building first-hand and get the answers to your online business questions. You'll be well-positioned to make an informed decision that's right for you!
Click the banner below for more details on the benefits and advantages of building your website with Wealthy Affiliate.
Summing Up
I hope I've been successful in explaining how to make money with a website. In my personal experience, a website is an excellent way to build a supplemental income stream without giving up all the flexibility and freedom that comes with retiring.
Will you join me in this online adventure?
Over to You
What did I leave out that you'd really like to know about creating a website? If there's anything at all, please drop me a comment below, and I will respond ASAP. I would also love to hear about any experiences my readers have had with a website.
Please be Sociable
Would this information be helpful to anyone you know?
Like It? Please Share It!