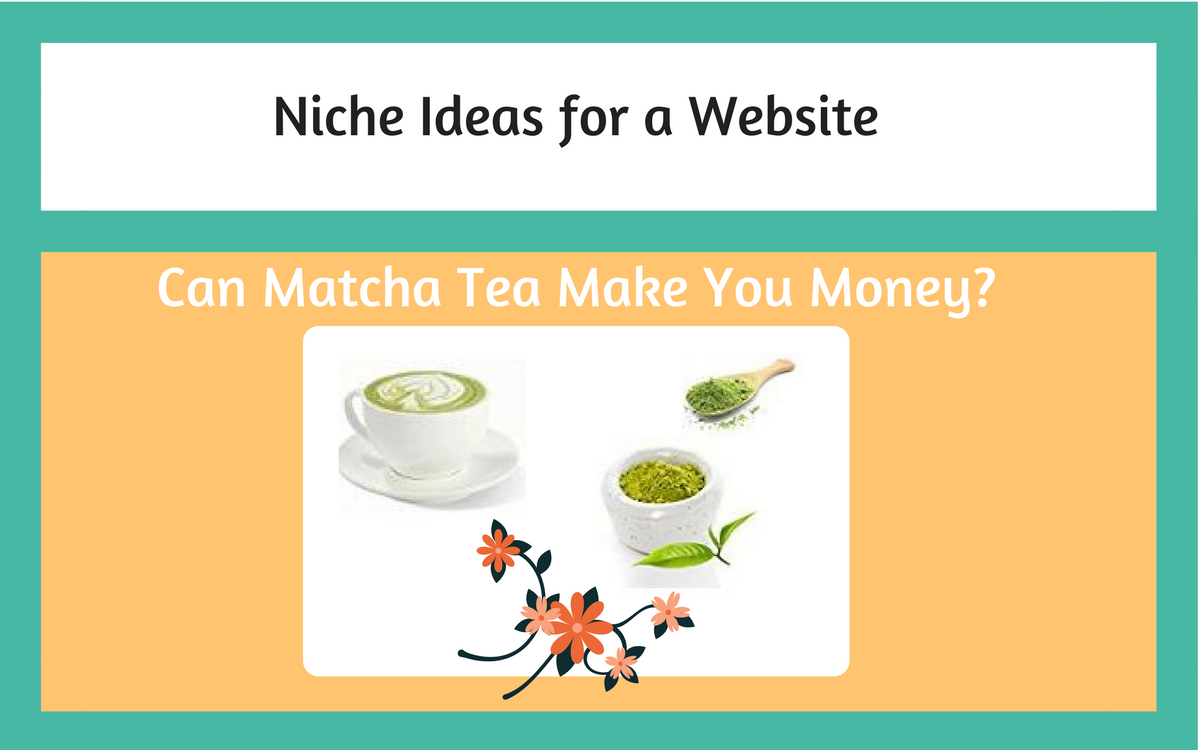 Are you a matcha tea fan like me? If you're not yet, I bet it's on your list to try. When performing research on
niche ideas for a website
, matcha tea jumps out because of the keen interest in the product. The growth of its popularity makes sense based on numerous health benefits in addition to its excellent flavor.
I know that many of my readers are keenly interested in building a website and getting started in the exciting and profitable world of affiliate marketing. I'm also aware that the one thing that tends to create confusion and hold people back is the all important question of "what's my niche"?
Niche research is something I love, and I hope today's post will give you some inspiration. The truth is that we're surrounded by niche possibilities. Matcha tea is just one of many exciting options that I'd like to share with you.
The best part is that you can take exactly the same approach to research your own ideas. So let's take a look at the investigation process, shall we?
What is a Niche?
A niche is nothing more than a group of people with specific needs for information about a particular subject or type of product. Affiliate marketers cater to these individuals and strive to provide quality materials and reviews that readers are seeking. You can read more about niche marketing here.
What Factors Should You Consider When Selecting a Niche?
There are thousands of potential niche opportunities for an enterprising affiliate marketer. Here are the four top factors I recommend that you take into consideration in evaluating whether a niche is a good choice for you.
(1) You should have evidence that a substantial group of people is intrigued by the subject matter. We don't want your website to be lonely! 
(2) There should be plenty of different aspects of the topic to write about. Potential readers must have questions you can address, problems you can help them resolve, and informational needs about various related products you can review.
(3) You will be regularly writing posts on some facet of your niche selection for years. Make sure it's a topic in which you have a sincere interest. If you're not yet an expert on the topic, that's okay. As long as you'have a passion for the topic, you can expand your knowledge and develop your expertise over time.
(4) There must be reputable products and services that you can comfortably promote as an affiliate. The affiliate marketing business model is wildly successful and there are tens of thousands of affiliate programs. So finding one or two that you can work with is unlikely to be a problem.
If the niche that appeals to you meets these four criteria, you're on your way! Of course, there's no need to limit yourself to one niche. Many affiliate marketers operate several websites targeting different audiences. But you do have to choose one to get started.
So, let's continue our investigation of niche ideas for a website by examining the potential of matcha tea.
What is Matcha Tea?
Matcha is a shade-grown form of green tea that is ground into a fine powder. Growing the leaves in the shade increases the chlorophyll content which results in a vibrant shade of green. All green tea is touted for its antioxidant qualities, but Matcha is a powerhouse because you consume the entire leaf rather than straining the tea.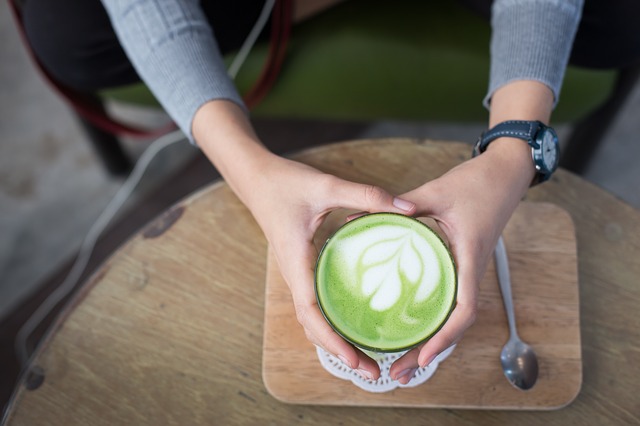 This green tea is rich in a rare amino acid called L-Theanine which is known to promote a state of relaxed alertness. Matcha helps with focus and concentration without the jitters often associated with coffee. Since it's a powder, you can whisk it into hot water to brew a frothy cup of delicious tea. Or, you can add it to smoothies or confections to obtain health benefits.
A few of the benefits of matcha include fighting cancer, torching body fat by increasing metabolism, promoting heart health by lowering cholesterol and reducing blood sugar levels. As a disease-fighting powerhouse, it's easy to see why its use and popularity have exploded.

The many benefits of #matcha green tea make it an exceptional niche choice for an #affiliate marketer
Google Trends Support for Matcha Tea Drinkers as a Niche
My niche research always starts with Google trends. I enjoy seeing a visual snapshot of the topic's attraction.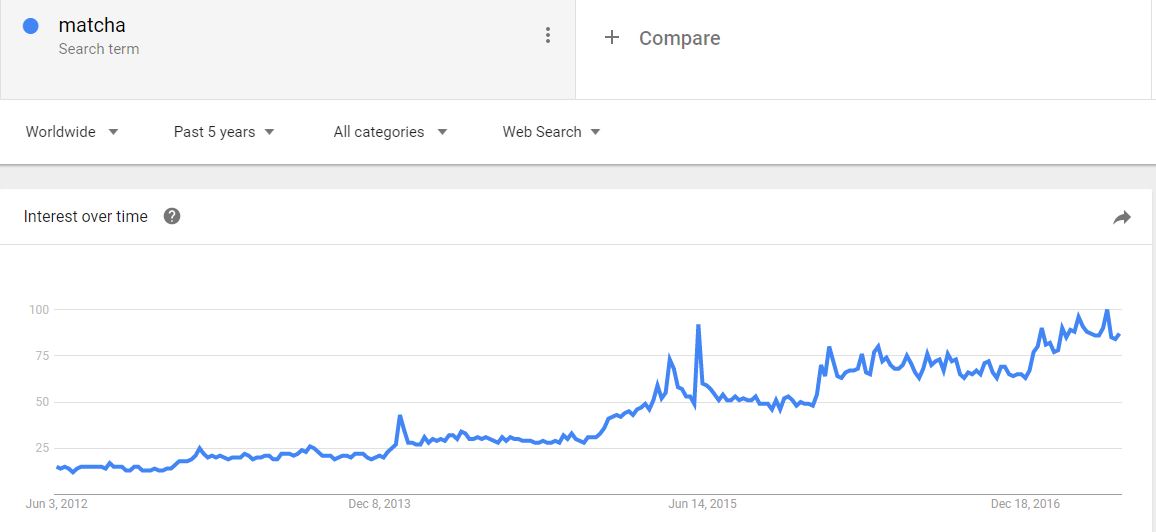 Here's an encouraging trend line. Wouldn't you agree?
So, once we know that something is capturing people's attention, we can dig deeper to see the nature of their questions.
It All Starts With Keywords
When Internet users type queries into a Google search box, we call those queries keywords. Google tracks and stores keywords in massive databases that affiliate marketers can access using keyword research tools. Such tools are essential, and many exist.
I belong to a fabulous online marketing community called Wealthy Affiliate. One of the many benefits I enjoy as a premium member is the unlimited use of an excellent keyword tool. So let's take a look at the results of a high-level search for matcha tea.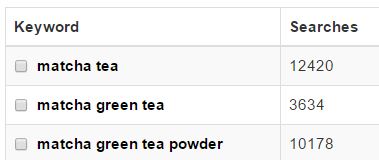 The search column tells us the number of average searches performed for a term each month. More evidence of the powerful fascination of this subject matter and the size of this captivated niche.
Low-Competition, Long-Tail Keywords
In performing keyword research, you quickly discover that massive opportunity exists with long-tail keywords.  I'm referring here to longer (3 or more word) search terms that are more specific. As you might imagine, shorter phrases often receive a lot more traffic, but they also have a lot of competition.
To be successful, we want to stand out, and that means limiting the number of competing websites. Long-tail keywords drill down deeper and often take the form of a question. We can craft articles that meet the needs of readers by providing details and thorough answers to questions.
Here's a quickly compiled list of super low competition keywords that are relevant for current or potential matcha tea drinkers. You'll observe two numbers following each phrase. The first number represents average monthly searches for the term while the second is the number of competing websites already targeting the phrase.
Keyword Examples
Is matcha green tea good for you?  (128/23)
What are the benefits of drinking matcha tea? (80/8)
Matcha green tea and weight loss (146/15)
How do you prepare matcha tea? (56/15)
How to make matcha green tea latte (96/24)
Why is matcha tea good for you? (80/5)
What is the best matcha tea? (242/12)
Matcha tea side effects (2,725/25)
How is matcha tea grown? (40/3)
Does matcha tea have caffeine? (82/10)
The best way to drink matcha green tea (48/5)
What is the best way to store matcha tea? (32/0)
Recipes for matcha green tea powder (56/11)
Nutritional value of matcha tea (88/6)
Matcha tea vs. green tea (64/17)
What is matcha green tea powder? (10,178/60)
Matcha green tea face cream (107/11)
Matcha green tea and cancer (64/7)
How to detox your body and lose weight (142/15)
Matcha green tea in a smoothie (228/3)
You'll note immediately that the volume of monthly searches for each individual keyword phrase is far less than for the high-level terms I first introduced. But these phrases don't have hundred of competing websites. Rather, they have a handful of competitors.
This lack of competition means that if you produce a quality blog post targeting the term, you can easily rank in Google and draw traffic to your site. Ranking for one of these terms won't make a substantial impact. But what if you're able to rank for 10 or even 100 low-competition keywords.
The aggregate impact is huge!
Studies indicate that 70% of all search engine queries are of the long-tail variety and are still largely untapped. And, as the number of global Internet users pushes 4 billion, searches are unlikely to decline anytime soon.  These factors combine to make affiliate marketing and incredibly lucrative model that continues to explode.
The Affiliate Marketing Business Model
I've written entire blog posts on affiliate marketing but let's just do a quick review of the model to clarify our discussion and hammer home a few of these points. I want you to catch the excitement!

Once you've chosen an interest with a substantial target market (such as matcha tea), you must build a website to communicate and interact with your market. You attract visitors by writing informative articles that incorporate keywords and provide in-depth answers to questions asked every day.
Over time, as you fill your site with relevant content that an audience is demanding, you build trust and credibility with the search engines. Your pages begin to appear in the SERPs (search engine results pages) with increasing regularity, and a lot of eyes are focused on your website.
With that traffic comes the ability to promote related and useful products as an affiliate of various vendors. When a sale occurs, you earn a commission. The concept is a simple one and extremely effective.
Affiliate Marketing Programs for Matcha Tea
Affiliate programs are completely free to join. In the case of Matcha tea, there are more than a dozen programs for you to evaluate and consider. Naturally, you'll want to become an Amazon affiliate simply because they offer everything (including matcha tea and tea accessories).
As soon as you receive acceptance into an affiliate program, all you have to do is grab a banner like the one above and embed the code in your website. Your unique tracking code is included and identifies all traffic coming from your website. If a reader clicks the image and a purchase subsequently makes a purchase, you will earn a commission.
The cool thing about Amazon is that your customer doesn't have to buy matcha tea (or whatever product you happen to be promoting) for you to earn revenue. You will earn a commission on anything your lead decides to buy within a 24-hour period. Sweet!
That said, Amazon's commissions are relatively low, and you will want to consider other suppliers with a more generous fee structure. You have multiple organizations to choose from.
Rather than list all of the choices here, I will tell you how to obtain a great list. Just open up a Google search box and type in the following search.
matcha tea + affiliate
Hint: this approach works for any niche product.
Conclusion
My sincere hope is that you found this post on niche ideas for a website to be exactly the impetus you needed to find your own niche (or dive into the world of match tea) and finally start the online business you've been dreaming about for so long.
Click the banner below to satisfy your curiosity and learn more about the best place to build a website in 2017. Learn everything you've ever wanted to know about successful affiliate marketing at the top platform available on the Internet today. And it's 100% free to get started.
What Are Your Thoughts?
I'd be thrilled to hear your thoughts on niche ideas or affiliate marketing in general. If you haven't gotten started on your online journey yet, what's holding you back? I'd love to help! Please drop me a line in the comment section below.
Like It? Please Share It!