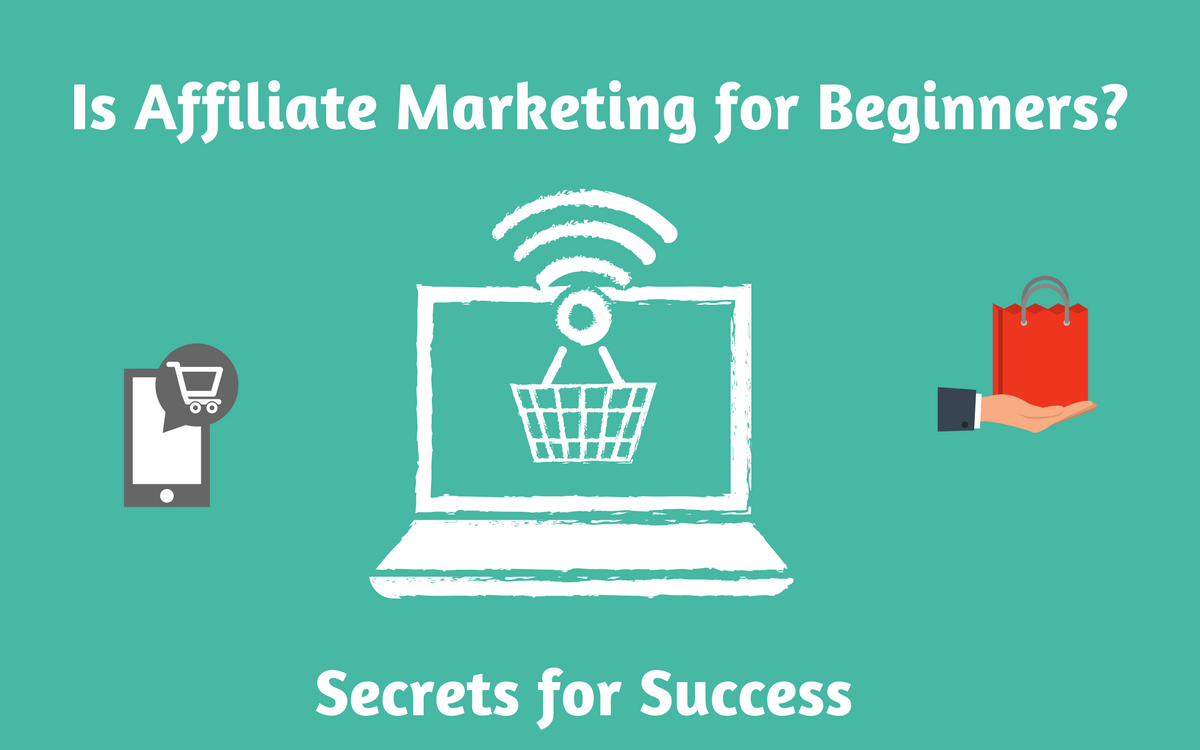 Updated from a post published in 2016.
Are you brand new to thoughts of working online? If so, this question has an irresistible lure, doesn't it? Is Affiliate Marketing for Beginners? Trust me! I totally understand the concerns, and even skepticism wrapped up in that question!
A year ago, the query in this post title was my own. I was on the verge of a new, part-time career in affiliate marketing as a retiree, with no prior experience in this field. The excitement was exhilarating, but it still felt like a big step into the unknown.
Imagine my trepidation as a not very Internet savvy senior!
But I was instantly captivated and continue to find it a highly engaging and rewarding activity. In large part, I attribute my extremely positive experience with affiliate marketing to finding a supportive community with excellent training materials and resources. Going it alone as a complete newbie was never an option for me.
Is Affiliate Marketing for You?
Naturally, only you can answer this question. As you contemplate your answer, here are a few key considerations:
Do you get excited by learning and trying new things?
Would you enjoy sharing your knowledge about a favorite hobby or pastime?
Do you like reading and researching topics of interest to you?
Do you enjoy writing?
Are you seeking a way to supplement your retirement income or perhaps increase your retirement savings?
If you can answer yes to all, or at least some, of these questions, affiliate marketing may be the right choice for you. I dove into affiliate marketing after answering yes to all of the above questions. Furthermore, I can honestly say I have thoroughly enjoyed the process for more than a year and have no regrets.
 
Overview of Affiliate Marketing
Affiliate marketing is the process of selling someone else's goods or services for a commission. There are tens of thousands of affiliate programs available to meet the needs of virtually any area of interest. Furthermore, becoming an affiliate is a free and simple process.
You can typically enroll in an affiliate program in less than ten minutes. As an example, you might have an interest in How to Become an Amazon Affiliate Marketer.
As the image above depicts, affiliate marketing is essentially a four step process. Let's examine the steps in a bit more detail.
Step 1 – Choose an Interest or Niche
A niche is really nothing more than a group of people who share an interest in a particular topic. First, you define the target market you will sell to because this will help you identify both informational needs and the types of products and services that will interest your market. Your personal hobbies, pastimes, talents, skills, and passions should direct your choice.
Logically, your first questions should be things like the following:
What is my ideal customer like? Try to create an image of a fictional reader that you can comfortably chat with as you would an old friend who shares your enthusiasm for the subject of your website.
What types of products and services interest my ideal customer and why?
Can I provide tutorials that will help my readers resolve problems?
How can I help my ideal customers find the information and products that best meet their needs?
Please pay close attention to the primary focus of these questions because it reveals the first secret of success as an affiliate marketer. You must focus on the needs of your customer first and draw them in by being exceptionally helpful and offering quality content.
No one is interested in a website that's little more than a "pitch fest"!
For additional information on selecting a niche, please see my previous post, What is the Definition of a Niche and Why is it Important?
Step 2 – Create a Website
The need for a website is an irrefutable fact for anyone with an interest in pursuing affiliate marketing. You will be communicating with your customers online, so your website will provide your communication forum. Fortunately, the fabulous tools that exist today make creating a website a breeze.
Please see my Build a Website page for further details including a video that will walk you through the process. You can create a foundation for your site, suitable for developing over time, in a matter of minutes. Yes, I felt amazement too, but it's true!
Step 3 – Get Traffic and Rankings
Once you've created your website, you will fill the site with relevant, information-rich content. Again, no one is interested in a website that contains purely promotional materials because people are searching for answers to questions.  They are seeking useful information on their topic of interest.
You will provide the answers they are seeking. Your goal is to write epic content based on keyword queries that members of your niche are typing into search engines because this content will drive traffic.
My post, How to Rank My Website With SEO Basic Principles, may be helpful in understanding this process.
Step 4 – Sell Stuff and Earn Commissions
A website with unique, engaging content that ranks well in the search engines and receives traffic has limitless potential to earn revenue. Affiliate marketing is a time-tested, proven technique that is here to stay. One powerful option is to write honest and unbiased reviews for products that intrigue your readers.
Studies show that online reviews influence a hefty 67% of consumers when they make major purchase decisions.  I would say that's evidence of very impressive reach!
You can expand your knowledge regarding this step by reading my Monetize Your Site page.
The Wealthy Affiliate Online Community
The Wealthy Affiliate online community is an incredibly newbie-friendly resource for beginners interested in pursuing affiliate marketing. They offer all of the necessary training and tools to initiate an online business the proper way. I have found this online community to be amazingly supportive and another of my secrets to success.
Best of all, Wealthy Affiliate offers a Starter Membership that is 100% free to join. Under your Starter Membership, you can create 2 websites hosted through a state of the art platform called SiteRubix. Your membership includes effective, step-by-step training to launch your new venture.
See my Getting Started Online page for an impressive list of everything included in a Starter Membership.  Or, you can begin experiencing the training and community first-hand and get started today. All you need is an email address to check it out thoroughly!

In Summary
Is Affiliate Marketing for Beginners? Yes, I can state from personal knowledge that it is definitely possible for beginners with no prior experience to achieve success as affiliate marketers. All of the training, tools, and resources you need are readily available.
Will it happen overnight? No, and please don't let any online "gurus" try to tell you otherwise. Developing a website filled with quality content takes time and consistent effort. But if you're willing to invest in yourself and put the work in up front, you can ultimately build a sustainable income.
Please post any questions in the comment section below. Also, consider telling us about any affiliate marketing experiences you may have. Finally, if this post was helpful, please share.
Like It? Please Share It!
To your success!