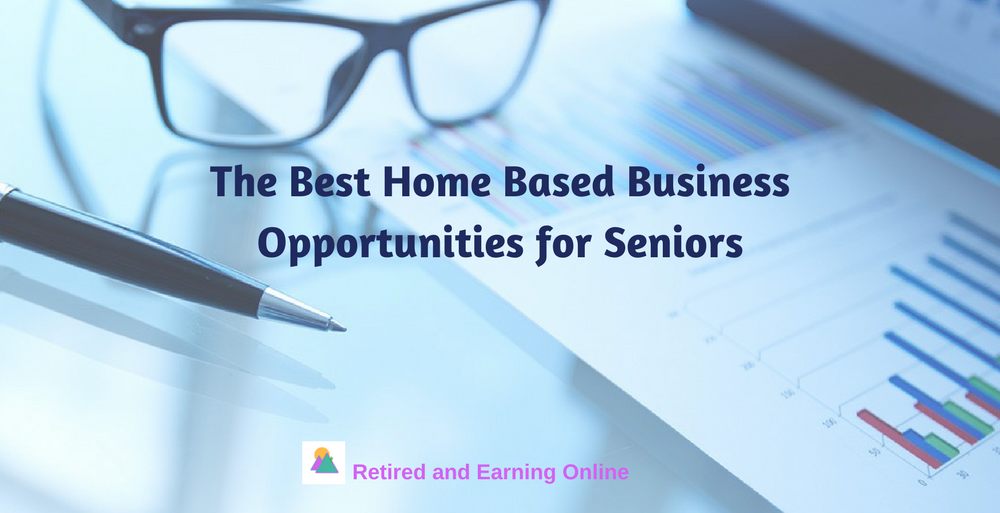 Update of an earlier post published in 2016 
An understanding of legitimate home based business opportunities for seniors in today's digital economy can make a profound difference in your retirement lifestyle.  What if I told you that creating a home-based business is far more straightforward than you ever imagined?
These business opportunities exist within an industry that drives e-commerce and forecasts $6 billion of revenue in 2018. You can partner with online retail giants (like Amazon, Best Buy, or Walmart) and droves of smaller merchants as well who sell all manner of goods and services.
There's no question that with the right mindset and training, a successful small business of your own can become your new reality. If a technologically challenged baby boomer like myself can do it, anyone can!
Let me explain how this can work for you.
Home Based Business Opportunities for Seniors – Welcome to Affiliate Marketing
Affiliate marketing is about promoting stuff for other companies in exchange for a fee. Almost all online vendors use affiliates and will continue to do so because it makes good business sense. Hence, your choices of products and services to promote are endlessly satisfying.
Why does affiliate marketing make good business sense?
Affiliate marketing makes exceptionally sound business sense on all levels within the online marketing space which is why the industry is exploding. So, let's take a moment to talk about the advantages to all the major players in this business relationship because it's a poorly understood concept.
For merchants, a network of affiliates is an excellent way to control marketing and advertising costs because it's a performance-based system. Unlike an internal marketing staff, affiliates are compensated only when a sale occurs. At that point, vendors share a percentage of the revenue generated by the sale.
Consumers benefit greatly because they have ready access to the high-quality content and product reviews they crave. Studies show that the vast majority of consumers read reviews written by independent affiliates before engaging in online purchases.
Finally, Internet marketing practices open a floodgate of choices for individual affiliates to partner with reputable organizations, build strong consumer relationships by promoting great products, and earn an online income.
In short, everyone wins!
Now that you have a better understanding of the benefits and motivations let's look at how affiliate marketing works.
4 Steps to a Successful Home Based Business For Enterprising Seniors
Here's a high-level summary of the steps you will take to create an affiliate marketing business.
Choose an Interest or Niche
Build Your Website
Attract Visitors and Grow the Traffic to Your Site
Promote Products and Earn Revenue
And, here's a helpful picture that tells the same story because we're all visual creatures, right?
Now, let's see how the affiliate marketing business model might work for you and the questions you need to ask yourself before diving into this potentially lucrative online activity.
Do I Have a Passionate Interest to Share?
At this point, it's time to talk about you. Why? Because your interests, passions, and goals drive the possibilities.
Stay with me here. All I need is just a few moments of your time to answer some questions. I honestly believe you'll really like the direction in which your answers may lead you. Now that you've left the 9 – 5 routine behind, are there hobbies you've taken up in earnest?
Pick your favorite pastime. It really doesn't matter what it is as long as it's something you love. Then ask yourself the following:
Is this an activity that others enjoy as well?
Am I motivated to learn more about this hobby?
Can I envision being captivated for years to come?
Do I enjoy engaging and interacting with other enthusiasts?
Do I have skills that I can share?
Are there tools, supplies or other products I've tried that I would happily recommend to my fellow hobbyists?
Could I do some research on a particular facet of this activity and then write a simple but informative article about it?
If you found yourself nodding and getting increasingly excited as you considered these questions, congratulations! You may be a perfect candidate for developing a niche website to promote your hobby and share your passion with your readers.
Am I Willing to Build a Beautiful Website?
A niche website is a very legitimate, engrossing opportunity to build a business of your own and earn money from home all while doing what you love. The beauty of this business approach is the virtually endless list of potential topics from which to choose. Making money as a blogger is more than possible if you learn the proper approach.
With a staggering number of people, roughly 3 billion people, searching for information on the Internet every day, an informative, well-designed website will gradually attract an audience.
As a senior who has chosen this path, I can recommend it highly!
Do I Have the Commitment and Patience to Grow a Business?
This third question is huge and warrants careful deliberation. Businesses of all kinds, whether online or offline, take time and real work because you must first lay a foundation and then persistently develop credibility and relationships. You will build your website one page and post at a time and gradually attract viewers.
Your website will not become profitable overnight. Most bloggers do not begin to see their first commissions for about 6 months, and it can easily take a year or more to experience consistent income. You may have read a bunch of hype and nonsense saying otherwise. But I'm here to tell you that's all it is. Nonsense!
So, did you answer yes to all three of these questions?

If you did, you're a member of
my
niche market. A growing segment of the population in search of a legitimate path to online income that embraces technology and the global economy in which we live.
And, I can help!
The reason I'm able to offer help is that 2 years ago I was in precisely your shoes. And, I was fortunate to find a community of like-minded individuals that I'm extremely grateful to have found.

Still skeptical? Of course!
I was too. But, as you can see, I overcame my skepticism and took the plunge. Obviously, you're also intrigued since you've read this far. Moreover, if you give me just a few more moments of your time, I promise you won't be disappointed.
I joined what is arguably the best and most comprehensive affiliate marketing platform available on the Internet. Wealthy Affiliate is in its 13th year of operation and continuing to grow and evolve. So,  it has stood the test of time in an industry where programs come and go rapidly.
You can read my comprehensive review of the Wealthy Affiliate platform here.
What Should Your Next Steps Be
My #1 recommendation to you involves learning more details about the potentially lucrative business opportunities surrounding affiliate marketing. You can do that today by personally investigating the excellent online training and resources that Wealthy Affiliate offers
The best part is that you can join as a free Starter Member.
Yup, you read that right. A Starter Membership is absolutely free. You do not need a credit card. I know I worked too hard for my money over the course of my career to spend it frivolously without knowing exactly what I was purchasing. And, I could not, in good conscience, expect that of you either.
Your free Starter Membership includes 2 free websites, the step-by-step training you need to create the websites using WordPress, free hosting on a state of the art platform called SiteRubix, and 10 Getting Started lessons.
As someone who started their online journey with this starter membership deal, I can tell you it's a stellar chance to see exactly what it's all about, how online business works, and what Wealthy Affiliate has to offer without making any commitments. In my mind, a starter membership is the only approach that makes sense.
And by the way, your free membership is not a trial. You can remain a Starter Member for as long as you choose. Take your time and "kick the tires" so to speak.
Just For Grins, Let's Look at How Easily You Can Create Your First Website
Building a website with SiteRubix is a 4 step process that takes less than a minute to complete. Absolutely no coding skills are necessary. In fact, if you'd like to see a website built in real-time, check out the video on my Build a Website page to see just how simple and straightforward the process is.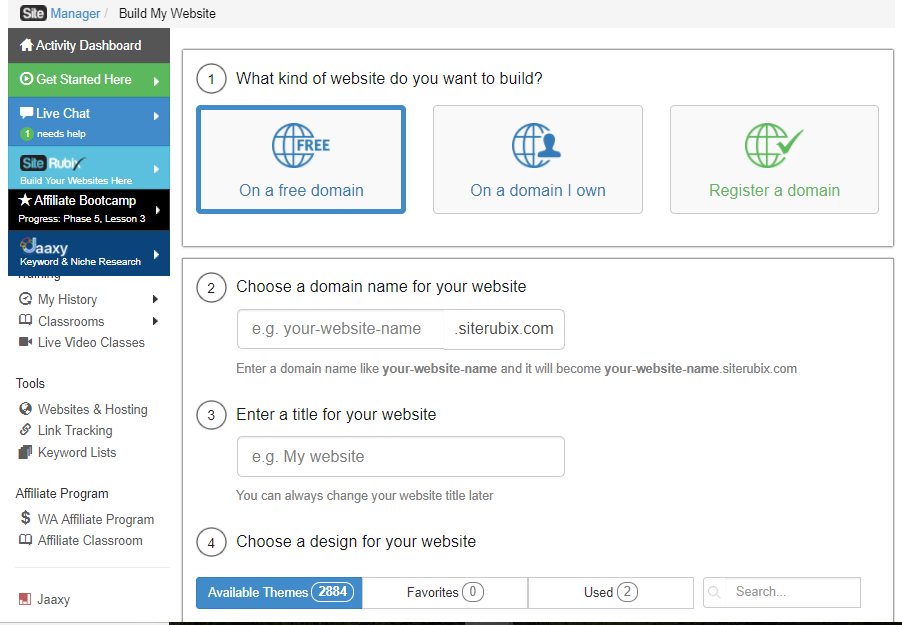 Here is the List of Ten Lessons Included in Your Starter Membership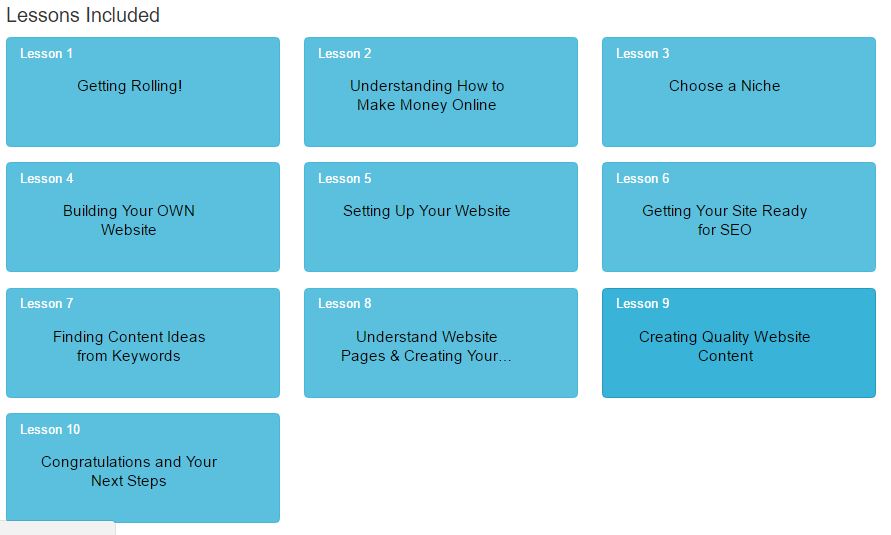 This list of lessons will give you a sense of the comprehensiveness of the training included. Feel free to participate in all 10 lessons at no cost.  Once again, a Starter Membership is not a trial membership. You can remain at this level indefinitely.
Certain premium services such as live chat are only available to starter members for the first seven days. However, the 2 websites remain yours, and you can take as long as you like to complete the tutorials and view the tremendously helpful training videos included in each lesson.
Please make sure this business opportunity is a good fit for you before you consider upgrading to a Premium Membership.
What Else Would I Need to Start My Business?
WA provides access to websites, hosting, a keyword research tool, mentoring, and all of the training resources you will need. Beyond that, the only things you will require are an Internet connection and a computer. Since you're viewing this blog on the Web, you clearly have the Internet connection covered 🙂
Depending on the computer you currently own, you may want to consider investing in a laptop. This investment is totally optional, but it does allow for that added level of flexibility that is so desirable in an Internet business.
You can choose to work at your breakfast bar with a steaming mug of coffee. Or, out on your patio while enjoying the sunshine. Or, at any of your favorite haunts where Wi-Fi is available.  And, if you enjoy traveling just pack your laptop. You can work from anywhere on a laptop. Sweet freedom!
To a better retirement for all!!
Conclusion
Thanks for letting me share my thoughts on the best home based business opportunities for seniors. I can't help but believe that the amazing flexibility of affiliate marketing ventures makes them an ideal choice. The options to follow your passion, share your knowledge and experiences, and work from anywhere you choose are all so appealing.
Is this opportunity limited to seniors?
Not at all! It represents an ideal opportunity for anyone looking to supplement their income or even create a full-time income. It may be just the thing for anyone who is unemployed or a low wage earner. Stay at home Moms or Dads can also benefit.
Please feel free to share this blog with anyone you know that may be looking for a new income stream.
To a better retirement for all!!
Over to You
So, what's your passion? Feel free to share your ideas for a business because I love connecting with my readers. And, don't forget to leave me your questions in the comments below. I always respond!
Like It? Please Share It?