Taking surveys usually excites me about as much as going to the dentist. So, how does Crowdtap work differently, and in a way that's actually engaging?
Based on my experience, there are definitely some unique aspects to this consumer engagement platform. And, anyone who enjoys offering their opinions for pay, will be pleasantly surprised.
If you're intrigued by the buzz around Crowdtap, you're in the right place to have your curiosity satisfied.
So, without further ado, let's take a further look at what Crowdtap is all about, shall we?
What is Crowdtap?
Crowdtap operates as an influencer marketing program where consumers and businesses come together. Founded in 2009 and headquartered in New York, NY, the platform has more than 1 million members. Through discussion techniques like polls, surveys, and open-ended questions, businesses gain invaluable insights into their potential target markets.
Consumers have the opportunity to provide feedback and influence new product development and marketing decisions for major brands. Companies are interested in consumer preferences and reactions to product features, logos, and packaging options.
Currently, members must be at least 13 years old and live in the U.S. However, Crowdtap is hoping to expand to other countries in the future.
I admit I relate well to Crowdtap's premise that everyone needs a good side hustle. How do you feel about that? Why not share your thoughts on that idea in the comment section? And then, enjoy the video below for a quick overview of Crowdtap before we get into more details.
Crowdtap – Introduction from Crowdtap on Vimeo.
How Does Crowdtap Work?
As a member participant on Crowdtap, you complete actions to earn points. All of the actions involve sharing your opinion in some fashion about brands, products, and everyday lifestyle choices.
The first step in the process involves creating a free account at Crowdtap.com. You can join using Facebook or by using an email and password. Be sure to fill out your profile in a complete and accurate fashion.
Your profile is important in two ways. Firstly, Crowdtap will use the information you provide to verify your identity prior to sending you any rewards. In addition, your profile will determine the surveys and other actions you're offered. Companies are interested in the opinions of people who fit their target market.
One of the best things I've found about Crowtap is that they actually use your profile data. You will not be asked to endlessly repeat the same demographic data. There are no screening questions at the beginning of each new survey. Imagine that!
On most survey sites, you're asked to repeat basic factual information (gender, age, race, education level, household income) constantly. It makes me nuts! Those annoyingly repetitive questions are refreshingly absent on the Crowdtap platform.
After creating your account and completing your profile, you can browse the available actions on your dashboard.

When you hover your mouse over a button, a description of the type of action appears. You can then click the button to see specific tasks available at that time. In order, the action possibilities are as follows:
Focus Group
Multiple Choice Questions
Grid Questions (for example, arranging elements from most important to least important)
Surveys
Photo
Open-Ended Questions
Sampling
The most common scenario is a selection of short multiple-choice questions referred to as "quick hits" that are worth 3 points each. Surveys will have varying points based on their length. As an example, I completed a survey that took only a few minutes and earned 210 points.
Open-ended questions are seeking your reactions and require a longer, descriptive response. In one instance, I viewed an image of a product and had to state what I liked best about the packing and why. It's extremely important to write a detailed, thoughtful answer using complete sentences.
Once you've been a member for a while, you may be asked to try product samples and complete a review based on your impressions and experiences with the item. The possibility of receiving free stuff appeals to many members. Of course, this type of action is more time-consuming. But you don't have to accept the mission.
I have not yet been offered free samples, focus group participation, or photo-sharing opportunities. But I have enjoyed interacting on the site and sharing my thoughts on various aspects of product development.
Earn Points on the Go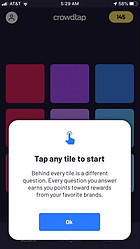 Crowdtap has recently introduced an app that's available for both IOS and Android devices. The App is very intuitive and easy to use. By using the mobile platform you can earn points from anywhere. Users can easily respond to multiple-choice questions while standing in lines, sitting in waiting rooms, or just about anywhere you have some downtime.
But, the App is still very new and it doesn't contain all the functionality yet. For instance, you can earn points but you can't yet redeem them through the App. So, you'll still need a laptop or desktop computer in addition to the mobile application. Just a heads-up.
How Do You Redeem Your Crowdtap Points?
Be aware that Crowdtap does not offer cash. There's no PayPal option which is unfortunate. But they do offer some nice gift cards. Once you've accumulated 1,000 points. you can redeem them for a $5 gift card to one of the following vendors:
Amazon
Sephora
Target
AMC Movie Theaters
Walmart Ulta Beauty
Gift cards are also available in $10, $15, $20, and $25 denominations with a few different vendor options at various levels. With at least 5,000 points you are eligible for subscription cards to Hulu or Apple Music. Finally, you can contribute to several nice charities with as few as 200 points.
Expect to receive your electronic gift card by email within 24 hours. I was able to redeem a $5 Amazon gift card within 3 days of joining the platform which was a pleasant surprise.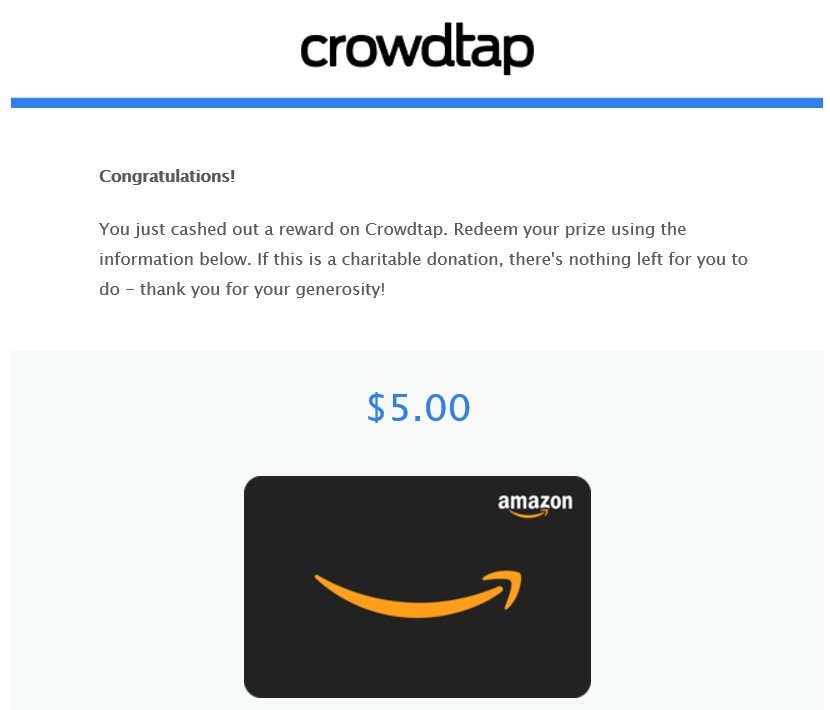 Final Thoughts
For anyone who's been wondering "how does Crowdtap work", I hope you're encouraged to give this consumer engagement platform a try. As with any survey site, the potential to earn an income is limited. Don't plan on quitting your day job!
And yet, Crowdtap does seem to be an easy and engaging way to earn some fun gift cards that will stretch your budget. This program is completely legit, and in my experience, they pay promptly once you satisfy redemption requirements.
Looking to earn more money online?
I know I wanted more than a few extra bucks a month. Therefore, I set out on a mission to find a legitimate platform to help me build a website and grow an online business.  I found all the training and resources I needed at this top recommended site, and it may be an exceptional choice for you also.
Over to You
Is sharing your opinion on survey sites something you enjoy? Have you tried Crowdtap yet? Please hare your thoughts in the comment section below. I happily respond to every comment!
Like It! Please Share It!
Please Pin It!