As a veteran premium member of the Wealthy Affiliate training platform, I have a unique perspective to add to this elite community. I'm often asked, How Does Wealthy Affiliate Really Work? So, my mission today is to address this question head-on.
We're all familiar with the saying, "if it sounds too good to be true, it probably is."  While I dislike the cynicism inherent in this adage, I also acknowledge the wisdom as it relates to many programs in the make money online arena.
But I have to speak up when I hear this statement being applied to WA because doubt and skepticism can also lead to missed opportunities. The expert training, resources, and tools available on the Wealthy Affiliate platform can transform a complete newbie into a successful affiliate marketer.
But look closely…
Did you notice I never said you'll become a success immediately or start making tons of money right away? I sure hope so because I can absolutely guarantee that you will not see overnight riches. If you thought that WA is some "done for you" scheme that doesn't involve real work, you need to hit the back button and look elsewhere.
Here's a reality check:
Wealthy Affiliate cannot guarantee your success, and they don't. You determine the level of success you ultimately achieve. How much do you want it? How much effort are you willing to invest?
As with any business venture ever undertaken, online success requires dedication, focus, and real work. But, with that in mind, Wealthy Affiliate can give you an enormous advantage as you learn to navigate the Internet marketing world.
So, let's explore the myriad ways in which Wealthy Affiliate can propel your online business venture forward, shall we?
How Does Wealthy Affiliate Really Work? An Insider's View
Wealthy Affiliate provides an affiliate marketing blueprint, immersive training, essential tools and resources, and all the ongoing support you need to realize success as an affiliate marketer.  In their 14th year of business, the platform continues to improve and evolve.
They can't succeed for you. But, as the old proverb goes, "they teach you how to fish"!
I came to the realization recently that many Wealthy Affiliate reviews were a little too high-level to function as useful decision-making tools. And yes, some of those reviews were mine. Consequently, I'd like to rectify that today by taking a deeper dive and revealing all the juicy details in this revamped 2019 Wealthy Affiliate Review.
The 4 Step Affiliate Marketing Blueprint
There are a bunch of ways to make money online. Wealthy Affiliate is a training center that focuses on affiliate marketing. The platform is designed and built to support aspiring and successful affiliate marketers.
If you're not yet entirely clear on what affiliate marketing is all about, it's a process that involves promoting the goods and services of other organizations in exchange for a commission. The overwhelming majority of online purchase transactions involve an affiliate, which is what makes this a potentially lucrative field.
WA teaches that your path to success as an affiliate starts with understanding these core fundamentals:
As of the date of this post, I'm celebrating my 3rd anniversary as the owner of an affiliate website. Naturally, people ask me all the time to explain what I do and how I make money. I can sum it up very succinctly in one sentence.
I help folks by supplying information, answering questions, and solving problems. 
And as you might imagine, the most common reaction I get to that is, huh?  To be fair, I  reacted similarly as a newbie. My response above is totally accurate but not at all helpful because it's conceptual. It doesn't even begin to explain the Internet marketing process or provide "how-to" details.
But, when we usher in the 4 step WA blueprint, the lightbulbs start to pop on.  We quickly see the first faint flickers of understanding. Moreover, as training around the model progresses, floodlights illuminate the landscape, and the affiliate marketing business model becomes clear.
Step 1 – Choose an Interest
Do yourself a huge favor and go with a topic that excites and motivates you. Why?  Because you're going to be spending quality time immersed in your chosen subject area. The thrust is assisting people who have informational needs in a specialized field.
You definitely want to refine your focus such that you address the needs and questions of a narrow market segment or niche. Ideally, you'll hone in on a group of people whose needs are not currently being well met. In this way, you can limit your competition and become an authority figure.
Step 2 – Build a Website
Ordinary folks like you and me are building websites, writing helpful articles, and making money from it. Creating a website doesn't require any techie skills, and it's nothing to stress over. As we get further into the inner workings of Wealthy Affiliate, you'll see they have an exceptional site builder that will have your online "storefront" live on the Web in nothing flat.
Billions of people "Google" stuff and search the Internet for answers every day. When they do, they find websites with helpful and informative content that was written by individuals just like you. By building a site, you establish a presence in the online space where digital marketers are open for business 24/7.
Step 3 – Attract Visitors
There are timeless strategies for attracting an online audience. Learning how to get visitors to a website is of paramount importance. You want your words to reach the right people and to resonate with them. Keywords are the lifeblood of every website.
Your target audience is endlessly curious about many things. That curiosity drives them to seek answers to their questions. As a site owner, your task is to conduct keyword research to determine what the popular queries are and then write compelling content that your prospective readers can find in the SERPs (Search Engine Results Pages).
You can't help people and make those vital connections with readers if they don't know you exist, right?
Ultimately, online success is about creating a personal brand, developing trust, and forging relationships with readers. It takes time to craft content that grabs attention and effectively communicates your message. But stick with it (even after the initial enthusiasm begins to fade 🙂 ) because blogging perseverance pays off!
Step 4 – Earn Revenue
So, how do you make money as a blogger and affiliate marketer? I believe it all comes down to making sure you serve your audience. If you create websites about stuff you enjoy and consistently write articles about the topic that people are eager to read, website traffic begins to escalate.
With a steady stream of readers visiting your site, revenue will naturally follow. You'll affiliate with vendors who offer great products and services, write reviews, and make recommendations to readers.
There are quite literally millions of products available, and the vast majority of online retailers have affiliate programs that are free to join. Carefully select products that will benefit your audience, join the affiliate program, and add the links to your site that identify you as the referring affiliate.
Affiliate marketing is a multi-billion dollar industry, meaning some people are making a lot of money. To join the ranks of those who are successful, you need to show up and commit to the process!

Wealthy Affiliate – A Behind the Scenes View
I want to provide a comprehensive experience for my readers today. Hence, I decided the most effective approach was to expose all aspects of the WA platform from the perspective of a premium member. So, let's start our exploration from my Profile page.
The menu in the lefthand sidebar makes navigation simple and also gives us a lovely bird's eye view of everything at a member's disposal. We'll come back to the Dashboard, but I want to drop down to Training first as this is a crucial area where WA really shines.
Powerful Training That Delivers
All new members are immediately directed to the green Training button because this is where all the magic begins, and your questions are systematically put to rest. Training is comprehensive, task-based, and effective for all learning styles. Moreover, it's hands-on, which means your website will evolve as you progress and tick off each new step.
As you view the Training sub-menu above, note that WA offers two formal training paths. One path is Online Entrepreneur Certification (OEC), and the other is Affiliate Bootcamp. Newbies should complete the OEC training first and strive for a successful website in their niche of choice.
Down the road, Affiliate Bootcamp is an option if you decide you'd also like to dive into the make money online (MMO) niche and promote Wealthy Affiliate. MMO is quite competitive, and it's best to have some experience before you take it on.
The image above displays the five levels of training in the OEC module. Additionally, each level includes 10 separate lessons. By the time you've completed all 50 lessons, you have a robust website that's poised to tackle the affiliate marketing competition!

Level 1 is included in a free Starter Membership. Once you've finished the 10 lessons in phase 1, you have a live website with a functional navigation structure and a few basic pages and posts. It's now decision time. Is affiliate marketing something you want to pursue?
If you want to move on, and eventually achieve the dream of living a laptop lifestyle and making money from home, you're going to need to upgrade to a premium membership. The cost is minimal compared to the unique value derived. Then again, my bias is clear because I made the upgrade decision 3 years ago and have never looked back 🙂
Training HQ
Kyle Loudoun, one of the co-owners of Wealthy Affiliate, conducts all of the formal training. But Training HQ also connects you with hundreds of hours of ad-hoc training presented by members of the WA community. These presentations tend to be very specific sessions based on knowledge acquired by members in the operation of their online business.
Classrooms
WA classrooms function as forums and are amazing knowledge repositories clustered around 13 topics. Just a few of the classroom topics are Authoring & Writing Content, Keyword, Niche & Market Research, Search Engine Optimization, and Everything WordPress.
Head to a particular classroom to see a compilation of tutorials and videos on the topic. You can also pose questions that members of the community will answer.  As an example, here's what's currently going on in the Search Engine Optimization Classroom:
Website Tools and Features
Moving down my profile menu to Websites, we see a plethora of useful and innovative options. Some are perfect for folks just starting out, and others represent excellent tools for ongoing site maintenance.
Site Manager
Quickly log in to the back office of all your WordPress websites. As a starter member, you get one free website. As a premium member, you can host up to 10 sites.  Site Manager also tracks details that indicate the overall health of your website.
Site Builder
The state-of-the-art site builder lets you create a brand new WordPress website on either a free subdomain or a domain that you own. There are currently more than 3,000 free themes you can choose from, and the process can be completed in less than a minute.
Site Content
Site Content is an unbelievable writing platform that offers vast efficiencies over creating content directly in the WordPress editor. The Site Content feature is a relatively new innovation, so I had plenty of writing experiences before it's the introduction, and all I can say is that the time savings from this tool are fantastic.
There are more than 1 million royalty-free images that you can select directly within Site Content, which limits the need to search for images elsewhere. And, best of all the graphics you upload through SiteContent are all optimized.
As bloggers, we understand the importance of adding visual appeal and optimized images that don't negatively impact your site speed are wonderful.
The built-in editing tools are also much appreciated and can help you generate clean, quality copy that's easy to follow. A spell-checker, grammar checking, and vocabulary suggestions function as proofreaders and help to improve the accuracy of my content. Many of the issues are typos that these editing tools can readily identify.
Finally, I love the colorful little Gs that appear at the bottom of my published articles that let me know Google has indexed my post.
Site Comments
Google loves to see evidence of the interaction between website owners and readers. It makes sense because the conversations are indicative of reader engagement and interest. WA is a massive community comprised of tens of thousands of individuals with diverse experiences and passions.
The Site Comments platform allows members to enjoy fascinating content while interacting and enhancing each other's websites in the process. I confess, I sometimes get a little frustrated at the commenters who don't take the time to thoroughly read and write something that adds value. But overall, Site Comments is a fabulous concept.
Site Feedback
Constructive criticism is precious and can dramatically improve websites. Members review each other's sites and provide feedback on everything, including color schemes, logos, font choices, and writing styles. Complements can be rewarding to hear when you've been working hard, and suggestions for improvements can have very positive impacts.
Live Events Every Friday
Jay Neill of Magistudios presents Live Webinars every Friday evening on highly relevant topics. I love to attend because there's always a Q & A session where members can request clarification and specific guidance from a seasoned marketer. But if you have to miss the live event, replays are available the next day.
Jay's been doing this for about 10 years now, so there's an incredible archive of past sessions available that you can view and digest at your convenience. Here are just a few recent broadcasts:
Research – Experience Jaaxy's Competitive Edge
The fondest dream of any blogger is page one rankings in Google that generate streams of free organic traffic, right? Well, Jaaxy is a remarkable tool that can help you achieve that dream. We need engaging, quality content, and that all starts with targeted keywords.
Jaaxy Lite is included in your WA premium membership and is instrumental in ensuring that your posts communicate with the right Internet users. We want to encourage a match as people search for needed information that your site contains.
Related Article: How to Find the Best Keywords for a Website – Meet Jaaxy
Live Chat – Round-the-Clock Community Interaction
The Live Chat feature is enormously popular with many WA members. I admit that, for the most part, I tend to stay away because it can be a severe time waster if you get sucked into daily chit-chat. But, if you're struggling with an issue that you can't seem to figure out, Live Chat can be a godsend
WA is a global community. Therefore, someone is always hanging out and ready to help. Many people have a habit of dropping in over morning coffee, and the timing of that drop-in will vary greatly depending on where you are in the world. The co-owners of Wealthy Affiliate, Kyle Loudoun and Carson Kim are known to pop in regularly.
The WA community is renowned for encouraging a pay-it-forward culture. So, expect to rub elbows and receive expert advice from super affiliates. You know they're sharing more than textbook knowledge because they have high ranking sites.
Here's a live chat snippet from this morning when members were discussing the pros and cons of Google Adsense:
Help Center – 24/7 Support
Just click the help center button to submit a Site Support ticket quickly.  Frankly, my need for site support has been minimal over my 3-year membership period because everything runs seamlessly. But, on the rare occasions when I needed assistance, the WA technical gurus were there for me and responded in less than 10 minutes.
Dashboard – A Window Into the Community
Clicking on the Dashboard gives you an up-to-date view of what's currently going on in the community. Each member has a WA blog and can post articles within the platform. Some folks are prolific writers and post daily while others blog sporadically or as significant events occur.
You can see Today's Top 10 Posts determined by likes and comments. New questions from community members are also featured. These questions can be an excellent opportunity to jump in with an answer and extend a hand to someone who is struggling.
At other times, new questions are a good learning experience because I've been wondering the same thing but haven't gotten around to posing the query myself. I can read the replies as posted and reap the benefits of learning something new.
Members share their website successes great and small, and it's fun to celebrate the wins. They also share life events, milestones, and inevitable challenges. In short, we have a fascinating window into the lives of our fellow members. For example, here's a sample success post from today that's brimming with excitement:
Now for a bit of honesty. If I had to identify the biggest negative aspect of WA, it just might be the Dashboard. Not because I don't enjoy it or find value but because it can get to be just as big a time-waster as social media. You know what I'm talking about, right? I need to set limits on community participation, or I'd never get anything done!
Managed WordPress Hosting
Have you been searching for the best-managed WordPress hosting service for your online business? Look no further than Wealthy Affiliate! With lightning-fast loading speeds, multi-layers of security, redundancy, and daily backups, the WA hosting platform is tough to beat.
Your online business will be in good hands!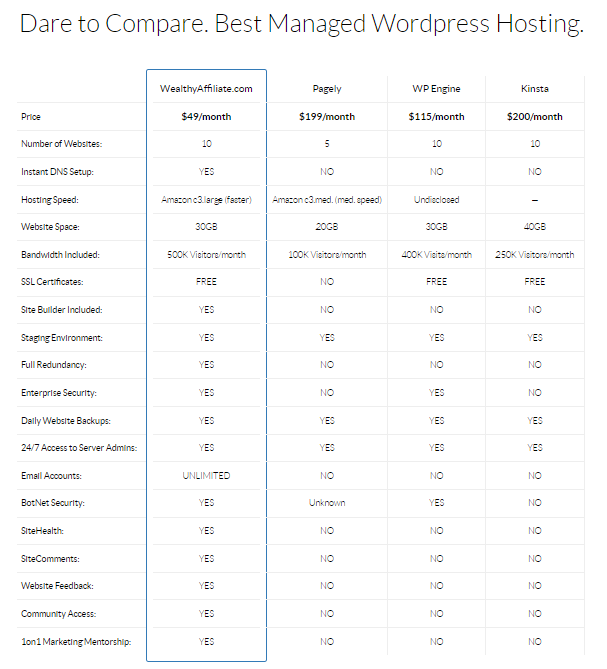 Wealthy Affiliate Membership Price Points
Everyone initially joins Wealthy Affiliate as a free Starter Member. And, it's a perfect opportunity to test your resolve to become an online entrepreneur. For the first seven to ten days, you have full access to premium features of the community.
You can dive into the training, build a website, binge on taped webinars, chat with super-affiliates, and share your aspirations. In short, you'll have an excellent idea of what the entrepreneurial road ahead looks like and whether or not it's for you.
Wealthy Affiliate can be the perfect solution for folks from all walks of life and in all phases of life. Here are just a few of the people you'll encounter on the platform who are exploring legitimate online income ideas:
College students trying to make some extra spending money
College students exploring affiliate marketing training as an alternative to formal education
Stay-at-Home Moms and Dads trying to supplement the family finances
Minimum wage earners in search of higher earnings potential
Homebound individuals with caretaking responsibilities or health challenges
Unemployed persons in search of traditional workforce alternatives
People who crave a more flexible lifestyle that allows them to earn while traveling the world
Seniors who see retirement looming and want to increase their retirement savings
Retirees interested in supplementing their pension income
Retirees in search of something more challenging than a front-porch rocking chair
Truthfully, we could go on and on here. But, I hope this gives you a sense of the diversity within the community and the types of people for whom WA represents a life-changing solution.
However, it's essential to recognize that Wealthy Affiliate is not for everyone. We're not all entrepreneurially-minded, and affiliate marketing is not a solution for anyone looking to make a quick buck.  As discussed at the outset, if you're not diligent enough to work for success, WA is not your answer, and the starter membership will confirm that for you.
So, which camp are you in?
Are you more than willing to spend six months to a year in laying the foundation for a long-term, online business venture with significant profit potential? If so, I think you'll see a Wealthy Affiliate premium membership for the bargain and superior value it represents.
A Starter Membership is a risk-free way to see if you, affiliate marketing, and WA are all a good fit. Several hundred thousand people, including myself, have concluded that it's a great fit. Once you've made that momentous decision, it's essential that you take action.
Bottom line – You can do this, but you need all the training, tools, mentoring, and support that Wealthy Affiliate has to offer. You need to join an elite group of Premium members.
If you make your upgrade decision in the first week or so, I can offer you a bonus of your first premium month for $19. Now, there's a gonga deal! You'll then have a month to decide on the membership plan that best suits your needs and budget.
Your WA Premium Membership Options:
Monthly – $49/month
Annual – $495/month (includes free domain valued at $13.99)
I chose the yearly option because it's the most economical choice. But I'll leave that decision to you. And, do remember you have some time because everyone launches their affiliate marketing venture at Wealthy Affiliate as a free Starter Member. See ya inside!
Don't be afraid to stretch yourself and dabble in something new!
Over to You
The comment section is open if I failed to answer all your questions about how Wealthy Affiliate really works. Feel free to tell me what I missed or even where you feel I'm wrong.
Like It?  Please Share It!