Recently, a follower asked, what do you think is the best online business to start from home? So, today, I'll be sharing my thoughts with you on this topic.
At the time of publishing this post, my online business is more than 3 years old. Have I weathered some trials and tribulations? You bet!
And, along the windy, twisty path to success, I learned a lot about what works and what doesn't. Perhaps more importantly, I now fully understand and appreciate the myriad benefits of a work-from-home lifestyle.
Freedom, as you approach retirement, or at any stage of life, starts with the ability to make money. And, there's no better way today than putting the power of the Internet to work for you. So, let me help you "crack the code"!
I won't keep you in suspense…
In my opinion, affiliate marketing is the absolute best option for any individual looking to start an online business from home. Are there other possibilities? Sure! But they can't compete, and I intend to substantiate that position fully.
So, with no further delays, let's get right into it, shall we?
Affiliate Marketing: The Best Online Business Choice
In simple terms, affiliate marketing involves promoting the goods and services of others in exchange for a commission. Aspiring entrepreneurs should feel empowered by the fact that numerous studies indicate affiliates add tremendous value in the online space.
When you consider the affiliate's role, it's easy to understand why everyone benefits. Consumers are able to find valuable information, tips, and product reviews on affiliate websites that they would not have access to otherwise. And, merchants can vastly expand their market reach by partnering with affiliates.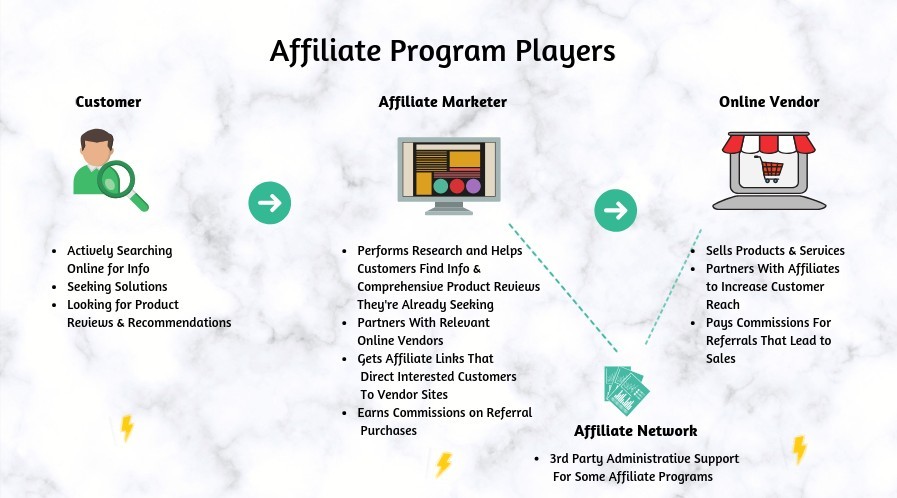 The size of the affiliate marketing industry reflects that value factor. Economists predict that the industry will hit $6.8 billion by 2020. We all know that online shopping transactions are exploding, and studies show that roughly 81% of all online sales involve an affiliate.
8 Compelling Attributes of Affiliate Marketing
For many specific reasons, I contend that there's no better option available than an affiliate marketing niche blog for a home-based business.  Consider the following facts:
It's cheap to get started, and on-going operational costs are minimal.
You don't have to develop your own product because you promote other people's stuff.
There are no warehousing or shipping costs to incur because you're a middleman who doesn't sell anything.
You're free to choose a topical interest (or niche audience) that excites you and for which you have a genuine passion.
There are millions of products and services you can potentially promote.
With some training and guidance, anyone can become a successful affiliate because it's not complicated and doesn't require a lot of technical expertise.
It's a lifestyle-friendly business that you can work on from home or any other location you choose. All you need is a laptop and an Internet connection.
Once you have an audience (regular traffic), your earnings potential is unlimited.
Start Here [for free] With the Best Affiliate Marketing Training Course
So, What Determines Who Makes Money As An Affiliate and Who Doesn't?
If I had to sum it up in one word, it would be persistence. It's pretty simple, really. Stick with it, and you'll make money. Give up, and you won't. Take another sneak peek at the list of positives above. Did you notice that nowhere do I say that it's easy? And, you won't hear me say that because successful blogging is hard work!
The tough part is building an audience because that takes time. No one pops into the online scene and becomes an overnight authority figure. It just doesn't work that way. Realistically, you need to plan on devoting a year to establishing your blog as a credible source of information and creating trust.
It helps to have what I think of as a "resilient mindset." 
Over time, your two most significant sources of relevant traffic will be the search engines like Google and social media platforms. It's a fact that early on, the search engines will take a "wait and see" attitude. Therefore, you can't get discouraged when your first articles don't rank well.
Firstly,  you can change that and dramatically improve your search engine rankings by consistently publishing valuable content that meets the needs of your targeted audience. Additionally, through training and research, you can learn better search engine optimization techniques.
Please review the list of attributes one more time. Now answer this question.
Do you have another option exhibiting all of those plus factors that will get you where you want to be a year from now that doesn't involve hard work? If you do, please share it in the comment section below because we'd all like to hear it 🙂
Frankly, I'm not holding my breath!
For the record, the need to persevere with my online venture didn't come as any great surprise to me. When I think about engaging in anything new, including deciding to take up a new sport or diving into a new hobby in earnest, I spot a similar pattern. Don't you?
For instance, if you wanted to become a better amateur photographer, wouldn't you expect it to take time? You'd need to learn to use equipment properly, experiment with new techniques, and maybe study the work of other photographers. So too, with blogging.
But there's a bright light at the end of the tunnel. So, it makes perfect sense to keep forging on!
How to Become An Affiliate Marketer
For many people, the biggest hurdle in trying something new, including online business, is knowing where to start. So, I urge you not to let yourself get stuck in pre-blog limbo where the dream lingers on, but you don't take action.
I want to make you aware of the absolute best affiliate marketing training available on the Internet. It's an all-inclusive platform with all the resources and support you will need to achieve success, and it's called Wealthy Affiliate. You can read my latest review of WA here.
It needs to be said that the greatest measure of a legitimate, quality program is transparency. And, that's precisely what you'll find at this exceptional training facility. Everyone begins with a free Starter Membership that lets you build your own website, participate in 10 lessons, and rub shoulders with successful and aspiring affiliates in a community of thousands.
No one should feel pressured to commit to anything before they have an opportunity to try it out first hand and ensure it's a good fit. Wealthy Affiliate is committed to that philosophy. So, why not use that to your advantage and try out the entrepreneurial role?
Wrapping Up
Thanks for sticking with me today as I shared my thoughts on the frequently asked question, what is the best online business to start from home. Do me a favor and mull over those 8 compelling attributes of affiliate marketing. Then, when you're ready to take a leap of faith, just click the banner below.
A life-changing adventure really can start with just a click!
Over to You
If you have any affiliate marketing experiences to share, or if you'd like to challenge my opinions, please jump into the comments below. I always enjoy a healthy debate!
Like It? Please Share It!
Please Pin It!