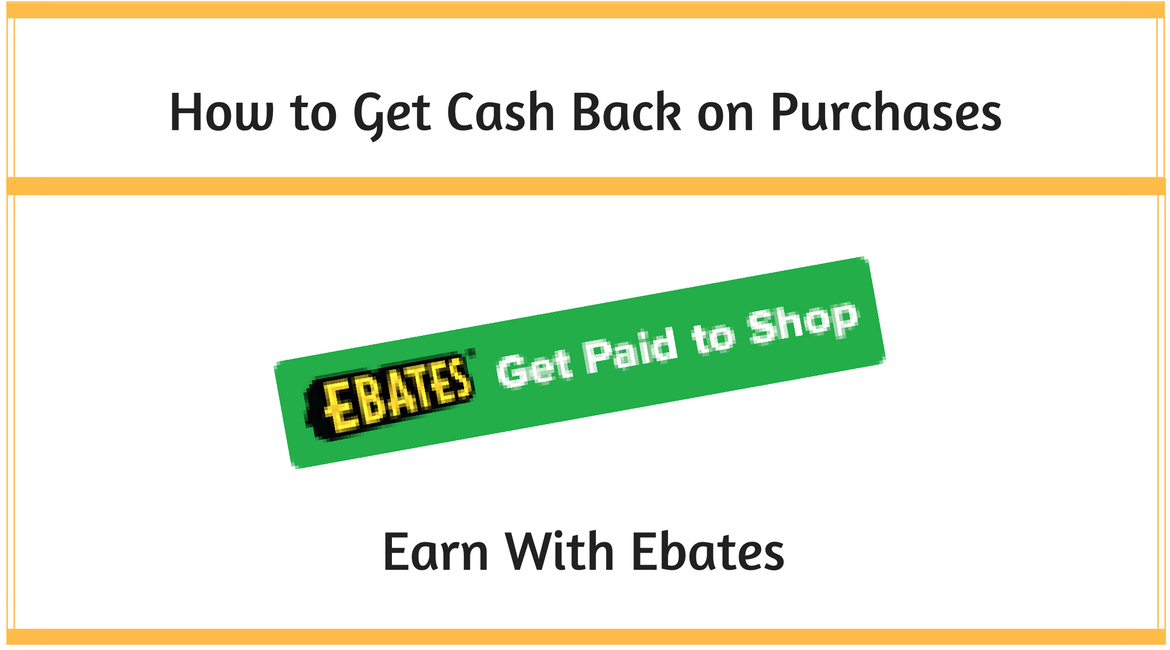 I'm always on the prowl for
how to get cash back on purchases
because, let's face it, we all buy a lot of stuff! At certain times of the year, perhaps more than we should. But that's a tale for another day. 🙂
Ebates is one of those cash back programs that I've really been kicking myself for not joining sooner. It's been around since 1998. Sadly, that's a lot of missed rebate opportunities.
But I won't be missing out in the future, and I hope that's true for my readers also.
Let's explore the benefits to you of joining Ebates through a free membership.
What is Ebates?
Ebates is a cashback website that functions as a shopping portal with coupons and cash back offerings from more than 2,000 online retailers. As of 2016, Ebates also offers rebates through select brick and mortar affiliates. Ebates has more than 10 million members who have collectively earned more than $800 million.
If you do a lot of shopping and you like to save money and find the best deals, Ebates may be right up your alley. Make a qualifying purchase ($25) within your first 90 days of membership and receive a $10 bonus.
Watch the video below for a quick overview.
Ebates: How Does It Work?
The Ebates business model is a fairly straightforward one. The company enters into affiliate relationships with various vendors and earns commissions for referring customers to vendor sites. A portion of those commissions is then shared with members who shop through the app.
To begin earning through Ebates, all you need to do is sign up for a free account at www.Ebates.com. You can create your account by entering an email address or by using your Facebook or Google account. The process is simple, and your account is active almost immediately.
Once your account is activated, just click on the All Stores menu to see a list of shopping options that include retail giants like Amazon, Walmart, Best Buy, Kohl's, Macy's, Groupon and so many more. Click the "Shop Now" button for your store of choice and complete your purchase in the normal fashion.
Accessing stores through the Ebates website sets a tracking mechanism in motion. Expect to see your savings in your Ebates account within about 48 hours. Then watch your earnings accumulate.
Be sure to check out the "Hot Deals" tab to score featured coupons and promo codes that may well increase your savings even further. You may also want to double down and explore the Double Cash Back Stores.
Ebates sends payments to customers on a quarterly basis if your balance is at least 5 dollars. You have a choice of being paid by check or through your PayPal account. Set your payment preference in your account profile. I strongly recommend the PayPal option because you'll see the cash a lot faster and you eliminate the possibility of a check being lost in the mail.
====> Click Here to Join Ebates for Free and Start Earning Cash Back Today
Get the Cash Back Button
The easiest way to earn cash back while you shop is to install the Ebates Cash Back Button as an extension to your web browser. With the button in place, you'll receive automatic notifications of discount and cash back opportunities when you visit your favorite online stores.
The Cash Back Button is completely safe to install and use on your computer. It's designed to make your shopping life easier and more efficient. To earn cash back on your purchases, you must activate the Ebates tracking mechanism before completing your transaction.
If you don't have the friendly reminder (Cash Back Button) installed, you have to remember to go to the Ebates website before you shop. Unfortunately, members all over the Internet end up kicking themselves regularly because they forgot to take this critical step. So, I recommend you cover yourself by adding the browser plugin.
Go Mobile With Ebates
Download the free Ebates app from the app store for your iPhone or from Google Play for your Android device and get access to savings from anywhere. Ebates has never been easier to use because you can get access to mobile-exclusive deals from some of your favorite stores.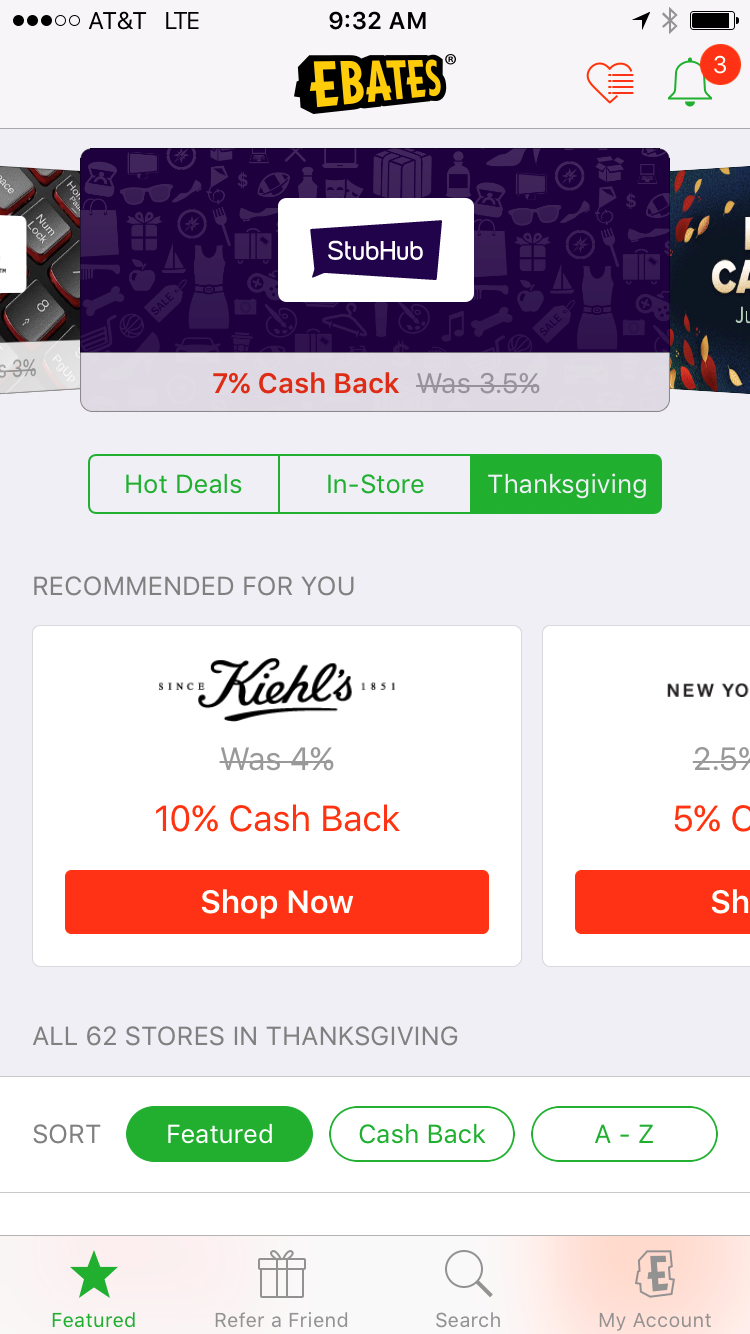 How to Get Cash Back on Brick and Mortar Store Purchases
To earn cash back when shopping at local retail outlets, you must add a credit/debit card to your account, link the in-store offer to your card, and then make your purchase using the linked card. You can add your card using either your computer or your mobile device.
It's a pretty simple 3-step process.
Login to your Ebates account.
Go to the "My Account" tab, select "My Wallet" and then click on the "Add A Card" button to add your card details.
Make your selection from the available in-store offers and link your card.
That's all there is to it. Once your purchase is complete, you'll receive an email notification from Ebates of the cash amount added to your account. Depending on the vendor, it could take as much as a few days for your reward to post.
====> Click Here to Create Your Free Ebates Account and Put Cash Back in Your Wallet
Refer Your Friends and Family
If you enjoy the savings and like using Ebates, send your referral link to friends and family members who may also benefit from earning cash back on purchases. Send your link by email or post it to your social media accounts.
You can earn a $5 bonus for each individual you refer to Ebates who makes a qualifying purchase of $25 or more within one year. Don't let your friends miss out!
Are You Looking for Ways to Earn More Online?
I view Ebates, and similar reward sites like Swagbucks, as highly worthwhile and excellent ways to make a little pocket money for the holidays and other special treats. I take advantage of these sites all the time because it's such an easy way to stretch my monthly income a little further.
But you certainly can't earn enough to pay the bills with rebate programs of this type. Your earnings will be very limited. If you're interested in an opportunity to make more substantial earnings online, I suggest you investigate my top recommendation, a platform called Wealthy Affiliate (which is also free to join as a Starter Member).
Wrapping Up
I hope you found this review of Ebates helpful and now feel more knowledgeable about how to get cash back on purchases. Ebates is a completely legitimate program that's been around for a long time. In an online world where scams abound, you can trust this site to stretch your purchasing dollars.
Happy shopping! 🙂 But do be sensible in your use of Ebates and similar programs. It's a great way to save money on everyday products and expenditures you were already planning to make. Don't let the attractive offers suck you into overspending for the sake of a small rebate. Deal?
Have You Tried Ebates?
If you've already joined Ebates, we'd love to hear how much you've earned. Will you drop a note in the comment section below and tell us about your experiences? We can all benefit from hearing both the plusses and minuses you've observed.
Like It? Please Share It!