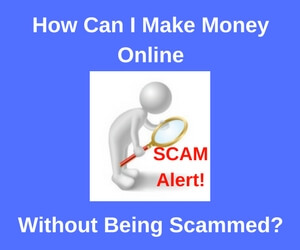 Working from home online (PJs optional 
) is a lifestyle dream for millions! I'm writing today's post,
How Can I Make Money Online Without Being Scammed
, in a sincere effort to protect my readers because those heartfelt dreams create vulnerability.
Your hopes and dreams are a scammer's greatest weapons!
Schemes abound on the Internet. Dreams evoke emotional responses, and perpetrators of scams take ruthless advantage of this fact because they know that emotions can cloud our judgment. I've been there, and I've witnessed many scammy tactics!
Please don't allow your hopes to be dashed or your wallet sucked dry in pursuit of an online business. I've been working online from home for a year now, and I assure you that legitimate opportunities do exist. I view myself and this website as living proof.
I'm happy to share my secret with you.  But first, let's talk about some of the red flags that should set off all sorts of alarms when you read them.
Beware of These Major Red Flags
Are You Being Asked to Enter a Credit Card Number Without Knowing Exactly What You're Buying?
Okay, full disclosure. A little over a year ago, I fell for this. I read an offer to get started online at a price I could afford ($97).  So, I eagerly keyed in my credit card number based on nothing more than vague hype about videos and tons of money making opportunities.
I got lucky, and I was able to get my money back eventually (sometimes the money back guarantees that characterize these programs are honored). I've chalked it up as a valuable learning experience because the poorly done videos I purchased did raise my general level of awareness about what was necessary to be successful online.
To make money online, you need a website, hosting for your website, hands-on tutorials, and access to resources like a keyword research tool. Unfortunately, my $97 payment included none of these things, and I wasted several frustrating days viewing yucky videos before realizing I'd bought nothing but lofty-sounding, half-baked ideas!.
Stay tuned below, and I'll explain this popular gimmick further!
Are You Buying a Promise of Big Bucks in Days or Weeks?
Yes, these promises are rampant on the Net! We've all seen them and, if we're honest with ourselves, we know they're a bunch of nonsense! Can you make money online?
Yes, of course, you can!
Intuitively, we recognize that based on the existence of hundreds of thousands of websites and roughly 3.5 billion daily Internet users. But, it doesn't happen overnight or without significant effort. If you're not willing to roll up your sleeves and work, you need to walk away and let go of your online dreams now!
Any legitimate site will warn you that it takes months of consistently posting quality content to attract a following and start to see small returns. Earning a consistent income stream often requires a year or even longer. Watching the momentum build is incredibly exciting and worth the time and effort, but it's not without its frustrations.
Are you willing to commit to eventual success?
What's the Rush?
Don't fall for pressure tactics! Purchases should always be made based solely on the merits of the actual product itself. It's so common to see ads for programs that are only available for a limited time or to a small, select group. Ask yourself what they're afraid of?
They're playing on your emotions (and fear of losing out) to push you into a decision that you might not make with more time to consider. Remember, you're seeking a long-term solution for earning income from home. Products of value will be there long enough for you to make an informed decision.
Eventually, I discovered the perfect solution for me. The program's been around for 12 years, and there was never any pressure to make a purchase. On the contrary, I was encouraged to create a free account and explore at will before buying anything.  This feels like proof of legitimacy to me. What do you think of this approach?
Don't Play the Upsell Game!
Scammers love upsells! They suck you in with an upfront price that doesn't feel too bad (like the $97 deal I mentioned above). I pledged to explain this subterfuge in more detail and here it is. For my initial payment, I got access to a website with high-level, essentially useless videos.
After letting me flounder around for a day or two, I got a phone call from my marketing specialist. He told me that if I was serious about making money online, he was prepared to mentor me. This specialist was extremely forthright. Success was not possible on my own. My realization came a bit late, but to my chagrin, I had already figured this out.
The fee I paid to "get started" online didn't include any tools!
For a couple of thousand dollars more, I could be wildly successful. This is a prevalent con game which droves of hopeful online entrepreneurs sadly fall for every day. Fortunately, I refused the proffered services, initiated my refund process, and resumed my search anew albeit a bit more jaded.
My Scam-Free Solution to Making Money Online
I stumbled upon Wealthy Affiliate within days of renewing my search. From my newly acquired perspective, I was thrilled to see no red flags. The WA platform is an all-inclusive program that encompasses all of the resources and tools I needed in one place.
They did not ask for a credit card. Rather, WA offered me a 100% free Starter Membership. I had all the time I needed to poke around and not only determine the nature of the services on offer but also try everything first-hand. My first website was live and visible on the web within hours of completing my profile page. Sweet!
Naturally, more training and resources are available to Premium members than to Starter members. But a Starter Membership includes a lot (2 free websites, hosting, 10 free lessons, 7 days of live chat, and more). And, WA does not employ pressure tactics. You can upgrade to a premium membership when you're ready, or not. The advantages of premium membership are explained, but the choice is yours.
I love the fact that the owners of this platform tell it like it is! There are no empty promises or guarantees of riches. You get everything you need to build a profitable business including community help and support. But like all business everywhere, it takes time and persistence. Do you have the necessary work ethic?

If this online marketing platform does not feel like a good fit for you, there's no need to apply for a refund because you haven't spent a dime.
A premium membership is $49/month or $359/year. I've been a premium member for a year with no intentions of leaving because the value is incredible and everything about it works for me.
Final Thoughts
Have you been wondering, how can I make money online without being scammed?  If so, you now know the warning signs of less than ethical programs. Don't become another scam statistic!
Legitimate programs exist that can assist you in achieving your online goals. WA offers a stand out service within the online business space. With nothing to lose, I hope you'll join tens of thousands of other members and me in the exceptional community!
If you have more questions or if you've experienced scams yourself, give me a shout in the comment section below.
And please, share these red flags to prevent your friends and family from experiencing online scams! We want everyone to stay safe!
Like It? Please Share It!