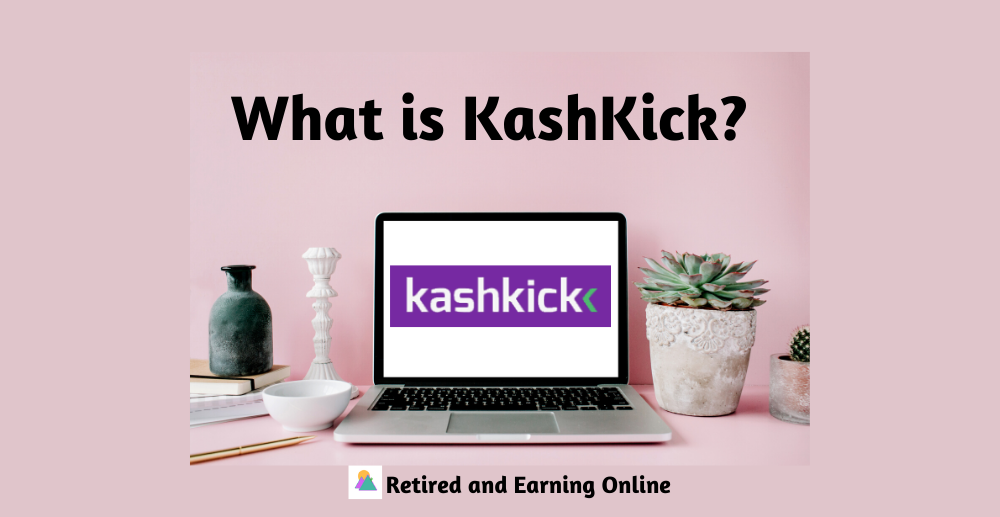 There are many ways to make money on the Internet, and one of the more popular methods is by using GPT sites. For that reason, folks often ask,
what is KashKick
?  You hear the name bandied about on social media. But there aren't always enough details to make an informed decision.
To join or not to join…
Unfortunately, not all GPT sites are created equally. Many are entirely legit. But then there are others that seem a bit shady. Moreover, even the legit sites that are safe to use may not be your best choice.
Is KashKick legit? Let me just say that while it appears legitimate, there are some areas of concern that we"ll talk about. Based on both my personal experiences with the site and my research, I would probably recommend looking elsewhere.
Without further ado, let's do a walkthrough of KashKick, shall we?
KashKick At A Glance

Product Name: KashKick
Product Type: GPT Site
Website: KashKick.com
Price: Free
Summary: KashKick is a GPT website where consumers can get paid to take surveys, complete offers, and refer friends. In general, GPT rewards sites are best for those who are content to earn a few extra bucks per month. But there are better platforms than KashKick.
My Rating: 1 out of 5
Recommended?: Not Really
What is KashKick?
KashKick is a GPT (Get-Paid-To) website that pays members to take surveys (opinion polls), to complete offers, and to refer other users to the site. Some online information suggested additional ways to earn, such as watching videos or searching the web. But when I joined those avenues were not available.
The platform seems to be a relative newcomer. The website is well-done with an attractive and easy-to-navigate interface. But what I find concerning is the lack of information regarding ownership or launch date. There's also no information on the larger review sites like TrustPilot.
Per the Terms of Use agreement, membership is limited to residents of the US, Canada, Australia, or the UK who are at least 18 years old.
How to Make Money With KashKick
Step one to making money on any survey or GPT site is creating an account. You can sign-up with KashKick for free with just a name and email. You will have to confirm your email address, and then you're ready to get started. Unlike many other similar programs, you will not receive a sign-on bonus from KashKick.
But you will earn $1 for completing your profile. With all survey sites, completing your profile thoroughly and honestly is of paramount importance. All surveys have target audiences, and your demographic characteristics allow you to be appropriately matched up with relevant polls.
Completing Offers
Immediately upon logging in to KashKick, you will see a page of featured offers. You can earn bonuses for signing up for trial subscriptions, downloading apps, and joining other survey sites or rewards sites.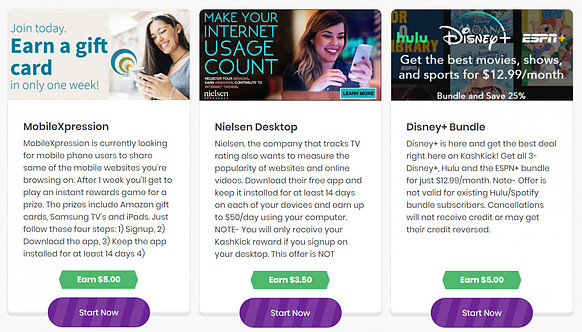 There are several offers available at this time (28 in total). But most GPT sites have multi[le offer walls with a lot more opportunities. Additionally, when I attempted to accept one of the KashKick offers by clicking on it, I got an error message saying the site could not be found.
If offers are vital to you, I believe you will hinder your opportunities by relying on KashKick.
Paid Surveys
KashKick seems to have a large number of surveys available through their website. I have qualified for several, which is always positive because disqualifications can be very time-consuming and not at all productive. And some have paid decently (as surveys go).

I like the fact that my earnings were instantly credited my account. On many survey sites, there is a delay before funds appear. But, I also noticed that none of the surveys I took were unique to KashKick. In each instance, I was sent to another survey router site (in most cases, YourSurvey).
The thing to note here is that I can take YourSurvey's on many other platforms. And, generally speaking, the compensation rates are somewhat higher on other sites. Another advantage is that competing platforms like Inbox Dollars or Rewarding Ways have more varied tasks available.
It's nice to have the option to watch videos, read emails, or play games. Doing nothing, but surveys can be tedious. And, while some of the KashKick surveys don't pay too badly, many have very low rates.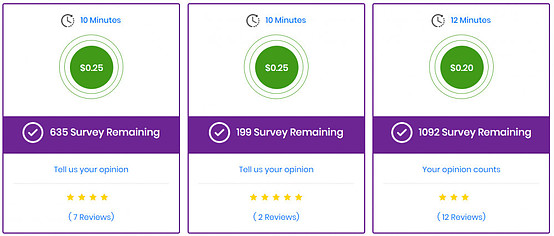 There is an additional factor that bothers me somewhat. KashKick is not at all transparent about partnering with third-party survey providers. I know they work with YourSurveys only because I was accepted to complete a survey and was transported to their site. I can't speak to what other providers KashKick uses because no information is available.
Referral Program
KashKick's referral program is a generous one and could be the best way to make money through this platform. If you have a lot of friends who enjoy surveys or a large social media following, you will receive 25% of the lifetime earnings of each individual you refer.
Furthermore, you will earn 5% of the earnings for every person your referrals invite to the program. Referral income is effectively passive income. Once you send the referral link, and someone joins KashKick using your code, you will make money without having to do anything further.
How Will You Get Paid?
KashKick uses my favorite payment method. All distributions are made via PayPal. If you want to use the site, you must create a free PayPal account and provide your PayPal email address. The minimum threshold for distribution is $10. A $10 payment level isn't too bad.
Both Rewarding Ways and Offernation will allow you to withdraw via PayPal after you earn $1, which is more appealing. On the other hand, Inbox Dollars makes you accumulate $30 before you can ask to withdraw your money. So, you'll find quite a bit of variability in payment terms.
Is There a Better Way to Make Money Online?
Paid surveys are an incredibly popular way of making money online. It makes a lot of sense for many people because the tasks are simple, it doesn't require a major commitment, and you can fit surveys into your downtime.
There's nothing wrong with completing surveys for a bit of extra spending money.  It can cover some of life's little pleasures that might not otherwise fit into the budget.
But, if you're really dreaming of earning a livelihood on the Internet, you can't get there with surveys. You will have to step a little further outside your comfort zone and invest more effort. It won't happen overnight. But with some hard work and persistence, it is possible to create a lucrative online business.
I invite you to join me and thousands of others who accepted the challenge of creating an online business. The platform where I built my website is always open to new members who want to learn affiliate marketing from the ground up. The training, resources, and supportive community are exceptional.
You can discover the advantages of working online from home with a no-risk, free Starter Membership, Don't regret not following your dreams and exploring all your options!
Final Thoughts
I hope I was able to answer your question, what is KashKick? You should now have a much better idea of how the platform works. I can't say that KashKick isn't a legitimate opportunity, but I do think there are better options available.
To be fair, there are things such as the clean, uncluttered interface, instant crediting of survey earnings, and distributions through PayPal that I like very much.
But I'm not real comfortable with the lack of background information, and no consumer ratings through sites like Trust Pilot. And frankly, there aren't enough ways to make money to satisfy me. But keep in mind that it's free to join. So, if you love surveys, it might not hurt to give it a shot.
I also hope you'll decide to broaden your horizons and join me at Wealthy Affiliate, where you can explore the possibilities for launching your own online business. I accepted a similar invitation 4 years ago, and I've never looked back!
Join the Conversation
Have you tried the KashKick platform? If you have, and you disagree with my assessment, please feel free to call me out in the comments. More importantly, do you have a favorite GPT site that you'd like to share with us? If so, we'd love to hear about it!
Like It? Please Share It!