What is Offernation seems to be a frequently asked question? Since this GPT site is one of many options for making money online, I decided it was time to sign up and add my review to the mix.
I applaud those who are joining me today to make sure this is a legitimate program because we all know that the Internet is home to many programs that are best avoided. In fact, many are outright scams where real potential exists for honest folks to lose their hard-earned money.
I'm comfortable assuring my readers that Offernation is not a scam. But, is it worth your time or a timewaster?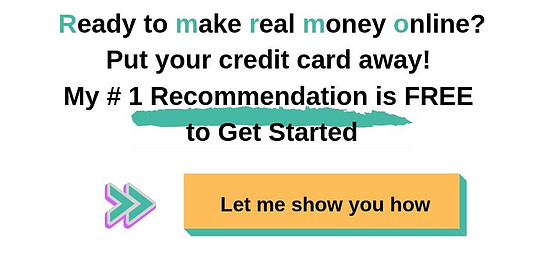 Let's dive into the details of Offernation and see where that review leads us, shall we?
What is Offernation and How Does it Work?
Offernation is an example of a GTP (Get-Paid-To) site where you can make money for taking surveys, watching videos, completing offers, and participating in cash contests. The website is owned by 99 Ventures LTD, which is a London-based online advertising company that also owns similar sites called Rewardingways.com and Superpay.me.
Indications are that Offernation has been operating since 2013 with mostly positive reviews and payouts over $600K. You can create a free account in about a minute and receive a $0.25 sign-on bonus. Worldwide members are welcome as long as you're at least 18 years of age.
From there, you're immediately able to start completing tasks which pay in either dollars or points. Point conversions are simple because 1 Point = $0.01.
How to Make Money Off Online Surveys
Offernation proclaims itself to be the best paid survey site. While they're not the only organization making that lofty claim, I will say they have hundreds of surveys available from numerous different providers. One caveat is that not all surveys are available to members from all countries. Some surveys are location dependent.
Of course, your demographic profile may also disqualify you from many surveys because marketers are targeting people with specific characteristics. But, the image below gives you some sense of the volume of offerings.

The Offernation website is easy to navigate. Just click 'Paid Surveys' in the menu bar and make your selection from an extensive list. One annoying factor is the need to complete multiple profiles to determine eligibility with the various advertisers. But, if you can handle the repetition, your survey-taking opportunities are vastly expanded.
As with all survey sites, the best way to earn rewards is through thoughtful responses. Be aware that there are security checks, and your account will be flagged for inconsistent answers. Companies need consumer input to improve their products and services. But they're only willing to pay for honest input.
During my first morning of membership, I completed a survey through SaySo for Good, and my reward of $1 instantly appeared in my account. However, the rules do state that some surveys will take longer to credit. So, you may need to be a little patient.
How to Make Money by Watching Videos
For some people, making money for just watching videos may be the ultimate side hustle. Offernation has video viewing offers through Hideout TV and CreatorA Day that pay a few cents per clip that are viewed. Find videos by selecting Offerwalls in the menubar.
Here's a snippet showing a few video choices among many.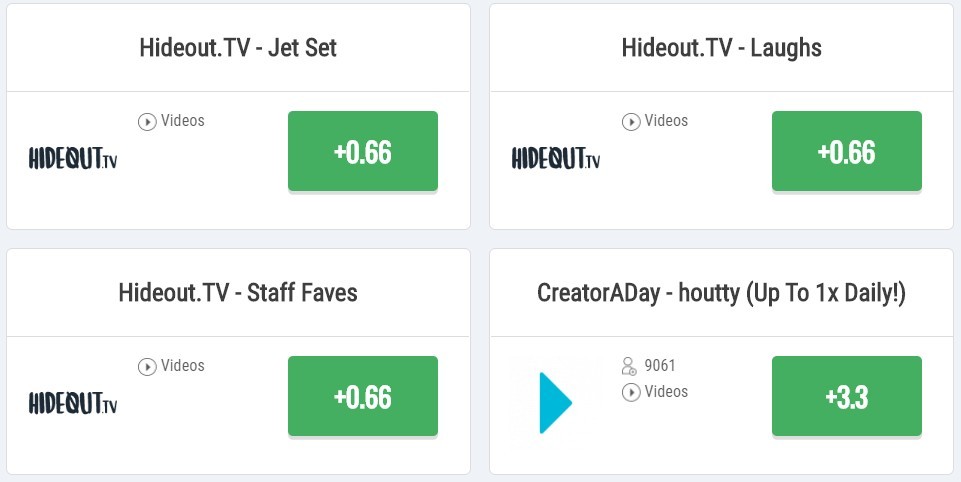 Hideout TV offers unlimited daily viewing of things like movie previews and amusing pet stuff. On the other hand, each CreatorADay video can only be viewed once each day. For example, you can watch chefs preparing recipes. Naturally, the whole point is advertising. So plan on seeing a lot of embedded ads.
Make Money By Completing Offers
I advice exercising caution with offers because they can sometimes cost you far more than you will earn. This area entails performing a wide variety of tasks. For instance, you can earn points for signing up for services like Hulu or Home Chef as a first time user. If you were thinking of doing this anyway, it could be an excellent way to get the desired service at a discount.
You can also do things like download and try apps, play video games, order magazine subscriptions, or unlock even more surveys. In many cases, you activate trial offers and have to remember to cancel before the end of the trial period, or you incur unwanted costs. In other situations, you have to make a purchase.
There are some good deals to be had. Just make sure you carefully read the fine print to avoid costly surprises.
Make Money With Offernation Cash Contests
Offernation periodically hosts cash contests in which all worldwide members are automatically entered. The current contest period runs from August 1st through October 31st of 2019. There is a total prize bucket of $1,000 to be allocated amongst the top 20 global earners on the Offernation site with the highest money maker getting $350.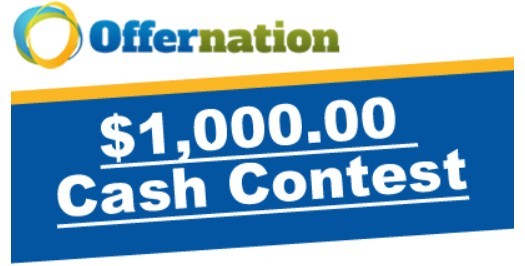 The Offernation Referral Program
The Offernation program has a generous referral program. Everyone receives a unique link upon joining. You can find your link under Home in the menubar. Invite family and friends to join with you by sharing your unique link on social media platforms or through email.
For each referral who registers using your link, you will earn 25% of that person's Offernation earnings for life.
How Do You Get Paid?
Offernation pays members in cash or e-gift cards as soon as they earn minimum balances and make a payment request. One nice feature is that the required minimums are very low relative to other rewards sites. You can request a cash withdrawal with earnings of $1 using Paypal or Skrill. E-gift cards for Amazon or Tango require a $5 minimum balance.
Whenever I review a site like Offernation, I'm always anxious to see the payment process in action. Show me the money, right? And, I have to say I was impressed. A few hours after joining, my account balance rose to $1.25, and I  requested a $1 withdrawal through Paypal, which was instantly processed.
I was a little disappointed by the 2% processing fee. But overall, I was pleased that the funds were in my Paypal account within about 2 hours of making my request.
Offernation Pros
The program is free to join
Membership is available worldwide
Easy to navigate website
Plentiful surveys with no daily limits
Lots of tasks including videos to watch and offers to complete
You can make money in your downtime from the comforts of home
Low minimum balance requirements for withdrawal
Prompt payment processing
A generous referral program
Offernation Cons
Very limited earnings potential that's well below minimum wage standards
2% transaction fee on all cash withdrawals
Conclusion
Thanks for joining me today for this what is Offernation review and my personal take on the program. So, is Offernation worth your time? Because Offernation is a completely legitimate program with multiple ways to earn from home, I'm going to quibble on that one a bit and say maybe.
Quite frankly, it's nothing that I personally would pursue. If you've been following me for a while, you know that I hate taking surveys. The frustration of frequent disqualifications and the repetitive questions make me nuts! But more than that, I found a far more profitable way to make money online that you can read about here that I absolutely love
However, some people really like sharing their opinions through surveys and enjoy the simplicity (God bless you! 🙂 ). In that instance, there's nothing wrong with earning a few extra bucks a month to pad your budget and pay for some little indulgences.
Joining is free, so it probably makes good sense to check Offernation out and see if it's a good fit for you. Click here to create a free account.
Over to You
Do you have any personal experiences with Offernation that you'd like to share with us? We'd love to hear about it, so please jump into the comment section below!
Like It? Please Share It!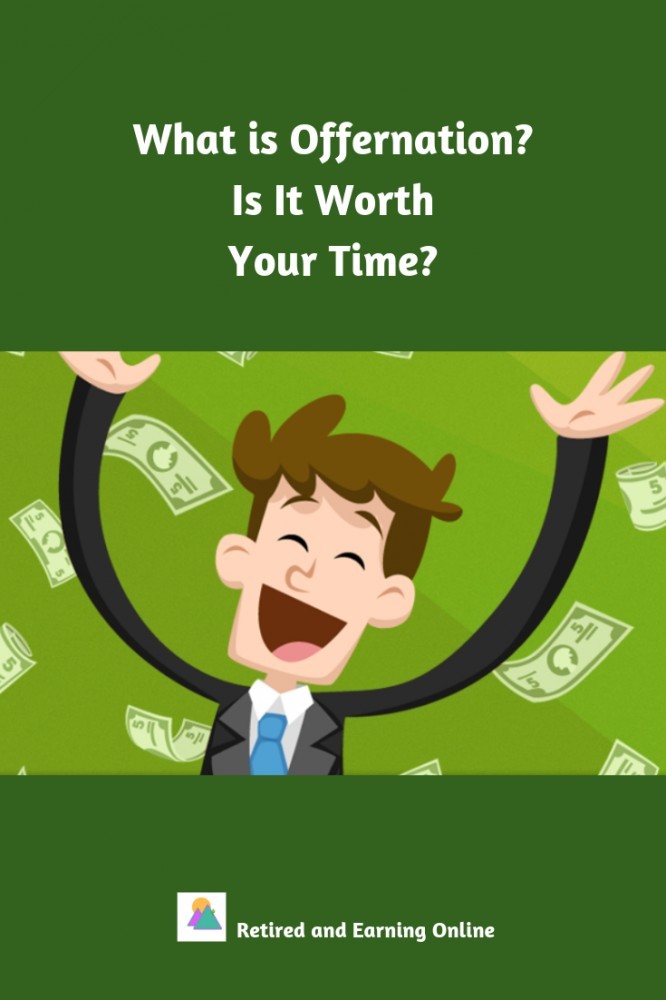 Please Pin It!