Spotting the words "affiliate program" on any site invariably sparks my curiosity. But, the Thrive Market affiliate program was particularly attention-grabbing because I have many diverse readers for whom this program could be an exceptional fit.
This unusual vendor caters to multiple niches with unique and well-defined characteristics. Thrive Market is an online, membership-based organization that's on a mission "to make healthy living easy and affordable for everyone."
They have a social mission that goes beyond making the planet better with natural, safe, eco-friendly products. For every paid membership, Thrive gives away an annual membership to a family in need.
Products are organized by dietary needs and also by lifestyle values. For example, they cater to customers who follow Vegan, Paleo, Ketogenic, and Gluten-free diets (among others) and strive to offer the best products available in these categories.
Moreover, Thrive has identified more than 70 values and aligned their offerings based on factors like sustainably farmed, biodegradable, BPA-free, hypoallergenic, recyclable, and many others. Hence, they curate and personalize their offerings in a way that lets you filter based on things that are important to you.
So, let's explore how Thrive's affiliate program might benefit your online business, shall we?


What is an Affiliate Program and How Does it Work?
Let's look at this in terms that everyone can relate to, shall we? So, most of my readers know I'm an avid golfer. Not long ago, I hit the links wearing a new pair of golf shoes. A friend on my golf league thought they were cool and asked where I found them. Naturally, I was happy to share.
Next thing I know, we're twinsies!
Has this ever happened to you? Wouldn't it be nice if you made money on that helpful tip?
Heck yes, it would!
And, therein lies the beauty of affiliate programs.
In simple terms, an affiliate program is an arrangement whereby an online vendor shares a piece of the revenue pie with a publisher (affiliate marketer) for sending sales their way. As e-commerce continues to explode in popularity, affiliates drive roughly 81% of online sales.
Check out the infographic below for an overview of how affiliate programs work and the roles of the various participants.
Specifics of the Thrive Market Affiliate Program
Thrive Market is an online membership-based marketplace offering healthy products you can have shipped right to your home. Enjoy savings of 20 – 50% off retail prices on the products you purchase. And, get free shipping on orders over $49.
New members can try out Thrive out with a free 30-day trial membership. You can cancel at any time before the end of the trial period or become a paid member at an annual cost of $59.95 (the equivalent of $5 per month).
It's important to know that Thrive Market guarantees that customers will save enough to cover their membership fee by the end of their first year of participation. Or, their account will be credited the difference. Consequently, there's little to no risk in joining the Thrive family that currently has 600,000+ members.
Affiliates earn a fee of $20 for each referral who joins as a paid member. There is a 14-day referral cookie. You can sign up here through the CJ Affiliate network.
How to Make Money With a Thrive Market Partnership
Are you excited at the prospect of making money online but also want to work with socially responsible companies? Then the Thrive Market affiliate program is not one you will want to pass up. Social responsibility is intrinsic to the operations of this organization.
Many readers will appreciate the nutritious and organic pantry staples and wellness products that are available. Your followers may also enjoy the incredible convenience of stocking their pantries on-the-go. They can do this by downloading Thrive's to their IOS or Android smartphone.
Here's a high-level overview of how affiliate marketing works and your path to earnings.

Online business success starts with pouring focus and passion into the development of an informative and helpful niche website. Your website creates a showcase for your content marketing efforts that are directed at the needs of a target audience. Over time, visitors will flock to your site as you add value in the online space.
Answering questions and offering worthwhile solutions is the way to attract relevant visitors. Furthermore, a website with interested traffic will make money.
But how do you know what questions to answer?
I'm glad you asked! So, let me provide a response in the form of a specific example that could advantageously use a business relationship with Thrive Market. This suggestion is perfect for entrepreneurial-minded individuals who adhere to a Vegan lifestyle and feel driven to assist others with similar philosophies.
Vegans believe in abstaining from the use of animal products, particularly when it comes to their diet. Moreover, those who follow a veganism philosophy, along with others who are contemplating making this change have lots of questions that can be unearthed through Keyword research.
The Magic Begins With the Right Keywords!
In a nutshell, keywords are nothing more than the queries that Internet users are typing into search engine text boxes. As a result, they provide invaluable insights for bloggers whose mission is to craft the most useful and informative blog posts for their readers.
Targeting low-competition keywords and using SEO best practices will attract the right eyes to your articles.
For instance, here are just a few sample keywords for a Vegan blog to get the creative juices flowing: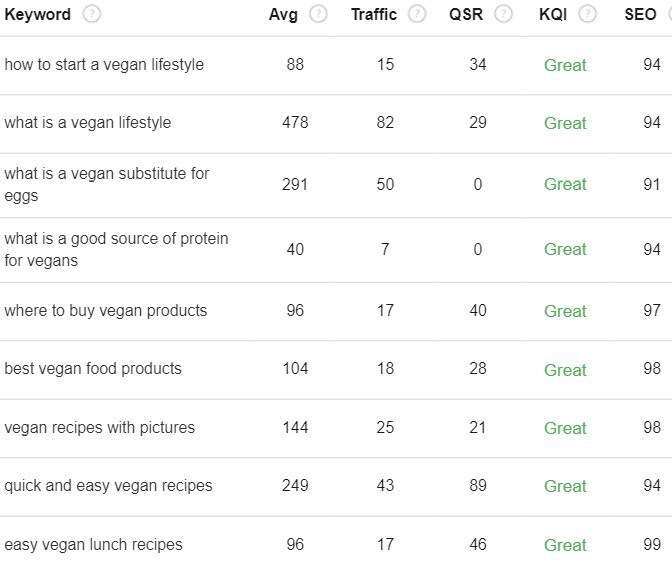 Notice that each of these keyword gems has a great KQI or Keyword Quality Index.  What's more, the small number of competing websites makes ranking your post in Google reasonably easy. I compiled this list in minutes using a powerhouse tool called Jaaxy.
And the best part? There are thousands more where these came from!
Content marketing is exciting because once you research and write an article, your post can make you money for months or years to come. Combine quality content driven by real customer concerns with excellent affiliate programs, and you have a winning combination.
For veteran and newbie Vegans alike, there are always new tips to learn. Similarly, finding appropriate and tasty products that fit with special dietary needs is an on-going effort. Consequently, a source like Thrive that has an extensive array of satisfying Vegan products is perfect!
I used a Vegan thrust as my example here. But you could just as easily substitute Paleo, Gluten-free, or Ketogenic with the same outstanding results. Hundreds of the highest quality products are available to meet the needs of your readers who have distinct dietary and lifestyle preferences.
Final Thoughts
My goal is to help new and aspiring bloggers find helpful tips, guidance, and inspiration to constructively fuel their dreams of making money in the online environment. So, I hope this review of the Thrive Market Affiliate Program has the wheels turning for you.
You can read more here about the myriad benefits of joining a world-class training platform. Or, if you're eager to jump right into the affiliate marketing fray, click the banner below to create a risk-free starter membership in my top recommended program.
I wish you great success as you pursue your goals!
Over to You
Do you have any experiences with Thrive Market to share? Can I answer any additional questions on this topic? If you jump into the comments below, I will happily respond!
Like It? Please Share It!