The question in today's post title is one that bloggers ask and discuss with great regularity. I no longer hesitate at all when asked, what is the best SEO plugin for WordPress? Hands down, my recommendation is Yoast SEO.
*updated from an earlier post originally published in 2016
As bloggers, our primary mission is to create compelling content that is both informative and highly useful to our readers. We also want to optimize our content so that it will be found and rank well in the search engine results. Yoast SEO is an excellent tool that is designed to help with both of these objectives.
There are multiple reasons why webmasters favor Yoast SEO for websites that vary from small local business sites to the largest and most popular sites on the globe.  If you're struggling with the dilemma of how to get more traffic to your blog, this post is definitely for you.
So, let's dive in and explore the benefits of this popular plugin for your affiliate marketing niche website, shall we?
What is the Yoast SEO Plugin for WordPress?
Yoast SEO is a free and extremely powerful WordPress plugin. This plugin analyzes both the Search Engine Optimization (SEO) friendliness of your post and the readability of your content. Yoast SEO gets my vote because it's super intuitive.  Moreover, it's easy to understand and to implement.
I love Yoast's traffic light analogy that shows you a green button if your post is optimized, a red button for problems noted, and a yellow/orange button for suggested improvements. The positive actions you can take to improve are clear.
Awareness of Search Engine Optimization (SEO) is essential to the success of a niche website. Yoast takes all the guesswork out of the process with a checklist and visual tracking system. It all starts with a focus keyword that is relevant to your niche.
Perform keyword research around a topic and determine the message you want to communicate to your readers. You will then draft a post around the main keyword that you want the search engines to use to find and index your article. Enter your focus keyword on the Yoast SEO analysis tab below your WordPress text window.
SEO Friendly Factors
This plugin scans and analyzes your text and tests for the following SEO friendly elements:
Have you used your keyword in 5 important locations?:

the URL of the page
the title of the page
the meta-description
the main heading of the article
the content of the article

Do you have links to other pages within your website?
Does your article include links to external sources?
Have you included images in the article with alt text attributes (preferably your keyword)?
What is the density of usage of the focus keyword in the article?
Have you used a focus keyword that you have not used on any other pages to prevent competition between your own pages?
If your blog post is relatively SEO-friendly (based on the aspects mentioned above), Yoast SEO will indicate this with a green bullet. Crafting pages that achieve green bullets will help you increase the ranking of the pages on your website.
Note that every dot does not have to be green for the overall score to be"good."  For instance, here are the results for this post, which has a "good" score: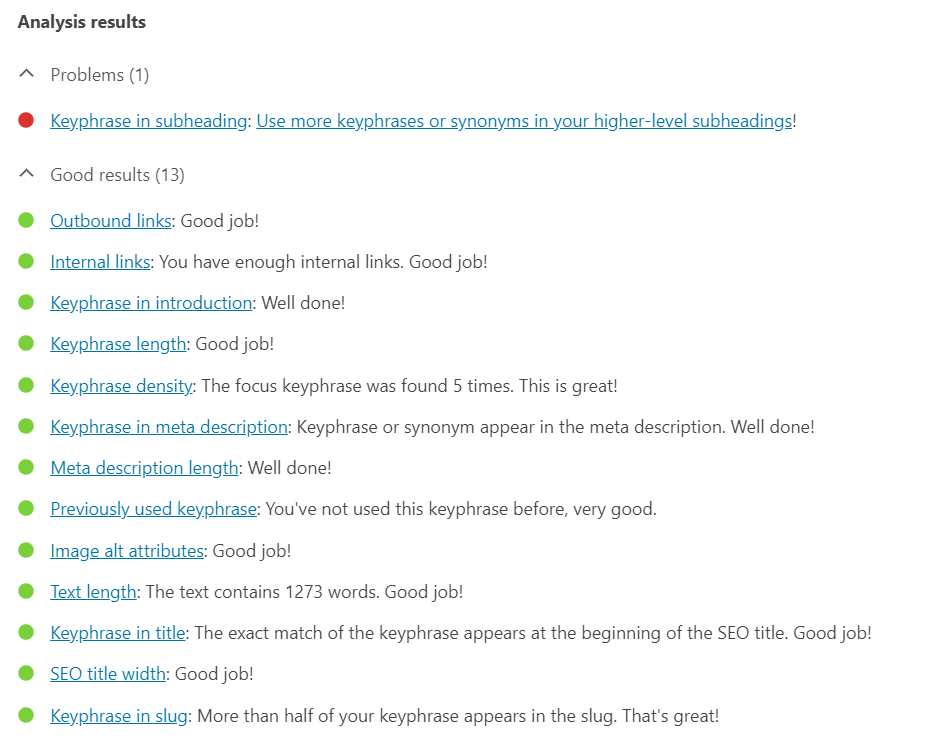 Readability Analysis: A Powerful Tip

 
Of course, we're all aware that the SEO factors discussed above are not sufficient to get your website to rank high in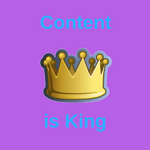 Google. The most important factor is good content. The objective is to create enticing content that informs, persuades readers to take action, and encourages sharing.
Yoast SEO can help because it analyzes your content and prompts you to make it easier to read. When reading an article on the Web, no one wants to feel like they're plowing through a technical manual. Yoast SEO scans your document and calculates a Flesch Reading Ease score.
Studies indicate that a score between 60 and 70 is appropriate for a general Web audience.  Therefore, Yoast assumes that this is your target score. Furthermore, this powerhouse of a plugin will guide and support your efforts to achieve a wider audience.
The program also checks for paragraph and sentence length. In general, we want short paragraphs and concise sentences. It checks for sufficient headings which make articles more scannable and for the use of active voice rather than passive voice.
Finally, Yoast scans your text for transition words such as because, so, firstly, in addition to, or consequently. These signal words send a message to readers that something important is coming. They tend to glue paragraphs of text together.
Here's my readability score for this post:

What Are the Benefits of Using Yoast SEO?
A well-written, easy to read blog post will encourage readers to stick around and ensure that your message is better understood. Yoast Seo provides helpful guidance and nudges you to incorporate factors that improve quality and readability.
If you then take steps to optimize your content for the search engines, you can feel good about creating a blog post that is well-positioned for both higher rankings and higher conversions.
Read more: 'SEO copywriting: the ultimate guide.'
Install Yoast SEO

Yoast SEO is a free plugin that can be downloaded and installed from your WordPress dashboard.  Go to Plugins and then Add New. You can then search available plugins for Yoast SEO and select the choice displayed below.
Note that I have already installed this plugin, so the button in the upper right-hand corner now reads active. When you initially download the program, that button will read install. Just click to install and then activate.

If you are currently using another SEO plugin (I was using AllinOne SEO), you will be asked if you want to migrate the settings. Click yes to do so.
Make sure enable sitemap is selected, and you're set. You will want to go back to your earlier pages and posts to ensure green lights for SEO and readability for all previous content. You may be surprised at the number of factors you overlooked initially.
I find the free version to be enough, but if you want even more optimization, you can check out the Yoast SEO Premium plugin!
Here's a helpful video that walks you through the installation process:
Have You Created Your Website Yet?
If you have not yet created your website that will allow you to begin making money from home, what are you waiting for? You can build 2 free websites today by creating a free Starter Membership with an outstanding online community called Wealthy Affiliate.
You can read my review here, which includes all of the great features included with a free membership. Or, if you're ready to try it now, click the button below.

Wrapping Up
Can you understand why I've concluded that Yoast is the best SEO plugin for WordPress?  It's like having the luxury of a proofreader without the expense.  Yoast's SEO analysis encourages bloggers to write content that ranks. What's more, it helps you fix errors that may be hindering your ranking progress.
But wait. there's more…
By maximizing the readability of your content, you open your site up to a broader audience.  And what blogger doesn't want that?  Consider the advantages Yoast offers as you continue on your journey of learning how to get more traffic to your blog.
Join the Conversation
Are you currently using Yoast SEO to enhance your website? If not, have I persuaded you to give it a try? Please leave any comments or questions below. And, as always, please be sociable.
To your success!