As I inhale the tantalizing aroma of freshly brewed coffee every morning, I'm often inspired by thoughts of making money with gourmet coffee affiliate programs. I know I'm not alone in my coffee cravings or my fascination with trying new gourmet blends.
In fact, everything I read suggests that I'm just one member of a broad and growing niche audience. The National Coffee Association (NCA) Data Trends Report for 2019 tells me that 63% of American adults drink coffee daily (consuming 3.2 cups per day). The report also notes that 61% of coffee drinkers choose gourmet coffee.
That's a staggering market!
If you're a coffee aficionado, I invite you to explore these excellent gourmet coffee affiliate programs for inspiration on how to make money in the lucrative gourmet coffee niche.

5 of the Best Gourmet Coffee Affiliate Programs
As an affiliate marketer, you can participate in the multi-billion dollar gourmet coffee industry without ever having to pick, roast, grind, or brew the coffee beans. Simply learn to promote the stellar products of one or more of the following organizations and collect your commissions.
KOA Coffee
KOA coffee is known for being of the finest quality and worthy of a connoisseur.  The KOA coffee plantation in Hawaii produces 100% Kona coffee that is always hand-picked and expertly roasted. Forbes magazine dubbed this the "best coffee in America."
Customers may select ground or whole bean premium Hawaiian coffees in several roast profiles including Medium, Vienna, or Dark Roast.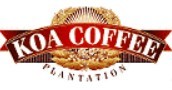 Affiliates earn a 20% commission on all purchases of KOA coffee through their link. Additionally, KOA offers a 90-day cookie. This policy means that if someone clicks your link and then returns to purchase at any time in the following 90 days, you will earn a commission on the sale.
ShareASale administers the KOA Coffee affiliate program, and you can sign up here.
VitaCup
VitaCup represents a unique and exciting partnership opportunity. Delicious gourmet coffee is infused with vitamins and anti-oxidants to add a desirable wellness aspect to your blog. At VitaCup, customers can choose from a variety of ground coffees, coffee pods, coffee energy shots, and espressos to supercharge their morning pick-me-up.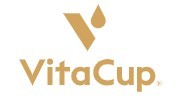 My favorite is the innovative Genius blend. This unique blend contains essential vitamins (Vitamins B1, B5, B6, B9, B12, & Antioxidants), nutrients to power your body and your brain (MCT Oil and Turmeric), a subtle hint of cinnamon, and Vitamin D. Combining these powerhouse ingredients with delicious 100% Arabica coffee is an amazing way to start your day.
Expand your content writing options by partnering with this organization while also receiving a 10% commission on every sale with a 30-day referral period. Sign up through CJ Affiliate here.
Gourmesso
Gourmesso offers high-quality coffee made from Arabica and Robusta coffee beans in more than 25 different varieties. Try unique espresso blends ranging from dark to light roasts. Offerings also include a variety of flavored coffee blends like coconut, almond, chocolate, and vanilla.

Your customers will find coffee capsules that are compatible with Nespresso machines and also 100% compostable Keurig coffee pods that are environmentally friendly. Affiliates receive an attractive 20% commission on each sale with a referral cookie of 30 days.
CJ Affiliate administers the Gourmesso affiliate program. Find out more about partnering with Gourmesso here.
Coffee Wholesale USA
Coffee Wholesale USA, founded in 1997, continues a more than 20-year tradition of bringing great roasted coffees to the public at wholesale prices. They specialize in four delicious brands, including All Day Gourmet, Miss Ellie's, The Coffee Club, and Native American Coffee.

Additionally, other popular coffee brands are available such as Starbucks and Seattle's Best. Coffee Wholesale also offers a mouth-watering line of coffee cakes in addition to coffee and related supplies
By partnering with Coffee Wholesale USA, you can earn up to 9% commission. Your visitors can fulfill their needs for gourmet coffee, coffee supplies, and attractive gift baskets. Find information on the Coffee Wholesale Affiliate program here.
Amazon
Partnering with Amazon is an excellent choice in most niches, and the coffee niche is undoubtedly no exception. Consider that the food and beverage segment is Amazon's fasting growing segment, and coffee is the most popular product within this segment. In 2018, Amazon sold more than $140 million in coffee products.

With a 4% commission rate, earnings on individual sales may be lower than with other affiliate programs. But the rate is only one factor in the determination of earnings with the volume of sales being at least as significant. In addition to gourmet coffee, Amazon has an enormous line-up of related products such as coffee makers and grinders.
Amazon Associates also earn commissions on any product that a referral decides to purchase on the Amazon site for a period of 24 hours. You can read more about how to become an Amazon affiliate here.
Making Money With Gourmet Coffee Affiliate Programs
Identifying organizations with whom you can affiliate is a preliminary step on your journey to a lucrative online business as an affiliate marketer. Hopefully, the ideas and possibilities are churning, and you'll decide to pursue this business endeavor further.
Without question, accessibility is one of the most appealing aspects of affiliate marketing. Unlike most brick and mortar businesses that require significant capital investments, the barriers to entry into the online world are minimal. Certainly, you will need guidance, training, and access to crucial resources.
But, I can assure you that everything you need is within your grasp.

Affiliate Marketing: It Works!
We're at the point in this discussion where folks are demanding, show me the money. So, I want to do just that and describe the process in more detail. Fundamentally, affiliate marketing entails connecting with an audience that has particular needs for information and products.
Success demands that you provide relevant and helpful data in a format that your target audience can find and absorb. Connecting with prospective customers and forging meaningful relationships by answering questions is essential, and in this Internet era, you will accomplish that feat by using a website.
Just as your desire to get the scoop on gourmet coffee affiliate programs led you to my site today, so too you will build an informative website and learn to draw readers. Initially, your total focus should be centered on researching the needs of your target market and developing content that addresses their queries.
Why?
Because a website that draws interested visitors will inevitably make money. So, first and foremost, you must establish your site as a credible source of information. The infographic below expands upon this brilliant business model.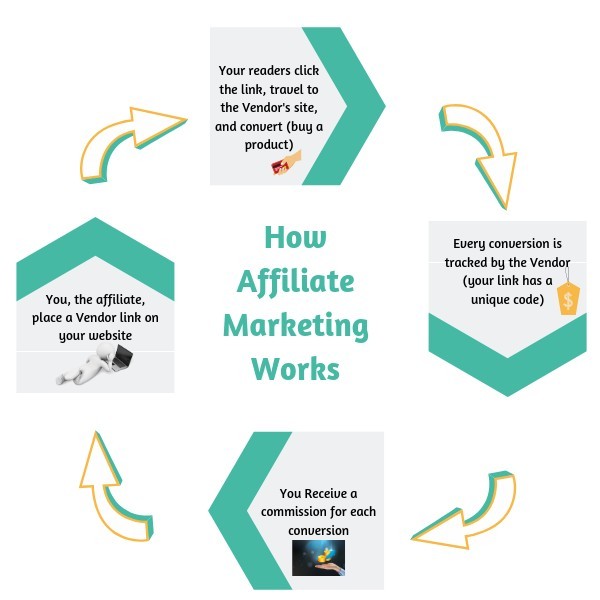 Periodically, I read promotions filled with nonsense that suggest all you need to do to make money online is post a bunch of links. Have you seen some of those promos also?
Wrong!
You need to ask yourself how people will find your affiliate links and what would motivate folks to click those links and engage in purchase transactions. In a nutshell, the motivator is quality, trustworthy content that answers questions that real people are regularly asking.
Fact: Billions of people conduct Internet searches every day!
Queries conducted by your target audience will lead to your website if you understand the proper use of keywords and search engine optimization.
A quick search in Jaaxy reveals distinct customer interest and some attractive keywords in the gourmet coffee niche.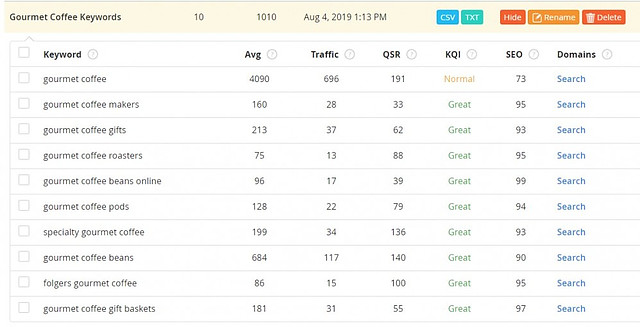 These related questions also provide some excellent fodder for appealing blog posts.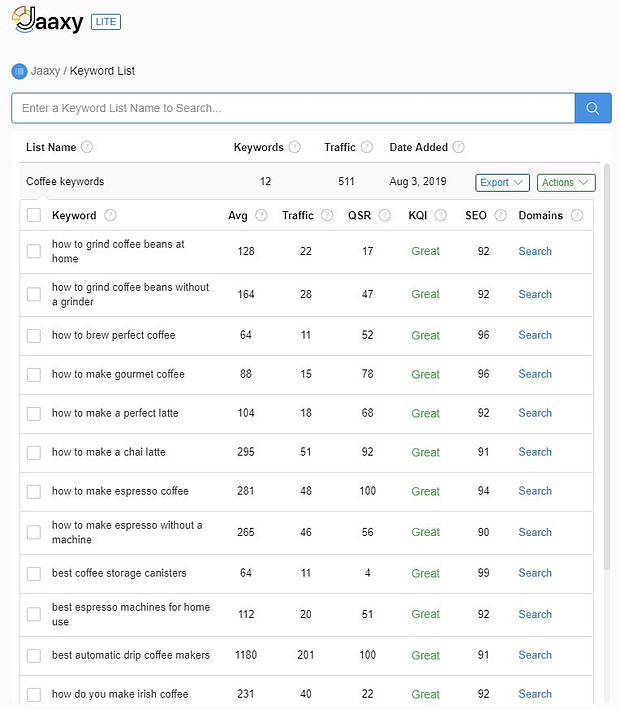 Am I spurring your curiosity? It seems the domain name GourmetCoffeeDrinkers.com is also available.
Final Thoughts
You can definitely turn your interest in gourmet coffee affiliate programs into a lucrative business venture. But you do need to take massive action to make that happen. I applaud the eagerness to learn more, which led you to my site.
Since you've come this far, I hope I can convince you to take that next vital step in your online journey. I found all the support and tools I needed to launch my profitable website when I found this sophisticated website training platform. I got started for free, and I hope you'll give yourself that same advantage.
To your success!
Over To You
Did this post on gourmet coffee affiliate programs meet your needs and expectations? Do you have any experience with the affiliate programs listed above that you can share? I'll hope to hear from you in the comments below!
Like It? Please Share It!