Without a doubt, learning how to work from your laptop is a life-enhancing experience. After spending 40 plus years in a traditional cubicle/office setting, I find it liberating to be able to have the autonomy and flexibility to choose both my hours and my working environment.
The fact is that we live in this incredible era of interconnection that is positively teeming with opportunities. Billions of people search for information of all kinds on the Internet everyday. Clearly, someone has to write the informative articles we devour. Why not you and I?
To be sure, there are multiple ways to work from home using your laptop. Some of these include freelance writing, selling your own products, or perhaps offering your services as a virtual assistant. I wouldn't necessarily discourage any of these approaches. But I do think there's a better way.
As online shopping becomes the norm, this massive trend has fueled the growth of affiliate marketing as an industry. It's not surprising that multitudes of vendors have embraced this advertising and business model. Merchants can build market share and consumer awareness about products in a cost-effective manner.
For many reasons, affiliate marketing is a brilliant approach to business and represents an exceptional opportunity for entrepreneurial-minded individuals.
So, please grab a cup of coffee and stick with me as I explain why affiliate marketing is the best way to create a sustainable income while working from a laptop,
How to Work From Your Laptop as An Affiliate
If you have a laptop and a reliable Internet connection, you can embark on a business venture that stirs your passions. Frankly, the best part is that you're no longer tethered to other people's agendas. We're talking about a scenario where you're the boss, and you call the shots.
Sounds pretty good, doesn't it?
Surprisingly, even with the prominence of affiliate marketing today, I find that the process is still poorly understood. Therefore, we need to change that which is a big piece of my mission today.
The simplest way to describe the role of an affiliate marketer is to say we help to connect people with the products or services they're already looking for. Rather than developing products of their own, affiliates function as middlemen to promote the goods and services offered by other vendors in exchange for a fee.
Here's an image depicting how it all works: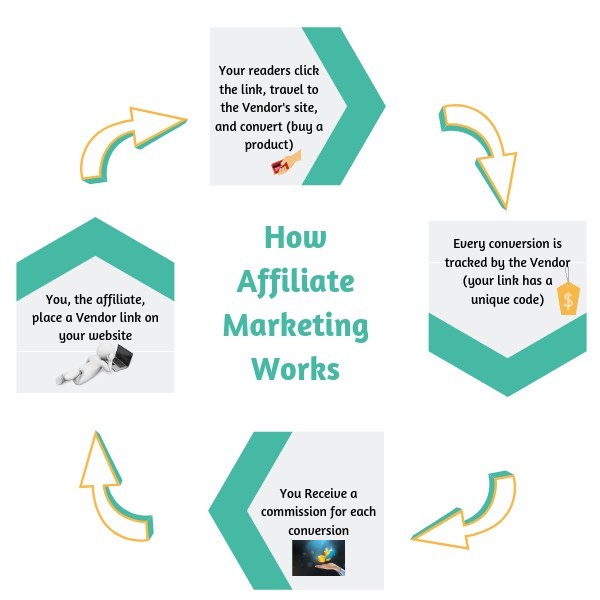 For those affiliates who can generate traffic and turn high-quality traffic into sales, there are abundant rewards. In fact, if you have what it takes to scale your business, the income potential is unlimited
So, what does it take?
Working from your laptop to develop a successful online business is not conceptually difficult. Nor does it require any real technical skills. But that doesn't mean it's a slamdunk either. The biggest determinant of success is your level of drive and motivation. Or, what I like to think of as the three P's: passion, persistence, and patience.
4 Basic Steps – Let's Get Started
I want to introduce a blueprint that anyone can follow to launch an online business. Understanding and following these four steps will quickly have you on your way to living a laptop lifestyle where the ability to work and earn an income is location independent and just an Internet connection away.

Choosing a Direction – The Passion Factor
What is it that makes you want to charge out of bed in the morning and get right to it? Okay, maybe you're not a morning person 🙂 But once you recharge, there's a topic or hobby that you find endlessly enthralling and fascinating. If you had your druthers, this is how you would spend your time.
Again, affiliate marketing is fundamentally about connecting people with stuff they're already searching for. Successful connections are easiest if you have real insights into what it is that people need help finding. So, I recommend that you do some soul searching and hone in on something that you are always excited to converse about.
Focusing on something specific is essential. The idea is to build a following over time of like-minded individuals who share your passion. We refer to these kindred spirits as your target market or niche. You will be regularly researching and communicating with your target market by means of content marketing or blogging.
Take the time at the outset of your journey to develop a prospective customer persona. What are their top questions? What nuggets of information would they find most useful? How can you help them resolve their biggest and most painful issues? Can you provide comprehensive and insightful product reviews that will help your readers make more informed purchase decisions?
The vast majority of online retailers sponsor affiliate programs that are free to join. The practice makes perfect sense because advertisers get wide reach into narrow niches that they wouldn't necessarily be able to serve otherwise. Consequently, it's a good practice to investigate potential affiliate programs at this stage.
Creating an Online Presence With a Beautiful Website
Setting up your affiliate niche website is a quick and easy process. That said, there are a few early decisions and critical considerations we should talk about
Picking a Domain Name
Readers have to be able to find you on the Internet, which means you need a unique address or domain name. It's best to keep things relatively short and simple. The goal is a name that's brandable and memorable. Some people decide to use their own name while others search for an available domain that reflects the topic of their site.
Either of these naming conventions can work well. But I do strongly recommend that you choose a dot com extension. If your purpose in creating the site is business-oriented rather than personal, I think a dot com extension sends that message most clearly as it's what people have come to expect.
My domain name costs me $13.99/year, so it's not an expenditure that will break the budget.
A Self-Hosted vs. Free Website
Free websites created through sites like Wix or Blogger are great if you want a social communication tool. But no matter how tempting that price tag sounds, a free blog is not going to cut it if you're looking to establish an online business. You absolutely need your own piece of Internet real estate which means going the self-hosted route.
You'll need to secure a web hosting package. But your site won't be stored on a subdomain, and you won't have numerous limitations and restrictions that come with free websites and limit your ability to make money.
Which Website Builder Should You Use?
You absolutely want to build your website using WordPress, which is far and away the most popular builder and content management system. Most of the free blogging platforms have proprietary website builders that seem great on the surface because they're very easy to use.
But there are huge disadvantages to the proprietary approach. The biggest obstacle being the lack of portability. You will not have the option to move your blog elsewhere if you discover you need more in the way of hosting services. Conversely, I have the ability to move my WordPress website to any number of reputable hosting providers.
Selecting a Theme
When you install WordPress, one of the first things you must do is select a theme or overall design for your website. This is another area where WordPress really shines because there are thousands of free themes to choose from, and many premium themes also.
Make sure you choose a theme that's clean, responsive, and SEO-friendly. Most themes are highly customizable, and you can make it your own by customizing many aspects such as color palettes and font styles. I use and love HitMag. Generate Press is another super choice.
Installing Some Basic Plugins
Plugins extend the functionality of WordPress. There are hundreds of free plugins available, but I don't suggest getting too carried away. Too many plugins can slow your site down, which is the last thing you want. I do strongly recommend an SEO plugin (I use Yoast). Lazy Load is also beneficial for speeding up page loading times.
Check out the video on my Build a Website page to observe a site being created in real time in less than a minute.
Attract Visitors With Your Stellar Content
You're now ready to start cultivating a readership by crafting informative blog posts that address the burning issues of interest to your target market. Brainstorm relevant topics and expand your list by joining forums like Quora and checking out competing websites.
Answer the Public is another free resource you may want to explore. Find insightful content ideas presented as search clouds based on actual queries that your prospective readers are typing into Google. What an excellent way to get to know your audience better.
When you uncover interesting queries (also known as keywords), you can plug the data into a keyword search tool to find useful stats like the average number of times the keyword is searched in a month and how many competing websites are already targeting that keyword.
Content marketers are always in search of low competition keywords that receive a reasonable volume of searches. We often refer to such keywords as low-hanging fruit because it can be relatively easy to rank for these keywords in Google and other search engines.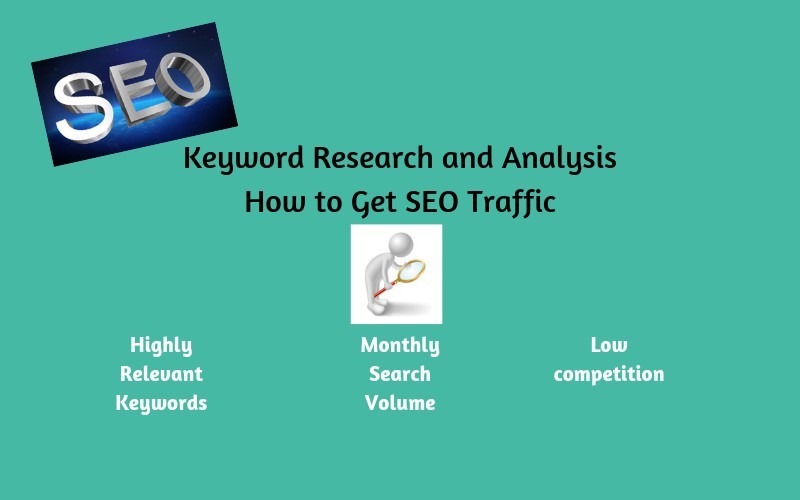 A website that gets regular traffic will make money. Hence, the free traffic that the search engines send to your website is highly desirable. Finding juicy keywords is a huge piece of getting SEO (search engine optimization) traffic.
Does keyword search work? Absolutely. I find Jaaxy to be an invaluable tool for researching and analyzing the best keywords. And I always employ a checklist to keep me on track with SEO techniques.
It will take some time to establish yourself and gain credibility with both the search engines and visitors to your site. You must perform your research and develop a body of useful and related content. Keeping your head down and working through this is where the persistence and patience factors come into play.
Earning Revenue – The Reward for Your Efforts and Patience
Picture this: Your website is taking shape after months of diligent work, and you feel enormous pride in your creation. You have a substantial body of informative, quality content, and both the search engines and readers are taking notice.
Your rankings are shooting up, and Google Analytics reports that your traffic is growing. And, then it happens. You wake up, check your accounts, and discover commissions in your PayPal account. The process works! Your website, which is open for business 24/7 was hard at work while you slept.
You now realize that your laptop is a money-making machine, and you can scale this business venture to any level you choose. Let me assure you, the excitement is palpable!
Final Thoughts
Whether you're sitting at home, enjoying your favorite coffee shop, or traveling to destinations on your bucket list, it's rather magical to open your laptop and get to work. The experience is so different from traditional workforce trappings. For this reason. I can't say enough good things about learning how to work from your laptop.
Roughly three years ago. I discovered an online platform called Wealthy Affiliate, where I found all the resources, training, and support I needed to launch my affiliate marketing website. For me, it's been an amazing journey with life-changing ramifications.
If nothing else, I truly believe you owe it to yourself to at least experience the thrill of creating your own website with a risk-free Starter membership at WA. See what all the fuss is about. And, please drop me a line on my profile page to share your thoughts.
I look forward to hearing from you and wish you well!
Over to You
Do you have questions about working from your laptop that I've failed to answer? If so, please give me another chance and drop your questions in the comment section below. It will be my pleasure to answer!
Like it? Please Share It!