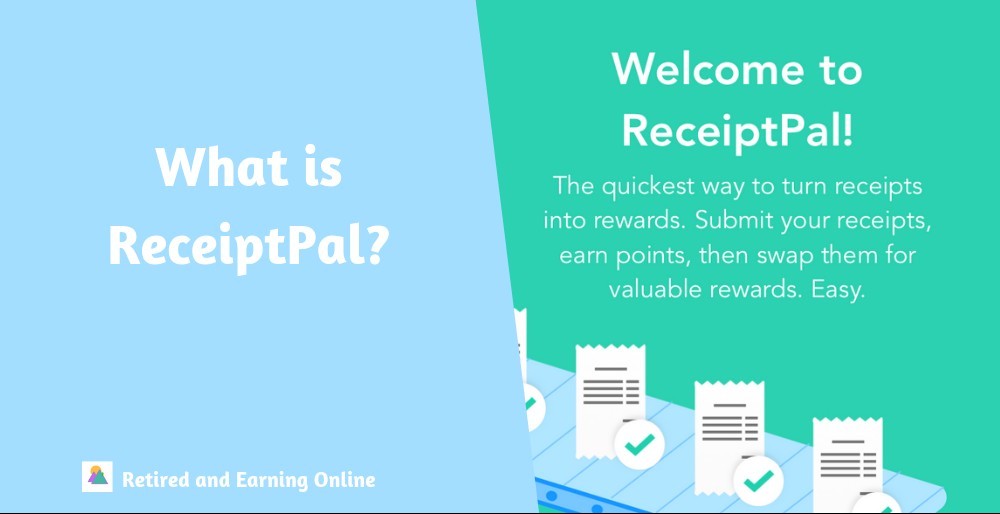 In this comprehensive ReceiptPal review, we'll explore a number of frequently asked questions like what is ReceiptPal? Is the ReceiptPal app legit? And, can you really earn valuable gift cards with this app?
Recently, ReceiptPal has captured my attention and piqued my curiosity by advertising via one of my favorite iPhone games. I admit it wasn't difficult to reel me in because I'm a big fan of various receipt-scanning apps already.
As a consumer, I seem to make a lot of purchases and collect my share of receipts. I also like to save money to stretch my monthly budget wherever possible. So, I was interested in seeing if ReceiptPal was worth using or not. Again, it's not like we haven't encountered receipt-scanning apps before. But how is ReceiptPal different?
Let's take a further look at the ins and outs of this program, shall we?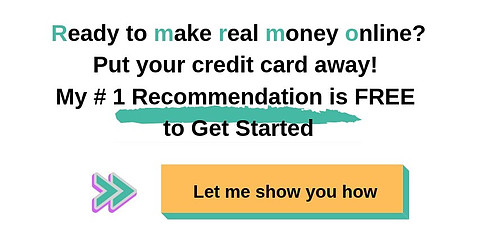 What is the ReceiptPal App?
ReceiptPal is owned by NPD Group, which is one of the largest marketing research firms in the world. NPD has been around since 1966 and specializes in gathering data about consumer purchasing behaviors. Aggregate data collected helps companies and brands to identify trends and to make better product development decisions.
ReceiptPal is a mobile app launched in 2013 that provides NPD with yet another mechanism for collecting information about consumer spending patterns. The app is free and available for download on both iPhones and Android smartphones. Creating an account takes seconds because all you really need is an email account and password.
How Does ReceiptPal Work?
ReceiptPal is a way to earn rewards in the form of points for virtually all of your everyday consumer purchases. Hang on to all those receipts. Then simply lay them on the table or counter (any flat surface will do), open the app, snap a photo, and click submit.
All those receipts for groceries, pharmacy supplies, filling the gas tank, clothing, travel, and entertainment, and restaurant dining suddenly has some value. Unlike cash back grocery apps like Ibotta or Checkout 51, you don't have to purchase specific items to receive credit.
You cannot earn cash by scanning receipts with the ReceiptPal app, but you do earn points that are convertible into gift cards. You also receive sweepstake entries for each receipt submitted. Drawings are held each Monday, and you could win a cash prize of $250.
When you first join ReceiptPal, you receive 150 points just for signing up, and you get 5 point cards to fill. You must snap photos and upload 4 receipts to fill each card, and a completed card is worth 100 points. The image below shows a point card that has yet to be filled.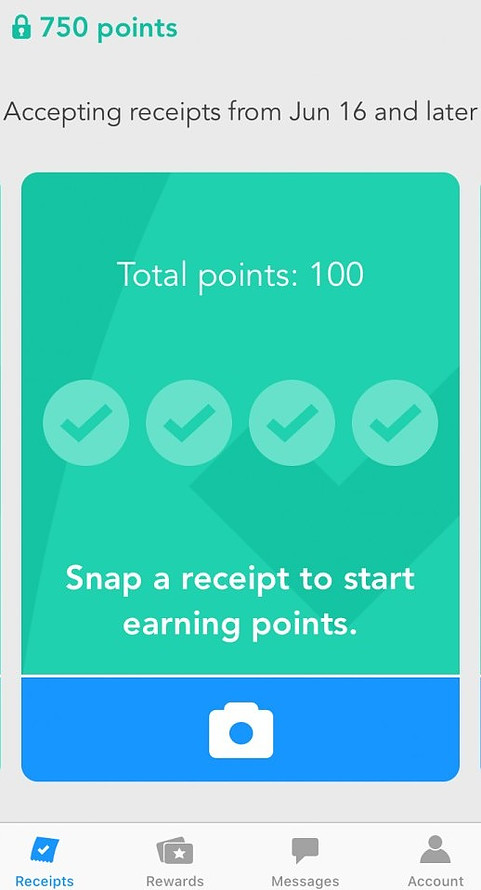 Simply click the camera icon to take photos of your receipts. Points are added to your account once the receipts are verified which typically takes about 24 hours. In addition to printed receipts for offline purchases, you can connect your email account to submit all of your online electronic receipts automatically.
Receive 300 bonus points for each email account you connect up to a total of 3. Moreover, you can connect your Amazon account for a 300 point bonus and to automatically receive credit for all Amazon purchases
When you fill a card, you become eligible for a bonus. View the image below to see my latest bonus notification.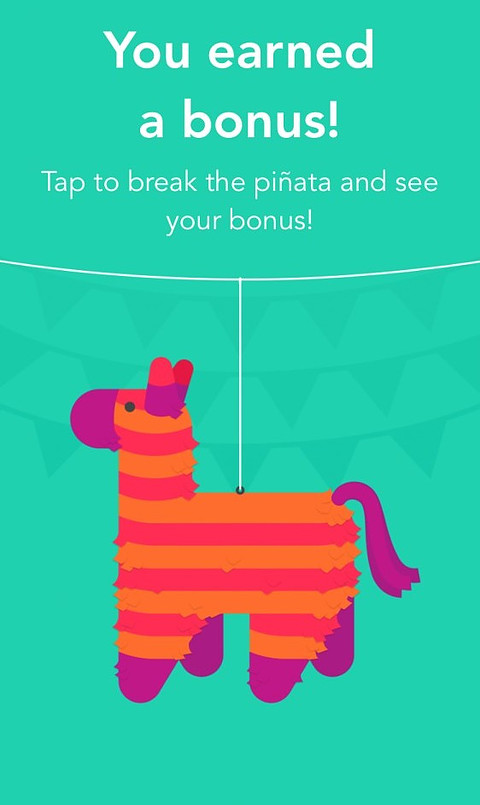 Bonuses vary and may be additional points or perhaps extra sweepstakes tickets. Each Sunday at noon, ReceiptPal distributes additional point cards to members. You may receive up to 3 new cards each week depending on how many cards you filled in the previous week. You can never have more than 5 point cards in total.
If you fill all of your point cards, you should still continue to upload any additional receipts you have. You won't earn points, but you can upload the receipts using your sweeps card and receive 2 sweepstake entries for each receipt.
Sweepstake Drawings
An independent organization called Bi Worldwide conducts the weekly sweepstakes drawings. Entries from the previous week are aggregated into 3 groups depending on the day in which the entry was earned. The three entry periods are Sunday to Monday, Tuesday to Wednesday, and Thursday to Saturday.
Three prizes are awarded each week with one winner from each entry period. Winners receive a $250 pre-paid debit card. As with any other drawing or game of chance, your probability of winning will vary based on the number of participants.
A Few Cautions
It's best to upload receipts immediately because they expire. Receipts for any purchase made during a week (running from Sunday to Saturday) must be uploaded no later than the following Tuesday.
All receipts for consumer purchases earn points, but you cannot upload bills for things like utilities, insurance, or cell phone charges.
The photo you snap for uploading must be very clear and contain the entire receipt with the name of the vendor, the date, location info like a phone number or zip code, and the amount.
Handwritten receipts are not acceptable.
Be sure to remain active and continue scanning. After 90 days of inactivity, you will forfeit your points.
Redeeming Your ReceiptPal Points
To be able to redeem points for gift cards, you must have your email connected for 30 days and earn a specified number of points. The required points are as follows:
2200 points = $5 Amazon (or other Retail) Gift Card
4000 points = $10 Amazon (or other Retail) Gift Card
9259 points = $25 Amazon (or other Retail) Gift Card
Once your Amazon account is connected for 30 days you also become eligible for these awards:
17250 points  = $50 Amazon Gift card
32250 points = $100 Amazon Gift card
As you can see, the conversion rate improves as you acquire more points. So, it makes sense to let your points accumulate over time before you cash them in.
Pros and Cons of Using ReceiptPal
Pros
The app is free to download.
The time investment required is minimal.
It accepts virtually all consumer purchase receipts, including e-receipts for online purchases.
As your point balance grows, points become more valuable.
Cons
Due to weekly limits on the number of receipts you can upload, it's impossible to earn gift cards quickly.
Some users will be uncomfortable connecting their email and Amazon accounts.
Currently, ReceiptPal does not have a referral program
Final Thoughts
Hopefully, I've fully answered the question, what is ReceiptPal, and clarified how the application works. Is the ReceiptPal app legit? Yes, you can indeed earn valuable gift cards using this program even though the process is slow.
But, at the end of the day, is it really worth your time? The answer to that one is going to differ by the consumer because it's a value judgment. Unquestionably, ReceiptPal offers limited and small rewards. Still, in my opinion, ReceiptPal is worth using, and I've added it to my arsenal of money-saving apps.
The determining factor for me is that it takes virtually no time or effort to snap a picture of a receipt and click submit. Furthermore, since I'm already saving and submitting receipts using apps like Fetch, CoinOut, and ReceiptHog, why not upload one more image? I view it as a bit of free money.
That said, I certainly understand the desire to earn much more substantial, even life-changing, streams of income. If your goal is to work from home and make a recurring part-time income or even eventually replace your full-time income, you'll want to consider the platform where I started my online business.
Wealthy Affiliate is a premier training facility where you can learn absolutely everything you need to know to become a successful affiliate marketer. You can read more here about the myriad benefits of Wealthy Affiliate membership. Alternatively, since a Starter Membership is free and entails no obligations of any kind, why not just click the banner below to take action now.
Over to You
Do you have any experience with receipt-scanning apps like ReceiptPal? Are you planning to give this app a try? Please share your thoughts and ask any questions in the comment section below.
Like It? Please Share It!