So, the questions have been pouring in about rewards programs of late. The query leading the pack has been
What is Treasure Trooper?
And this is always followed closely by Is Treasure Trooper Legit? This website claims to be the place "where cash and fun collide," and I decided it was time to put that claim to the test.
Is this website a good side hustle where you may be able to make some extra money each month? To be clear, I understand some of the concerns and the hesitation around Treasure Trooper. This is not your run-of-the-mill rewards site. There are some highly unique facets to this one.
So, without further jabber, let's explore the ins and outs of this platform!
What is Treasure Trooper and How Does it Work?
Treasure Trooper is an example of a get-paid-to (GPT) rewards site where members can earn money for performing simple tasks like taking surveys, watching videos, or completing offers. The site is free to join and is open to anyone 13 years old and older.
When researching Treasure Trooper, I was somewhat put off by not being able to find any information regarding the owners or start-up of the organization. There's no entry in Wikipedia, with CrunchBase, or with the Better Business Bureau. In fact, I couldn't even find an About Us page on the website.
And yet, there's evidence that Treasure Trooper has been around since 2005. So, that longevity tends to support legitimacy. There are also consumer reviews supporting payment over the years. Moreover, I will say that I contacted support and received a prompt response to my inquiry, and I've found the members in live chat to be active and helpful.
Here are the ways in which members can earn rewards with Treasure Trooper as listed on the Earn menu. I will point out that some of these captions, as listed below, are misleading. In some cases, you are awarded actual cash for activity completion. But with other tasks, you're compensated in virtual currency like gold or platinum coins, pearls, arrowheads, or dragon scales.
Yup, you read that right. Dragon Scales! We'll talk about them a little more in a moment. For now, I'll just mention that the entire site is gamified. Theoretically, it makes earning fun, and perhaps some people would agree with that statement. Frankly, I think they've rather badly missed the mark.
I find the website cluttered and overly complicated. I wonder if the idea is to distract people with a lot of silly fluff such that users don't realize they're not making much money. It may even be possible to spend more than you earn. When you click on certain features, a comic book type character called Jack Amazon (an Indiana Jones wannabe?) pops up with guidance.
Now, that's annoying! 🙂
Cash Offers
Offers are frequently for subscriptions or trials of products and service. But there are also a lot of surveys on the list. Most pay in cash, but payment for a few is in coins which can be used at the Trading Hut to purchase gift cards or dragon scales. Dragon scales can only be used to acquire dragon eggs and other supplies for breeding dragons (i.e., pieces for the game).

Cash Surveys
Theoretically, there are 8 Daily Surveys which can be completed every day for $6 per day. That's $180 per month which would actually be a valuable addition to any budget. But this is one area where I feel there is misrepresentation going on.
I've attempted daily surveys and discovered there weren't any available. Disqualification also occurs. The advice is just to keep trying, but that's very time-consuming. It's true there are additional surveys you can try from Study Storm or Survey Seeker. In fact, there's no limit to the surveys you can take in a day. But, I suspect that very few members are credited their $6.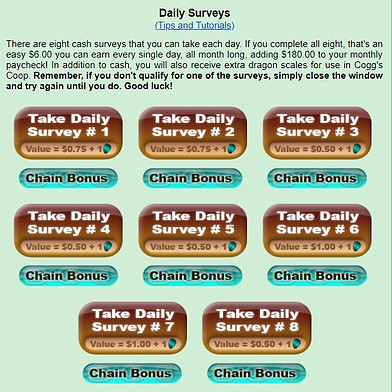 Cash Search 
Perform Internet searches using Treasure Trooper's proprietary search engine and receive credit for 3 searches a day. But searching never pays in cash. I currently have 91 more searches to go to earn a free dragon egg. Wow, right? Yesterday, my search also uncovered an arrowhead.
Unfortunately, arrowheads have no cash value. They are convertible into dragon scales, or if you collect 100, you can exchange them for one platinum coin.
Cash Shopping
You can use Treasure Trooper to earn cash back from online shopping, but I definitely don't recommend using this portal for that purpose.
Why?
Many online shopping portals are vastly superior to this one. As an example, BeFrugal partners with 5,000+ online vendors with all major retailers represented. Treasure Trooper currently has arrangements with 51 lesser known vendors.
So, which direction would you choose?
Cash videos 
Stream videos from multiple services and earn arrowheads.
Arrowhead Dig Sites
There are seven arrowhead sites where you can "dig" through offers, watch videos, takes surveys, or download apps for payment in, you guessed it, arrowheads.
Daily Poll
Answer the daily poll question and post it to your Facebook or Twitter page to get 2 arrowheads,
How Do You Get Paid By Treasure Trooper?
As discussed above, some activities earn cash rewards, and others earn virtual currencies (which are not convertible into cash). The minimum payout threshold for cash rewards is $20, which can be paid by check or by Paypal if you live in the US.
You can request instant payment through Paypal as soon as your account reaches the minimum. Alternatively, expect automatic processing of payments on the 15th of each month for the previous month's activity balance. If your account balance is under $20, it will merely roll forward.
Members can also convert platinum coins for gift cards. But you should realize that the denominations of the gift cards are high and will take a while to earn. You can acquire a $20 Amazon gift card for 20 platinum coins.
It's also helpful to understand the conversion rates for the various virtual currencies you'll earn through participation on the website.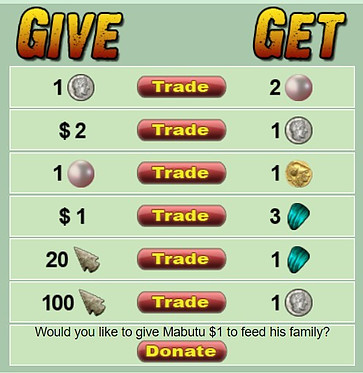 Cogg's Coop
Much of the gaming aspect of the Treasure Trooper site transpires around breeding and developing dragons from eggs to maturity. The dragon scales you earn for engaging in tasks can be spent on dragon breeding essentials at Cogg's Coop. Supposedly, you can sell dragon's for cash, but it's not at all clear how that works.
The Referral Program
If you think your family and friends can deal with Jack Amazon, Treasure Trooper has a 4 tier referral program. You receive 20% of your referrals cash earnings once they become active members defined as joining and earning $5. Moreover, you receive a credit for 5% of the earnings of their referrals.
It may also be significant to note that you can purchase referrals for a cost of 8 pearls. Check out the tiers.


The Positive Features I Like About Treasure Trooper
The Not So Positive Features
The user interface is cluttered, and navigation is difficult
The reward system is far too complicated
Everything is time-consuming to figure out which makes your return on time invested really tiny
The gamification is cheesy
The minimum threshold for payout is higher than similar sites
Conclusion – Is Treasure Trooper Legit?
I have to answer yes in answer to the question, is Treasure Trooper legit. The website launched back in 2005, activities are available, and users have apparently been paid more than $7.5 million since inception. That said, after joining the platform and trying it out, my short answer to the question of what is Treasure Trooper would be that it's a severe waste of time.

Perhaps if you're a gaming enthusiast with a lot of time on your hands, you'll enjoy the whimsy of the site, and you may make a few bucks. Please use caution because getting caught up in dragon breeding might cost you more than you earn. 🙂 At best, the earnings potential of Treasure Trooper is minimal, and I can't honestly recommend this program.
If you enjoy offering your opinions on surveys or completing simple tasks to earn a little supplemental income each month, there are other GPT sites that you should strongly consider, such as GrabPoints or Swagbucks.
Then again, if you'd prefer a real opportunity to earn a more substantial income online, consider joining me at the top recommended platform where I launched my website and learned affiliate marketing. You don't need any credit card info to poke around on the Wealthy Affiliate site. Just click the banner below to create a free account.
Over to You
If you've tried Treasure Trooper before and have a different opinion, please share it in the comments below. Also, consider sharing your favorite survey or GPT sites. I look forward to your ideas and suggestions!
Like It? Please Share It!