During these uncertain times, making money on the Internet sounds better than ever.  Have you recently come across Forthright Surveys? Surveys can be a fun and easy way to get started online. And, Forthright encourages you to "dive right in and get your feet wet."
Organizations spend millions of dollars every year in an effort to understand consumer needs and preferences. Forthright is one of many platforms that claim to help connect you with market research opportunities.
But is Forthright a legitimate platform that's worth our time? I was eager to find answers to those questions. Moreover, I wanted to discover if Forthright really does pay better than other paid survey or reward websites.
Forthright Surveys Review At A Glance
Product Name:  Forthright Surveys
Product Type:  Paid Survey Panel
Website:  BeForthright.com
Price: Free
Summary:  Forthright Surveys is a paid survey panel where consumers are paid to share their opinions on products, services, and political issues. It's important to manage your earnings expectations. You can't earn more than a little extra spending money on a paid survey website.
My Rating: 2 out of 5
Recommended?: Yes, for those interested in earning a few extra bucks each month.
What is Forthright Surveys?
Forthright Surveys is a paid survey panel located at BeForthright.com. Bovitz, Inc., which is a US-based market research firm, owns and operates Forthright. The platform brings together individuals and organizations who are willing to pay for consumer opinions and product insights.
Membership is free and appears to be limited to US residents who are 13 or older. Forthright administers their own surveys and also offers Partner Surveys from various affiliates. The Partner Surveys are not unique to Forthright but are available on multiple platforms.
Forthright Surveys does not have a dedicated app, but it's not necessary. The website is mobile friendly and allows you to take surveys on the device of your choosing. Those interested in responding "on the go" from a mobile device should not have any issues.
This platform was previously called Innopoll Surveys but was rebranded in 2017.:
How Does Forthright Surveys Work?
Sign-up is quick and straightforward. You can use your social media account or enter an email address. You must then confirm your email address. In addition to validating your email, you will be asked to input and verify your phone number.
Forthright is somewhat unusual in that you don't create a password until after your membership is confirmed. But once you join, you can go to your account tab and create a password.
As with all survey sites, you must complete your profile to be matched with surveys. Every organization that seeks consumer feedback and insights has a target market in mind. The demographic characteristics you provide in completing your profile are critical.
One of the first things you notice is the simplicity of the Forthright Surveys user interface. Below is the menu bar that appears on the left side of the screen when you log in.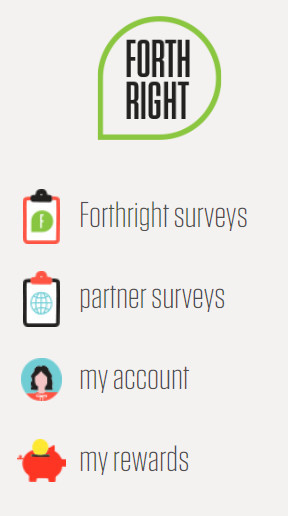 Forthright Surveys
You don't have to log in to the platform to search for surveys. You receive notification by email or text message when surveys are available. Once you receive a notice, you'll want to jump on it as surveys may fill pretty quickly.
What I have observed is that Forthright does a decent job of matching members with their proprietary survey requirements. Disqualifications can occur, but so far, they seem to be rare. And yes, Forthright Surveys pay pretty well. Rates seem to be between $1 and $3.
But here's what sweetens the pot and makes Forthright unique. For each Forthright survey that you attempt, even if you're disqualified, you earn a loyalty credit. And, when you rack up three loyalty credits, you get a $2 bonus. Unfortunately, the loyalty credits don't apply with Partner Surveys. But it's still a sweet deal.
The downside is that you shouldn't plan on getting very many surveys. I was only offered 4 Forthright administered questionnaires in my first month of membership. Depending on your demographics, your experience may be better than my own. That said, the lack of a lot of polling opportunities is a universal complaint.
Partner Surveys
Forthright makes an attempt to soften the impact of minimal surveys by affiliating with other survey providers. You must be an approved member to be able to take Partner Surveys.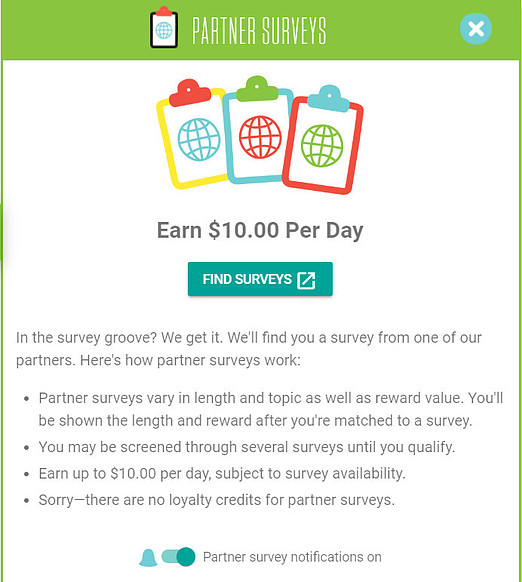 The pay rates for Partner Surveys will vary based on the length of the survey and the provider. My awards ranged from 74 cents to $2.06. The frustrating part is the stream of screening questions that you have to answer repeatedly to qualify. Moreover, I have only qualified for about 10% of the Partner Surveys I attempted.
In all honesty, I don't necessarily see much advantage in taking Partner Surveys on this platform rather than the many other websites available. I will continue to answer Forthright Surveys because the loyalty bonus is a nice feature that makes them worthwhile.
Finally, be aware that earning $10 per day may be overly optimistic. That $10 is the maximum amount you can make. It's not guaranteed that there will be enough surveys available for which you qualify that you can earn that much daily.
The video below presents a nice overview of the program:
How Will You Get Paid?
Forthright Surveys offers some very attractive rewards as follows:
Cash via PayPal
Amazon egift cards
Tango egift cards (with a wide range of retailers)
Bitcoins
Donations to Habitat for Humanity
One unique aspect of Forthright surveys is that they offer instant payments with no minimums. What's great is that users can decide whether to withdraw earnings immediately or to grow their account balance first and redeem at a later point.
When you're ready, just click on my rewards and select your desired payment method. You will be paid your entire account balance. I have cashed out twice and received my Amazon gift cards by email within seconds.
One thing to take note of is there is a 25 cent fee for PayPal distributions less than $10. Other redemption options do not involve a fee. Furthermore, I stated above that there isn't a big advantage to taking Partner Surveys through this site. One exception is this ability to withdraw instantly.
There are several platforms, such as Rewarding Ways, SuperPay.Me. And Offernation where tons of surveys are available and the minimum distribution is only $1. But there are many other websites where payout thresholds are much higher. For example, Inbox Dollars has a minimum payout of $25, which can be a high hurdle to meet.
So, make sure you compare withdrawal thresholds when selecting the paid survey site to use.
Final Thoughts
I sincerely hope you found this Forthright Surveys review helpful. My goal is to give you enough information to make a good decision for you. As always, if I failed to answer all of your questions, please give me a shout in the comments.
When you take into consideration the loyalty bonus, I do feel that Forthright Surveys pay better. Unfortunately, that's offset by the small number of surveys you can expect to see. You don't want to rely exclusively on Forthright precisely because you won't always have surveys to take on this platform.
A best practice is to join several survey websites, which will give you the best chance of having surveys available when you have downtime to complete the tasks.
As a final point, if your ultimate goal is to make enough money online to replace your primary income, then surveys are not a practical approach. Survey sites are best thought of as an avenue to earn extra pocket money that you can use to "splurge" on little extras.
If you want to earn a more significant income, I urge you to check out the industry-leading training platform where I learned to build my website and monetize my site using affiliate marketing. Exploring affiliate marketing is risk-free and a smart decision that I hope you'll pursue.
Join the Conversation
Do you have any experience with Forthright Surveys? Do you plan to join? Please share your thoughts below!
Like It? Please Share It!