Welcome, and thanks for joining me as I show you how to earn free gift cards online. Let me assure you that I use each of the platforms I discuss today. Furthermore, I regularly score free gift cards from each of these programs.
Skeptical?
Believe me. I understand that feeling! I was shocked to discover just how easy earning gift cards online can be. But once I started working online, and reviewing reward sites or money-making apps, I began to see these cards as a logical and savvy business move.
In all honesty, instead of talking about 7 easy ways to earn gift cards, my title could read 27 ways. But let's get real. Who has time to join 27 different platforms? So, even though 27 has a more alluring ring to it, I chose to focus on a manageable number.
My mission is to encourage my readers to take action now and begin to reap the benefits of membership.in all 7 of these gift card earning opportunities.
So, without further ado, let's charge forward, shall we?
Why Are Free Gift Cards Easy To Earn?
There are several reasons why we're encouraged to earn gift card incentives through multiple websites and mobile apps. But those reasons all revolve around the fact that consumers have power in the marketplace. I know we don't always feel powerful. But that is the reality!
Simply put, providers of goods and services cannot achieve success without satisfied customers. Moreover, that knowledge drives many relevant vendor behaviors.
For example:
Brands engage in market research studies to gather data about what consumers purchase and where they buy.
Companies seek buyer feedback to improve their products.
Organizations seek target market reactions to new product ideas before they launch to reduce risk.
Merchants partner with various affiliates to promote sales
Vendors are eager to attract new customers with things like trial offerings, discounted sales prices, and advertising.
As you look at the bullet points above, one thing becomes crystal clear. Vendors must have consumer engagement to accomplish their goals. So, how do they incentivize individuals to participate?
You guessed it!
Who doesn't love gift cards, right? I think many of us see gift cards as a guilt-free way to obtain some little extras that we can't really justify spending other sources of income to acquire. You know, the wants rather than the needs! Others find that cards from large retailers like Amazon or Walmart can help with basic items.
We see an explosion of mobile applications and membership websites that function as go-betweens. All of the platforms listed below enter into partnerships with brands that desire consumer engagement. Each earns revenue by encouraging people to sign up and participate in vendor-driven activities.
Hence, we see apps that reward us for scanning receipts and sharing information about our purchasing habits. Other platforms administer surveys seeking customer input, provide offers we can accept, or drive sales to specific businesses.
Your buying behaviors, opinions, and feedback have value. Sometimes you can choose cash payments through PayPal. But gift cards are always a mainstay.
How Did I Select These Recommended Programs
Firstly, let me reiterate that I follow my own advice and use each of these recommendations routinely. So, I have a lot of personal experience to draw upon. Some are recent additions for me, but others are old friends (useful for years).
Secondly, I focused on ease-of-use factors and programs that involve minimal or limited time commitment. I'm not thrilled with trading valuable time for low rates of compensation.
I prefer avenues that
pay me for doing things that I already do anyway (such as buying groceries, gas, and other essentials)
take moments to complete (think receipt scanning)
can be done during my downtime while sitting in waiting rooms or taking a coffee break (for example, answering questions)
offer payout thresholds that are achievable
How to Earn Free Gift Cards in 7 Easy Ways
These are far from the only ways to rack up gift cards, but they are good ones. And, did I mention that many of them can be used in combination such that you get rewards from more than one place for some of those everyday things you do anyway? You could be anticipating your next shopping spree in no time!
Fetch Rewards
Fetch Rewards is a mobile shopping app launched in 2017 that pays you to scan and upload all your grocery receipts to earn points. You can shop anywhere, and receipts can be from a local or chain supermarket, any convenience store, or perhaps a club store like Costco.
As the screenshot above shows, I currently have 5,688 points, which is more than enough for a $5 gift card (1,000 points = $1) from any of dozens of online or in-store establishments. It takes seconds to open the app and scan your receipts. You can scan immediately or save your receipts up and upload several at one time.
Every receipt you submit earns at least 25 points regardless of what you purchased or where you chose to shop. Fetch also partners with many well-known brands (Pepsi, Kraft, General Mills, to name a few), and any of these brand purchases will earn additional points.
There are also featured items that may earn up to thousands of points if they appear on your receipt. What I love about this app is that it's all automatic. Yes, I can check ahead of time to see which products will earn me a lot of points and shop accordingly.
But, unlike some other programs, I don't have to select specific products ahead of time. I get points for whatever is on my receipt. I may get a pleasant surprise and learn I got an award of an extra 2,000 points. Or, I may get a reminder that had I bought Coors Light instead of Bud Light, my point balance would now be 3,000 points greater.
Read my full review of Fetch Rewards here.
CoinOut
Coinout is a fun little app that lets you turn any receipt for payment of retail goods and services into a randomized number of coins. This mobile app appeared on Shark Tank back in February 2018. I began using Coinout shortly afterward and continue to reap the benefits every week.
After submitting my grocery receipts to Fetch Rewards, I quickly switch programs and snap pics of the same slips with Coinout. In this way, I earn rebates from two different sources for the same transaction. But the advantages of Coinoit don't end there.
In addition to grocery purchases, Coinoit pays me for expenditures on things like gas, restaurant meals, clothing, hardware, hair cuts, pet supplies, and even dog grooming. In my experience, rewards range from 1 cent to 18 cents for each submission,
I know the individual amounts sound small, but we all engage in a lot of retail exchanges, and the cash really does add up. Periodically, I receive a bonus related to the number of submissions.  A few weeks ago, my bonus was 37 cents.
You can cash out with an Amazon gift card at any time. There are no minimum amounts for a gift card. I just requested another $5 distribution, which is why my balance is currently only 22 cents. That balance results from uploading 5 receipts yesterday.
Coinout's official position is that git card processing takes 5 business days. But I have never had to wait that long. Just click the dollar sign in the upper right-hand corner to claim your withdrawal. Clicking the dollar sign also shows me scanned images of every receipt ever uploaded (and the reward I earned).
Coinout also offers cash rebates for online shopping and also deals with various service providers such as financial institutions or insurance companies. I admit, my experience is limited to receipt scanning.
You can also opt for a PayPal distribution with a $10 minimum balance.
Here's a short video description of Coinout that you may find helpful.
Receipt Hog
Receipt Hog is a simple and completely free mobile app that lets you submit receipts from everyday purchase transactions and turn them into attractive rewards. You can earn Amazon gift cards, prepaid Visa cards, or cash distributions through PayPal.
Use the camera within the app to quickly snap pictures of your receipts and upload them. Receipts from stores offering consumable products (groceries, beverages, health products, pet food, etc.) earn coins based on the amount spent. Non-consumable purchase slips (clothing, hardware, and the like) earn spins of the Hog slot machine where you may win coins,
Additionally, every submission through the app earns you a sweepstakes entry in the monthly drawing. Will you make a lot of money? No, but over time the coins add up. As you can see from the image, I currently have 283 coins. I need 1,000 coins for my next $5 reward.
While I wait to grow my balance, it's fun. I also like that I earn Receipt Hog coins for many of the same receipts that I earn with through Fetch Rewards and CoinOut.  I have brief "scanning" sessions where I capture info for all 3 apps at one time.
Crowdtap
Crowdtap is an influencer marketing platform where consumers can provide feedback and offer opinions that influence product development decisions. As a general rule, I intensely dislike taking surveys. Yes, you can earn a little extra income with them.
But, I find that most survey sites are too frustrating and time-consuming to be worth the effort. Disqualifications are commonplace, and I often earn pennies per hour.
So, what's different about Crowdtap?
With Crowdtap, I can answer individual questions rather than a lengthy questionnaire. Each question only requires a few seconds to read and respond. You are never disqualified, and you earn 3 to 5 points for every answer.
Each colorful square in the image to the right represents a question that you can tap to answer. In this image, four questions are remaining. At times, there may be as many as nine squares displayed at one time. You "clear the board" by tapping and answering everything,
The board will refill for as long as there are questions available. Then, I'll be advised to come back the next day. Am I getting rich? Hardly! But I do make steady progress towards my next $5 gift card (available at 1,000 points) in a remarkably painless way. I often devote a few minutes while I enjoy my morning coffee.
You can read my full Crowdtap Review here.
Getupside
Getupside is a free mobile app that partners with local businesses in the US to provide consumers with personalized offers in their geographic area for discounted gas purchases, restaurant meals, and groceries. Accumulate cash rebates on these everyday purchases and convert rebates into $10 gift cards from more than 20 well-known merchants.
Available offers will vary greatly depending on the state and city in which you live. For example, I see gas and fast food eatery offers, but no grocery store offers yet. But, Getupside continues to expand, and it's definitely worth checking this application out.
We all need gas, right? I will not be paying the full price for gas again!
You can check out my complete Getupside Review here.
BeFrugal
BeFrugal is a website where members can earn cashback whenever they shop online with participating vendors. The platform is free to join and connects consumers with more than 5,000 merchants. You receive a $10 bonus for joining and experience rebates of up to 40%.
You can convert your savings to a gift card once your rebate balance totals $5.
We all increasingly shop online these days, right? So, why pay full price for merchandise if you don't have to? If you do any purchasing online, joining BeFrugal just makes good sense!
Read my full BeFrugal Review here.
Rewarding Ways
Rewarding Ways is a GPT (Get-Paid-To) website where you can make money from home by performing a variety of simple tasks. You can offer your opinions through surveys, complete offers, download apps, watch videos, and also compete in cash contests.
This platform does require more of a time investment than the other six ways of earning gift cards that I talk about above. But, based on my experience, it's one of the better rewards platforms out there. There are multiple opportunities to earn a little income, and I was impressed by how easy it is to get a distribution.
You need a balance of $5 to request a Tango gift card, or you can claim as little as $1 through PayPal.
See my complete Rewarding Ways review here.
Final Thoughts
I hope you found value in this discussion of how to earn free gift cards online. This is by no means an exhaustive list, but each of these platforms can be very useful for anyone looking to supplement their income and earn a little extra each month.
I enjoy discovering methods that let me acquire cards for activities that I do anyway or that are simple to perform. .Of course, you're not going to be able to make enough money to pay the bills with these types of programs. They just provide the little extras.
If you'd like to make a more substantial income online that might ultimately grow into a full-time income, you may want to check out the platform where I learned to launch and build my blog.
Over to You
Have you had success with any of these 7 platforms? Do you have any other suggestions on how to earn free gift cards that you'd like to share with us? Please drop me a line in the comment section below because I'd love to hear from you!
Like It? Please Share It!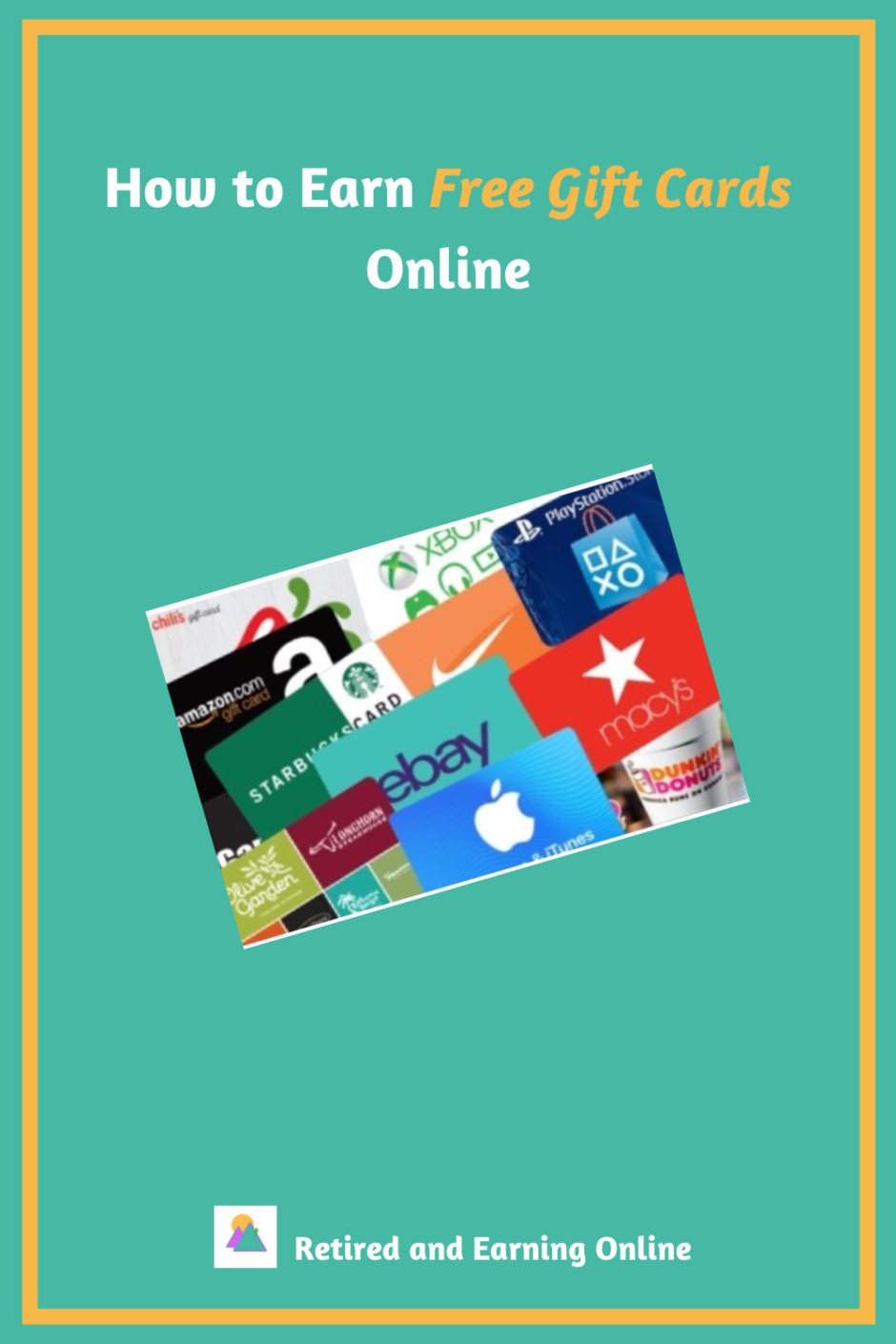 Please Pin It!