It's not surprising that folks are asking, what is the Zap Surveys app? Answering questions on paid survey sites is one of the easiest ways to make some extra cash quickly. Moreover, droves of people are now using mobile devices to access the Internet.
So, why wouldn't a mobile survey app create quite a stir?
I'm a firm believer that everyone needs a side hustle. No one's making a ton of money on any survey site. But a little extra cash is always welcome. And, a mobile application like Zap Surveys offers a lot of flexibility and convenience. You can take surveys from anywhere at a time that fits into your lifestyle.
I was eager to join and put Zap Surveys to the test. It's always exciting to see if a promising new platform will turn out to be a good money-maker. After joining dozens of reward sites, I find that some are keepers, and others are a bust that I end up deleting.
So, let's dive into this Zap Surveys review to see how this app fared, shall we?
Zap Surveys Review At A Glance
Product Name:  Zap Surveys
Product Type:  Mobile-Survey App
Website:  ZapSurveys.com
Price:  Free
Summary:  Zap Surveys is a legit mobile application that gathers consumer insights for a variety of organizations and brands. Members earn rewards for responding to surveys and shopping with online retail partners. As with all survey sites, the earnings are limited to extra pocket money.
My Rating: 2 out of 5
Recommended?: Yes, for those interested in earning a few extra bucks each month.
What is Zap Surveys?
Zap Surveys is a mobile application owned by Apps That Pay, LLC. The platform brings together organizations in need of consumer insights and feedback with individuals who are willing to share their opinions. Members earn cash rewards for completing surveys and other in-app activities.
Zap Surveys is compatible with IOS and Android devices. It is strictly a mobile platform and does not offer desktop access. The program is rated fairly highly with a current rating on the App Store of 4.3 out of 5 and on Google Play of 3.7 out of 5.
To date, payments to members total more than $30 million. Apps That Pay, LLC is a US-based company headquartered in Georgia. The app itself is vague on membership eligibility. But the Terms of Service indicate the app and its content may not be appropriate or downloadable outside the US.
Membership is restricted to individuals 18 or older.
How Does Zap Surveys Work?
Download the app to your mobile device and register by either supplying an email address or logging in through Facebook. You may want to use a referral link because you will earn $.75 if you do. Immediately upon joining, you will get a short survey to complete with basic profile data that pays $6.25.
There are now 5 ways to earn cash as a Zap Surveys member:
Surveys
Daily Logins
Location Rewards
Cash Rebates for Shopping With Online Partners
Referring Friends
Let's look at each of these in a bit more detail.
Surveys
Zap Surveys offers survey opportunities through 3 different partners. Currently, those partners are Tap Research, inBrain.ai, and Theoremreach. As I scan the surveys available to me right now, I see rates of pay ranging from 3 cents to 47 cents. So, they're pretty low paid relative to other sites.
On the other hand, these surveys are also very short. Payment will always vary based on the amount of time spent. With a mobile app, it makes some sense to offer bite-sized polls that people can complete while standing in line, sitting in a waiting room, or even on your break at work.
There appear to be a lot of surveys available. After joining 3 days ago, I was able to complete at least one survey every day. With any survey site, there will be the inevitable disqualifications. Organizations always have a specific demographic in mind, and you will not always meet their criteria.
But I see several pluses to this platform. Firstly, the app is well-designed and easy to navigate. Secondly, you receive a few points, even if you don't qualify for a survey. And, I really like the fact that for every $1 a member earns taking surveys, Zap Surveys donates 20 cents to Action Against Hunger to prevent child starvation.
The polls cover an interesting mix of topics from feedback on Brands to politics, Covid-19, and social issues.
Daily Logins
Log in each day and visit the Daily Tab to earn 3 cents. If you meet the goal of logging in each day for 45 days, you make a 75 cent bonus.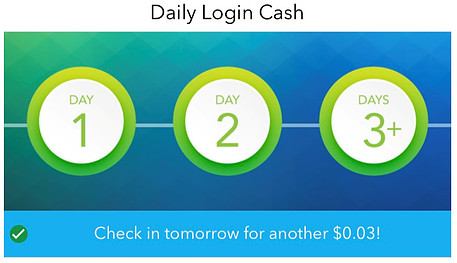 Location Rewards
Location rewards are a kind of fun aspect of this app. They're very similar to the walk-in Kicks offered by Shopkick.  Various retail stores partner with Zap Surveys. So, when I went shopping this morning, I got "Zapped" by Target. As soon as I pulled into the parking lot outside the store, I got a text notification.
Being "Zapped" earned me 7 cents. Interestingly enough, I also got 10 Kicks from Shopkick for the same visit to Target. This was my first "Zap," so I'm not sure if the cash award is always the same or if it varies. Several reviews I read indicated location rewards of 25 cents. I'll have to wait to see if the amount is permanently reduced or if it changes.
Cash Rebates for Shopping With Online Partners
Zap Surveys partners with more than 50 online retail organizations. Do you do a lot of shopping online? If so, you will want to check out the Shop Tab within the app to see if rebates are available on your planned purchases. Right now, you can go through Zap Surveys to get cashback with Home Depot, Walgreens, CVS, Groupon, Ubereats, and more.
The key is to start on Zap Surveys and click the vendor where you would like to shop. Zap Surveys is an affiliate of these entities, and there is an embedded affiliate link. When Zap Surveys receives a commission, a portion of that commission is shared with the member.
Keep in mind that if you don't go through the Zap Surveys site, they won't earn anything, and there will be nothing to share with you. It works just like the many other cash rebate websites you can join, such as TopCashBack, CouponCabin, or BeFrugal.
Be aware that your cash rebate will be pending for anywhere from 30 to 90 days, depending on the vendor you shop with. This is not unique to Zap Surveys. It's a standard process within the affiliate marketing industry. Commissions aren't paid until the retailer is sure that merchandise won't be returned.
Referring Friends
A final way to earn with the Zap Surveys app is by referring it to family and friends. Every member receives a referral link that you can use to invite people to join you on the platform. Share your link on social media or through email.
For each individual who joins Zap Surveys using your unique link, you will earn 45 cents. The new member will receive 75 cents. This referral program is not as lucrative as many others, but it can still help to boost your earnings.
How Will You Get Paid?
Once you accumulate $25 in your account, you can request either a cash distribution via PayPal or an egift card. The most popular gift cards are Amazon and Visa, but there are many others as well. The platform indicates that in most cases, you should receive your reward within a day or so of initiating a request.
The minimum of $25 is a little higher than ideal. However, some sites have even higher distribution thresholds. I do like the ability to get real cash through PayPal. But they have several versatile gift cards as well.
Zap Surveys Pros
Free to join
All awards are in cash rather than points you have to convert
There are a lot of surveys available
The $6.25 payment for the first survey gets you off to a good start
Clean and easy to navigate interface
Complete surveys from anywhere
Multiple ways to earn
Zap Surveys Cons
May not be a good choice for anyone outside the US
High minimum payout threshold of $25 will take time to reach
Like all survey sites, earnings are limited to pocket money
Final Thoughts
If you were wondering just what is the Zap Surveys App, I hope your questions were answered in today's post. As always, if you still have lingering queries, you can ask them in the comments below.
So, is Zap Surveys a good money-maker that's worth your time? I think the answer will vary from person to person. One important factor is that Zap Surveys is a legitimate mobile application that generally gets good reviews. You can make some extra money, and they will pay you.
I can tell you that this isn't one of those apps I will delete immediately. The surveys don't pay a lot, but they also don't take up a ton of time. I can fit in a few minutes here and there. After racking up over $8 in the past three days, I think I'll stick with it until I can get a distribution rather than leaving money on the table.
Would you like to be able to make a lot more money than any survey site will ever pay? Why not look into how I make money as an affiliate marketer? You can read more about the industry-leading training platform that I recommend and use. Or, you can click the banner below and jump right in.
Don't be afraid to check it out. All you need is an email address to create a free Starter Membership that could change your life!
Join the Conversation
Jump into the comment section below and let us know what you think about Zap Surveys. Do you think you'll join? Do you have any other mobile apps you'd like to recommend?
Like It? Please Share It!