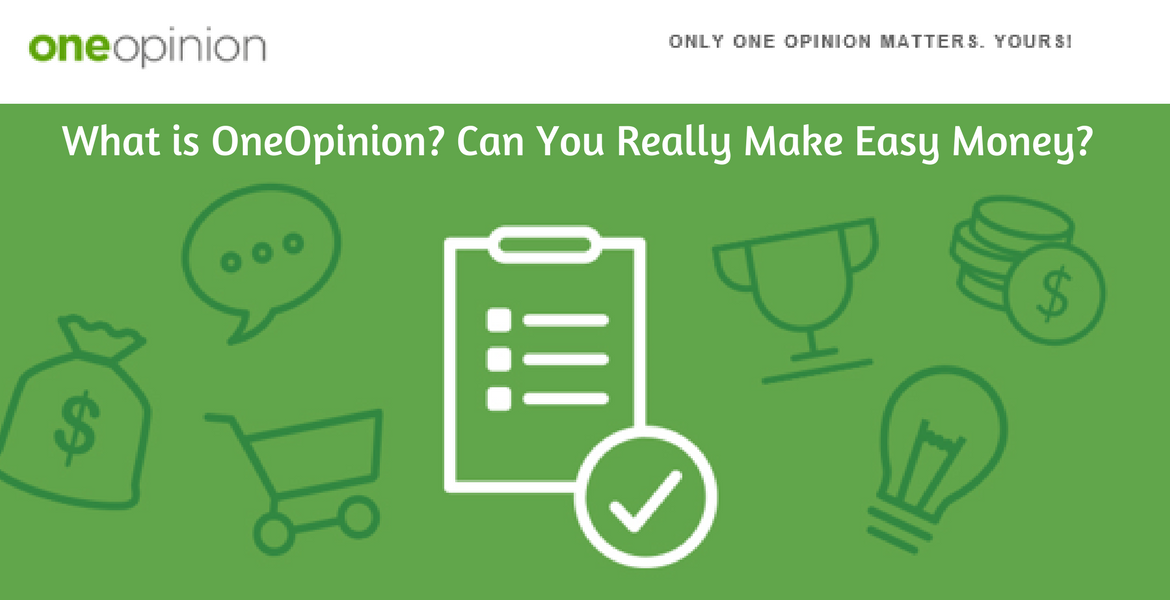 We all want to believe that our opinion matters and has value. This pervasive feeling may well be a driving force for many of the folks who've been searching for details and wondering,
what is OneOpinion
? I say this because the OneOpinion survey site has a catchy and appealing slogan.
Only One Opinion Matters. Yours!
My regular readers know that I'm not a big fan of survey sites. But this site has been bandied about enough that I had to investigate their claim that I could "earn easy money." Who doesn't like that idea, right?
So, I joined 11 days ago and valiantly tried to keep my skepticism in check while I gave this site the benefit of the doubt. To be fair, OneOpinion is an entirely reputable organization, and I was impressed with several aspects of their website.
But, could they change my negative perceptions of survey sites in general? Not at all! Let me tell you why.
What is OneOpinion?
OneOpinion administers surveys for leading market research companies. They're owned and operated by Critical Mix which is a big player in the market research industry.
As a member of OneOpinion, you participate in research studies with a panel of worldwide consumers. You may learn about exciting new services or innovative products and potentially influence product development decisions,
So far, that doesn't sound bad at all, right?
Businesses, government agencies, and other types of organizations that offer products or services really are eager to know what customers like and don't like. And, that's where you come into the picture. You respond to questions, offer insights, and add your feedback to the mix.
In exchange, you earn Points for each survey you successfully complete.
As I hinted at above, there are aspects of OneOpinion's platform that I really like.
Some of the positive features I've observed are these:
The website layout is clean and super intuitive to navigate.
Support is amazingly responsive compared to competing sites.
Survey questions are clear and easy to both understand and respond to.
I submitted a question to support and got a response immediately which is nearly unheard of on survey sites. I'll share both the question and the answer I received because I think many readers might find this interesting. During the course of my research, I had seen references to the availability of Product Testing opportunities in addition to surveys.
After reading through all of the FAQs on the website, I could find no reference to Product Testing at all. So, I decided to ask if this was a thing of the past. Here's the response I received.
"OneOpinion does offer product testing opportunities from time to time. The qualifications for these tests are all dependent on what audience the client is looking to attract.
These opportunities all come to us based on client need, and as such, we are unable to guarantee any specific numbers on how many of these opportunities you should expect to see. These appear among the regular mix of surveys on our website."
I confess I'm intrigued by the potential for product testing and intend to keep an eye out for the rare offering.
Joining OneOpinion is Easy
To join, you need only complete a short registration form online. OneOpinion is completely free to join. Just input your name, email address, and residential address. Once you confirm your registration by email, you can dive right into answering profile questions and qualifying for surveys.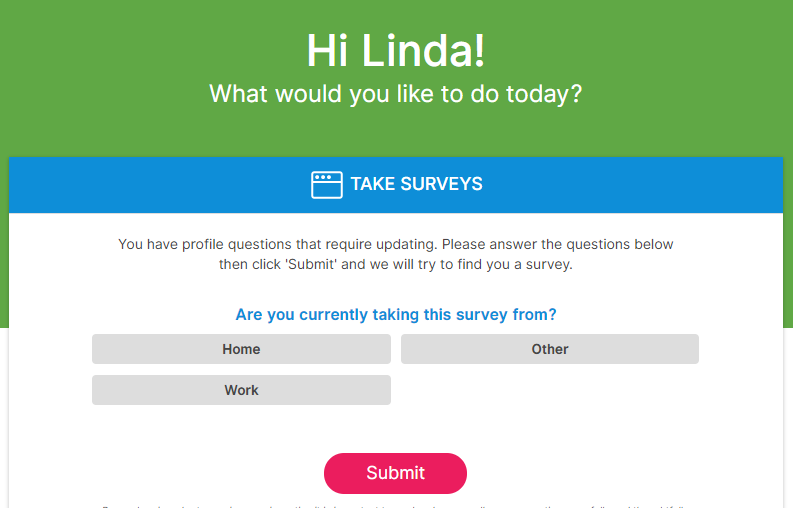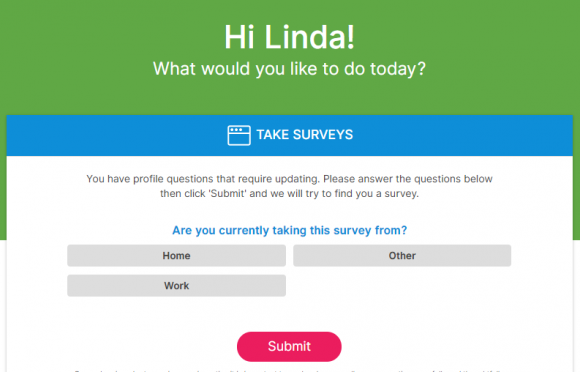 From the outset, I've received email notifications several times a day urging me to hurry because surveys are waiting for me.
Unlike a lot of other sites, multiple household members may register and create individual accounts.
Who Can Join OneOpinion
Membership in OneOpinion is open to individuals from the following countries:
USA
UK
Canada
Spain
Germany
Italy
France
Netherlands
Australia
Additionally, teens may participate in OneOpinion as long as anyone under the age of 18 obtains parental consent.
Qualifying For Surveys
Factors such as age, health, hobbies, lifestyle choices, shopping habits and physical location can all influence survey qualification or disqualification. Of course, these specific factors are in addition to fundamental laws of supply and demand. Meaning you may not get there soon enough and the survey panel may be full.
I had read that OneOpinion did a reasonably good job of pre-qualifying individuals and limiting the frustrations associated with wasting time and then not being accepted for a survey panel. Unfortunately, that has definitely not been my personal experience with this program.


Here are my stats for my first 11 days of membership.
Total Attempted Surveys – 20
Completed Surveys – 4
Disqualifications – 15
Technical Glitch Resulting in Inability to Complete a Survey – 1
Doing the math, I've failed to qualify for 75% of my attempted surveys. Yikes!
You're awarded a consolation prize of 50 points each time a survey bounces you out (for up to 5 disqualifications per day). I've seen a lot of reviews of the site where participants express appreciation for earning something rather than nothing at all.
Just keep in mind that 50 points are the equivalent of 5 cents. Woohoo! I was really on a roll at one point and had a string of 8 disqualifications in a row before I was able to complete one survey. Since then, I've racked up another 5 disqualifications.
I now accept that I'm not part of OneOpinion's ideal demographic and I'm ready to throw in the towel!
OneOpinion Points and Rewards
OneOpinion uses Points as virtual currency where 1,000 points are equal to $1. You must earn a minimum of 25,000 points ($25) to redeem your points for rewards.
Yeah, I hear you. That's a high threshold to meet when few surveys pay more than 1,000 points, and 500 points are even more common. Many reviews on the Web suggest that payouts used to be higher but have declined in the last few months. Only 1 of my attempted surveys promised as much as 1,500 points, and that was a 30-minute survey.
But if you persevere, you can choose to receive the fruits of your efforts in the following ways:
— a $25 PayPal Payment
— a $25 Physical Gift Card
— a $25 Virtual Gift Card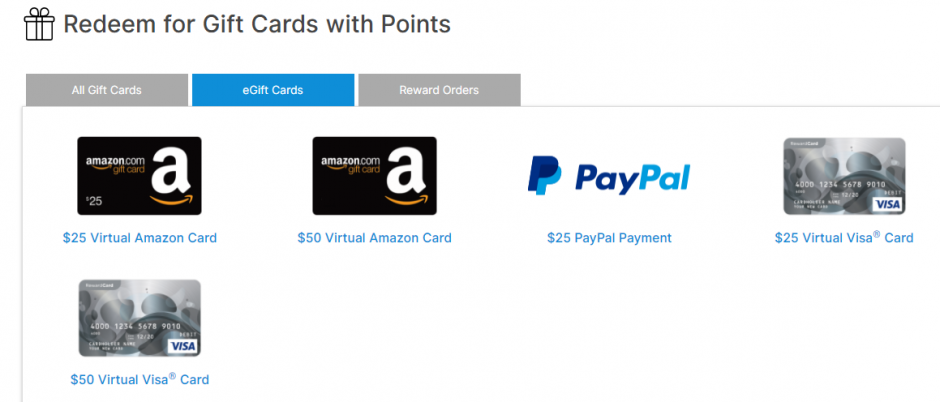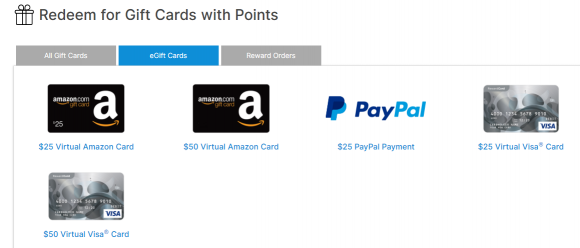 If you have the patience to wait for a physical gift card by way of snail mail, your choices are expanded beyond Amazon and Visa to include Starbucks, Target, Home Depot, and Walmart.
Can You Really Make Easy Money With Your Opinions?
Survey sites are notorious for paying very little, and OneOpinion is no exception to that rule. Are the questions easy enough to deal with? Sure! It's the making money part I simply can't buy into. Spending several hours to earn $3.70 with no payout on the near horizon is just not something I can endorse.
My time is far more valuable than that!
In all probability, I will abandon my quest for OneOpinion rewards long before I achieve the minimum payout balance of $25 and I will lose whatever points I have in my account.
To ensure you keep the points in your account, you must remain active. Be aware that your account will be flagged as inactive after 90 days of no activity and you'll forfeit any accumulated points after 180 days of inactivity. I could be wrong, but I suspect that forfeitures are not uncommon.
Are There Better Ways to Make Money Online?
I've encountered several ways to earn money online that make far more sense to me than struggling to accumulate a few cents. We're all different and these approaches may not appeal to you, but I'm going to throw out a few suggestions for your consideration.
4 Better Ways to Make Money Online
(1) Survey Sites That Incorporate Other Money-making Activities
My all-time favorite site in this category is Swagbucks. For folks who truly enjoy surveys, Swagbucks has you covered. But they also offer additional activities that help you rack up rewards more rapidly and give you options when surveys dry up.
(2) Survey Sites That Do A Better Pre-Qualification Job
I've found it far less painful to qualify for surveys with both Paid ViewPoint and Qmee. Earnings are still limited, but the frustration level is far less.
(3) Cash Back Reward Apps
If your goal is less about expressing your opinions and more about finding a side-hustle to pad your budget, I highly recommend both Dosh and Drop. Both of these apps allow you to save money on everyday purchases and put more greenery back in your wallet.
(4) Starting A Blog For Profit
Since you're currently reading my blog, it should come as no surprise that blogging is my number one recommendation for earning money online. To be sure, blogging is far more work than survey taking. It's also not something that will generate profits quickly. But for motivated and persistent individuals, the long-term rewards are impressive indeed.
My Final Thoughts
My purpose today was to provide a thorough answer to the frequently asked question, what is OneOpinion? You should be aware that your results could differ greatly from my own based on your unique demographic characteristics. I don't necessarily want to discourage you from giving OneOpinion a whirl because it is free.
Please also keep in mind that websites such as this should in no way be characterized as scams solely because they have extremely low earnings potential. OneOpinion is a legitimate site you should feel completely safe in exploring on your own.
Now It's Your Turn
Prove me wrong. I can take it 🙂 Have you made easy money with OneOpinion? Please tell us about your experiences in the comment section below. I always welcome lively discussion and healthy debate!