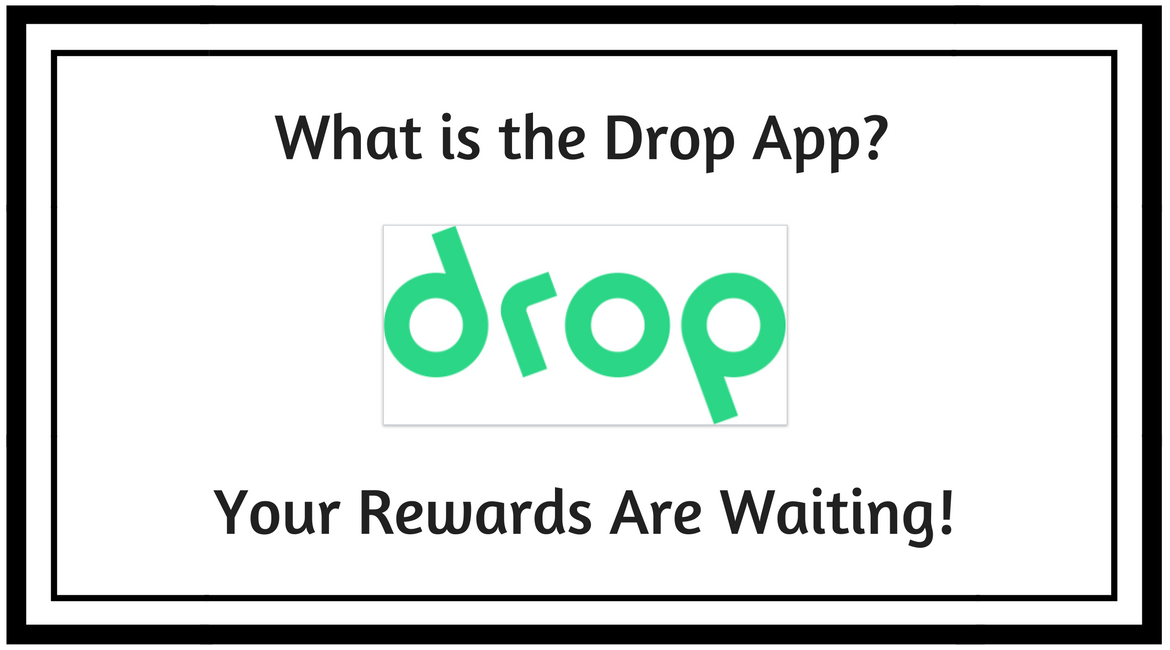 The Drop App launched on October 10, 2017, in the U. S. So, if you can't answer the question, what is the Drop App, you're probably in good company. After achieving massive success in Canada, Drop is ready to further scale their business. I was intrigued and jumped on this mobile app rather quickly.
Today, I was eager to share my impressions with my readers.
Shall we skip the chit-chat and dive right into the good stuff?
What is the Drop Rewards App?
The Drop App rewards users with cash for everyday purchases at their favorite stores and spending haunts. An impressive line-up of merchants offers unprecedented flexibility in racking up shopping points. Expect to find many of your brick and mortar favorites (grocery stores, pharmacies, coffee shops, department stores, and more) along with online vendors.
Drop integrates seamlessly into my busy lifestyle. Since installing the application on my iPhone, I haven't had to do anything extra (not even opening the app) to rack up reward points for purchases in the background.
I find it refreshing that I earn points at multiple locations without having to purchase through the Drop App, select specific products, or scan any receipts to earn rebates. I'm something of a rewards program junkie and I can assure you this aspect makes Drop unique.
The Drop app conveniently saves me money and saves me time. Sweet!
How Does Drop Work?
You have to install the mobile Drop app on an IOS or Android device to participate in this program.
The mechanics of drop are very simple and straightforward. Take these steps to begin earning your reward points today.
(1) Sign-up on earnwithdrop.com or download the app from Google Play or iTunes.
(2) Optional: Input an invite code to receive a bonus of 1,000 points for joining. You can join without an invite code but you won't receive the bonus ( you can use my invite code of vxyrh).
(3) Select 5 favorite brands (from a lengthy list) where you do a lot of shopping.
(4) Link your debit or credit card(s).
(5) As you shop at your favorite spots, you automatically earn points on your normal purchases.
(6) Once you've earned at least 5,000 points, select your gift card reward and enjoy.
Easy-peasy, right?

  I love to #earnwithdrop
Encryption
The idea of linking your cards may cause some privacy concerns for some of my readers but it shouldn't because Drop uses 256-bit, bank-level encryption to protect your debit and credit card information. No personal data is collected or retained. Drop merely establishes a link to your card-issuing institution.
I'm very comfortable with this arrangement because so much of my life occurs online these days. But if it worries you, you may want to check out other reward program options listed at the end of this post.
Participating Brands
Here's a list of the current ongoing offers available in the U.S.
Seamless
Starbucks
Macy's
Walgreens
Trader Joe's
Safeway
Dunkin' Donuts
7-Eleven
Target
Uber
McDonald's
Chipotle
Amazon.com
Walmart
Whole Foods Market
As you can see there are extremely popular vendors where many of us make recurring purchases for groceries and other routine items related to our daily lives. To maximize your savings, select the five vendors from this list where you typically make the most purchases.
Different vendors award points at various rates, so you may want to do some comparisons before you make your selections. Currently, Amazon purchases carry the most clout with 20 points awarded per dollar spent. I receive 8 points per dollar at Safeway, Walgreens, and McDonald's. When I indulge at Starbucks, I rack up 12 points for each dollar spent.
Bonuses and Special Offers
Bonus points are available for linking your first card (100 points), a second card (2,000 points), and for quick tasks like following Drop on Facebook and Twitter. Just perform the task and then tap the related bonus button within the app to see your points credited to your account.
In addition to automatic rewards earned when shopping with your 5 favorite vendors, Drop periodically notifies you of special offers from other participating brands. If the offer appeals, tap the offer button to activate. When you make the purchase with your linked card, you'll earn reward points.
As an example, I received a special offer from Walmart this week. If I make a $50 purchase at Walmart by a specified date, I will earn 1,000 points. I chose to activate the deal because I need some items I can acquire at Walmart, so why not get a rebate?
How Much Are Points Worth and How Do You Get Paid?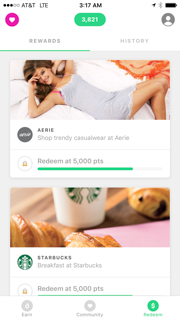 Points are each worth one-tenth of a cent, so 1,000 points are equal to $1. Drop pays you rewards via gift cards that are readily redeemable with participating brands. You'll receive an e-mail when you've earned a reward. Just open the app, tap on rewards, and choose your reward of choice.
Your current points balance is always displayed at the top of your device screen. Tap on the points balance at any time to see the details of where points were earned. Then watch your points accumulate and grow.
Don't Let Millennials Hoard All the Rewards
Drop views Millennials as their primary target market. Opinions (and date ranges vary) but Millennials are most often defined as the generation born between the early 1980s and the mid to late 1990s. Derrick Fung, the CEO of Drop, meets that profile.
A defining trait of Millennials is an increased familiarity with and use of digital technologies. That makes a lot of sense given the technology-driven era in which they were raised.  Many of us have had to adapt to technology much later in life. But at this stage, adapt we have.
My point is, I wouldn't let the Company's stated focus hold you back. I've been around a couple of years (okay, decades :)) longer but they let this boomer join anyway and I'm benefiting right alongside younger members. In fact, anyone with a debit or credit card is free to join.
Multiply Your Rebates With Drop
You can turn everyday purchases into cash rewards with Drop and it's also important to note that these rebates are in addition to any rewards you're already earning with your credit card. Using Drop also doesn't limit your ability to use other savings mechanisms.
When I shop at Safeway, I still use the Safeway app to get digital savings (and score free stuff). I earn my Shopkicks for walking in the store, scanning a couple of items, and submitting receipts for featured items. I may also save with iBotta or Checkout 51.
Of course, I never shop on Amazon without activating my Swagbucks rebates. Using Drop just sweetens the pot a little more.
Seriously, if you're not deal-stacking, you're paying way too much!
Have Some Fun With the Supercharge Bonus
Have you ever played a game called Snake? I confess I had never tried it before joining Drop. But every time I make 5 purchases with one of my standing offers, I get to play for bonus points. It took me a couple of minutes to get the hang of it so my bonus was pretty sad the first time around.
But, hey! Look out because I've got it now! 🙂
Is Drop Worth Your Time?
I would answer this question with a resounding yes! I'm not going to stop purchasing groceries or the stuff of everyday life anytime soon. So, why not earn discounts and rebates? It's not a ton of money but every little bit helps, right?  The best part is that once your account is established, it really doesn't take any of your time.
Now, if what you're really looking for is a way to earn more substantial amounts of money online, that's possible also. You may want to investigate the platform I've used to create my online business. It's been a wonderful and rewarding venture!
Final Thoughts and One Request
Drop is an innovative and beneficial rewards program from which we all deserve to make a little extra money. I hope I've answered your questions about the program. There's quite a bit of buzz about Drop these days. So when friends and family ask, what is the Drop app, you can now fill them in.
My request is that you let me know your thoughts about this web application in the comment section below. If you've tried Drop, we'd love to hear all about your experiences. And, please do let me know if you still have questions I can answer.
If you appreciate the opportunity to earn a little extra money on the side, you may be interested in these posts.
Like It? Please Share It!