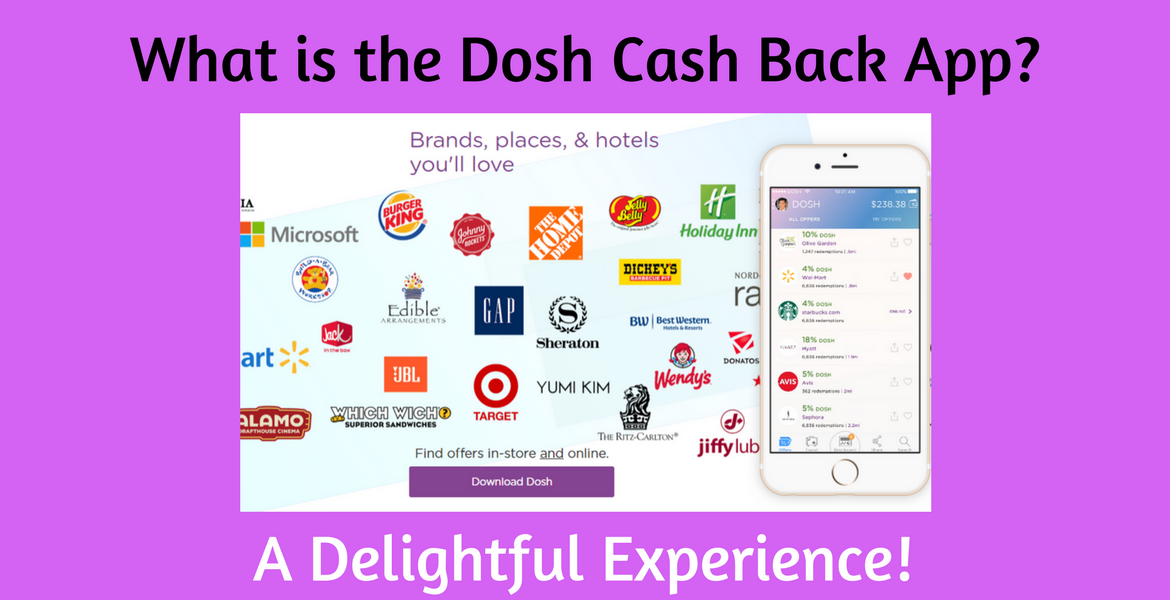 *Update of a previously published post
Forget about cutting coupons, scanning barcodes or uploading those receipts. In this handy Dosh Cash Back App Review, learn how Dosh can find you cash as you go about your normal life.
Nab some stellar deals at work or play while dining out, shopping for necessities or traveling. Then watch the cash rack up in your "Dosh Wallet." These unexpected bonuses can feel like a sweet treat!
Don't get me wrong. I'm still a fan of Ibotta or Shopkicks. But sometimes I'm too busy to bother scanning UPCs and I've been known to lose my receipt before I can get it uploaded.
Sad, but true!
So, I love the hassle-free nature of earning with Dosh. The process is delightfully simplistic, and it just fits in well with my busy lifestyle.
Are you ready to dig in and learn the details about how to earn with Dosh?
Excellent!
Please feel free to jump around. Oh, and don't forget to call me out in the comment section if you have questions that I've failed to address in this comprehensive Dosh Cash Back App Review.

Deal?
What is the Dosh Cash Back App?
The recent spike in the popularity of the new Dosh app has a lot of people asking questions. Dosh is still in Public Beta Testing but anticipates a formal launch sometime in 2018. With all the buzz, you may be intrigued but still wondering just what is the Dosh App?
When I read that Dosh executives expect to return more than $100 million to app users within one year of launch, I had to get in on this opportunity. Those numbers sound awesome to me!
It seems Dosh has a mission to become the number one app on your phone by revolutionalizing cash rebate programs and opportunities. There are a lot of players in the cash rebate arena, but Dosh does indeed have some uniquely appealing features.
What's most appealing about Dosh?
My earnings are completely passive and totally automatic. Consumers don't have to do anything to earn cash with Dosh except buy a product or service they were going to buy anyway.
I've read reviews that characterize the need to make a purchase to make money with Dosh as a con. I admit I don't quite understand that perspective. I spend money to live and enjoy life on a routine basis. Don't we all? If I can earn rebates on those purchases, that's a clear advantage in my book.

How to Use the Dosh App
Making money with the Dosh App is very straightforward. There is one caveat. Currently, Dosh is only available to US residents. If that's you, stay tuned to learn how to earn with Dosh. All it takes is three easy steps:
(1) Download the App and Click Join
The Dosh app is available on both the App Store and Google Play. All you need is a name, email address, and a phone number. They'll text you a verification code, and you're off and running.
(2) Link Your Credit or Debit Cards
Linking your cards is a non-negotiable aspect of Dosh. Using linked cards is what allows you to automatically make money without necessarily even knowing that a particular vendor participates. Dosh uses bank-level encryption. So, it's as safe as any other use of your card.
You'll immediately see a $5 bonus in your account!
(3) Use the Linked Cards to Make Purchases
Dosh offers cash back (when you purchase with linked cards) in two basic ways: Offers and Travel Perks.
— Online and Local Offers
Upwards of 100,000 brands and businesses have already signed up with Dosh. These businesses include well-known favorites like Denny's, Sam's Club, Marriott, Home Depot, Bed, Bath and Beyond, and a whole host of others. Use their robust shopping portal anytime you shop online to find the best deals.
I was very pleased about racking up 7.5% from my last purchase of new kitchenware at Bed, Bath and Beyond. You may be able to score some super savings also. Obviously, this will be somewhat dependent on your shopping habits. You should also perform comparisons. In certain cases, you may be further ahead to stick with a program like Swagbucks.
Isn't it nice to have options?
Taking advantage of local offers is even easier than earning rebates online. You don't have to go through the app. You don't even have to be aware that the merchant participates in Dosh.
A couple of days ago, I was out and about running some errands when I decided to pop into a local eatery called Fired Pie for lunch. I received notification of my Dosh award before I even got my Pie. It was all completely automatic.
Local offers will vary a lot in different areas of the US. I've found that a lot of restaurants participate in my area. Here's a screenshot of in-store cash rebates that I see in my locality.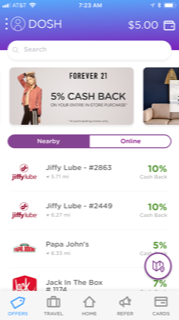 –Travel Incentives
Are you planning a trip soon? Whether you're traveling for business or personal reasons, I recommend you explore the travel perks at your destination site and book your hotel room and rental car using the Dosh app.
I'm scheduling a trip this summer and look forward to easing the burden on my budget. I was pleasantly surprised when I clicked on Travel within the Dosh app, and this message popped up. Sweet indeed!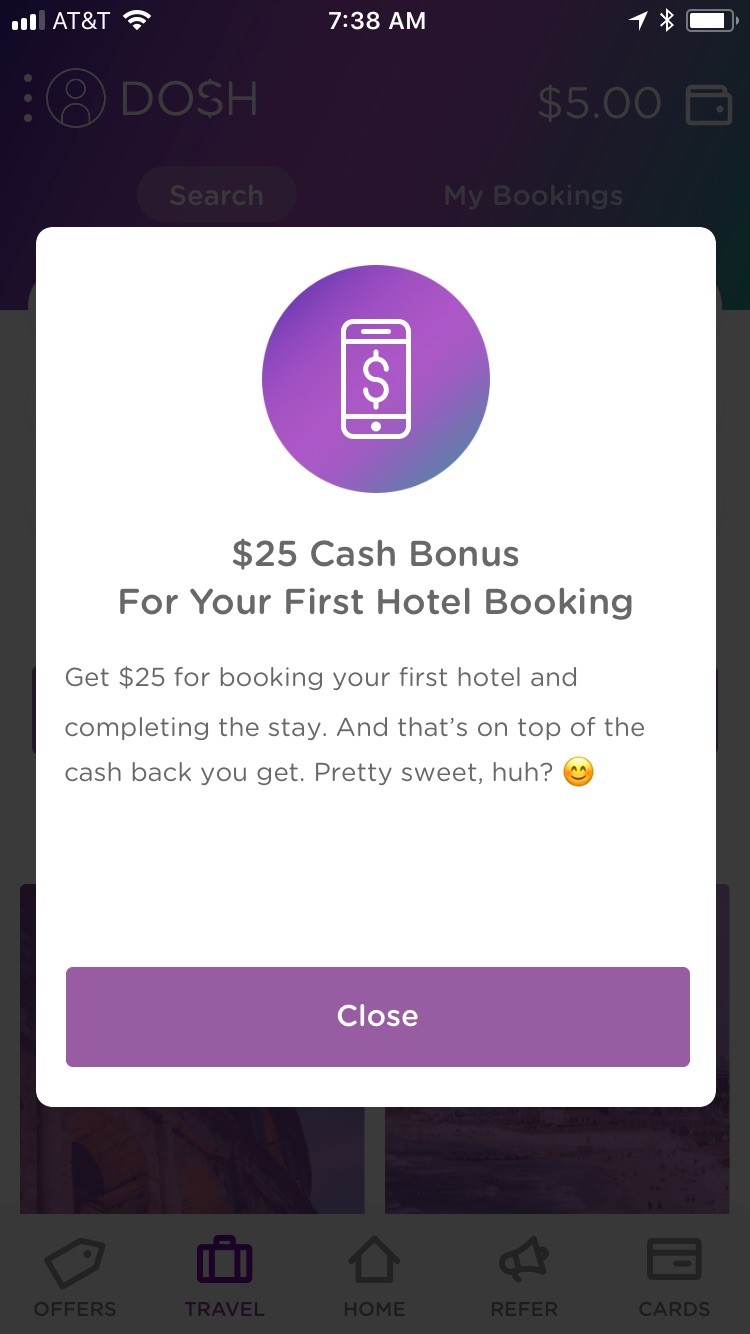 Here's an example of some hotel cash rebates I spotted. Not too bad, right? I've been wanting to treat myself to a stay at Turning Stone, and this may be the right time!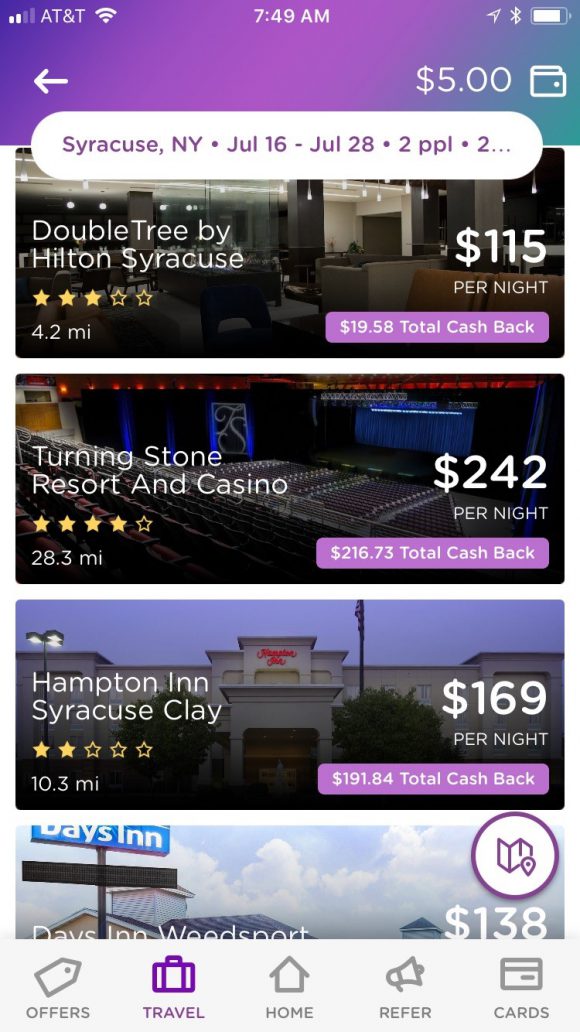 I suspect we can all agree that traveling is fun but expensive. You'll want to check out any incentives before your next trip.
Referrals Are Another Way to Earn With Dosh
Once you're a member, you can share your Dosh referral link with friends and family to earn a fee. The typical fee earned is $5 for each person you refer who joins and links a card. Dosh makes it extremely easy to share your referral link with email or social media.
Until February 26, 2018, Dosh has a special promotion going on, and the referral fee is $10, That could add up nicely. Wouldn't you agree?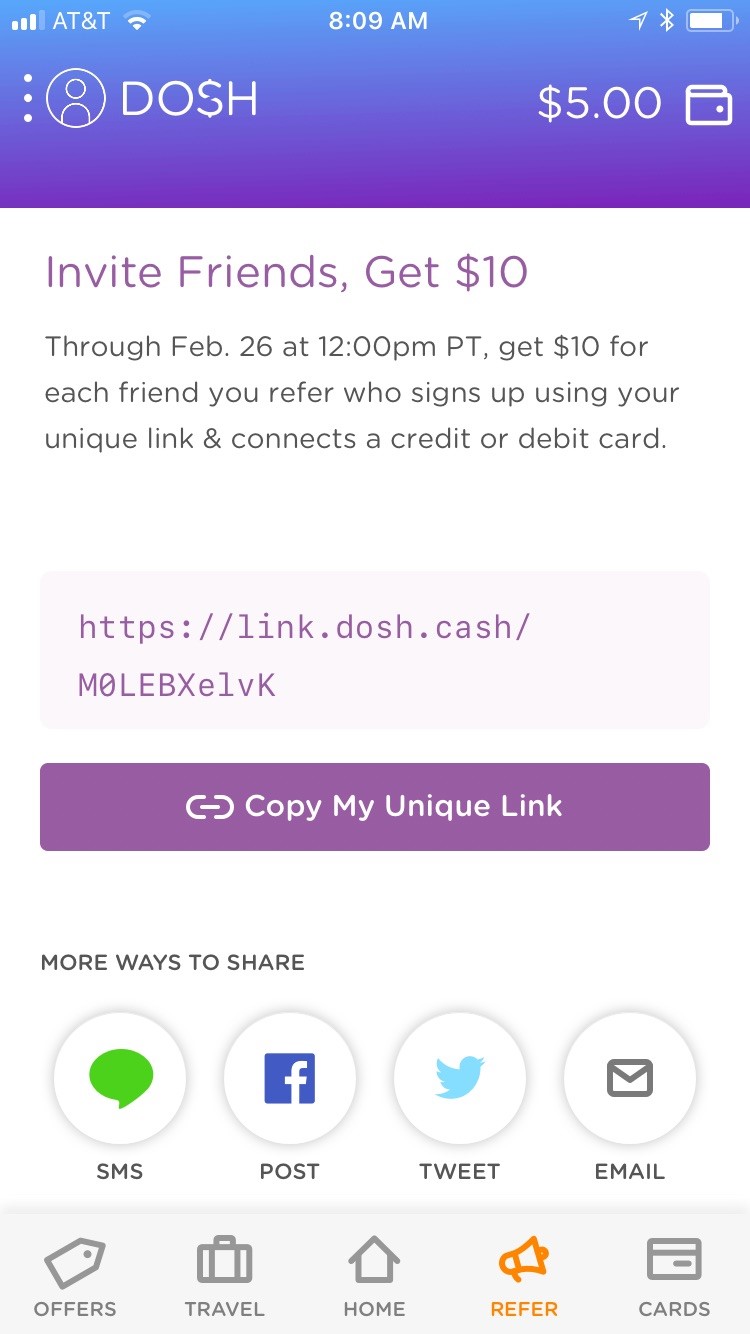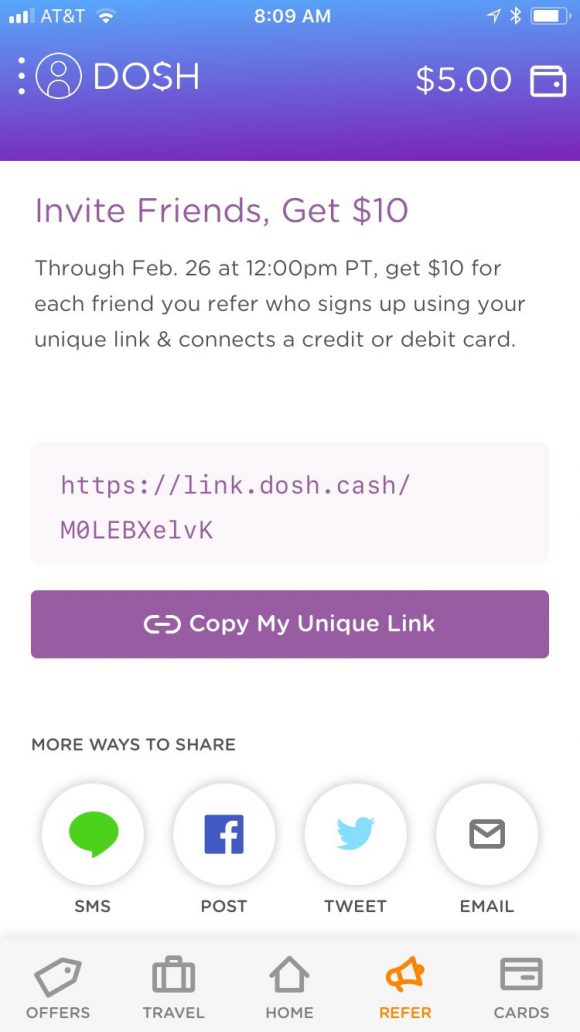 How is Dosh Able to Pay You Cash Back?
It's simple really. Dosh engages in affiliate marketing which is one of the most popular ways of earning money online. Dosh forms affiliations with various vendors (hundreds of them), earns commissions through these affiliations and then shares a portion of their earnings with their users.

Merchants invest billions of marketing dollars in acquiring customers. Dosh is funneling some of those dollars back to consumers.
So, How Do You Get Paid?
I've found that getting paid by Dosh is quick and easy. I personally have no real issues with apps like Drop that limit your reward payouts to gift cards. I shop online at Amazon all the time and using gift cards is perfect for me. But, I have to admit that getting real cash is excellent.
You can cash out your Dosh earnings in any one of three ways as soon as your balance hits $25. This minimum balance is not at all difficult to achieve once you get rolling with this program. You have the option of using your PayPal account, depositing your earnings directly into a checking account, or "paying it forward" by donating your earnings to charity.
I chose the PayPal option, and my money showed up almost instantly. The speed of payment was refreshing because many competing rebate programs involve a lengthy processing period. </a?I'm not the most patient person, so I appreciated having the cash in hand quickly!
Is Dosh Legit?
Dosh is without a doubt a legitimate rebate program. As I indicated above, Dosh is still in Public Beta Testing. Will they stand the test of time? That remains to be seen. But for right now, I intend to take advantage of this app, and I recommend it to my readers as well.
As might be expected with a relatively new product, Dosh has experienced some glitches with timely payouts but they appear to be working diligently to improve. As of the date of this update, Dosh has a 4.7 rating on the App Store with millions of downloads.
So, it seems my positive experiences are more the norm than the exception.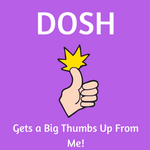 Final Thoughts
I was eager to share this Dosh Cash Back App Review with my readers because it's rapidly becoming my favorite app. Let's face it, we all love saving money where we can and to get paid in real cash is the icing on the cake. Dosh is unique enough in the online rebate space that it promises to be a real game-changer.
Of course, while Dosh offers a legitimate way to earn some extra money as a side-hustle, it's not life-changing income. For my readers who are interested in earning more substantial amounts of income online, you may want to read more about the platform where I started my blog.
Right now, the Dosh app is a blisteringly hot topic in some circles. I hope I've answered your questions and provided food for thought. Did I fail to answer a burning question you've had? Feel free to ream me out in the comment section and ask away. I'll get back to you as soon as possible.
If your friends have questions, I sincerely hope you'll send them by as well.
Happy Doshing!
Have you tried this app? We'd love to hear your good or not so good experiences that you've encountered using Dosh. Please drop a line in the comment section below and help us all out.