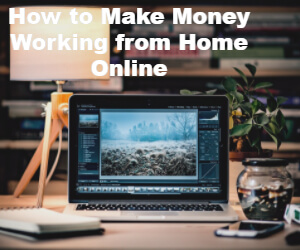 Is a 15-second commute to a home office your dream for a better future? If so, you'll love my practical tips on
how to make money working from home online!
It's all the buzz these days, isn't it? Making money online has an almost magical appeal for so many reasons.
If you've ever googled "work from home" or something similar, you know the web is bursting with sites proclaiming that you can earn thousands from your couch starting today. All you have to do is buy something first. Their book, or CD, or set of DVDs is your ticket to riches.
Shifting through all that scammy stuff can be pretty discouraging. You begin to question whether any legitimate work from home opportunities exist. Let me banish that concern quickly. They absolutely do exist!
But…
Alas, there are no magic faucets you can turn on, in exchange for a fee, that will spray profits. You will not be reading any garbage on my site regarding immediate earnings from working at home. I'm sorry, but that's just nonsense!
The legitimate work from home opportunities we're going to discuss will take time and effort to establish. You'll be building an online business. While there are no upfront fees and you can get started for free, there are also no shortcuts. The long-term success rates for those who persist are excellent, but you should expect to spend a minimum of several months to a year in laying the foundation for future income streams.
If I haven't scared you off, let's get to the practical tips because securing your retirement years is well-worth the effort.
Ways to Make Money From Home Online
To make any significant amounts of money online, you need a website. That's how you will establish your online presence. Building my website has been a labor of love, and I've had the good fortune to connect with many other retirees who are thoroughly enjoying a similar experience.
Once you have a website, here are some of the possibilities.
Market Your Crafts Online
Sell Digital Products (e.g. an ebook or training course)
Become an Affiliate Marketer
Building a website is not difficult. With the incredible tools available today, it's very straight-forward. It's also possible to get started for free. I built my website and trained with Wealthy Affiliate (WA). WA is an online organization where you can train from home at a pace you choose.
Here is a link to a post that will provide all the details you need about building a website and acquiring the necessary training to make your website successful.
My Personal Choice
I have chosen to pursue affiliate marketing because it's one of the easiest and least complicated ways to earn money with a website. As an affiliate marketer, I promote the products or services of others for a commission. I'm able to avoid the complications of maintaining an inventory or shipping products. I have many choices of affiliate programs (all of which are free to join) because virtually all organizations are eager to establish themselves on the Web.
The post listed below will give you a sense of how easy it is to become an affiliate.
Essential Traits of an Affiliate Marketer
Be Persistent – Creating a website is not a difficult task; however, filling your site with quality content that is relevant to your niche takes persistent effort. First and foremost, you must understand your primary goal as an Internet marketer.
Helpful Hint: It's not to sell folks stuff.
Correct Answer: It's to help people and provide answers to the questions that drew them to your site
Banish Negativity – Achieving success requires positive thinking and a degree of mental toughness. It can take a while for Google and the other search engines to trust you and begin sending search traffic to your site. But it's a great feeling when your content starts to rank, and the momentum builds. Stay focused, post consistently and it will all come together.
Embrace Goal Setting – Setting goals for your business provides direction and a sense of urgency. Write your business goals down and post them in a prominent position. Consider the SMART goal setting process for optimal results. You can read more about SMART goals in the following blog post.
Keep Learning – Wealthy Affiliate is an outstanding learning environment. You can build your website and complete 10 lessons in affiliate marketing as a free Starter Member. You can maintain your website and continue as a Starter Member for as long as you choose. There is no obligation to upgrade your membership.
But, if you decide that affiliate marketing is the right path for you, you may want to become a premium member as I did. Training is extensive and will include valuable lessons in keyword research, search engine optimization, and content writing. You may enjoy the following posts on these topics.

The Essential Traits of an Affiliate Marketer
Imagine the Many Perks of Working From Home
I took early retirement from my full-time position before starting my online business. But I knew before the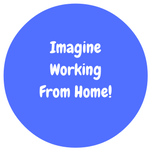 retirement party ended that I would pursue some type of work during retirement. There were two reasons for this certainty. I knew I would crave the mental stimulation and supplementing my retirement income would allow for a more satisfying retiree lifestyle.
What I didn't want was the structure of working for someone else. Here are some of the many benefits I've enjoyed from working at home.
Flexibility – I'm able to work on my schedule. I can complete my tasks when and where I choose. I organize my website activities around my other pursuits. I'm also able to travel and work from anywhere. All I need is my laptop and an Internet connection.
Skip the Daily Commute – I no longer deal with traffic snarls, and I've reclaimed the hours I previously wasted each week in commuting to an office. I now walk down the hall to my home office or write from my breakfast bar as I sip my morning coffee.
Economy – Working from home is definitely more economical. Commuting to work chews up gas, I frequently ate lunch out, and I spent money on an appropriate wardrobe for the office environment. Today, I leave the car in the driveway, eat lunch at home, and have the luxury of wearing PJs, comfy sweats, or anything else I choose to wear. I no longer have to worry about looking presentable and can opt for comfort.
I'm the Boss – I determine the direction my online business takes and all decisions are my own. It's a rewarding experience.
Passive Income Opportunities – As an affiliate marketer, I'm building a passive income stream. As discussed, it takes time to get established online, and profits are not immediate. However, it's very exciting when you reach a point where you're earning money from articles written months ago. Once you publish content on the Web, it's discoverable for years. Maybe you've had the experience of performing a search and finding an article written years ago?
Wrapping Up and Next Steps
I hope you've enjoyed today's post on how to make money working from home online. Is 2017 the year you will take the plunge and give it a try? A 100% free Starter Membership in Wealthy Affiliate is a risk-free opportunity to finally take that all important next step to see if working from home is a good fit for you! WA is ideal for retirees on a limited budget! It would be my pleasure to help you start a website of your own!
Is Wealthy Affiliate Your Ticket to Working From Home?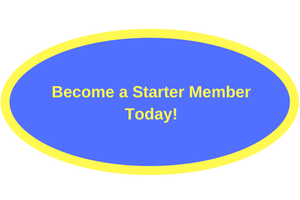 I've talked about my experiences, but I'd love to hear your reasons for wanting to work from home. Please share your thoughts in the comment section below.
Finally, if you found this information helpful, please share it with friends and colleagues on social media!